Happy Thursday, beauties!
Today, I'm sharing different options for wearing the classic gingham print for your body shape! It's a print that can certainly be worn all year long, but it does have the perfect springtime/summer feel, doesn't it? I, for some reason, I associate it with picnics and southern summer style...perhaps I've watched too many movies or perhaps this may be true for you, too! Either way, I'm sharing my suggestions on how you could wear this print with confidence this season, because there is an option out there for everybody! So, let's get started with...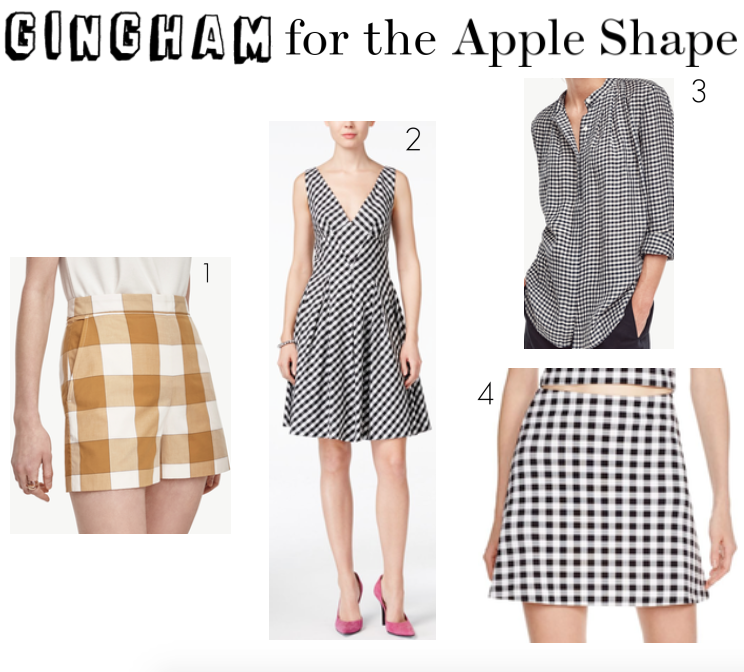 SHOP THE SET!
For the apple shape, I selected a small gingham printed blouse, since this shape is more voluptuous and wider on top, the smaller print will help prevent any additional volume to be added to the area, which would otherwise make the upper body appear larger. Instead, I selected a larger graphic for a pair of shorts, since this shape generally has naturally lean sculpted legs, it will draw attention to them, showing them off even more! Both the dress and skirt I selected are in a medium size of the print. Since the skirt is a bit on the shorter side, it will of course bring more attention to those fab legs. If you're not comfortable showing off this much leg, you can still go knee length because girl, those calves are everything! This is actually where the dress I selected falls, so if you love it, you could actually wear it as both a dress and skirt! Simply add a more fitted top over it and you instantly have a skirt! The reason this dress is flattering for this particular shape is that it has both a v-neck and thicker straps. This will help to visually narrow in the upper body, while flattering an ample chest.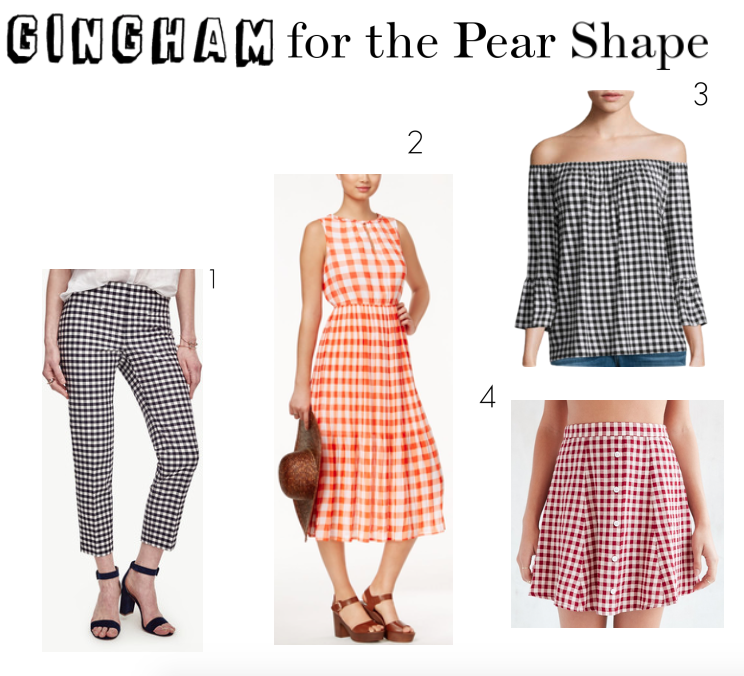 SHOP THE SET!
Pear shapes on the other hand, have a relatively smaller upper body in comparison to the lower, so I've used the opposite styling strategy when selecting the pieces above. For the top, I selected an off the shoulder blouse with the print, which will visually widen the upper body, balancing out fuller hips. A top like this would be a perfect option if you'd be wearing a pair of white or colored jeans that can make your lower body appear fuller. Who says pear shapes can't wear white jeans?! For the pant and skirt, I went with smaller versions of the print to help visually slim the legs, since prints tend to add additional visual weight. I used this technique not because I'm suggesting you conceal your curves, but because prints can make you appear larger, which some of you may not want, so in this case, smaller prints are the way to go! I, lastly, selected a gingham dress that features a larger version of the print on top and smaller on the bottom, accompanied by fine pleats. Pleats are a huge trend this season, but I personally feel that they're timeless. When they are thin, they make the lower body appear leaner and you'll also appear visually taller as well, since it has a linear effect and vertical lines always add visual length, which if you remember, I mentioned in my More Pleats Please! post!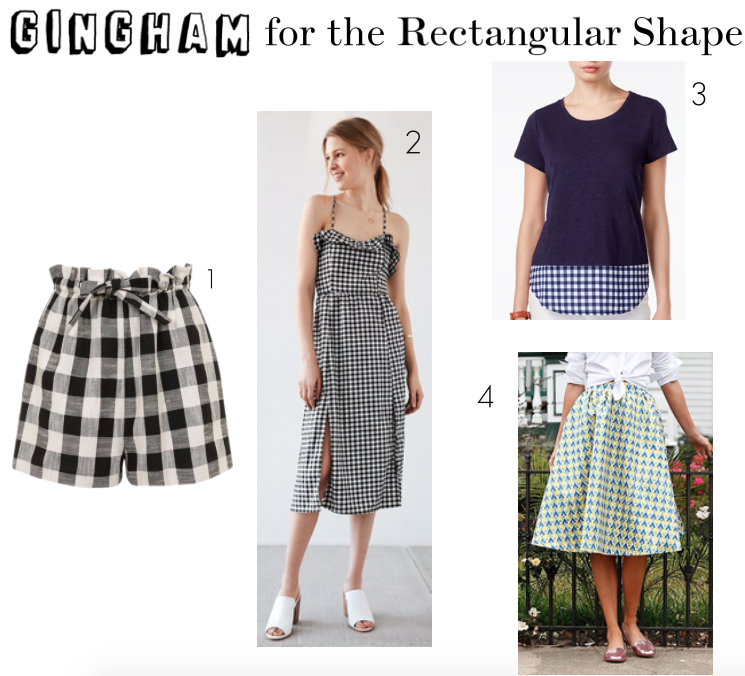 SHOP THE SET!
When it comes to the rectangular shape there are so many different options that can be experimented with! Like the hourglass, this shape is proportional in both the bust and hip area, having accompanying lean arms and legs. However, the waist line with the rectangular isn't as defined, which distinguishes the two; if one is desired, we can definitely create an emphasis there, like with these paper bag waist shorts! These kind of waistlines are perfect for creating the effect of a more defined waistline, since they gather in creating a cinched effect. Pretty cool, right?! A high waisted dramatically flared out midi skirt will also create the illusion of curves, since this style tapers out notably at the natural waist. When it comes to dresses, styles that have a stitched in waistline is another way to re-establish the waist and with the dress I selected you have both that option, as well as a ruffled bust. The ruffles on the bust will create dimension to the area, which would be a great option for those of you who may want to create that effect. Lastly, a shirt that offers a layered contrast would be a wonderful option for visually "breaking up" the upper and lower portions of the body. Since the waistline isn't as defined for this shape, the body appears straight, hence the name rectangular. When wearing monochrome outfits, the lack of color distinction will over emphasize these features and so in that case, I'd suggest either layering a gingham shirt under a tee or work with one like the one above that does the layering for you, that way you have not only a pop of color, but print, too, to help break things up a bit!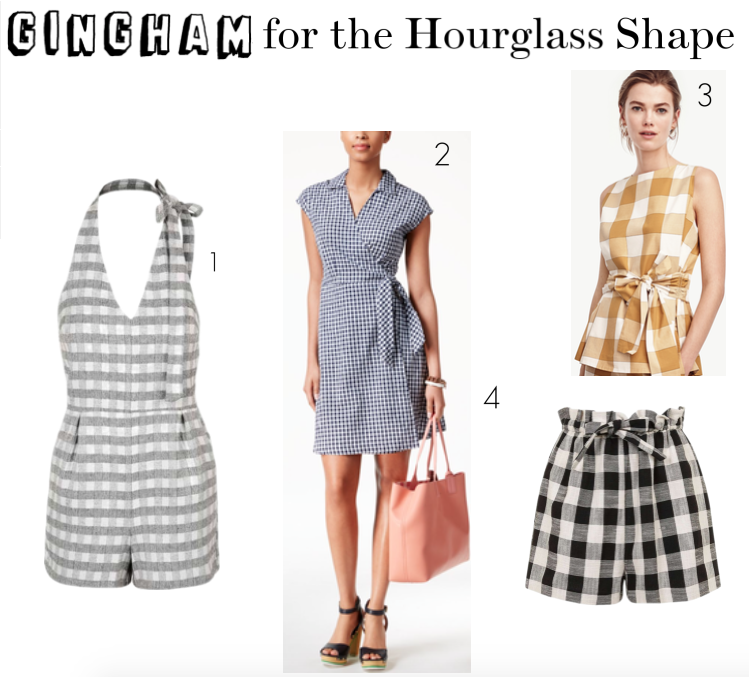 SHOP THE SET!
Last, but not least, we have the hourglass shape, who like I mentioned before is proportional on the top and bottom with a defined waistline and because this waistline is naturally defined, I suggest you maintain that curve with pieces that will draw attention to the waist! All of the pieces I've selected have one common feature and that's they all either have a wrap or stitched waist. What I love about the top is that you can wear a more sculpted trouser, such a cigarette or skinny, while still emphasizing the waist so effortlessly! You'll notice these shorts reappearing because they're flattering for this shape, too, and can be paired with either more fitted or looser style tops without concealing your curves!
As always, I hope you found my style tips helpful for selecting the most flattering styles of gingham pieces for your body shape! As you've seen, there's options for everybody! Thanks so much for stopping by and I hope your day is as fabulous as YOU, dear friends!
XO,