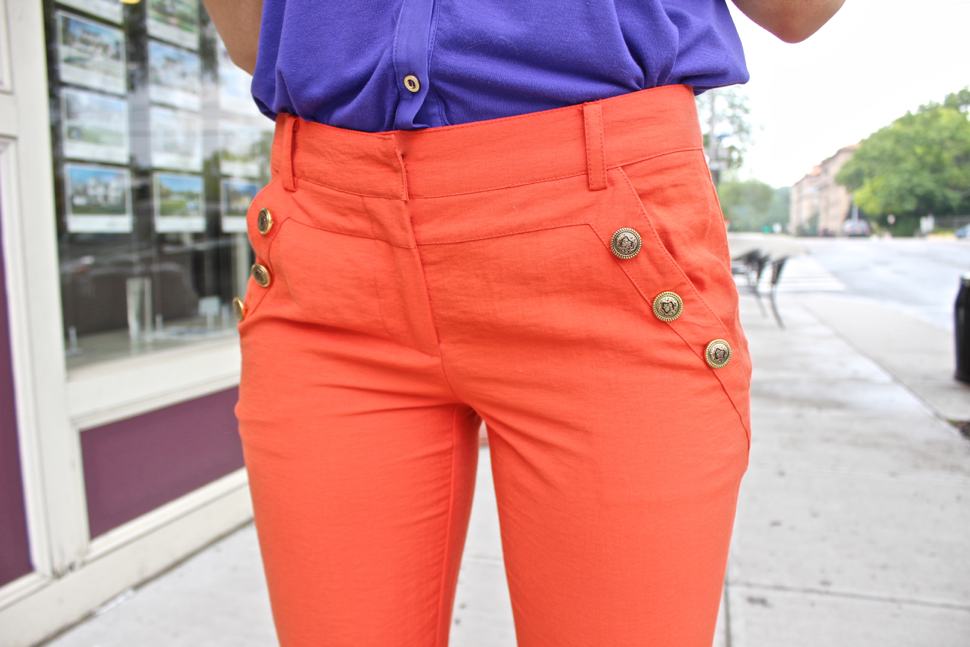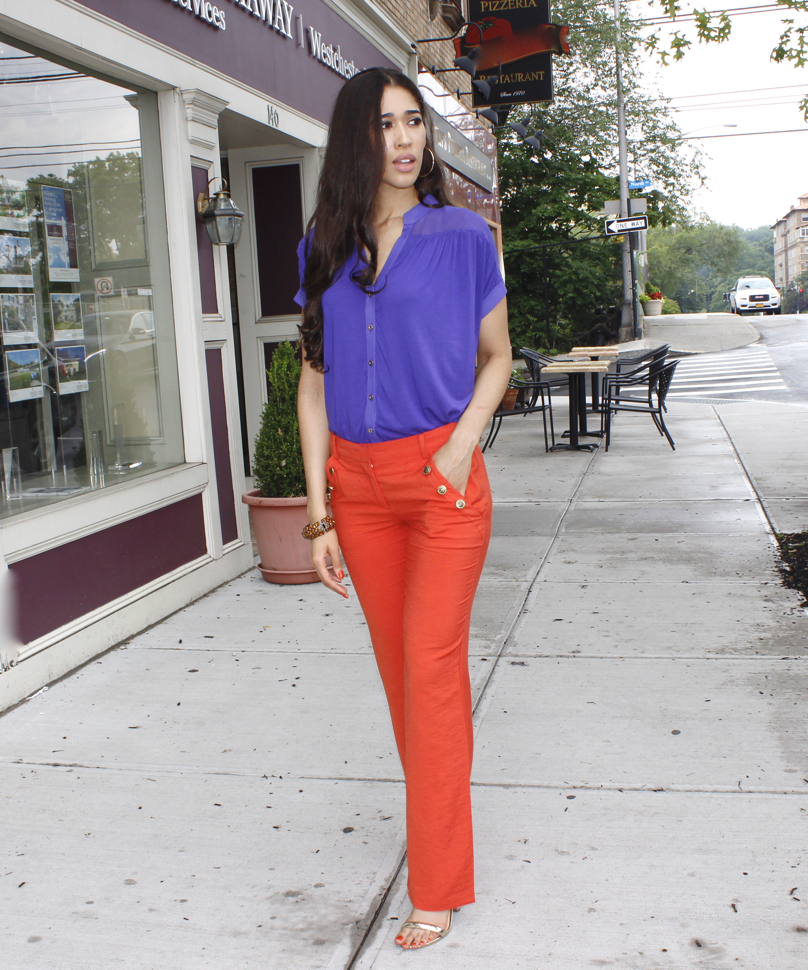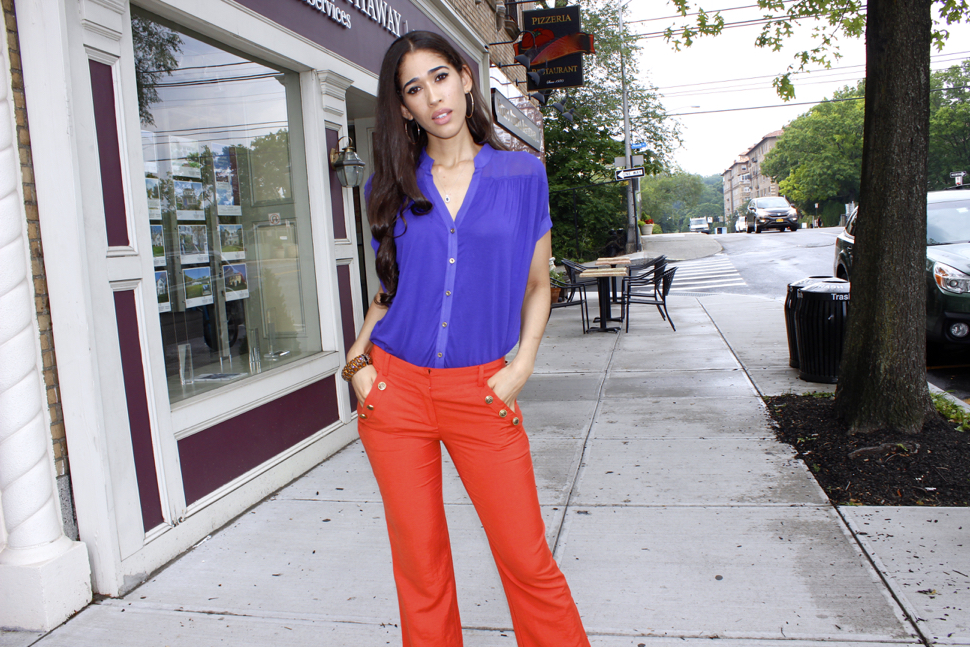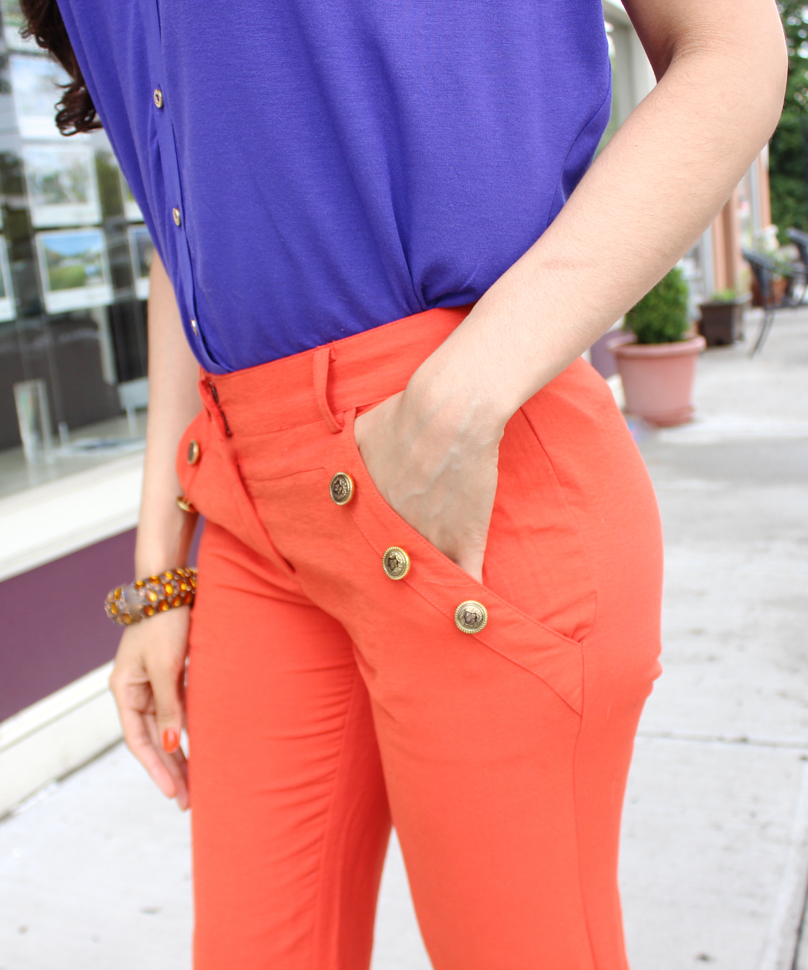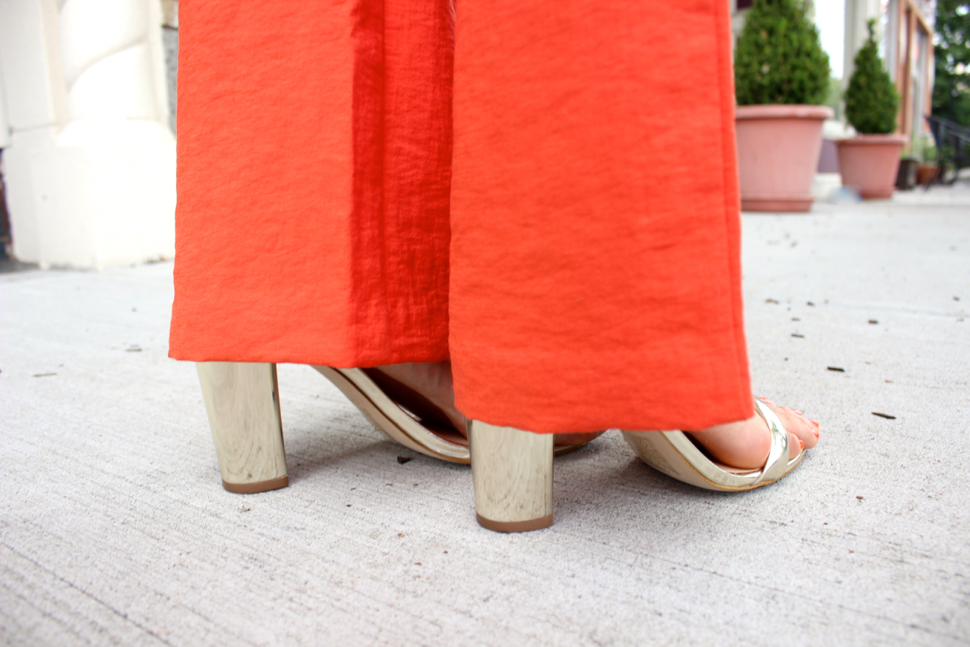 GET THE LOOK!
Blouse: BEBE (similar ON SALE HERE, HERE) // Pants: Forever 21 (very similar ON SALE 40% OFF HERE) // Bracelet: Little Switzerland // Sandals: Aldo (similar HERE)
Happy Monday, friends!
I hope you all had a lovely weekend and are ready for a productive week ahead!
You all know how much I love to color block and ever since I saw Gucci's popular SS11 collection, I loved the technique even more! My most favorite color combo from the collection, that still hasn't left my mind 5 years later, is dark purple and bright orange with hints of gold! I mean, if that mix doesn't scream summer glam, then I don't know what does!
I honestly feel that this duo would look great on every skin tone and color! They're so rich and vibrant and pop so beautifully against the skin, especially those with super fair or dark skin.
Ugh, GORGEOUS!
What I feel elevates the look even further, are the hints of gold. Now, the pieces I'm wearing today have gold buttons on them (no matter the piece or color, gold buttons will always make the item appear more luxe. I mean do the pants really look like they're from Forever!?). You could still create the same feel by adding gold jewelry, a solid gold belt (something like this), and gold sandals.
I feel like gettin' jiggy wit it, á la Will Smith! Doesn't this look carry some strong Miami vibes!? Na, na, na, na, na....(laughs).
Did you guys know that this button arrangement is called "the sailor"!? I had no idea, until I was searching for similar options and noticed that all the pieces were called that; good to know when searching for something like this now or later!
And this style is flattering for the hips! Let me explain. The sailor can be found in two arrangements. The one I'm wearing, which has buttons that slope inward towards the fullest part of the hips, bringing the eyes to the center (inward) instead of outward, as well as those that are completely centered, like these.
Below are some of the pieces I came across that have "the sailor" look, which I hope you like as well:

Thanks so much for stopping by, my dear friends! I hope you felt inspired or learned something new from this post! I wish you all a very Happy Monday!
XO,