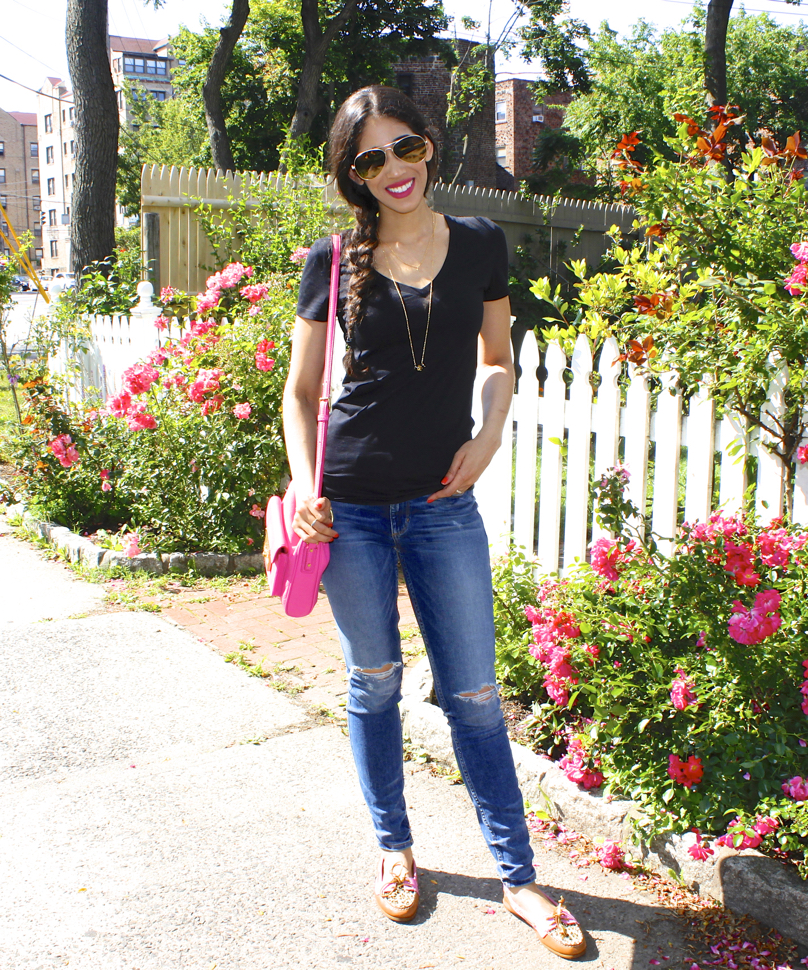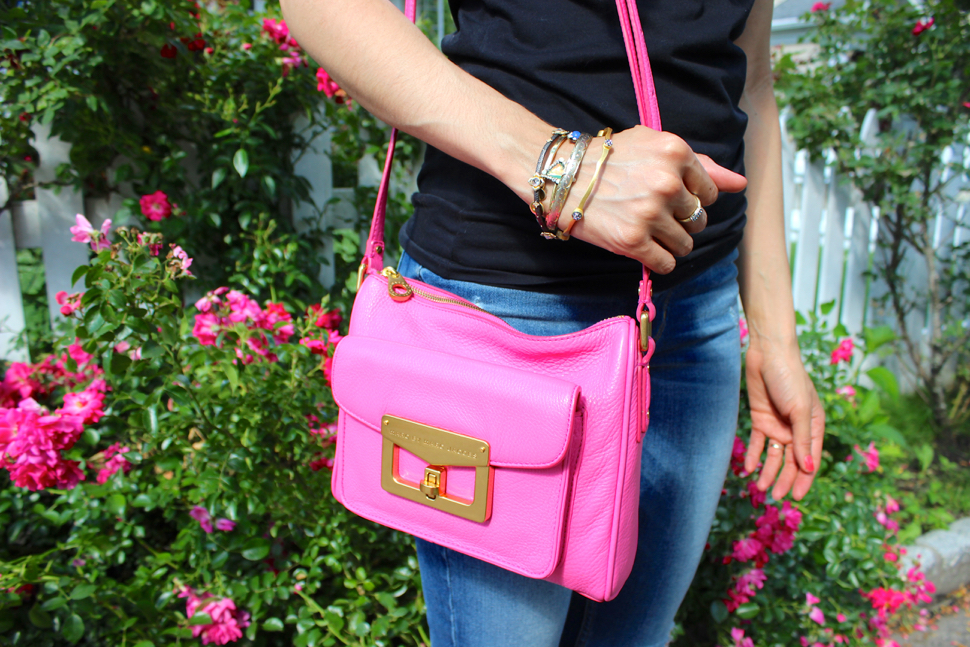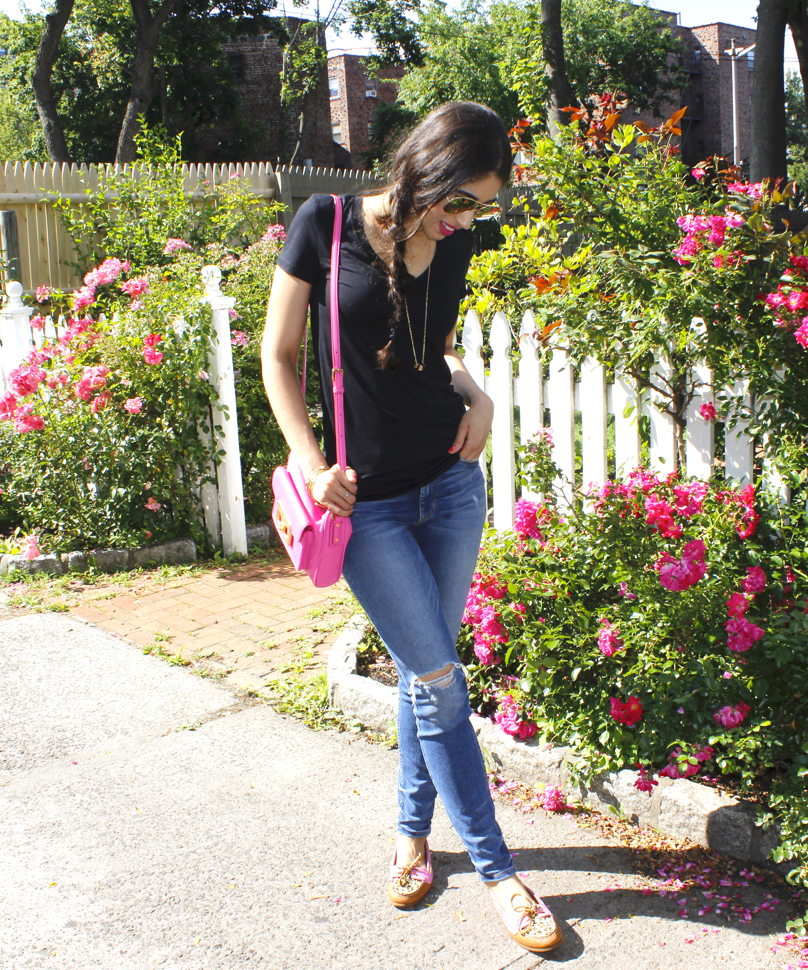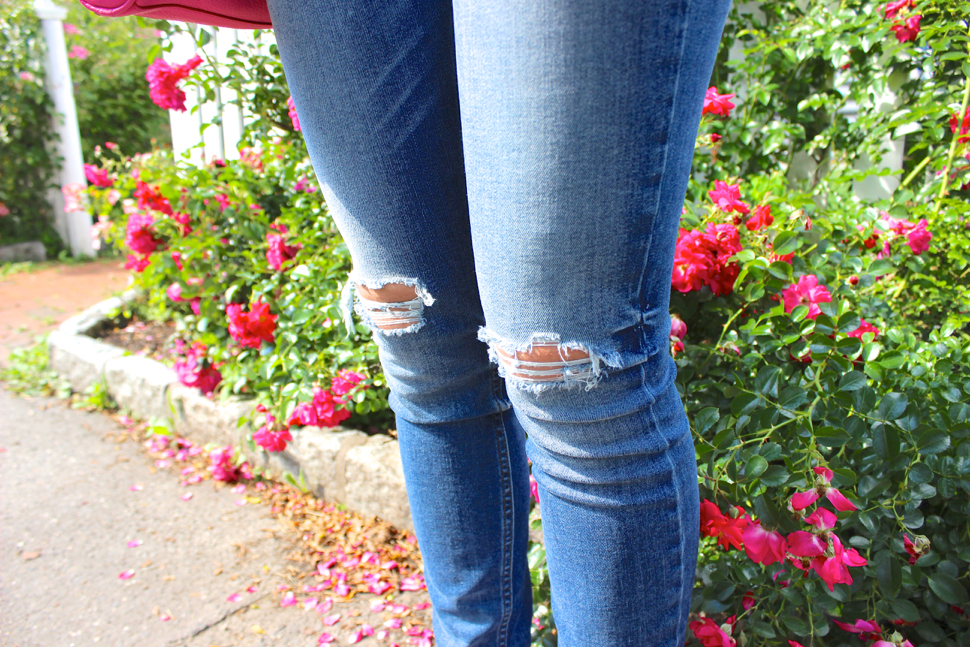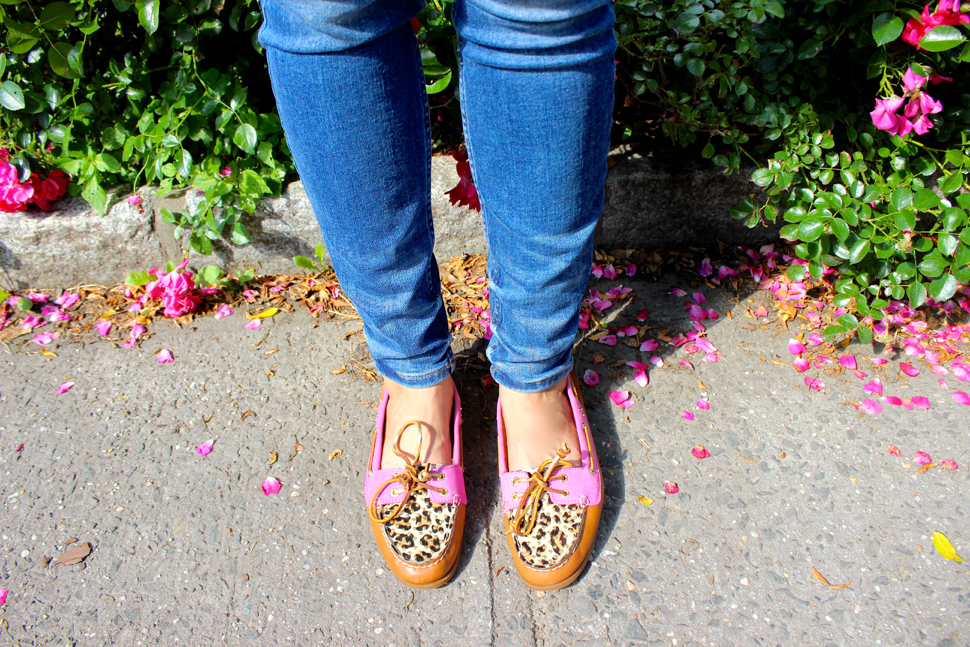 GET THE LOOK!
Tee: Marshalls (similar HERE) // Jeans: GUESS (similar HERE) // Sunglasses: Lucky Brand (simialr HERE) // Shoes: Sperry (similar HERE) // Lipstick: Milani's Rose Hip #14 // Bag: Marc Jacobs (similar ON SALE HERE)

Happy Friday, my beautiful friends!
I hope you all had a wonderful week and are ready for some weekend fun or relaxation...again! I love when we have a short week, who doesn't!?
Anyway, I've mentioned time and time again how much I love reaching for basics on the weekends because they never fail me on those days that Eddie and I just want to chill around town or have to run some errands. When I'm not wearing a graphic tee, chances are I'm wearing a solid basic, like this black one I have in every neutral color!
Since they're SO basic, I'll often layer a few necklaces to add some interest to the look, with some pops of color in my lipstick and/or accessories, as I've done today with all the pink pieces!
I usually like to stick to one color when wearing a tee and denim look because I feel it appears as though the outfit is more thought out and cohesive.
For bottoms, I'll typically pair them with a pair of skinny jeans or shorts, but these distressed skinnies have got to be one of my most worn jeans, which are unfortunately sold out, but I've linked a similar pair. They're by GUESS and from their 1981 line, I love the fit of them in the hip area, so if you come across them, I definitely suggest you give them a try.
I'm a huge fan of GUESS jeans. In fact, for most of my college years, they're all I wore, until I discovered 7 for all mankind and New York & Company's Soho (I LOVE their curve creator/sculptor, I have about 5 pairs!). All three of these denim brands are ah-mazing for us bottom curvy girls and it's noticeable, let me share a little story with you...
One day while riding the subway with my mom, who was standing because well, if you're from NYC then you know the struggle to get a seat during rush hour! When a seat finally opened up, a woman sitting next to her asked where she got her jeans because they looked great on her; she wanted to get a pair because she had been struggling to find good denim that worked for her curves!
My mom shared that they were from New York & Company, which I had put her on to because she was always reaching for a belt and sometimes, a belt just doesn't look good with an outfit. They can look bulky under shirts you want to wear loose and untucked, so I suggested them and she's never looked back.
Well, except to admire how awesome and in tact everything looks back there, haha! #girltalk. 'Common ladies, who doesn't want to have firm looking tushka!? I've actually featured them in my YouTube video, The Best Pocket Placement/Jeans for Your Body Shape, which I highly suggest you watch for some great tips on what to look for, for the most flattering effect!
I hope you enjoyed this post, my gorgeous girlie! Thank you so much for stopping by and I hope you have the most amazing weekend ahead!
XO,