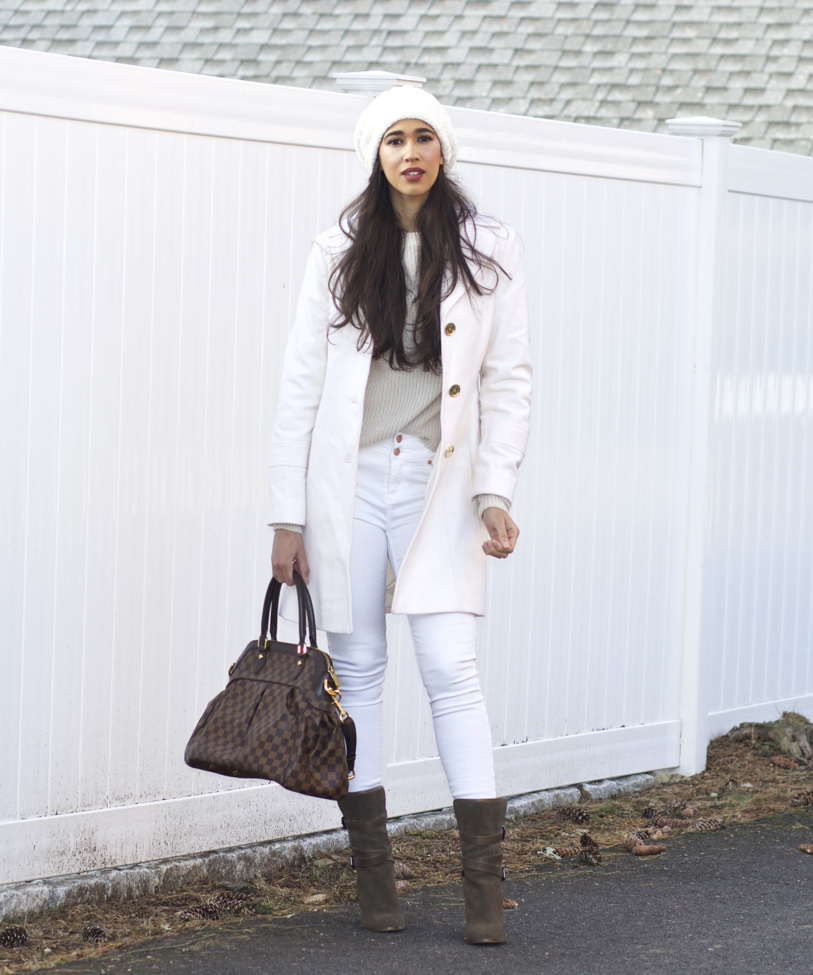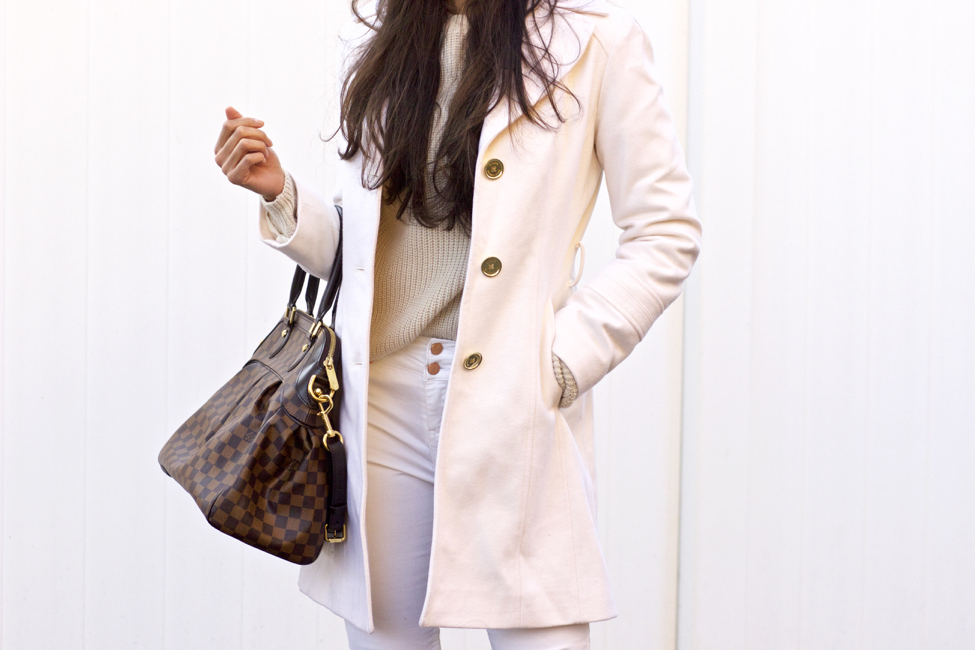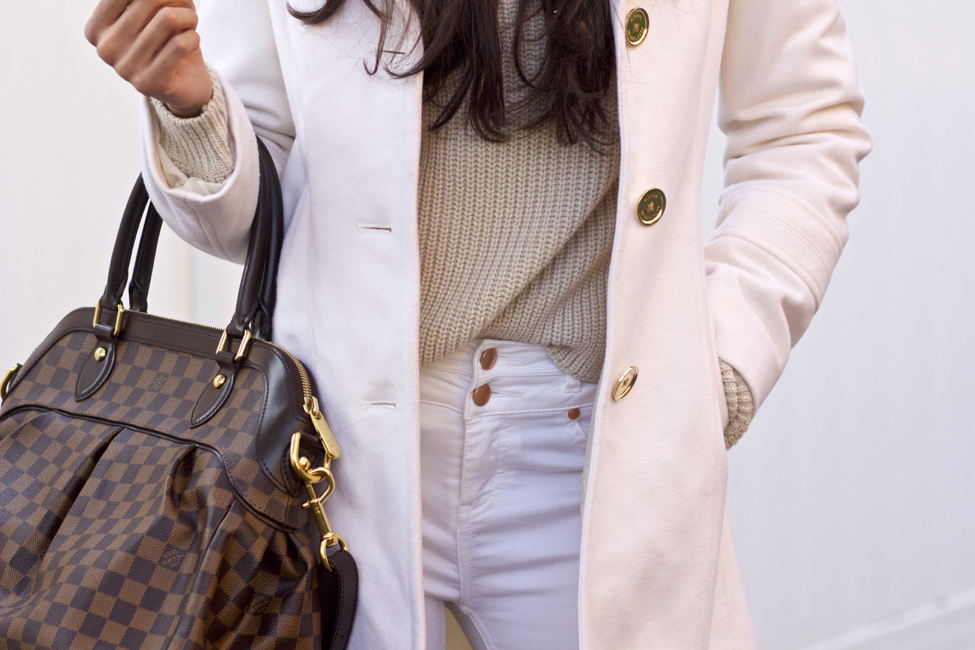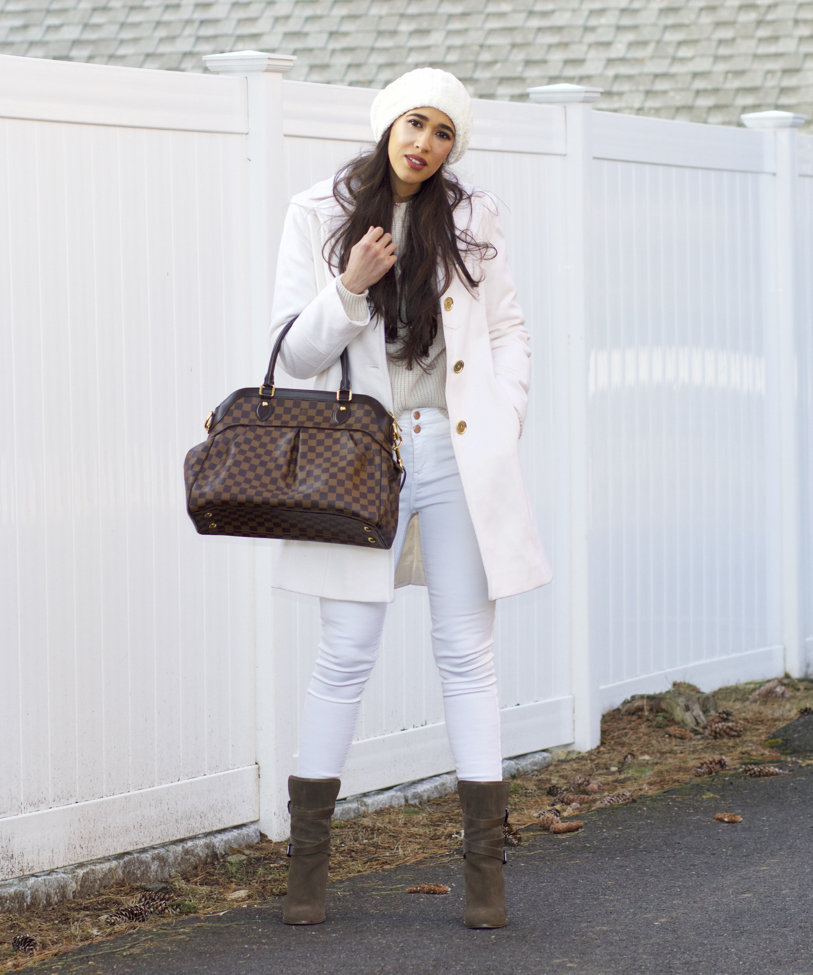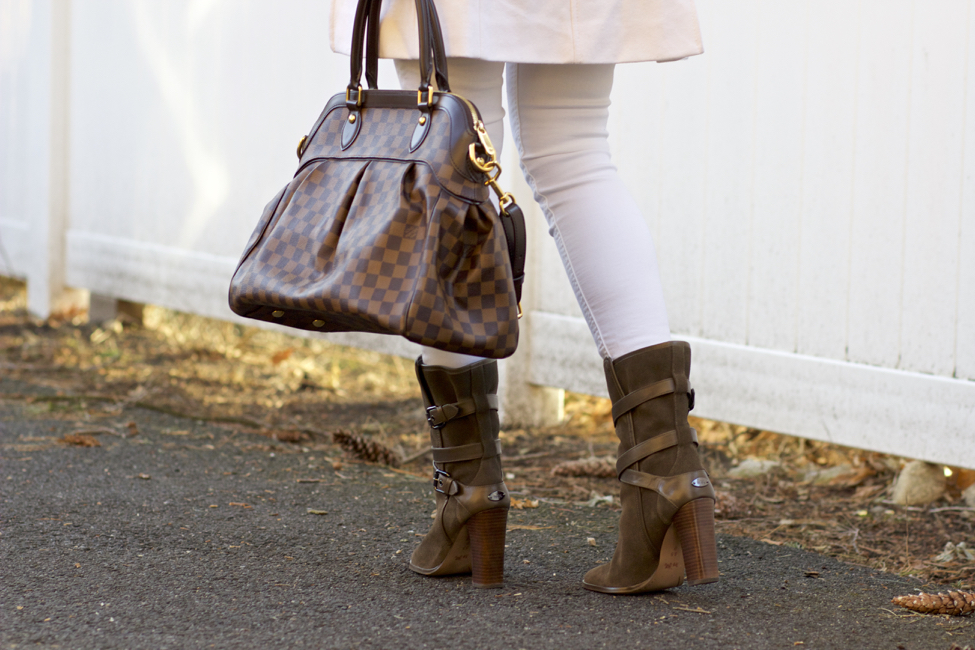 COAT | SWEATER: Similar | BEANIE: Similar | PANTS: Similar | BOOTS: Similar | BAG: Louis Vuitton (get it pre-owned here)
---

---
Happy Monday my sweet friends!
I hope you all had a great weekend and were able to enjoy the fairly warm weather we had! It's crazy how warm it can feel when it's in the 40s & 50s, when you've become so used to weather in the teens and 20s!
My sister and brother-in-law came over Saturday night to see Aviah, which was nice, since we haven't seen them in a while. They got her the cutest little dresses that I can't wait to put her in. As she gets older and the weather warms up, I'll have her make a few appearances :)
So, does this outfit look familiar? Perhaps it does because I wore almost the exact same outfit about a month ago during the holiday season. The only notable difference is that I omitted the scarf and switched up the footwear. Though it's nearly the same outfit done on repeat, it still looks entirely new and fresh, which goes to show that you can wear the same pieces in different ways in ways that can be refreshing.
I do want to mention some styling points on wearing white that I didn't necessarily mention the first time around.
We're at the point in fashion where many of the ridiculous "rules" that have been followed for decades are finally being broken, as they should be. One of which is the no white after labor day rule. There are so many endless possibilities to wearing it all year long, so the thought of limiting ourselves to only a few months out of the entire year is absurd. One way I love to wear it during the winter months is with a mix of beige and creams. It creates a nice soothing palette, especially when done in layers and a mix of textures. I know many of you have mentioned that it's challenging to wear white and not get dirty, therefore you tend to avoid it, especially when it comes to pants. You can try to go a bit darker with creams and if you're a mama, like me, wear it on a day that you know you'll be without the littles to avoid the absolute guarantee of getting dirty, haha. It's just so chic and good to avoid never trying at some point.
Another reason I've read many don't like wearing white pants is because it can make one appear larger. This is very true as it reflects light, which will in turn make the area(s) where it's worn appear larger. However, this doesn't mean that it should be avoided entirely. I suggest pairing them with an oversized sweater, half tucked and perhaps with a belt. This will help draw the eye up and have the eye focus on various parts of your outfit as opposed to just the legs, if you're insecure.
In regards to shoes, if you're mbracing the white boot trend, it would be the perfect addition to a pairing like this. Since I've opted out for now, I decided to add an earthy touch of olive green, which I feel pairs beautifully with the mix of white and cream. You could also wear a pair of beige pumps, which is what I did in the original pairing (see here).
Do you wear white in the winter and if so, what's your favorite way to style it? With pastels, neutrals, or other off white colors?
Thanks so much for stopping by and I hope your week is as fabulous as YOU!
XO,