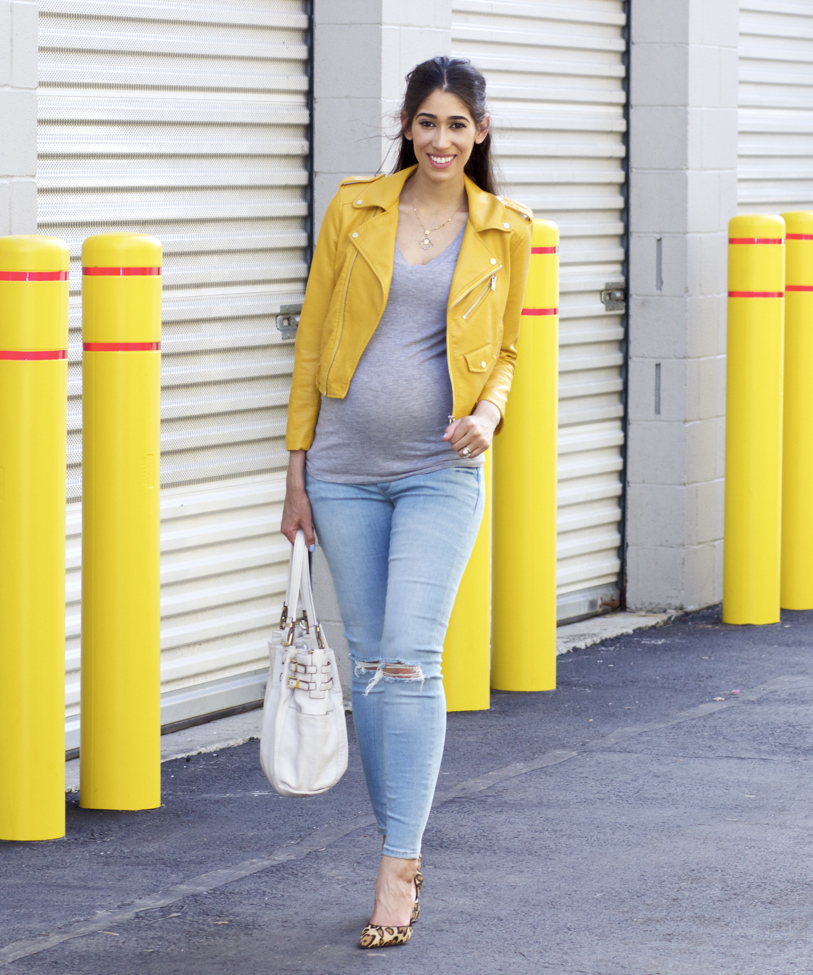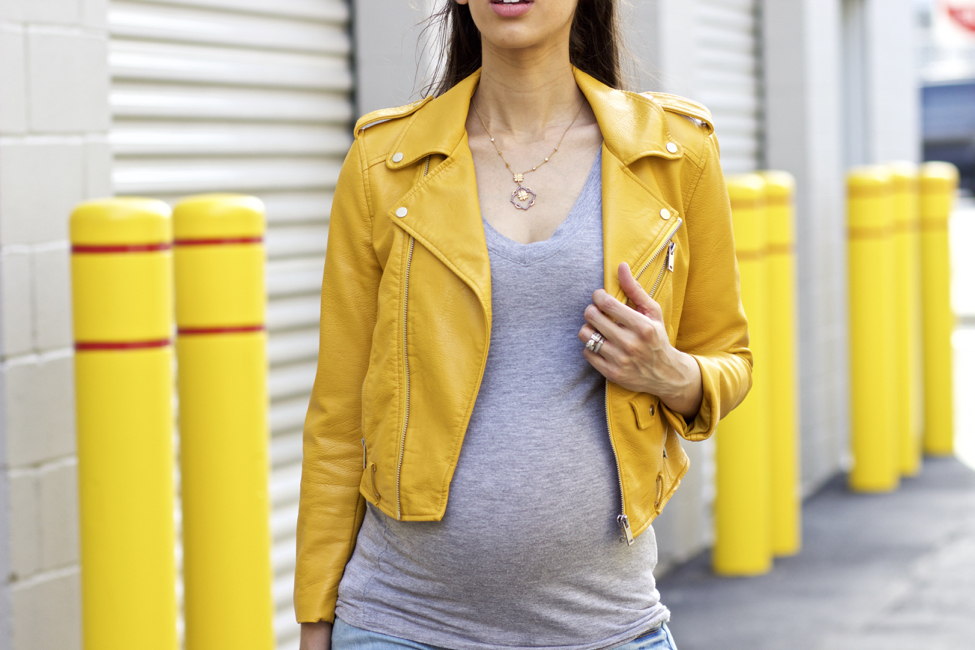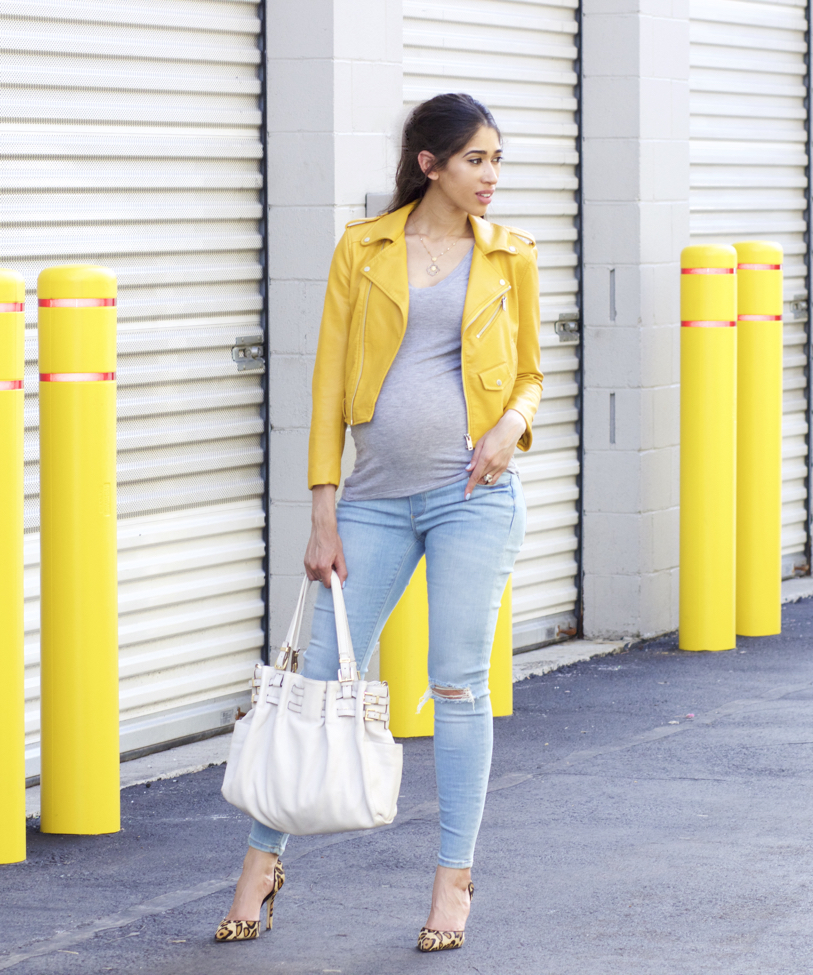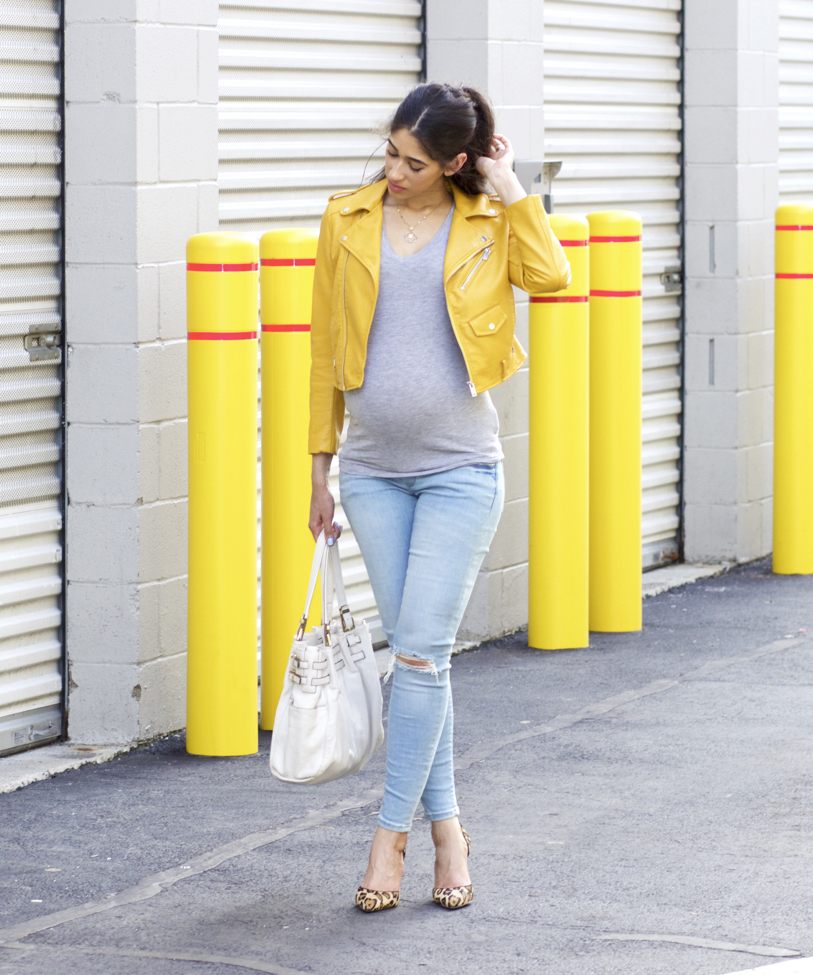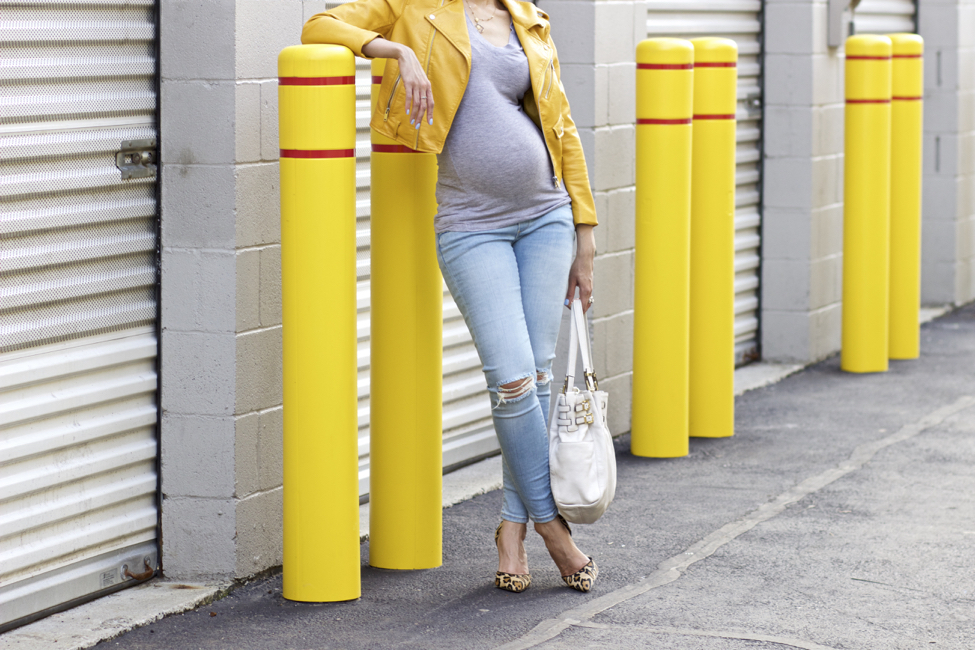 Jacket: Zara (similar) | Tee: Similar | Maternity Jeans | Necklace c/o | Bag: Michael Kors (I love this one) | Shoes: Sam Edelman (similar)
Happy Friday my gorgeous friends!
I hope you all had a wonderful week and are ready for some weekend fun! What better way to start the weekend than with a splash of some cheerful yellow! It's a color that's been trending on the runways and streets for some time now and it seem as though it's gaining some momentum, though not nearly as much as blush, but it's getting there, haha.
You know, I used to hate the color so much as a kid, as well as green. Now, I love these two colors and find them to make any piece of clothing or accessory that much more unique, as we don't tend to see them too often. A perfect example would be a yellow leather jacket (you've seen me style my green leather a number of times: 1, 2, 3). You know my love for leather jackets runs real deep and even more so now that I'm pregnant. I feel it just makes any "maternity" outfit look that much cooler, stylish, and modern, wouldn't you agree? Plus, they're extremely versatile.
This color combination isn't new to me or you, as I've styled an outfit very similar to this one last year. In fact, the only differences are the jeans, shoes, and purse. Even though the styling is pretty much the same, it goest to show how switching up pieces can actually create an entirely different vibe; I feel today's look is visually lighter, not as saturated.
Speaking of one of the changes in today's look, the denim, I'm pleased to say that I've finally found a pair of maternity jeans that are cute, affordable, and comfortable. They're from Asos and I was lucky enough to snag them on sale. They're quite popular and are selling out in most sizes, however, their jeans seem to be loved by many. The weird thing is that I purchased the same style (the Ridley) in white in the same size and they were too small. It makes no sense and I was pretty sad, but it is what it is. I was able to find another white pair from H&M and they're ok, nothing to rave about, though my niece couldn't believe they're maternity jeans when she saw me wearing them, they've really mastered the design on maturity jeans these days with their build in belly band and faux pocket/zipper designs.
I hope you found some inspiration for wearing some yellow in this post. For more inspo, feel free to check out my blog post How to Wear Yellow This Spring: 7 Ways to Wear Spring 2017's It Color.
Thanks so much for stopping by, my dear friends, and I hope you have a wonderful weekend ahead!

XO,