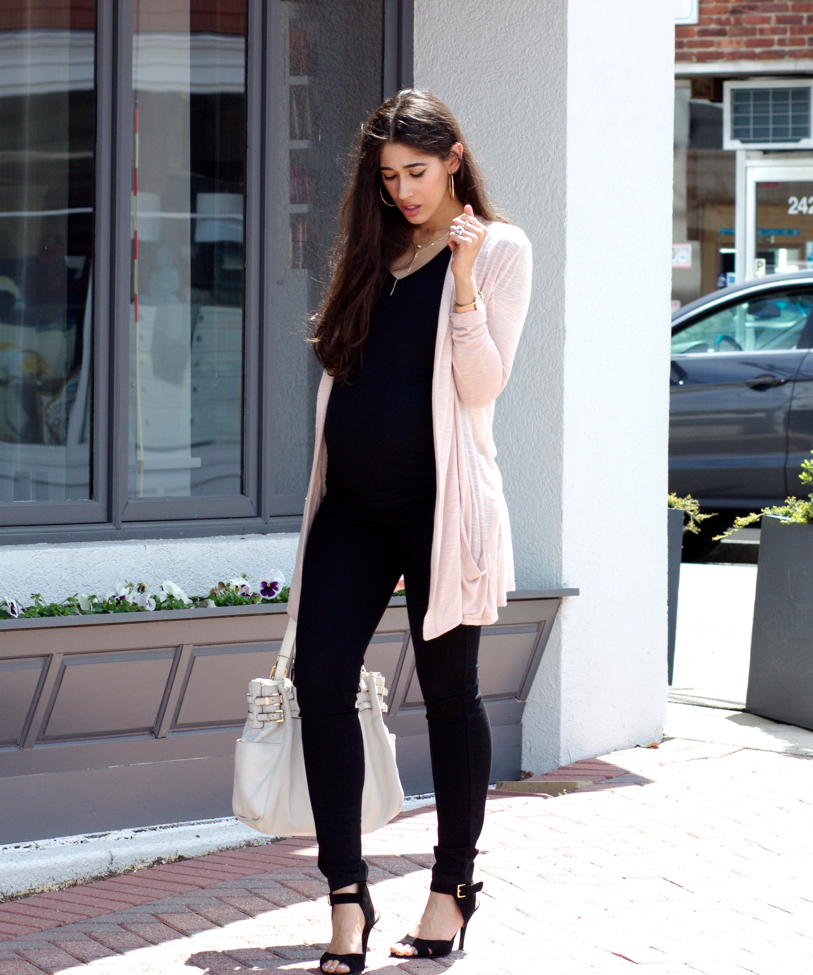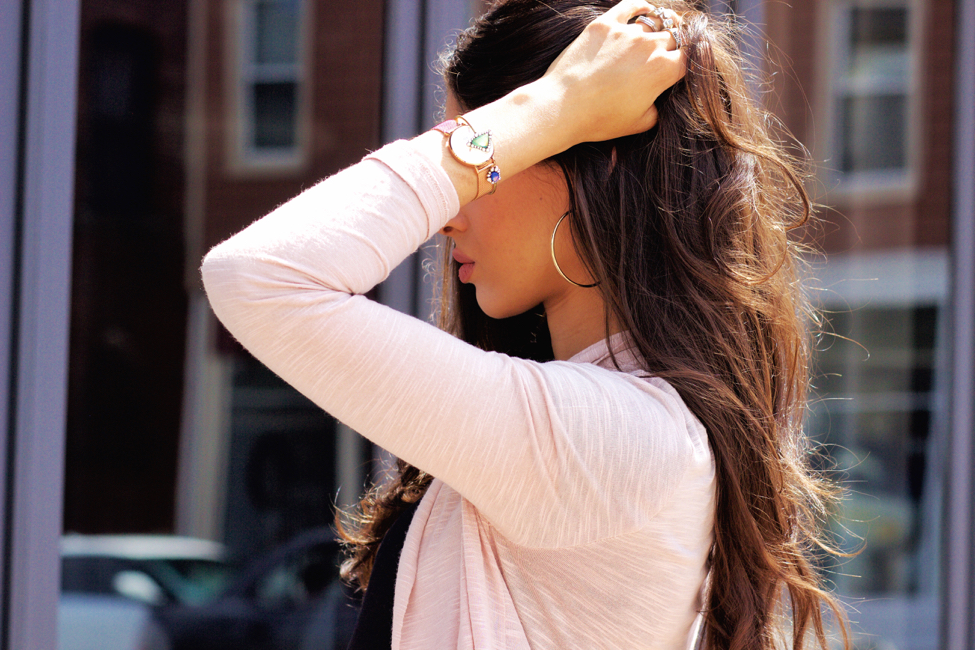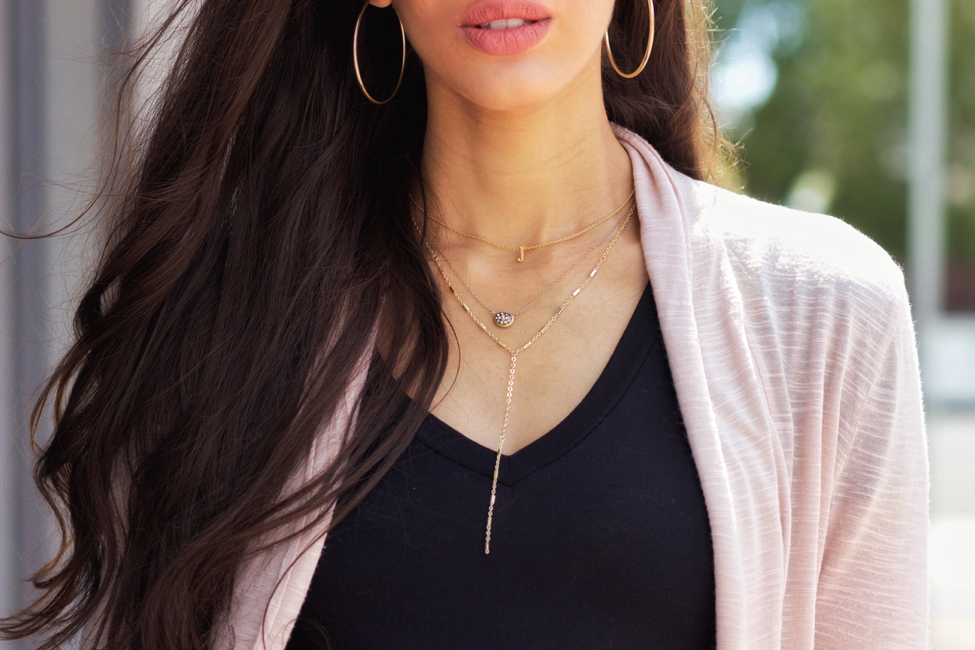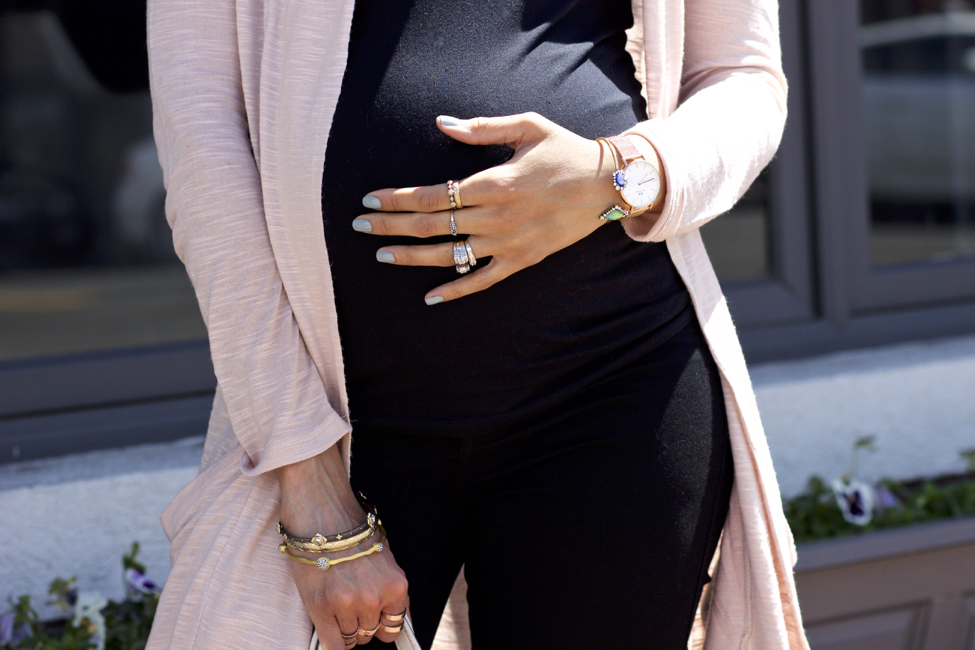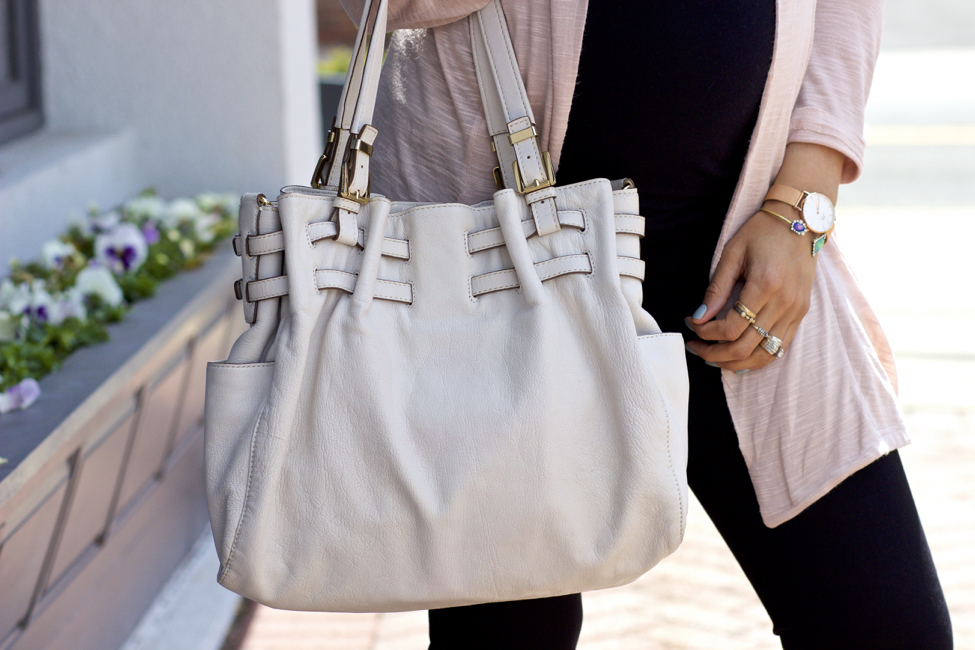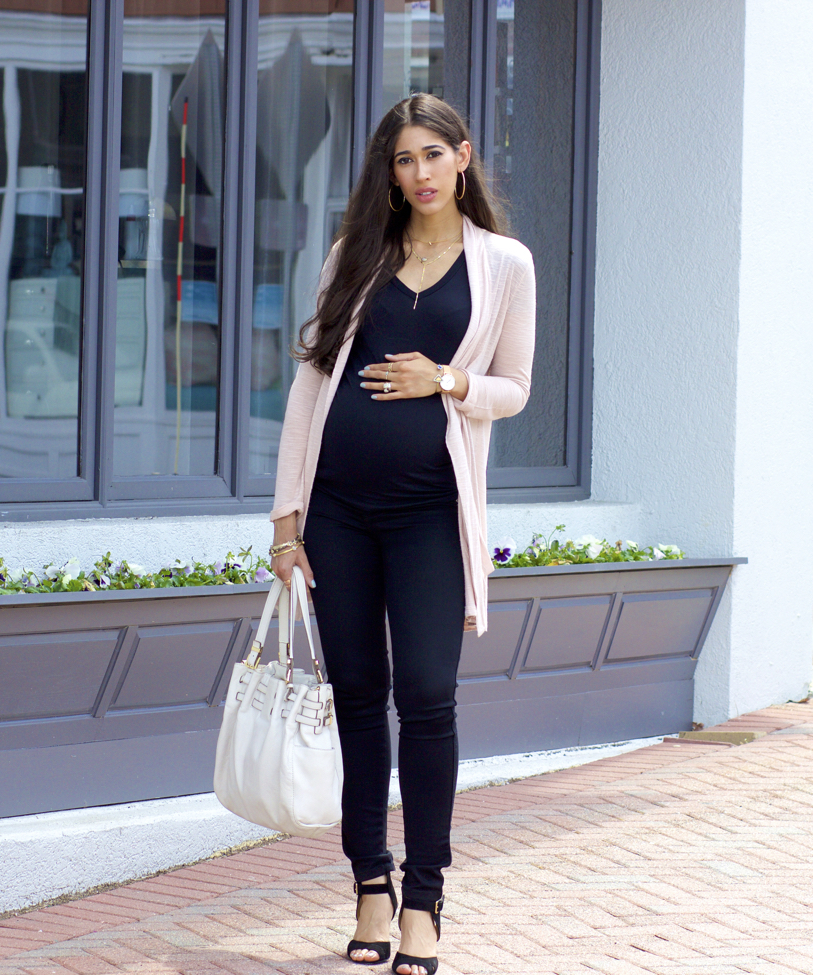 Cardigan: H&M (similar here) | Tee: Similar | Jeans | Y Necklace c/o| Watch c/o | Purse: Michael Kors (I love this one) | Shoes: Nine West (similar)
Happy Monday my dear friends!
How was your weekend?! I pretty much rested all weekend long because I've just been feeling sooooo tired lately. I'm starting to feel like I did at the middle of my first trimester when I was tired nearly all the time. You guys, I'm 30 weeks, only 10 more weeks to go, can you believe that?! In a way it feels like the pregnancy has been going by so fast, but at the same time, I often feel like I've been pregnant forever, lol. I've heard that's a common feeling, though, when you get closer to the home stretch.
Sleeping is starting to become a bit of a challenge because though I've always slept on my sides, I often wake up in the middle of the night with a panic thinking that I somehow moved onto my stomach. Don't ask me why, I just get nervous and it's not a fun way to wake up at 3am! I've also been quite irritable and I give it to Eddie for having patience with me because sometimes I just have zero tolerance and I get snippy and he's been such a great sport. I think the fact that he downloaded an app called The Bump that it has given him a better understanding of pregnancy overall. He gets super excited every Sunday to learn what changes both I and Baby A are experiencing. I was actually quite surprised when I found out he downloaded this app because I had never heard of it and didn't think of getting an app to track the pregnancy; I'm glad he did because it's so cool to learn more about Baby A's development and nod along with some of the symptoms mentioned that are sometimes analogous to my weekly changes.
We also got Belly Buds yesterday because I like to play Baby Mozart for little mama (I've read how it's great in stimulating their intellectual development) throughout the day, but it gets very distracting trying to work and have the music playing; I'm one of those people that needs silence in order to be productive. Now, I can just play it on my phone or laptop with the pods on my stomach and work without it disturbing me. I tried it for one hour yesterday and she seems to really love it. It's amazing how in tune I am with her, I know the difference between when she kicks out of announce or when she moves out of enjoyment.
As for my outfit, you all know that I'm apart of the blush color bandwagon; I love the shade. I love it paired with so many different colors, but feel it looks the most sophisticated paired with all black when done with a jacket or cardigan. I actually love the idea of this outfit worn with a blush satin bomber, ugh, gorgeous! I think it's a "grown up" way to do pink, so if you're one who's avoided the color overall because you feel it's too girly, this combo would be great and suitable for all ages in my opinion. I personally love all shades of pink, but I know that's not the case with many. Plus, the all black does the body good, doesn't it!?
Thanks so much for stopping by, my dear friends! I hope you found some inspiration from this look and enjoyed reading my little bump update. I love sharing this journey with you, knowing that you all have known me before, during my pregnancy and after, it's very special :) I hope you have the most amazing week ahead!
PS: I didn't dye my hair. I often get asked this around this time of year when my hair naturally lightens. Both my mom and sister are natural red heads with freckles. I'm the only one with dark hair, but when spring rolls around, my hair color changes. It's the only visible Irish gene I have, haha. It makes us wonder what color hair Baby A will have. My grandmother had red hair and blue eyes and like I said, both my mom and sister have red hair, who knows!

XO,