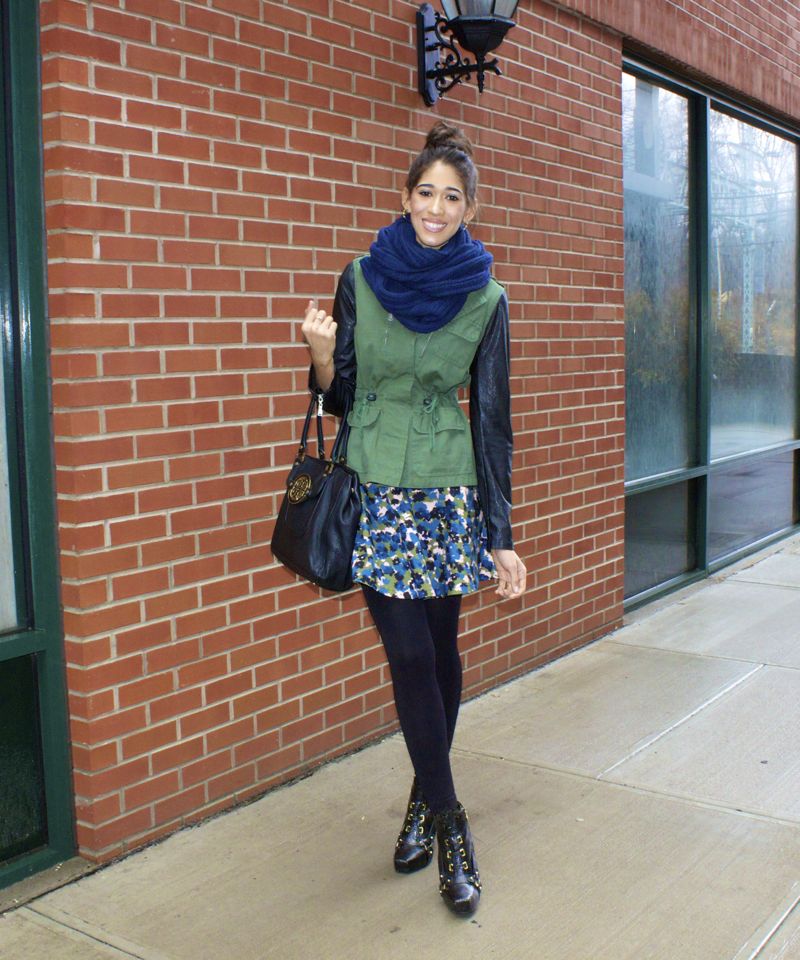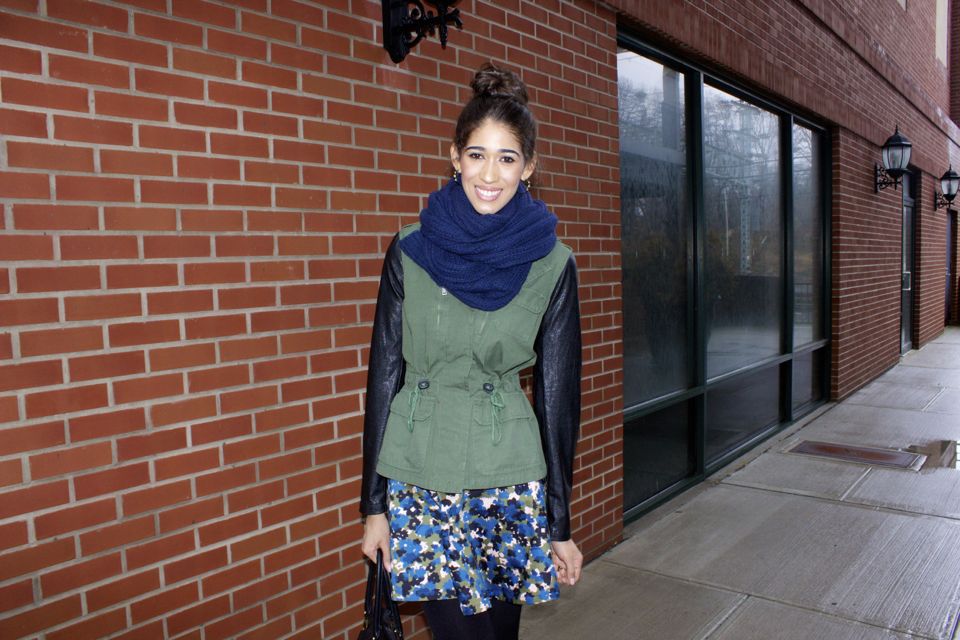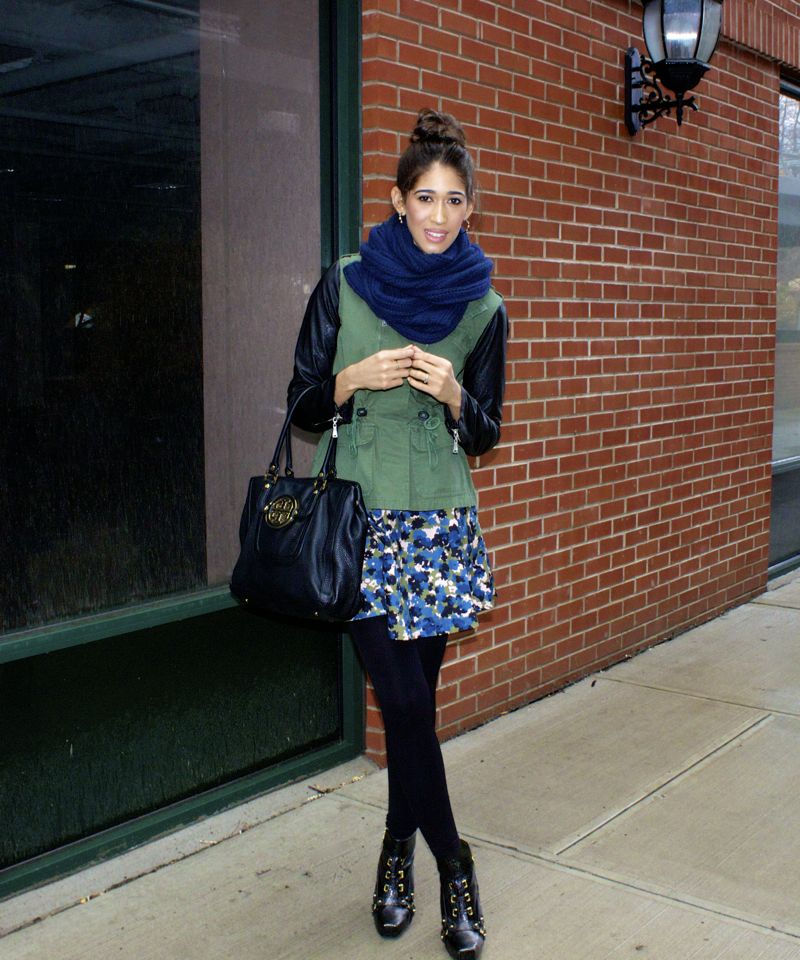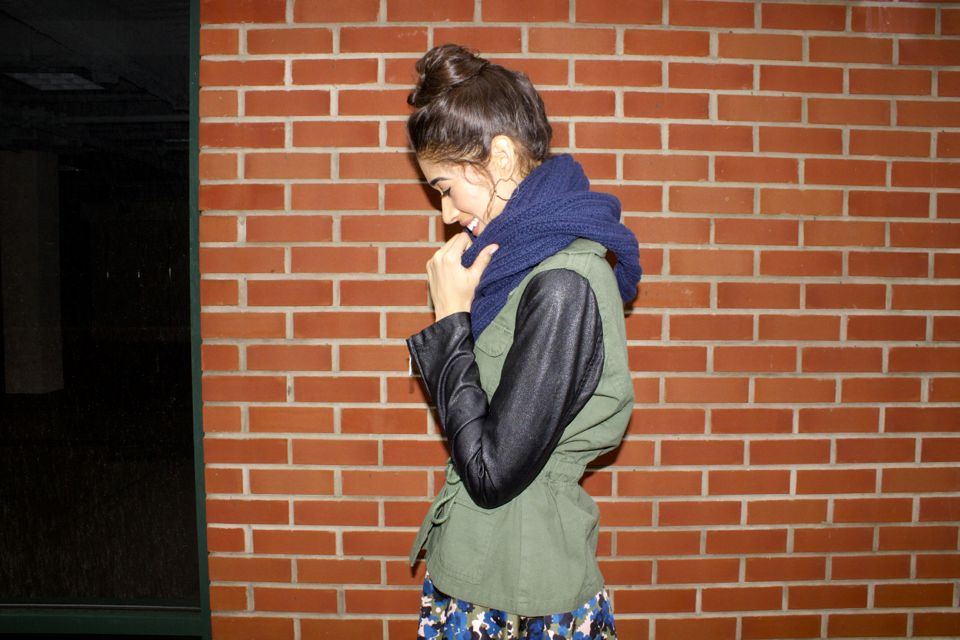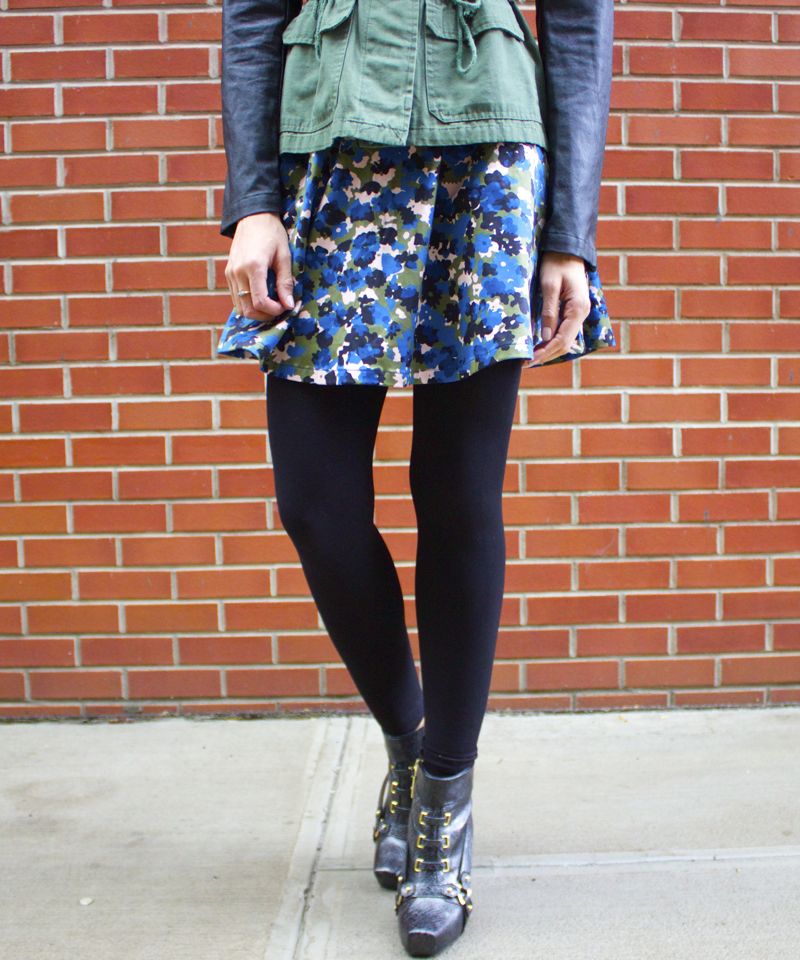 GET THE LOOK!
Men's Scarf: Ralph Lauren via the hubby (similar style HERE) // Jacket: Marshalls (similar style 50% OFF HERE) // Poppy Skirt: Kate Spade SATURDAY via Marshalls (similar style B1G1 50% OFF HERE) // Lined Tights: via Marshalls // Boots: Christian Siriano for Payless (similar style ON SALE HERE) // Purse: Tory Burch (similar style HERE)

Happy Monday, friends!
I hope you all enjoyed your weekend; I felt like it went super fast, maybe because I had wanted it to come so badly after having a really long and stressful week last week, haha! Nonetheless, I did enjoy some time relaxing and I hope you did, too!
For today's look, I'm working with an olive green and navy combo, one that I love particularly during the winter months. A question I often get asked is how to come up with good color pairing ideas and I often suggest looking to printed items you have already in your closet or keeping an eye out when shopping, even if you don't necessarily like the print, the color combo could still be inspiring and work well together. As you can see, this poppy printed skirt contains navy, olive green and cream giving me three basic color options that I can work with for the other pieces in my look, which is a super easy starting point. Of course, if you want to be a bit more bold, you can add a pop of color that isn't already found within the pattern (I think a darker shade of orange would look great) or combine an additional pattern for a fun and interesting outfit. For this look, I decided to pull out both the navy and olive, while adding some hints of black to help intensify the overall feel a bit and to pull the look together, since I have black faux leather sleeves on the utility jacket.
I wanted to point out two specific pieces in the look. The first being this huge scarf that makes me feel like I'm wearing a neck brace! This is actually my husband's scarf, which he doesn't really wear anymore, so I grab it when it's really cold because this thing safe locks your neck, no joke! The other piece I wanted to briefly discuss are these ankle boots. These boots have got to be the single most complimented boots I own and would you believe that they're from Payless and they're four years old?! I had decided to pop into Payless one day after being early for an appointment to kill some time and to my surprise I found these beauties from the Christian Siriano line. You guys, they're super comfy, as intimidating and uncomfortable as they may look! I say this to suggest that you pop into stores that you wouldn't typically shop at because you may end up finding something you truly love and that could possibly outlive your expectations!
I hope this post and pairing inspired you and as always, I thank you so much for stopping by; I hope the start of your week is as fabulous as YOU!
Xo,