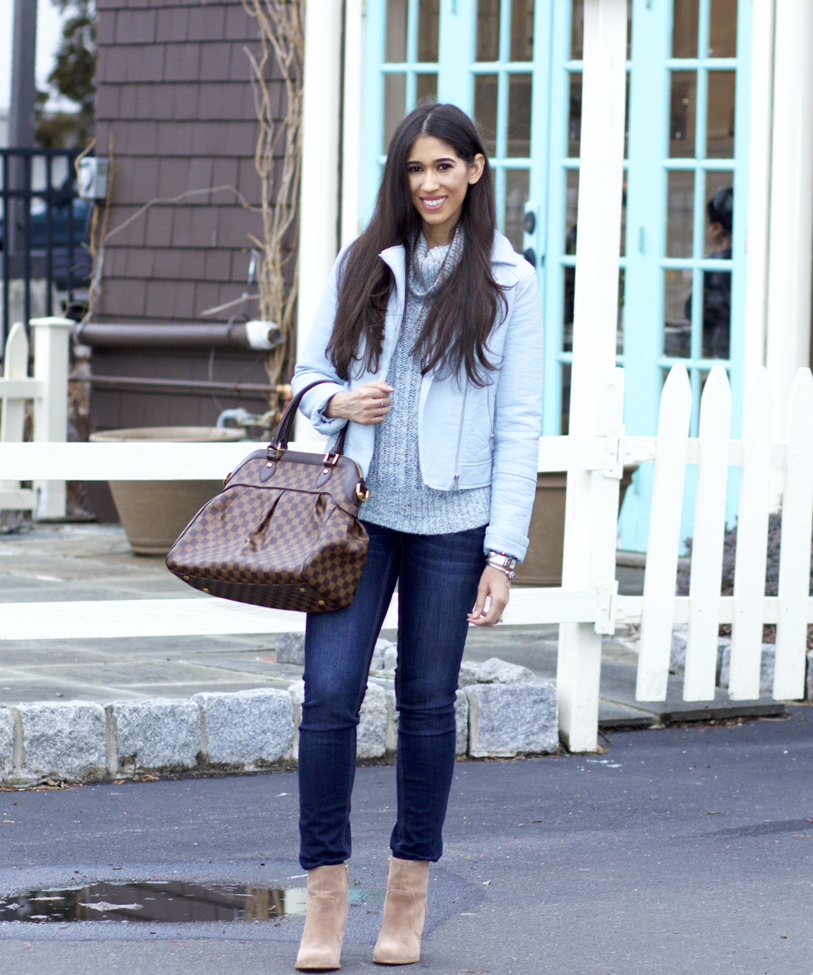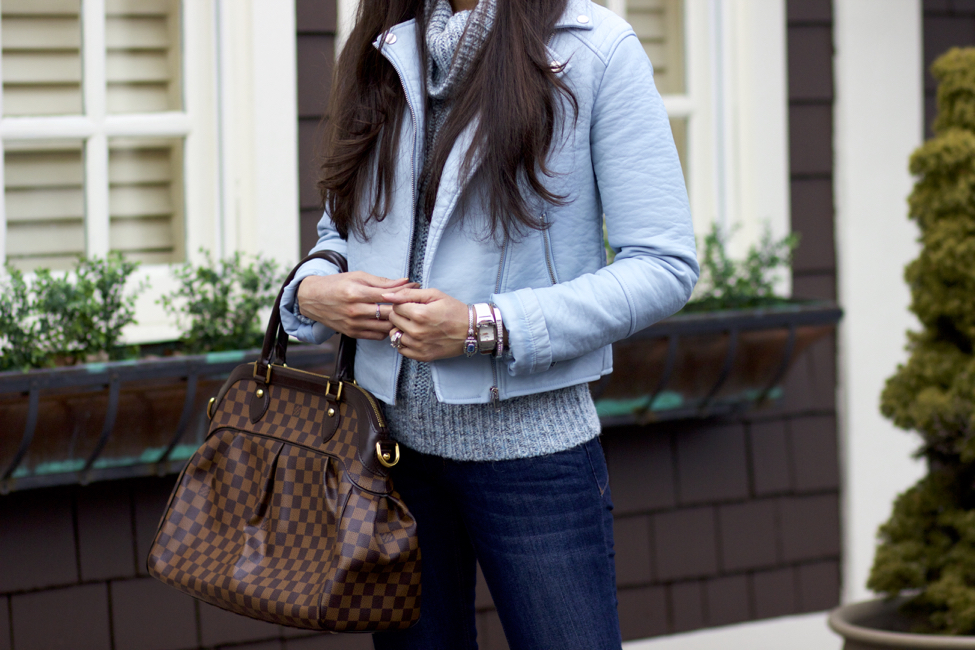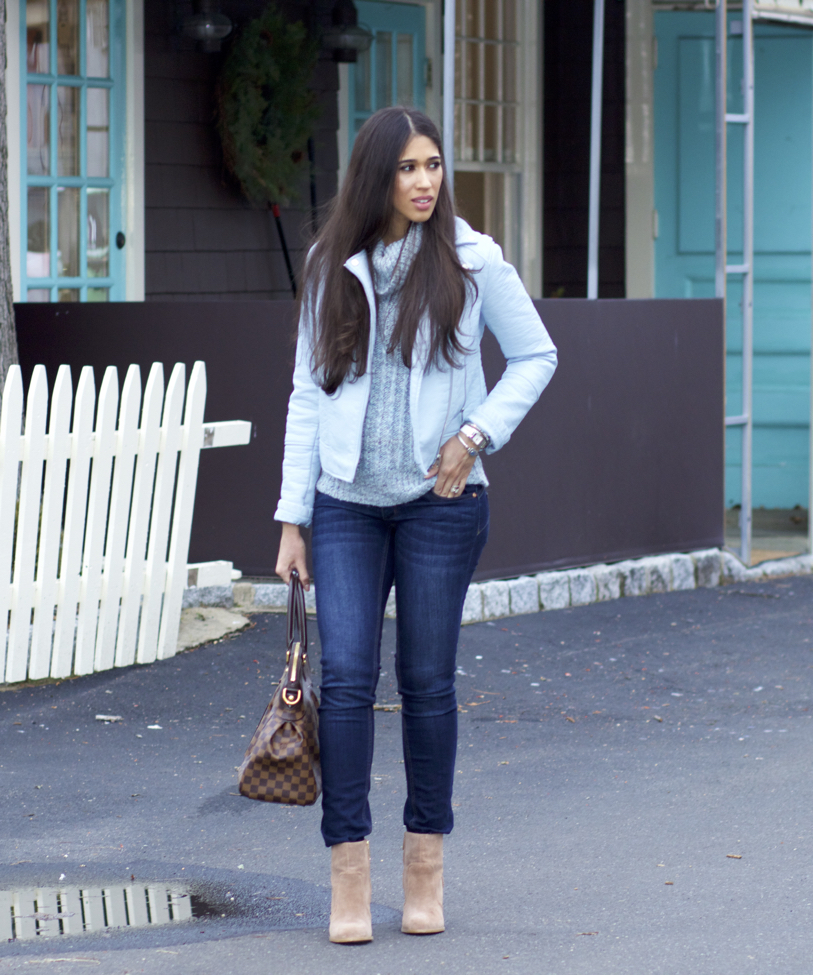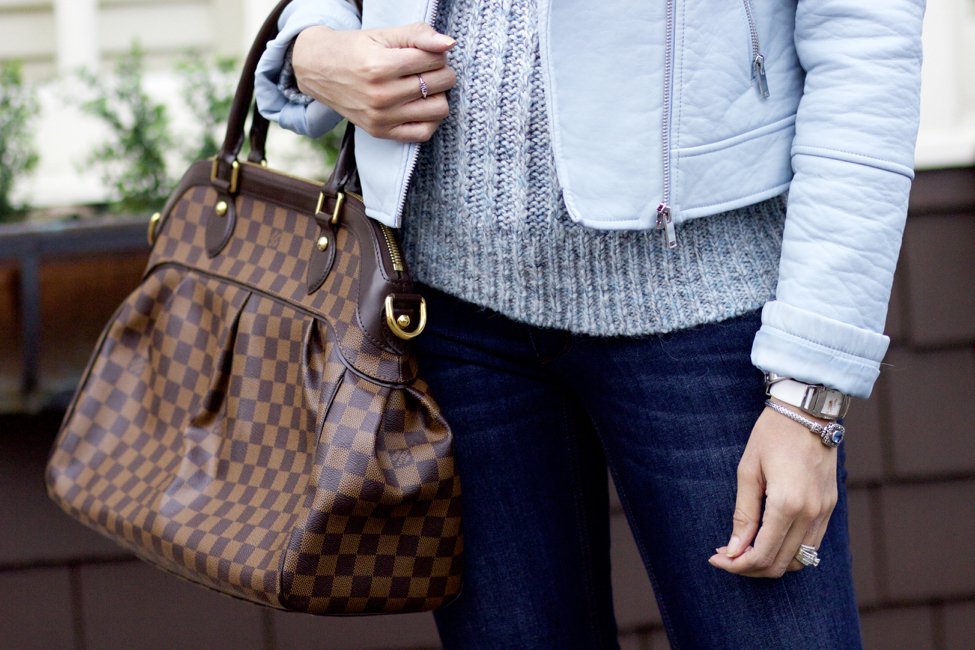 Jacket: Dorothy Perkins (I have this one in green and it's just as heavy) | Sweater: c/o Banana Republic | Jeans: New York & Company | Boots: Nine West | Bag: Louis Vuitton | Topaz Bracelet: similar here
Happy Wednesday, my beautiful friends!
I hope you're all having a great week so far, I can't believe it's already Wednesday and that we've only got a week left of January, crazy!
Today, I wanted to share with you an alternative jacket you can wear during the winter months, a leather jacket. This may not be first style that would come to most people's minds when thinking of winter outerwear because they can often be a bit too light weight, especially if they're faux. This is not the case with the one I'm wearing today however. I purchased this jacket a couple of years ago from Dorothy Perkins' site, before I was used to European sizing and understanding the conversion charts, lol.
I say this because I accidentally ordered two sizes up than my actual size! By the time I had finally received the jacket (like two weeks after ordering), it was sold out in every size and I couldn't find one quite like it at the time, so I decided to keep it and layer thick sweaters underneath and it's actually proven to work quite well. The jacket is heavy for a faux leather piece as it is and the fact that I'm able to wear a chunky knit underneath makes it even better for keeping warm. I love this because it allows for me to showcase an edgier vibe with my outfit, which would otherwise require a bit more effort and creativity when working with a regular wool coat or puffer. In other words, my jacket become apart of my outfit, in addition to keeping warm.
Since this jacket is of course no longer available, I'm suggesting another style quite similar in terms of weight, durability, faux leather, and one I also personally own, this style here. I have it in the gorgeous hunter green shade and LOVE it. I always receive compliments when I wear it and the quality is amazing. It does seem to run true to size, though I have muscular arms and found I had to size up for a more comfortable fit. I suggest if you want to layer and make use of it during the colder months, you do the same, otherwise, it will be very fitted. I'm not trying to sell you here, I'm just suggesting what I personally know to be a great leather jacket for winter :)
If you already have a leather jacket you love and aren't in the market for another, then I suggest you try layering your favorite thick and cozy knit underneath with a blanket scarf. For a more comfortable fit, you may need to pull the knitted sleeves out, which I think looks pretty cool anyway!
Thanks so much for stopping by, my dear friends, and I hope you have the most amazing day ahead!

XO,