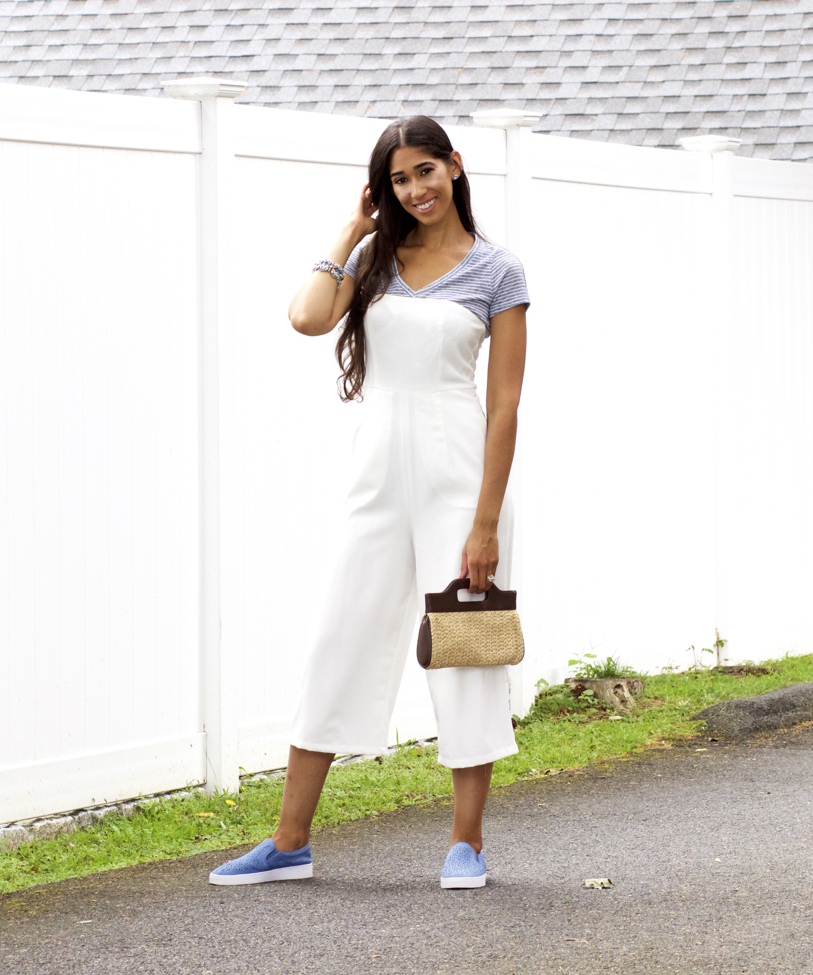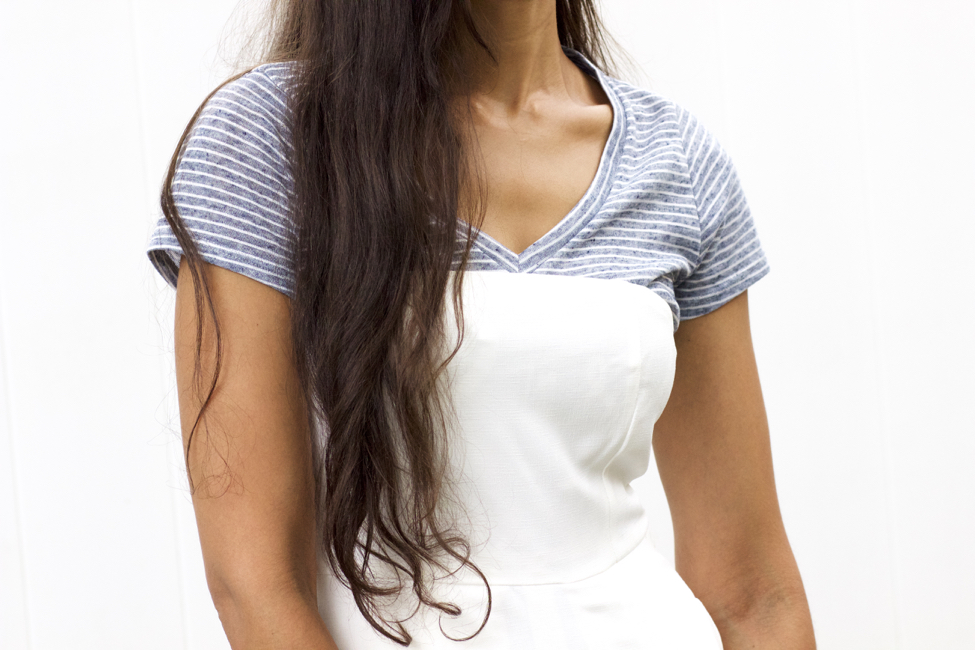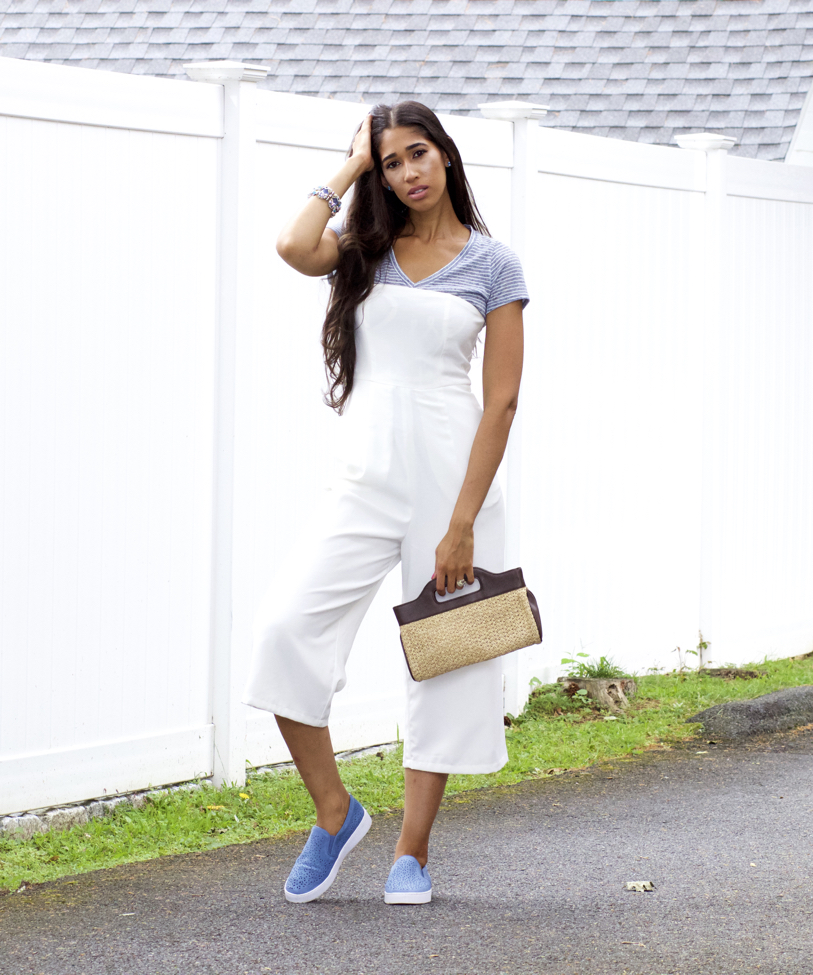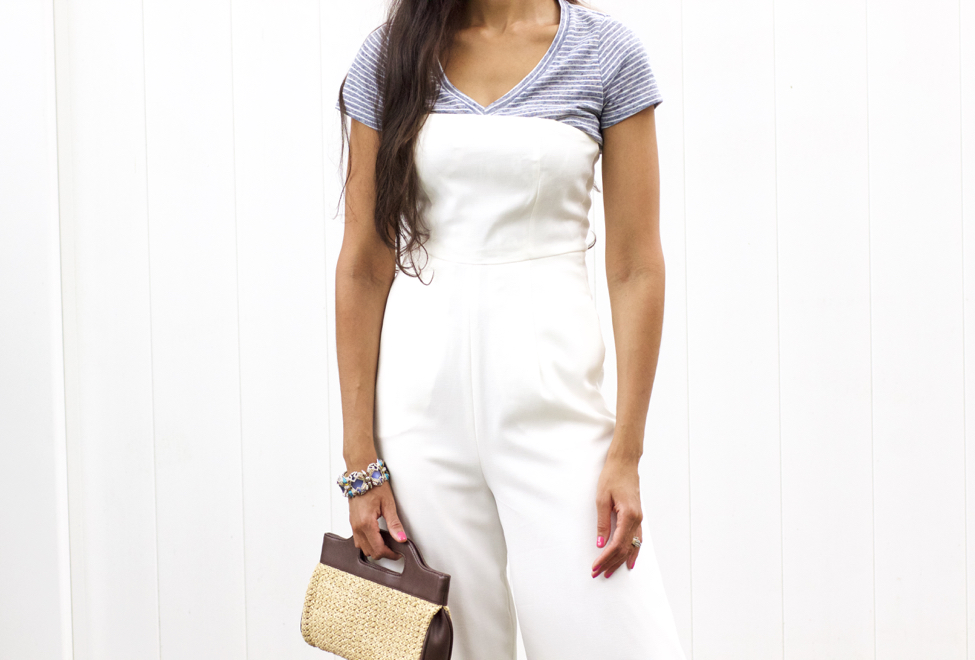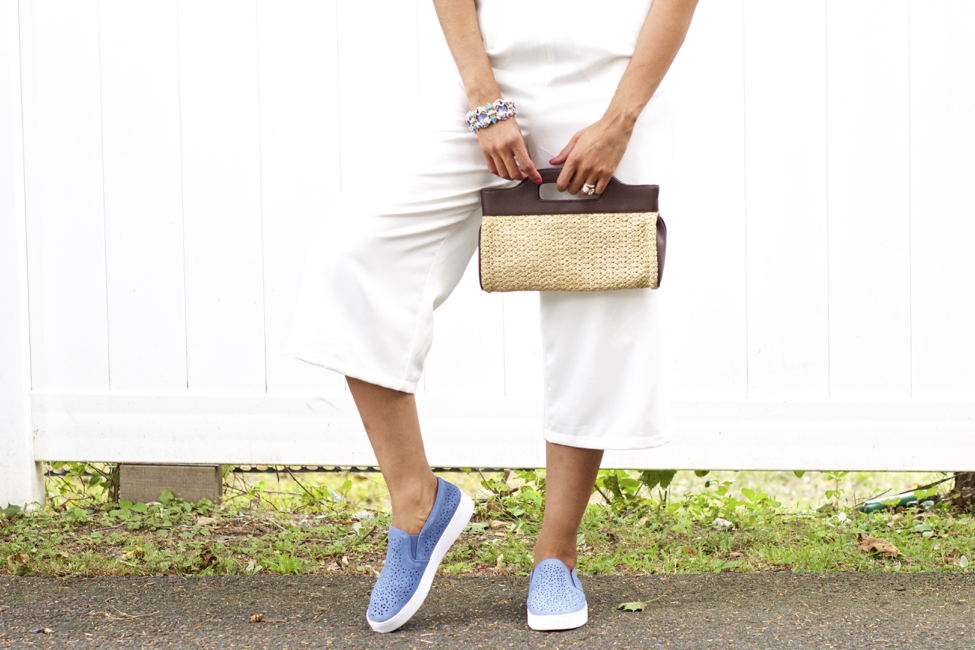 TEE: Similar | JUMPSUIT: Similar | BRACELET: Similar | BAG: Similar | SHOES C/O
---

---
Happy Labor Day my beautiful friends!
First off, I know I mentioned in last week's post that I'd have another post to share that Wednesday, but didn't. The reason was because the photos didn't come out too good for both Wednesday and Friday. I just wanted to address that :)
Since today is the unofficial end to summer, I feel it's now suitable to discuss fall fashion more in depth. I briefly talked about it when sharing my seasonal essentials during the Nordstrom Sale, but in this post, we'll be discussing styling specifically. Though we've been experiencing a bit of a heat wave on the east coast for the past couple of weeks, there have been days here and there that have been nudging to remind us that fall is indeed on the horizon. In fact, this past Saturday, it was 68° in the morning and I was besides myself!
September is the month of transition and it actually reminds me a bit of March in that it's pretty unpredictable. There have been some years when the temperatures dropped for good by mid month and there have been others that the heat carried over into October. So, since it's so fickle, you truly have to master the art and practicality of layering in a way that's fashionable of course!
This year, jumpsuits have been my go-to piece of choice and if it's been yours too, you don't have to box them up just yet. They're such great pieces to layer with because whatever you layer under or over will almost always guarantee to create a fashion forward or modern effect.
Today, I kept it rather casual by choosing to layer a striped v-neck tee underneath. I really love the contrast the v and square necklines create, causing the eye to move around a bit, essentially omitting the need for a necklace to create that interest usually needed to fill the void space.
As the weather cools down even more, you can opt for warmer layers, such as:
long sleeve button downs
turtlenecks
light sweaters or even
an oversized sweater on top to have the bottom half double as a pair of pants. Genius!
In the next several weeks, I'll be sharing visuals of those suggestions, so you can get a better idea of how they'd look before trying them out yourself, if you're on the fence. If you do give any of them a go, I'd love to see your take, so do tag me! (I'm @thestylecontour, if you're not already following along—you should already be though, lol, jk ;)
So, now let's chat...
How's your summer been? I know there's been a bit of static here this season. I've been soaking up as much of the sun as possible, especially after having that rough, cold winter...it just didn't want to leave! Aviah also loves the beach, so we've been taking her at least twice a week. When Eddie was off for an entire week, we went everyday!
Are any of you taking advantage of all the Labor Day sales? It's crazy, I feel like nearly every month there's some big sale going on, which is great if you truly need to shop. I have my eye on a few things, mainly because it's my birthday month! It's on the 29th and it's a big one...I'm turning 30, you guys! What's interesting is that I feel content with the number, but I remember going through a quarter of a life crisis when I hit 25. Weird. Did that happen to any of you?
Thanks so much for stopping by, my sweet friends! I have a post going up tomorrow, so be sure to stop by again!