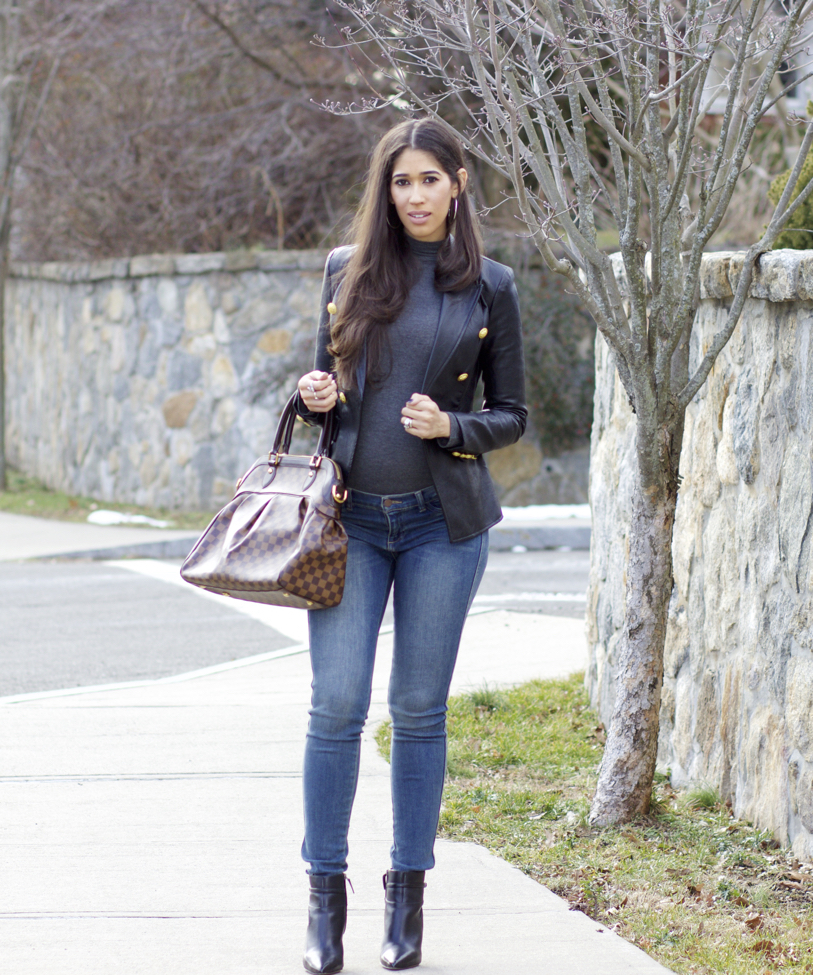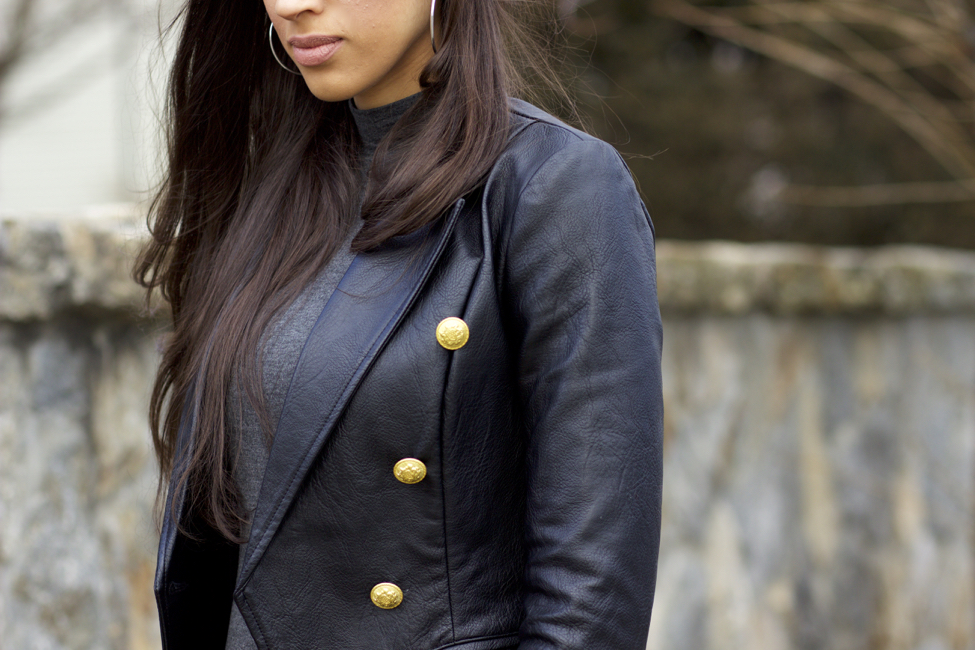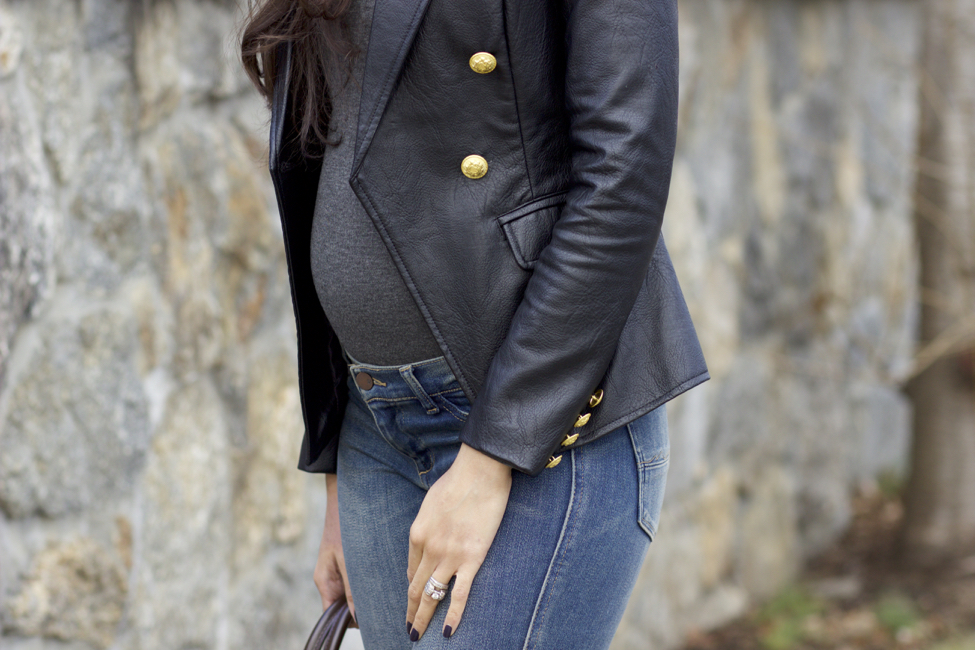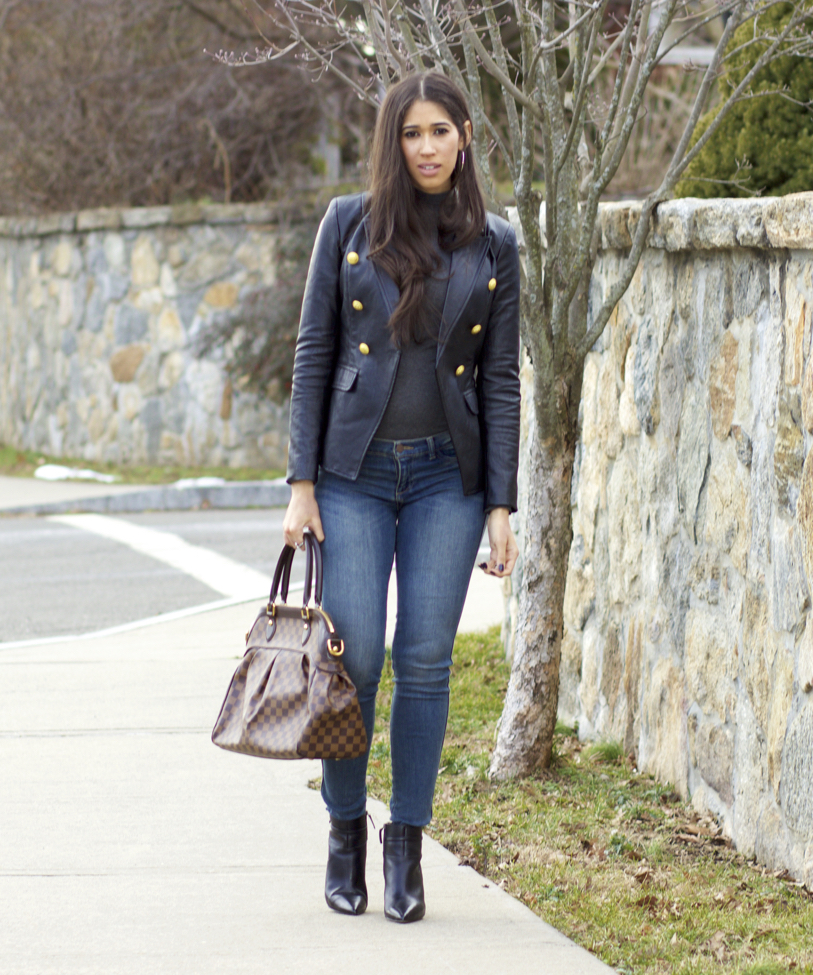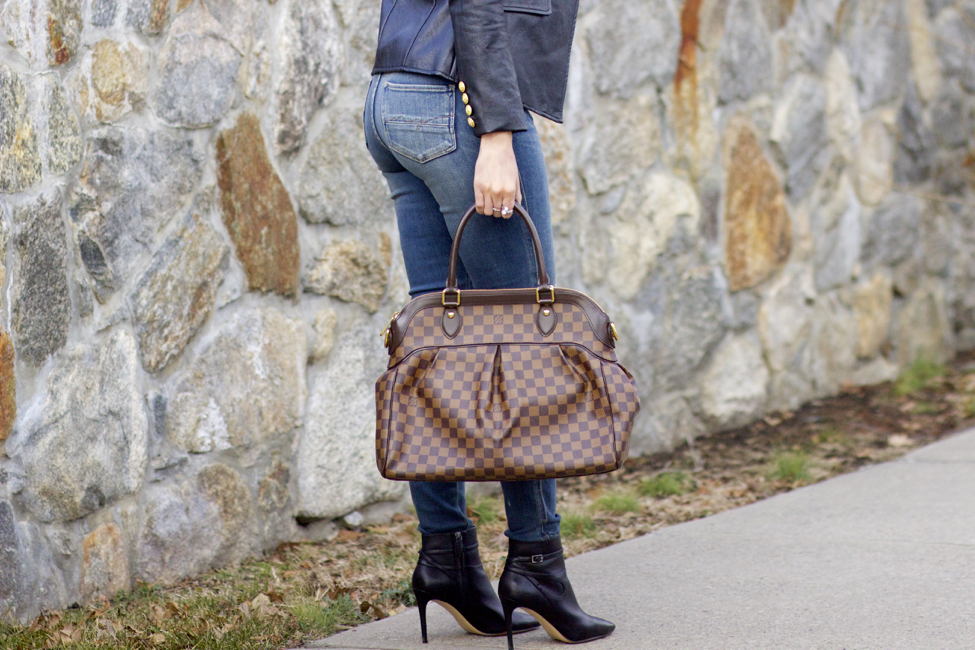 Jacket: Missguided | Turtleneck: Similar Here | Jeans: New York & Company | Boots: Nine West | Purse: Louis Vuitton
Happy Monday my dear friends!
How was your weekend?! I'm actually writing this post on Sunday morning, so right now, I have no idea who won the Super Bowl and most importantly, what the gender of our baby is. As mentioned in Friday's post, we'll be revealing it on IG Stories, which I hope you'll check out! If you didn't there's still time to do so as you're reading this, head-on over (here)! I will be revealing it once again on the blog sometime this week in case you happen to miss the story, so don't worry, but I'm sure if you scroll through the comment's section there will be some hints :)
As for this outfit, I have to be honest and bold enough to say that this blazer is my absolute favorite leather piece in my entire collection. I've had it for about 3 years now and it has held up amazingly well! It's such a great dupe for the iconic Balmain version (check it out on Kim K here, is it not an exact replica!?). When I was contemplating on getting it, I remember being a bit hesitant because it was the same price as it is now, $81, and I wasn't sure if it would be worth it. I'm glad I took a chance because not only is the quality amazing for the price, the fit is as well! It's one of the most flattering jacket/blazer styles for any body shape. The military inspired design with the buttons taper in towards your natural waist, creating a nice flattering contoured effect to the area. I'm wearing a size 6, but typically wear a 0-2, so it does run quite small. You'll be able to wear a thin long sleeve comfortably, as I'm wearing here.
Being that I'm now 19 weeks pregnant, I'm constantly looking for flattering pieces and it's one of my key guiding points when creating an outfit, aside from comfort (I'll be talking about jeans in another post, so stay tuned!). I want to flatter my bump and feel and look confident in my (changing) body and pieces like this make it so easy. I feel chic and edgy while embracing my bump and the feeling is quite amazing.
If you're contemplating on getting this jacket, I highly suggest you do because this has got to be the first time, since I purchased it 3 years ago, that I've been able to directly link to it, it's always sold out, so I'm usually left with linking similar options! It's one of Missguided's popular pieces. They sometimes release other colors, but not in the leather version. They have a white version usually during the spring and I'm hoping they'll offer the leather version to the softer fabric they typically carry because it will be mine, haha.
Thanks so much for stopping by, my dear friends, and I hope your week is as beautiful as YOU!
XO,