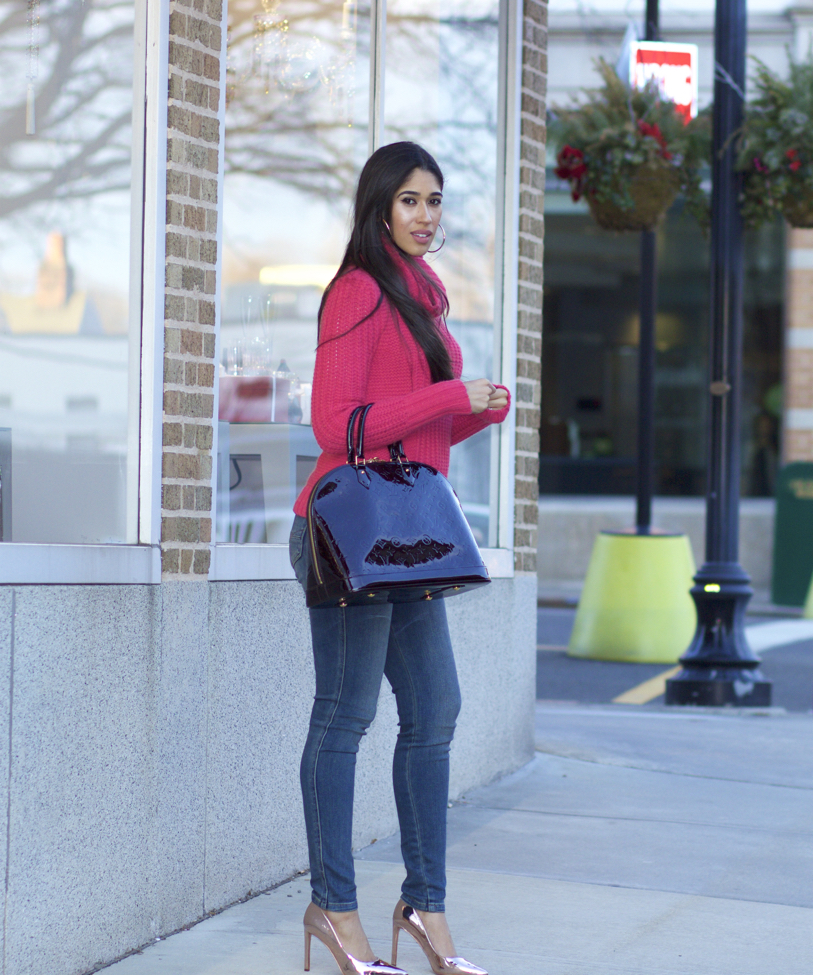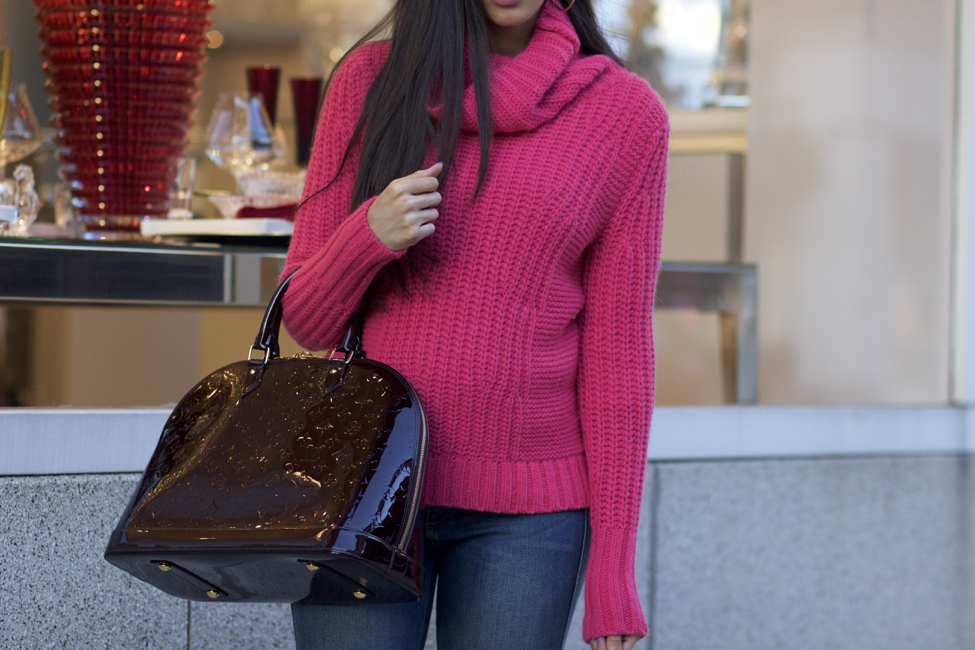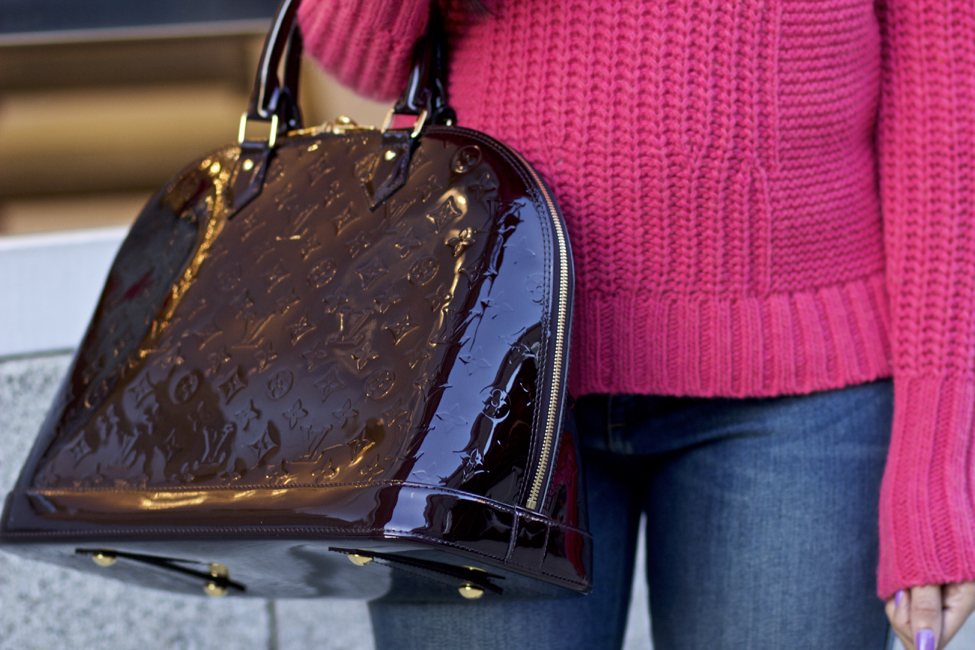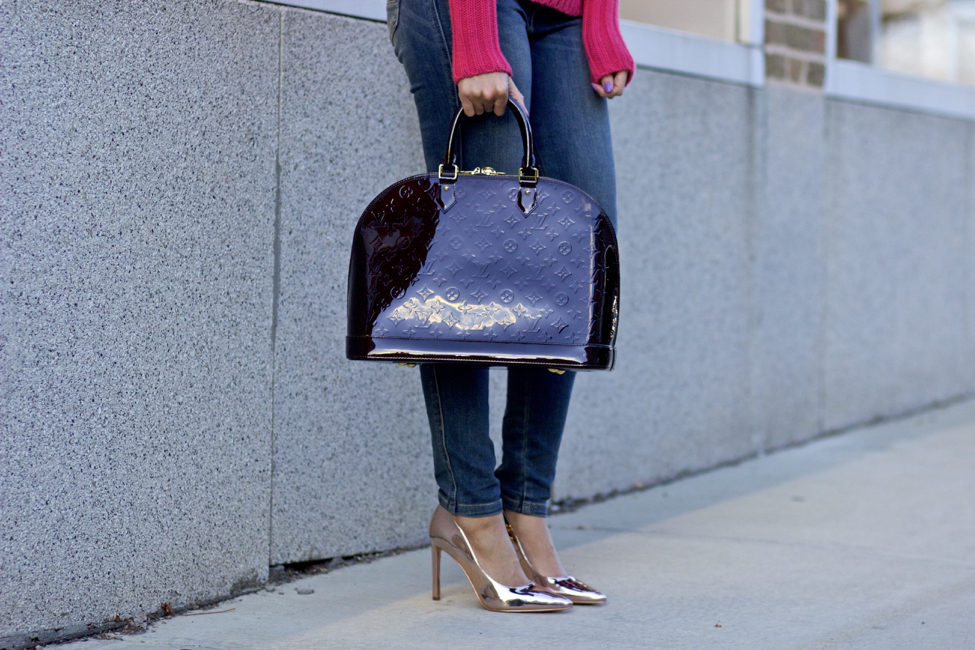 Sweater: Banana Republic (similar here, here, here) | Jeans: New York & Company | Bag: Louis Vuitton (similar here) | Rose gold earrings | Shoes: Nine West (similar here)
Happy Friday, friends!
I'm so excited for this weekend because it's our gender reveal party this Sunday, woohoo! We're so excited to finally find out the gender of our baby, though we have a really strong feeling it's a boy. In one of my recent posts, a lot of you were guessing a girl, so I'd love if you all watch my IG Story on Sunday between 3:30-5:50, we'll be cutting the cake to find out! It's so weird, have you noticed that in recent weeks I've been switching back and forth between blue and pink/purple themed outfits?! It must all be subconsciously coming out in my clothing choices, lol!
Since we're quickly approaching Valentine's Day, I thought It'd be nice to start sharing some outfits that exude romantic feels with a pink themed outfit. I personally love all shades of pink and think it's a great way to wear an entire outfit comprised of the color in a way that's not as bold, yet creates that monochromatic feel. I often like to throw a little burgundy into the mix because why not!? Burgundy pairs so well with any shade of pink, creating more of a romantic feel, adding some intensity, to balance out the girly-ness that some pink shades have (hot and pastels).
To add an additional pop, I incorporated a pair of rose gold accents, both in my hoops and pumps. I've taken a break from hoop earrings for a while now, but my love for them is starting to come back. I'm originally from the Bronx, NY, so it's like a sub culture, as you know J.Lo still very much rocks them because you know, she's still Jenny from the block, haha.
Getting back to the rose gold accents, I think if you're looking for a way to experiment with metallics, rose gold is a great place to start. It's a bit more understated than silver and it looks good on every skin tone and color.
Thanks so much for stopping by, my dear friends, and I hope you have a wonderful weekend ahead!
XO,