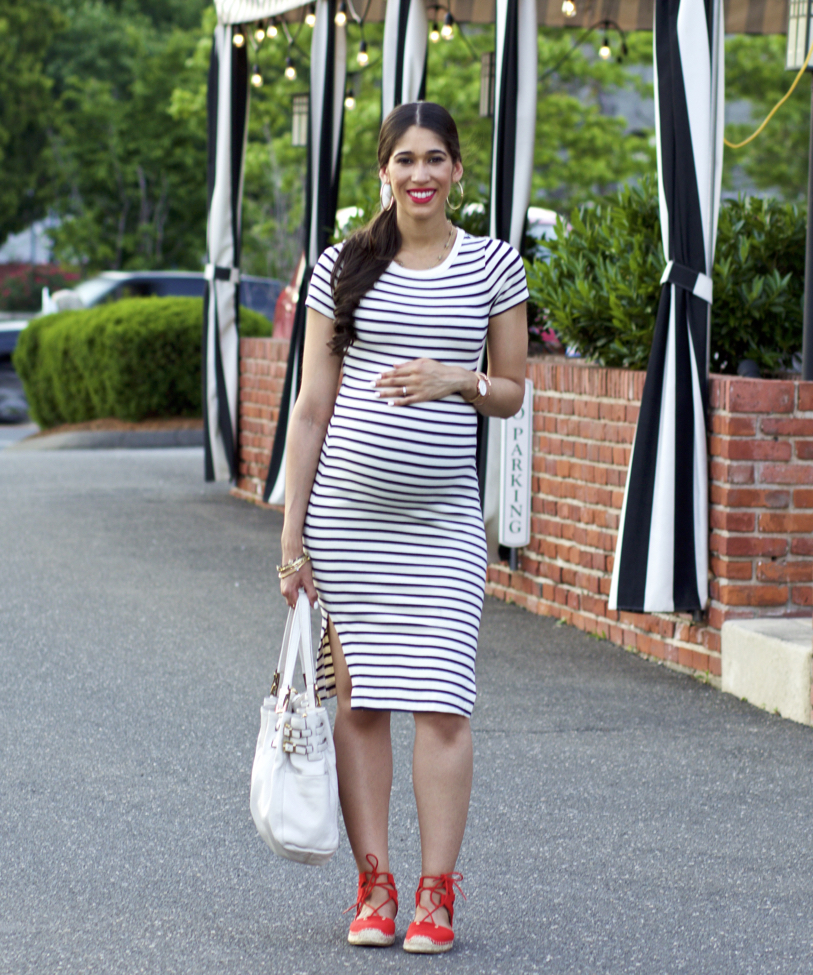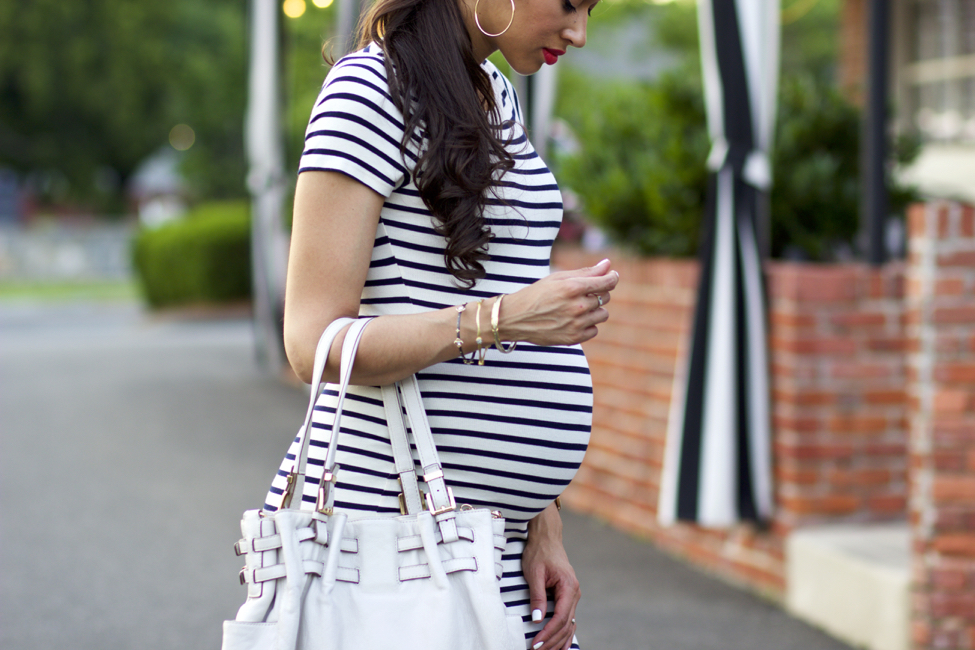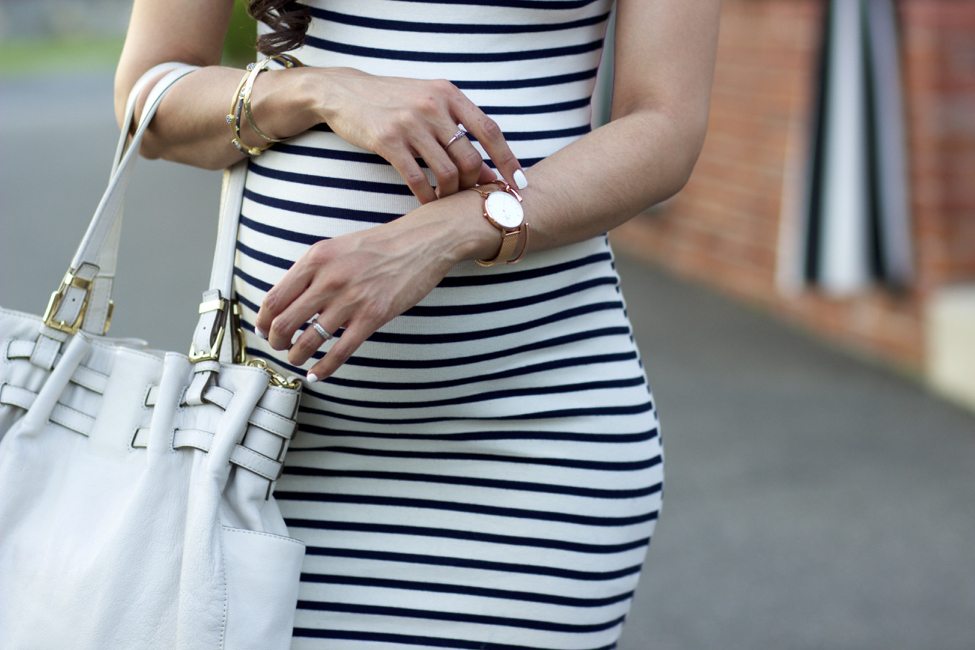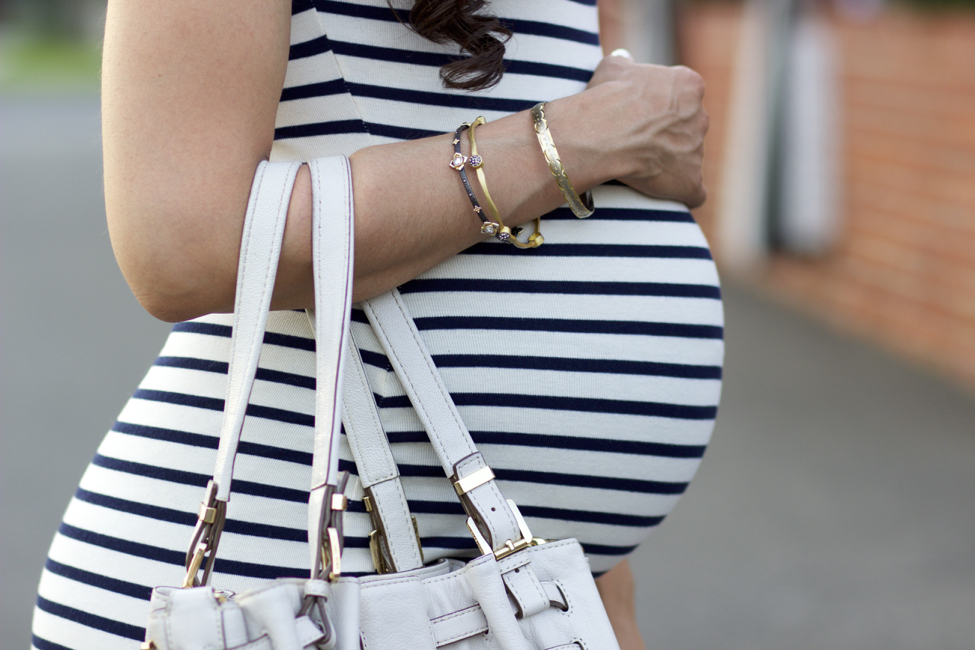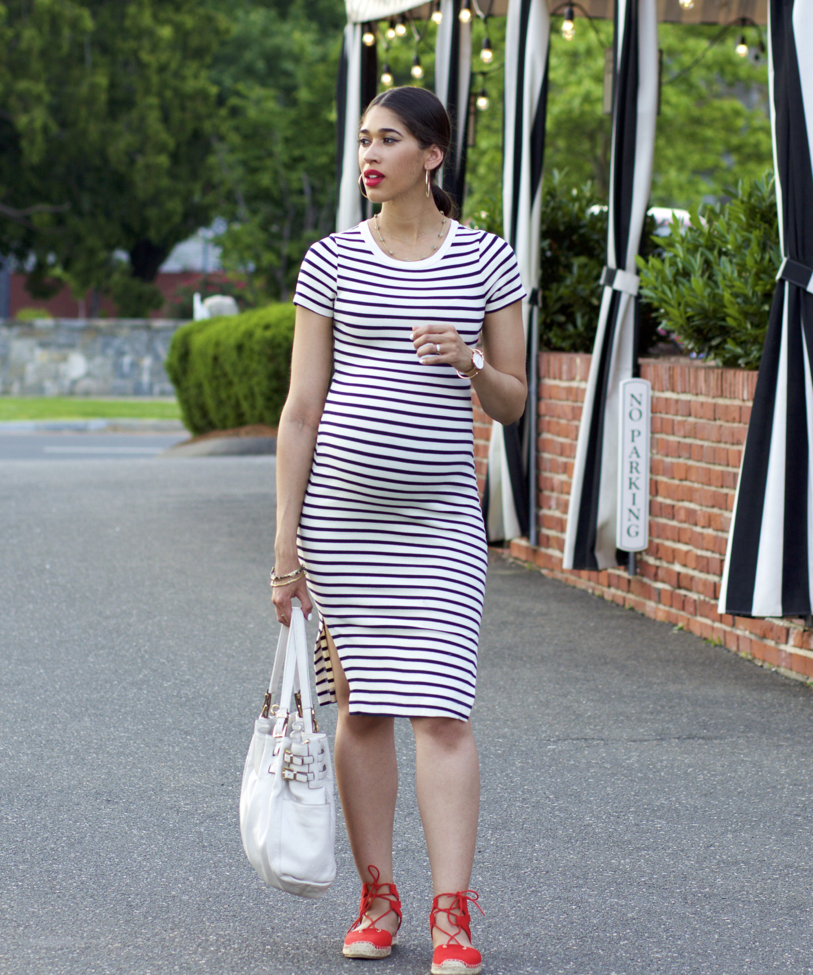 Dress: Similar 50% off! | Lipstick: Fire & Ice by Revlon (perfect red shade if you have warm undertones!) | Watch c/o use code STYLECONTOUR for 15% off your order | Bag: Michael Kors (similar) | Shoes
---

---
Happy Wednesday my sweet friends!
I hope you're all having a great week so far! It's been so hot and humid here in Connecticut, a huge change from the rainy and chilly weeks we've been having, so of course that means everyone around me is getting sick! Fingers crossed that I will not come down with a cold because the thought of having one while pregnant makes me nervous. I managed to escape winter without a single sneeze, so I want to finish up these last few weeks of my pregnancy without a cold!
On to today's outfit; it's one that's for sure not ground breaking, as I discussed in this post, red is a popular color choice to add to stripes, either classic black and white or blue and white. It's safe and guaranteed to look great on you, it's also a perfect choice for summer, as it can give off those perfect nautical vibes. As many of you know, my due date is the 4th of July, so who knows if I'll be able to share some outfit inspiration as we near the holiday, I just may be in labor (lol) so I'll say it now, this would be a perfect outfit choice, one that's classic and chic, but isn't over the top patriotic if that's not your jam.
What pregnancy has taught me is that stripes can do wonders to a pregnant body, they can really be figure flattering. I would've never have thought so if I haven't seen photos of myself where you can barely tell just how huge my bump is when wearing them. You guys, my bump is huge! With that, Baby A moves around a lot, I know she's getting cramped in there and wants to come out. She stretches non-stop and it makes me feel as though my stomach is literally going to pop, no exaggeration, it's quite uncomfortable. Only a few more weeks left though, so I'm hanging in there as best as I can. I'm also taking as many naps as I can because I've been extremely tired as I've been mentioning. Oh, and you guys, her nursery is about 98% finished; I can't wait to share photos with you soon!
Thanks so much for stopping by, my dear friends, and I want to thank you once again for your patience and understanding in my delay in catching up with all of you, you're the best!
XO,