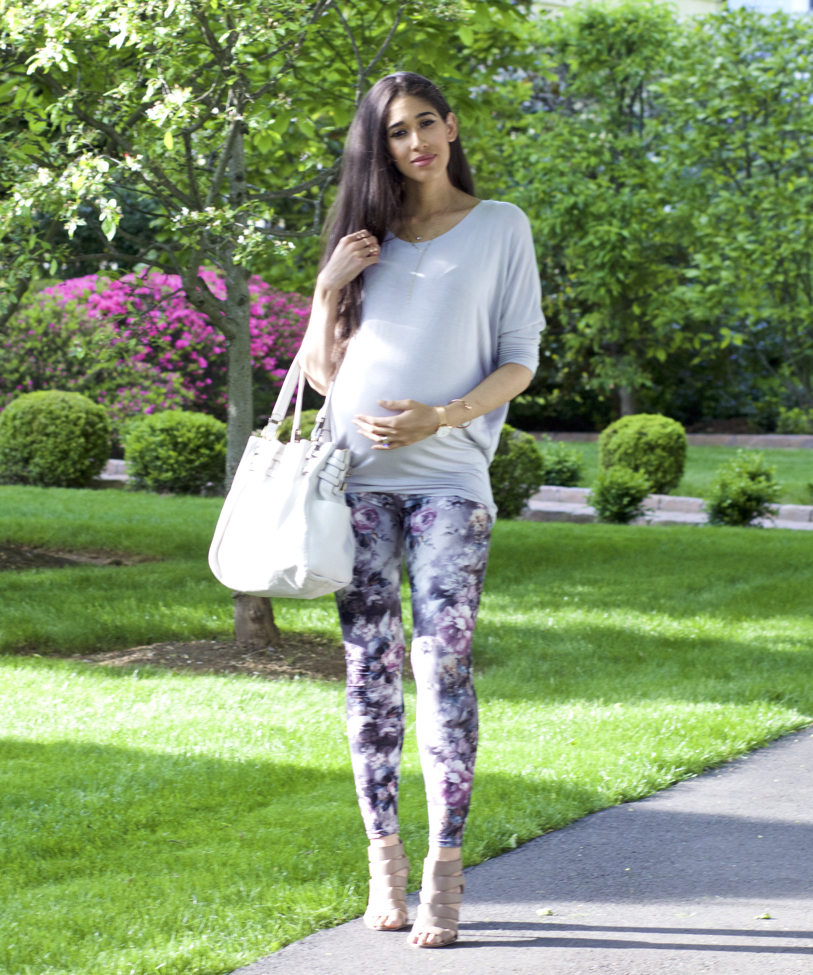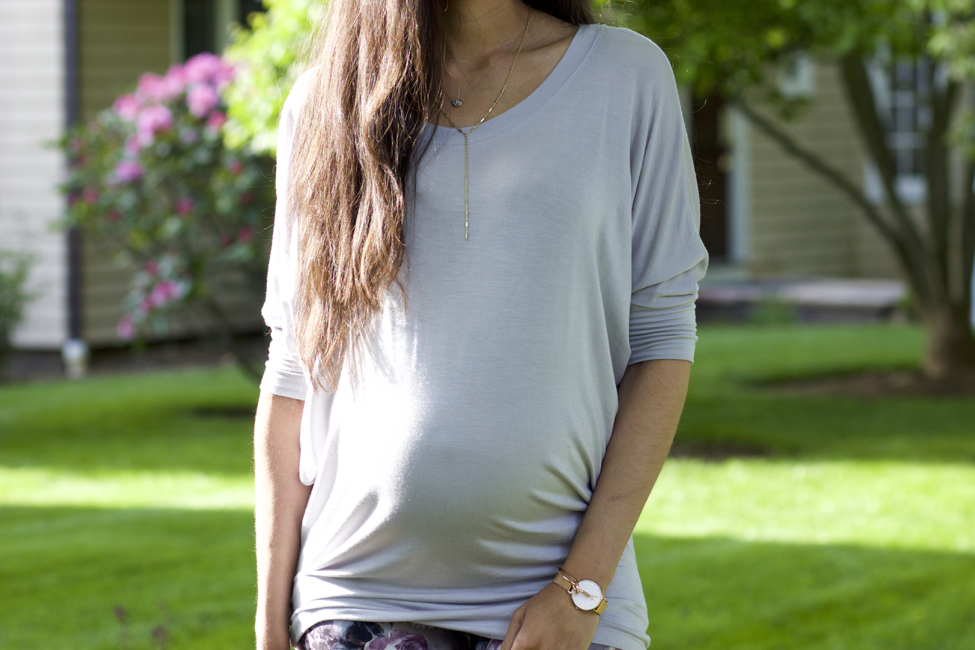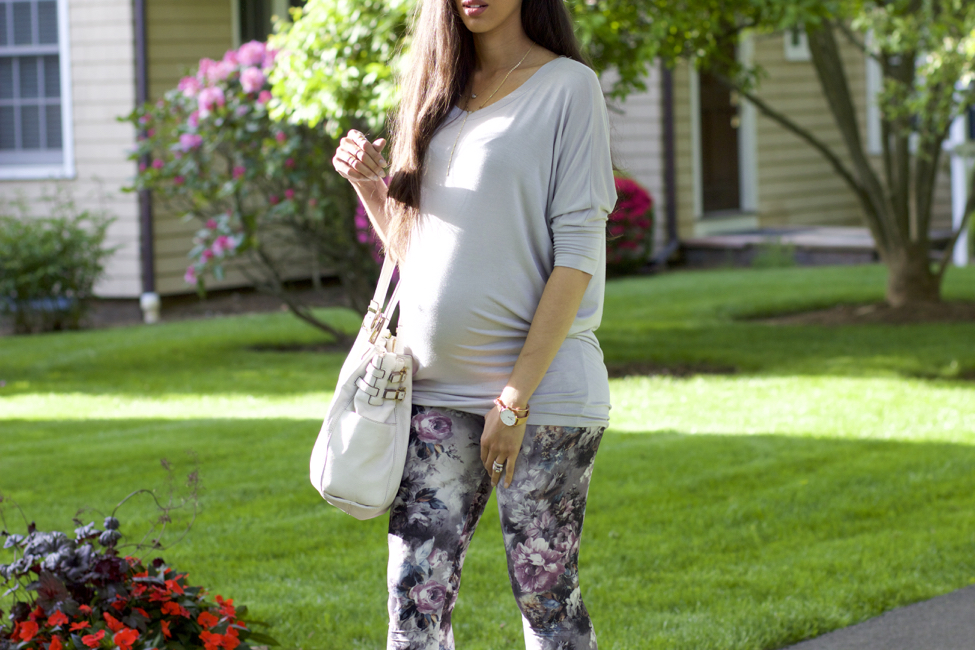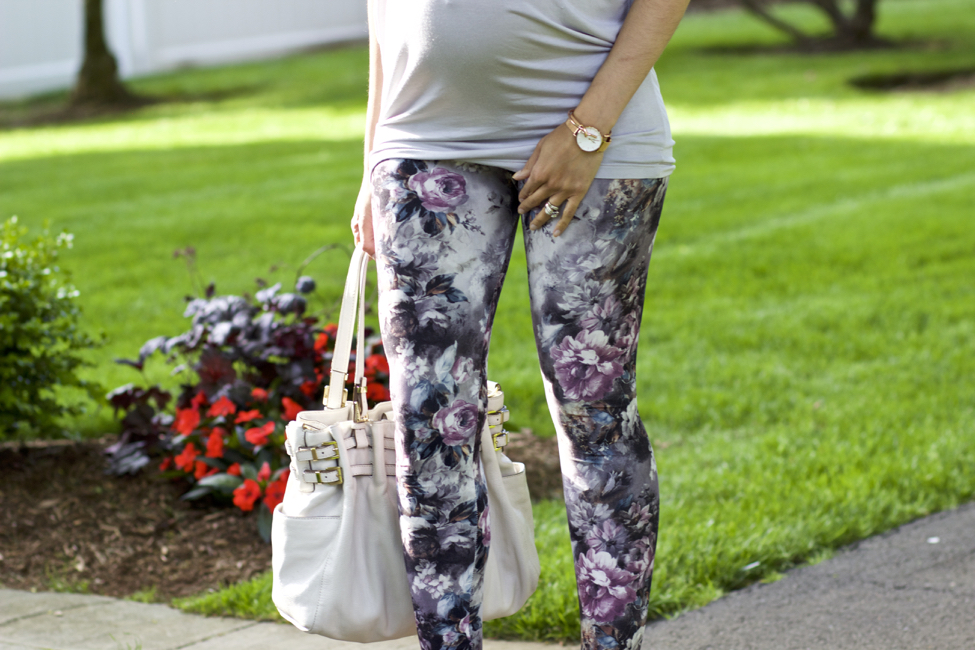 Top: Similar | Leggings: Similar | Y-Necklace c/o | Watch c/o use code STYLECONTOUR for 15% off your oder! | Bracelet c/o | Bag: Michael Kors (similar) | Shoes: Similar
---

---
Happy Friday my dear friends!
Today's outfit is what I wore the other day when we had some errands to run, mainly doing some baby prep. We made a trip to the hospital to complete some paperwork and some of the ladies were quite shocked that I was still walking around in heels. It's something I often get asked in person and here on the blog and to be honest, it all just depends on the heels. Some heels have been off limits for me because they're just not practical nor comfortable, but then there are those trusty pairs I turn to all the time, which are most often from Nine West, my favorite shoe brand. These, however, aren't from Nine West, but they are still quite comfy and because of the caged design, they keep my feet in place. I also don't wear heels everyday because I mean, why? Haha, I have some comfy flats, like the one I wore in this post, which I reach for quite often.
It's funny because my mom said she wore heels through her entire pregnancy with me and actually walked into the hospital in labor wearing heels. I guess the apple doesn't fall far from the tree as they say, lol.
Now onto the rest of the outfit...
I've completely forgotten how much I love dolman tops, I have quite a few in my closet that I've had for years, but haven't worn often, until becoming pregnant. I would sometimes wear them with leggings and boots during the fall and winter, but that's about it. I've been finding myself getting more creative with them on the weekends because throughout my pregnancy because they're so flattering on a bump; quite honestly, I think they look great on any body shape and depending on the material of your blouse, you can even adjust the neckline to change up your look into something trendy, say an OTS top.
I also love that even though they're quite casual, they can also have a chic vibe as well when styled with the right pieces, such as layered necklaces, pendents, or statement necklaces with a pair of cute jeans. I was going the comfy route, since I knew I had a busy day ahead of me and wasn't in the mood for denim, so opted for printed leggings, which I love because they kind of dress up an outfit a tad more than your typical black leggings would.
I hope you all had a wonderful week and are ready to embrace the weekend, any fun plans? My mom will be visiting again and there's supposed to be some fairs going on around the area, which we may check out.
*Quick question for all my fellow mamas, when you purchase onesie's, how much do you size up? I've been getting a ton of 3mth sizes, but I want to make sure I get sizes that will last longer. Any suggestions?! Also, thank you for all your kind, supportive, and encouraging words regarding the stretch marks I mentioned I was getting in Wednesday's post, there's hope, haha!
Thanks so much for stopping by, my dear friends, and I hope you have a great weekend!
XO,