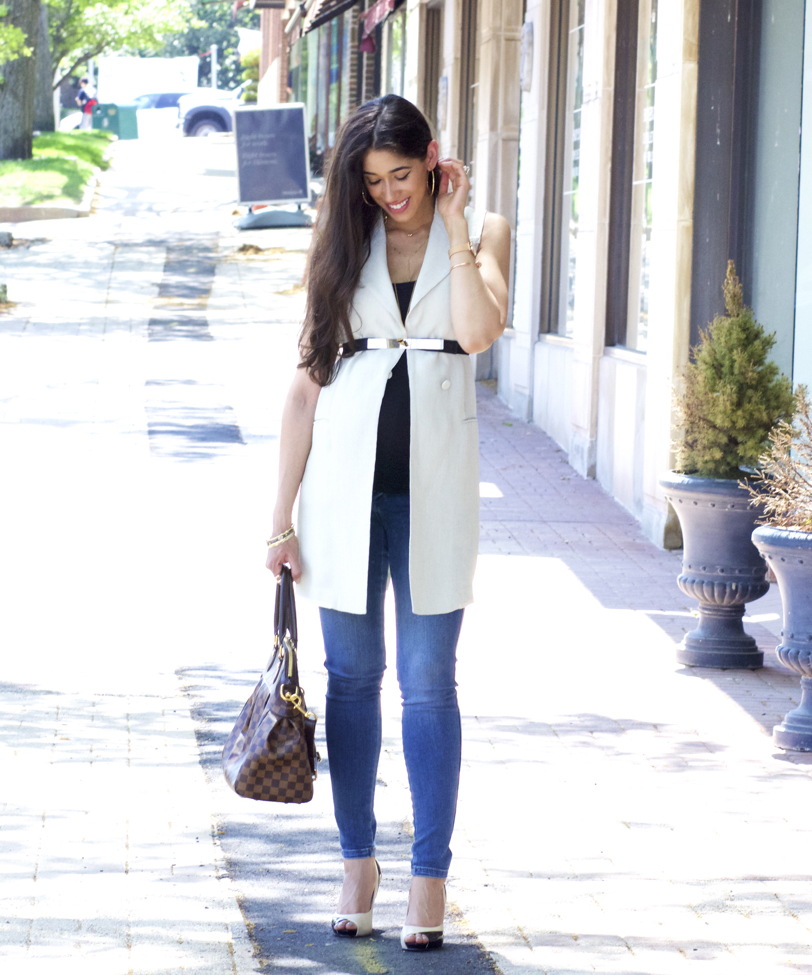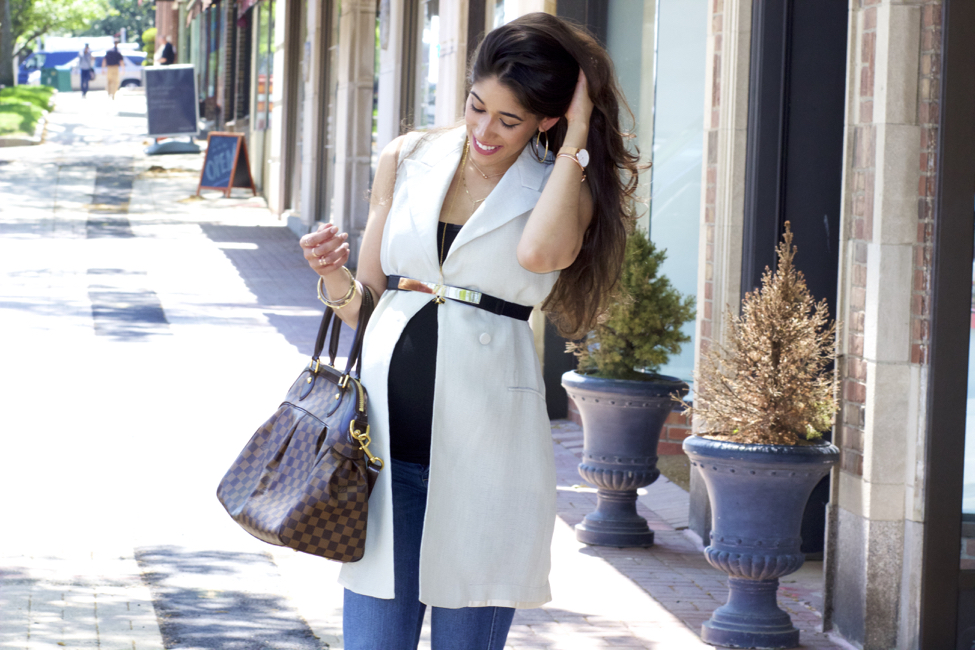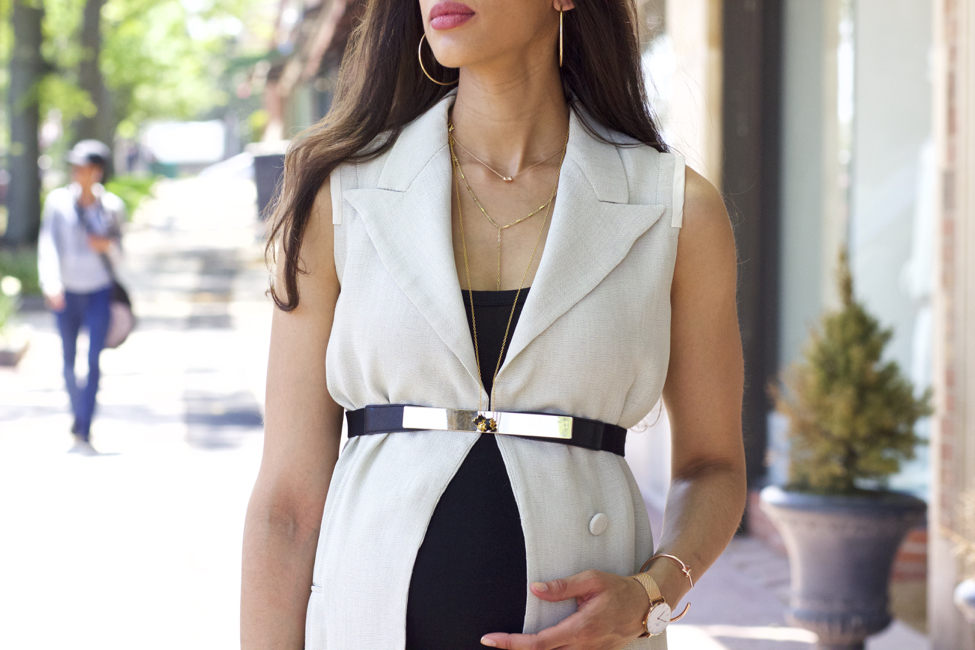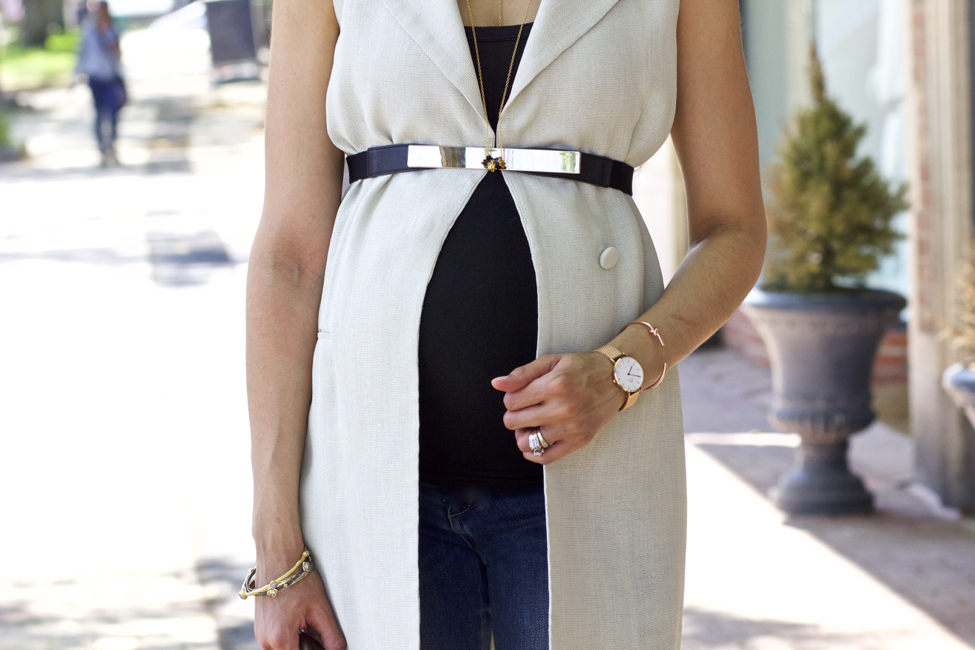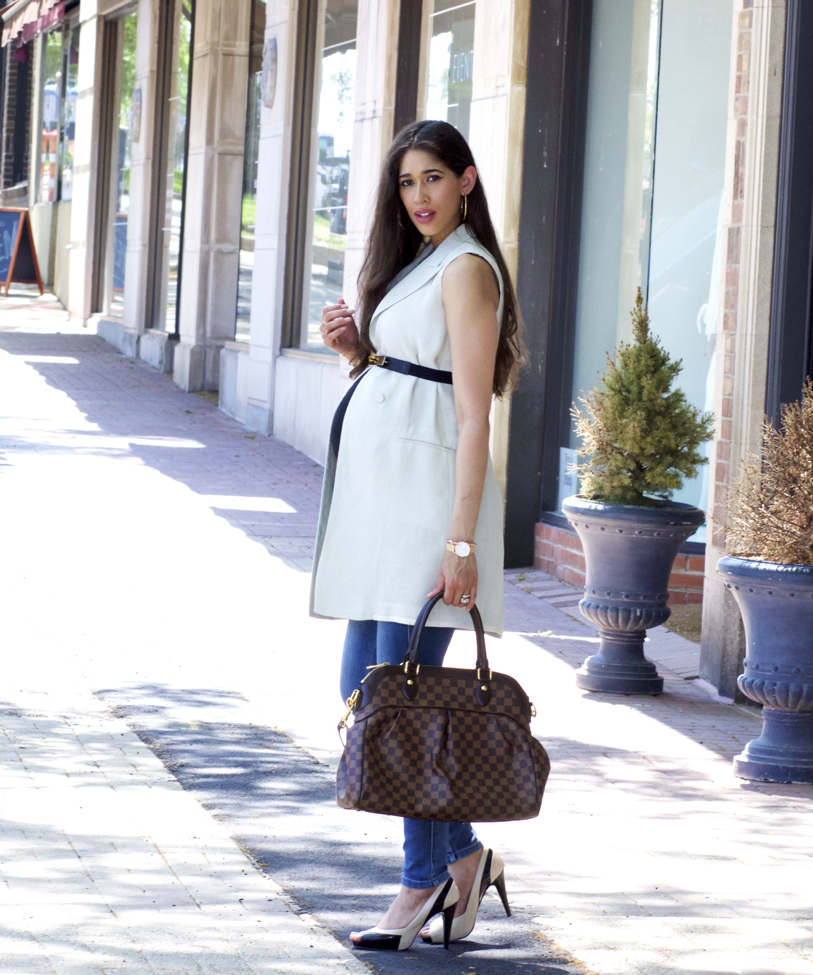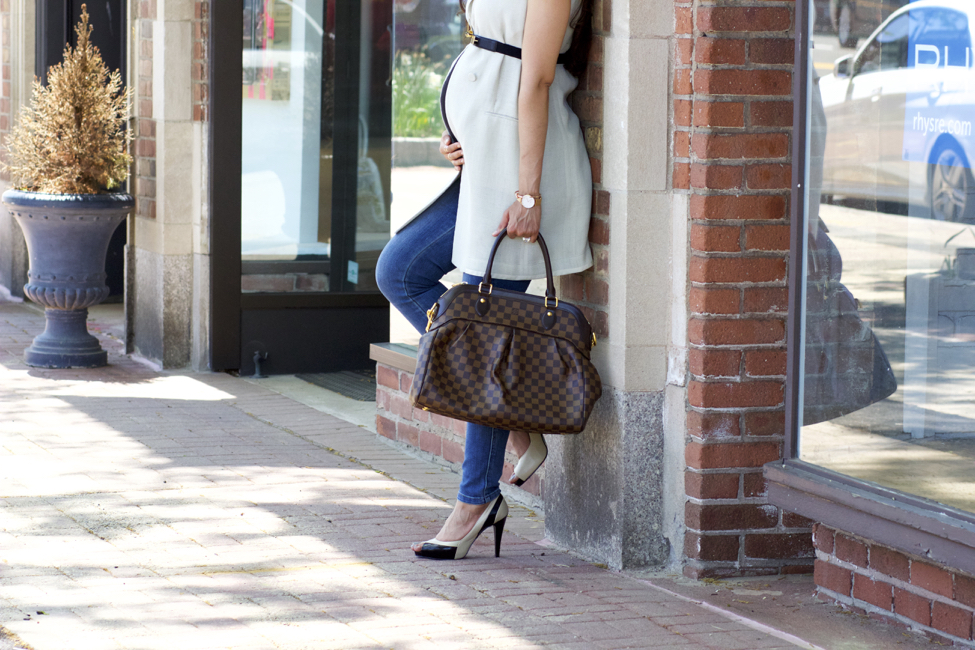 Vest: Calvin Klein (similar) | Tank: Similar | Belt: Similar | Jeans (different rinse same collection) | Shoes: Nine West (similar) | Heart Necklace c/o | Y-Necklace c/o | Bracelet c/o 30% of proceeds go to endometriosis research| Watch c/o use code STYLECONTOUR for 15% off) | Bag: Louis Vuitton Trevi GM
---

---
Happy Monday my gorgeous friends!
I love blazers and the chic, sophisticated, and put together element they add to an outfit, especially when the other pieces within the outfit are rather casual or simple. In fact, later this week I'll be sharing an outfit with a beloved blazer styled in such a way. However, when it's really hot out, I like to turn to different sections of my closet for some alternatives that can produce the same effect and that will be more practical for the heat that day, enter the elongated vest. They're equally chic as a blazer and are just as versatile and can often be a bit unexpected, since we don't see them worn as often as we do blazers.
Another thing I love about them is that they create a very tailored and elongated effect to the body, even more so when belted as I've done today. By belting the vest, you're tapering your waist (if you're 34 weeks pregnant like me, it re-establishes the waistline you forgot you had, haha) producing a curvaceous contour. I decided to up the chicness of the outfit by adding a gold waist belt, but you can explore various options depending on the mood you're in and vibe you're going for. If you're going the casual route, you can ditch the belt all together.
If you're petite and are thinking, "is she crazy?! I can't wear a vest like that, I'll look even shorter!" My response is of course you can! Maybe you won't go for a style that's extremely long, like a duster, or even one as long as mine, but you can wear one that's past your hip bone, extending past your but, which will in fact make you appear visually longer, since it'll extend the visual length of your torso. Just be sure to consider how the other pieces, i.e. your top and bottom work together in maintaining proportions and opt for pointed toe shoes, either flats or heels. I'd also suggest belting it because YOU get to choose where your waistline will be, you can either place it on your natural waistline or a bit higher to visually lengthen the legs, which can also be done if you're not petite and wish to produce this effect.
Have you ever tried wearing a vest in lieu of a blazer before? If your work place allows for you to bare shoulders, perhaps you can give it a try! Or you can wear a light blouse underneath the vest, you don't have to go sleeveless at all.
I hope this post inspired you and helped you think outside the box a bit more when it comes to creating a chic put together outfit! Thanks so much for stopping by, my gorgeous friends, and I hope you have the most amazing week ahead!
XO,