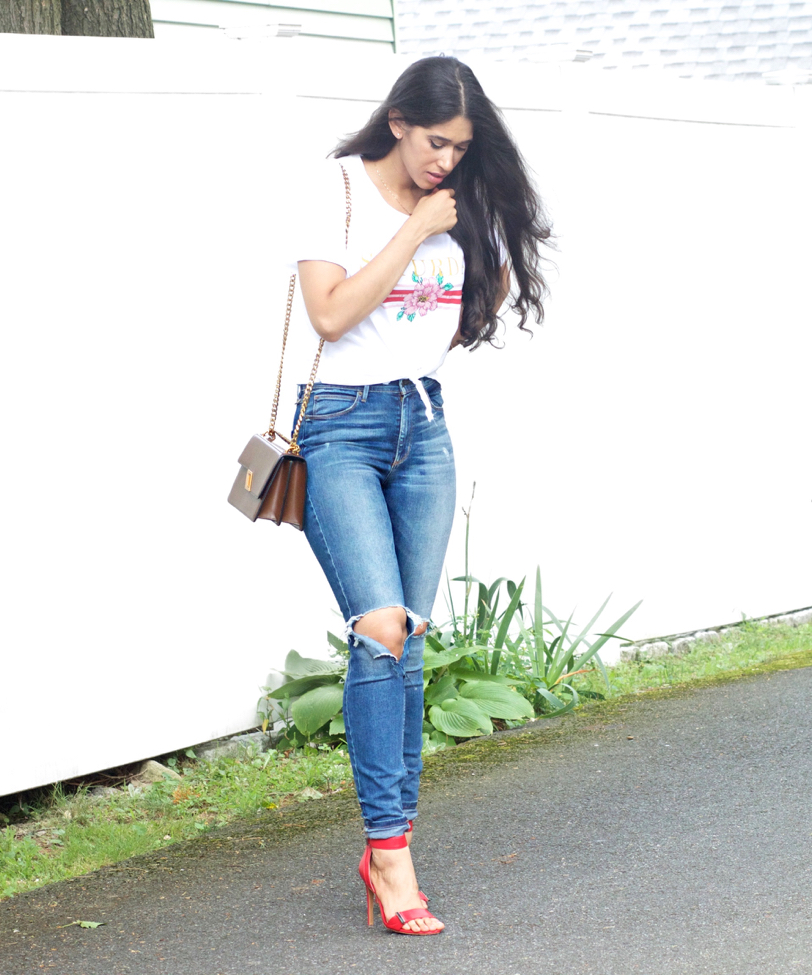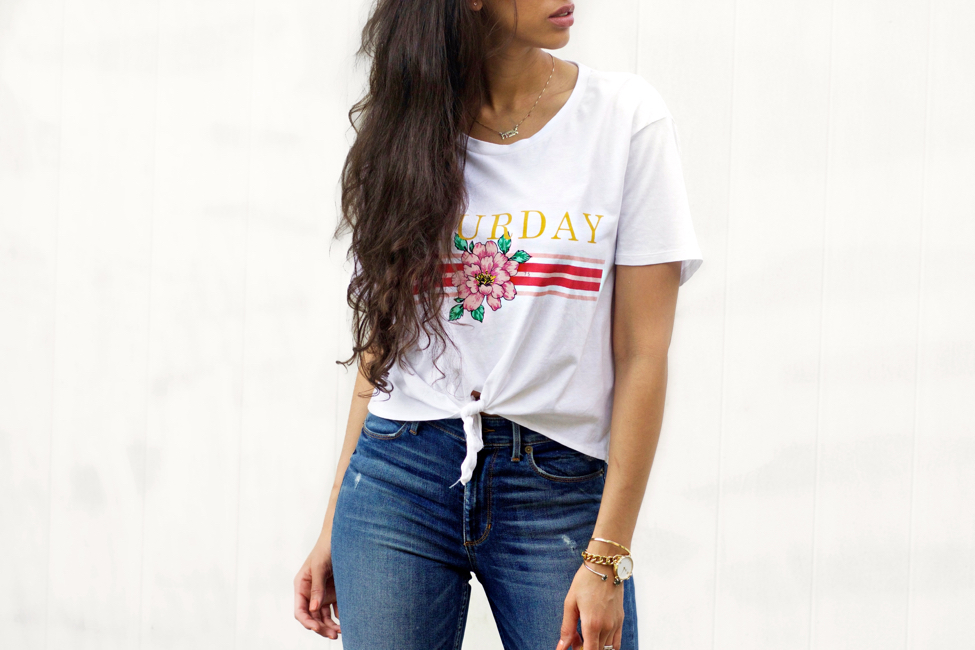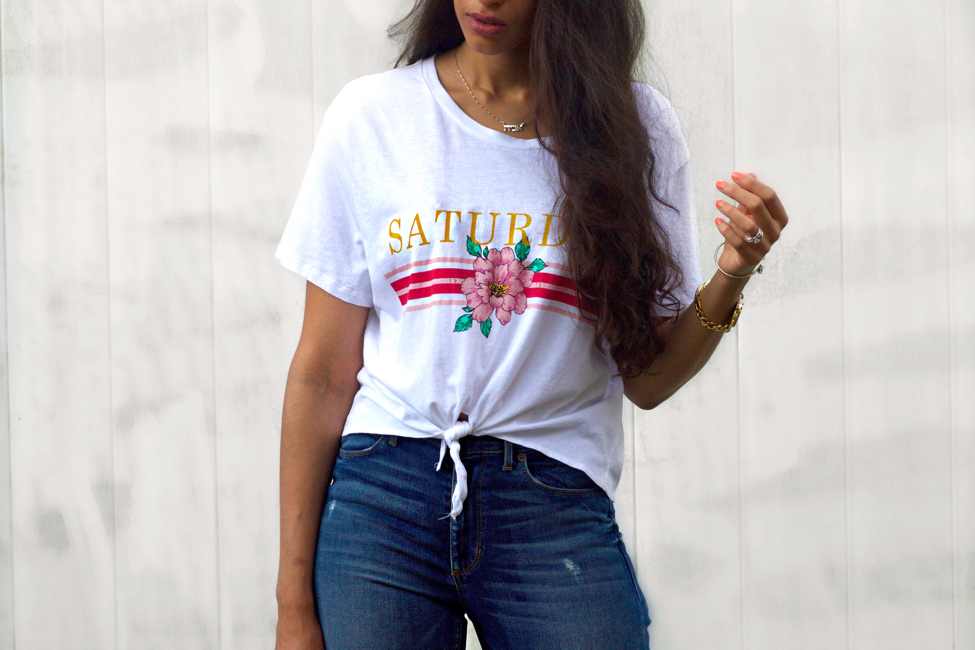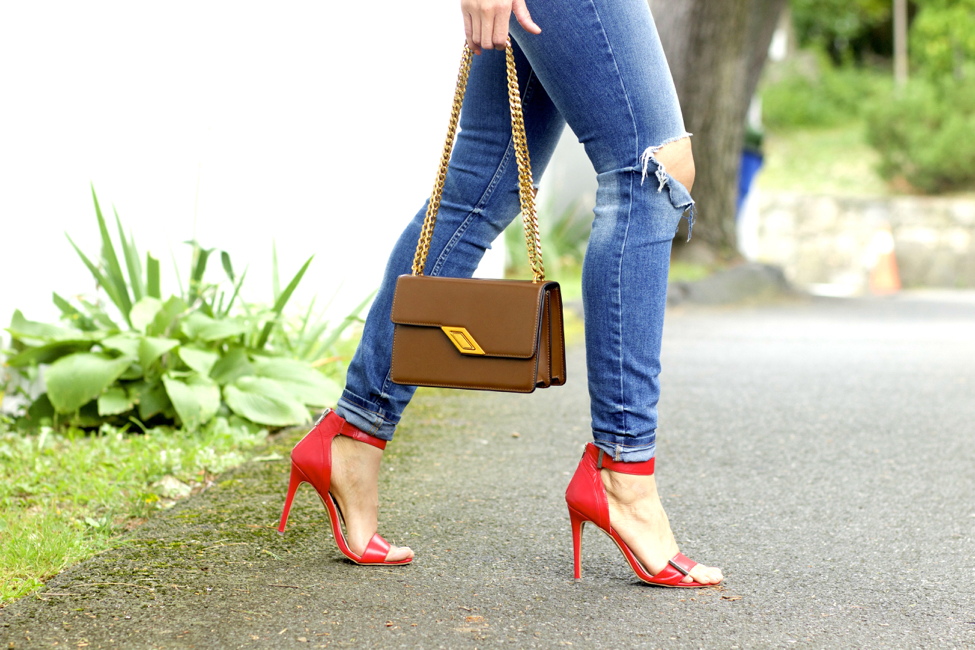 TEE: Similar | JEANS: Similar | BAG: Similar | SHOES: Similar | EARRINGS
---
---
Happy Friday my sweet friends!
I think I've recently mentioned that my weekends don't officially start until Saturday...night. Eddie works on Satrudays and it's his earliest day of the week, which makes thigns a bit more more hectic around here, espeically with two little ones now. So, when 6 o'clock rolls around, our weekends begin. We celebrate with takeout. It used to be date night back in the day. If you've been following along for a few years, you remember those posts. The good 'ol days, lol! Oh, and of course a nice glass of wine! We try to switch things up with the kind of food we'll order. We love trying different ethnic foods. From Ethiopian (you must try if you like spices!) to Indian to Mexican or Italian. You name it, we've either had it or would have it and we're so proud to say that Aviah is following in our foot steps! She ate her Indian butter chicken last week like a champ! She was pickier when she turned one, but these days, she's becoming more eager to sample different foods. What are your favorite takeout foods?
Most weekends, you can find me in a tee and jeans. Nothing more simple, yet chic as it is easy, depending on how you play up the rest of the details you add. Today I'm wearing this super cute cropped tee that's a fun spin on the GUCCI tee. I'm not going to lie, I've strongly considered buying it. I know it's crazy expensive for a tee, but if you think about it, most of us wear t-shirts quite often, especially on the weekends, so it'd be justified, right?! The jury is still out on this one though. Not sure.
Thanks so much for stopping by, my friends, and I hope you have a great weekend!