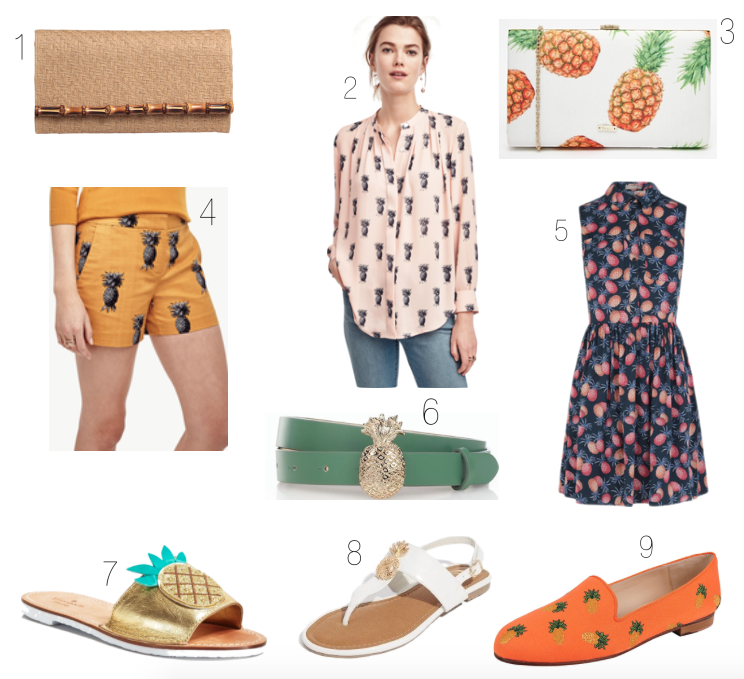 SHOP THE SET!
1 | 2 | 3 | 4 | 5 | 6 | 7 | 8 | 9
Happy Tuesday, beautiful friends!
A cute and jovial print that I'm loving for spring transitioning into summer is the pineapple print. Though it was trending last season, this time around, we're seeing it in styles that are more practical, versatile and less juvenile, such as the pineapple blouse and printed shorts, both of which can be dressed up or down, same is true for these Jon Josef linen loafers. I'm also loving the printed dress, which I feel is suitable for every body shape, since the top portion features a buttoned neckline, wider shoulders to flatter the upper body of both the inverted triangle and apple shapes, an a-line hem that will flatter the hips for the two bottom curvier shapes, pear and hourglass, as well as a fitted waist to flatter all my rectangular shaped ladies, by creating an establishment to the waistline. You can also opt for a pineapple charm belt paired with a simple top and a pair of jeans or shorts to keep the accent subtle. However you choose to wear the pineapple print this season, it's a print that's both refreshing and alluring, perfect for these upcoming warmer months!
What's your favorite print(s) this season and what's your favorite way(s) to wear it? Thanks so much for stopping by, dear friends, I hope you have a wonderful day!
XO,