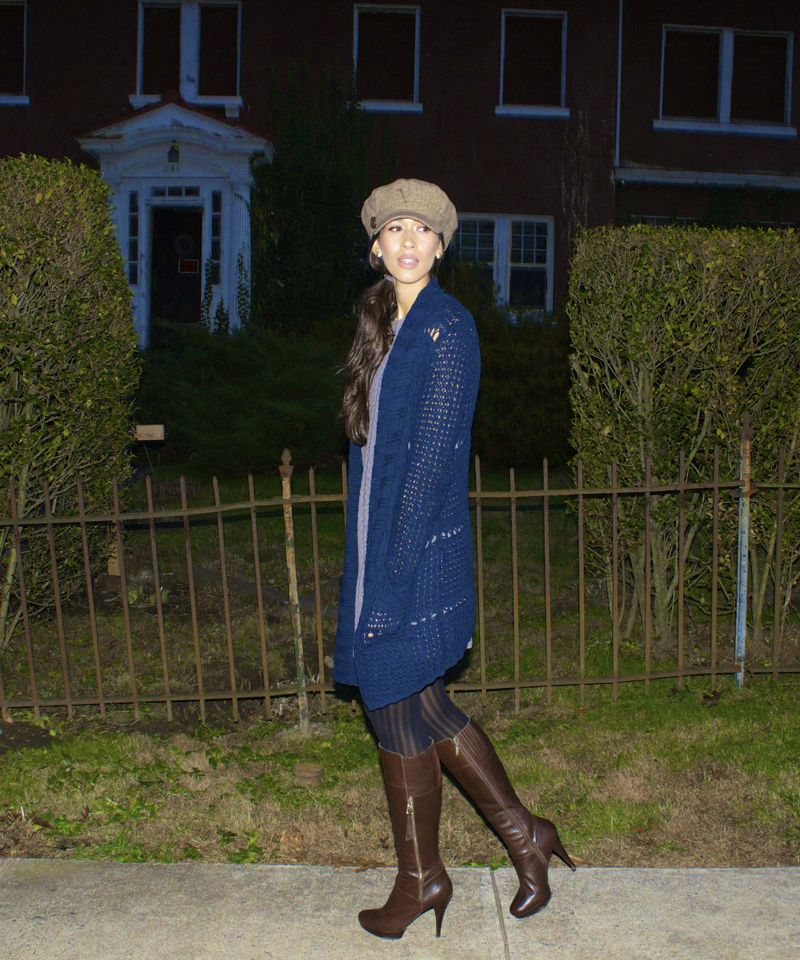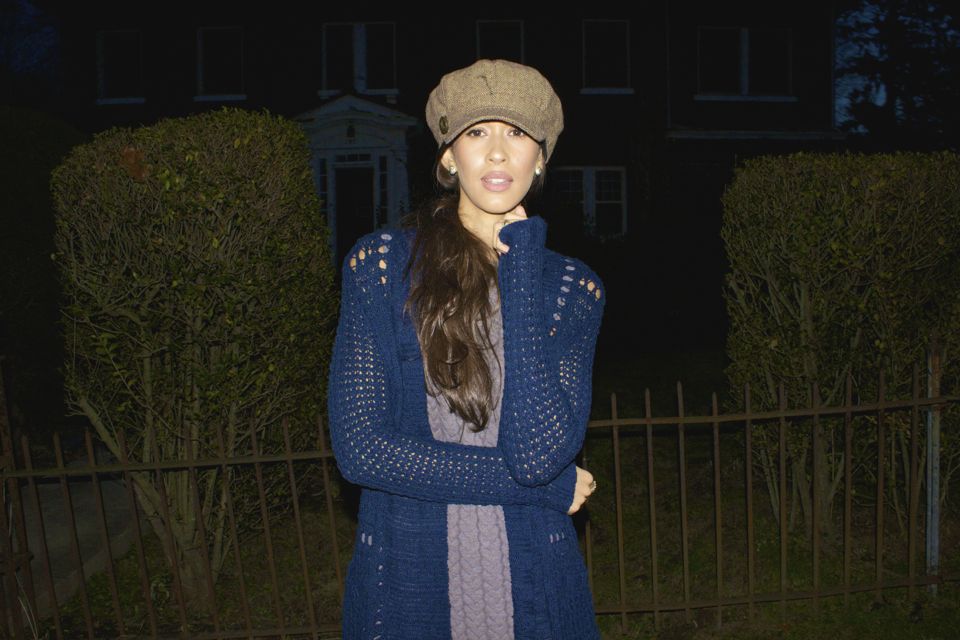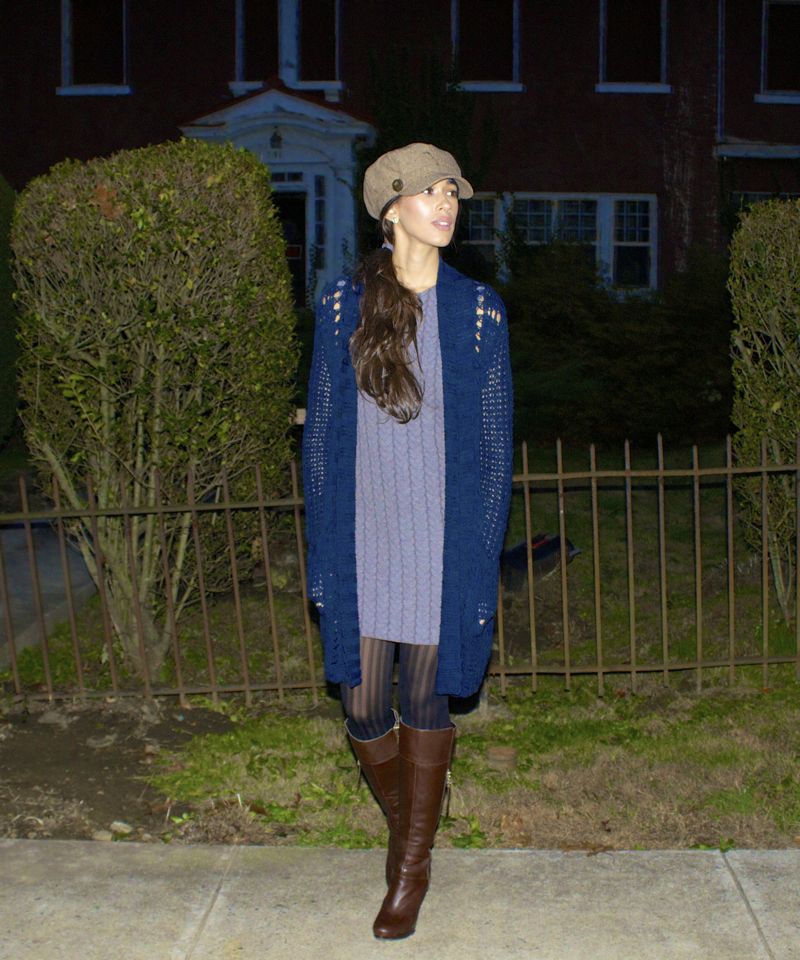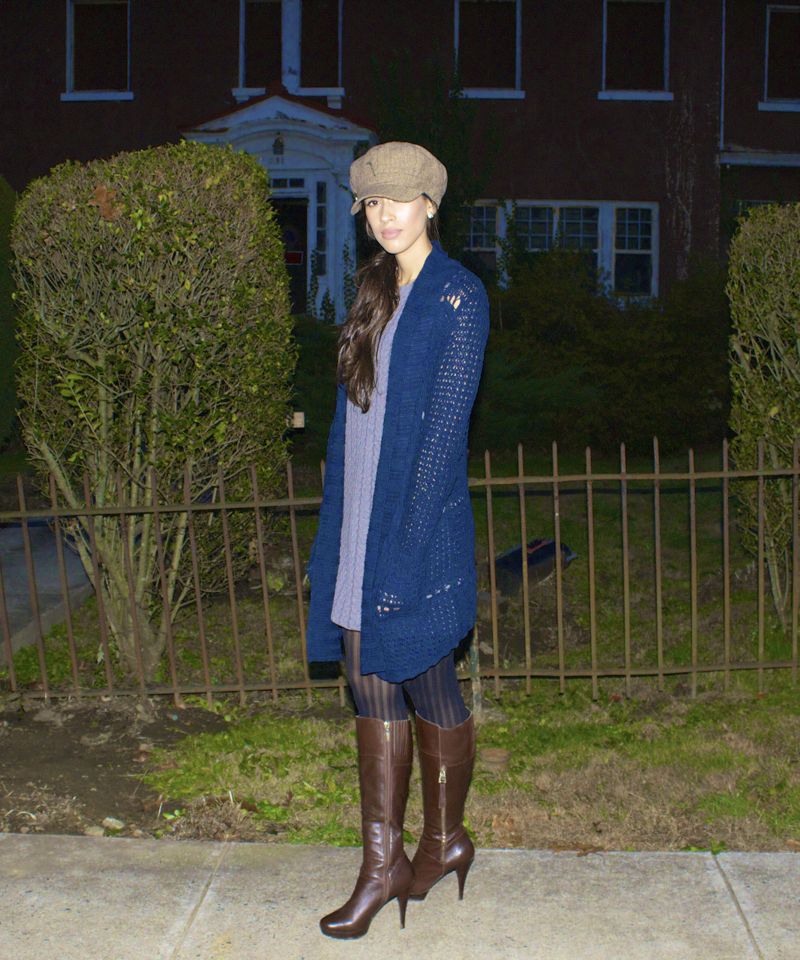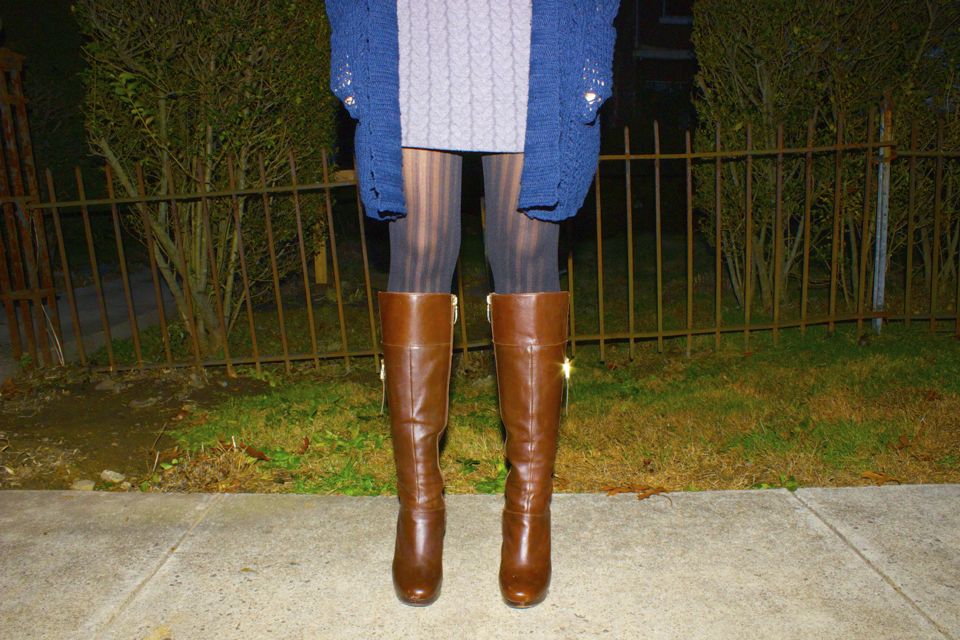 GET THE LOOK!
Cardigan: Lucky Brand from Marshalls (similar style 40% off here) // Dress: Cynthia Rowley from Marshalls (similar style here) // Hat: Marshalls (similar style on sale here) // Tights: c/o Kushy Foot (similar style on sale 49% off here) // Boots: Guess (similar style on sale here)

Happy Monday, beauties!
I hope you all had a wonderful Thanksgiving weekend with your loved ones! Today's look is one that's a combination of two distinct eras, the '20s and '60s. You all know how much of a fan I am of both the '60s and '70s, but there are some things in each decade that inspire me, in terms of fashion. The selective piece in this pairing that exemplifies the '20s, is the newsboy hat. I had initially planned on just wearing the outfit as is, but while I was searching for these boots in my closet, I stumbled upon this hat that I probably only wore a couple of times and felt it would look perfect with the other pieces. What I find interesting is that these caps were only worn exclusively by boys that belonged to the lower class, some of which were newsboys, hence the name. Interesting, right?! As a side note, newsboy hats flatter the oval and square faces shapes, as they mimic the curvature of the chin for those who have an oval face shape and smooth out the sharp contours of the chin with those with square face shapes. This style of hat should be avoided, however, if you have a round face, as it can make it appear even more round, extracting any dimension.
The rest of the look has more of a '60s element, particularly the shift dress. I've mentioned many times how this dress is not only flattering, but also versatile. What I feel makes it flattering is that it doesn't have a shape of its own and simply rests on the surface of the body, without clinging, making it ideal for every body shape. The key is to find one that truly fits well! Last week, for a Thanksgiving outfit idea, I wore a suede shift dress, which I belted. This time around, I opted to ditch the belt and wear a cardigan that's slightly longer than the dress. This helps in achieving a taller frame because the eye continues to extend downwards. If, however, you seek to add more definition to your pairing, add a waist belt either to the dress or over the cardigan and dress. This may be a preferred method if you are either an apple, inverted triangle or rectangular shape (belt over both).
I also wanted to mention that when seeking to achieve a '60s vibe with your look, you should consider these 3 colors: navy, grey and brown. I feel this trio has a strong tie to the '60s and almost always exudes this decade when worn together and creates a bit of a menswear vibe. The reason is, during the late '60s, androgynous clothing was on the rise and so, women were wearing more clothing styles and colors that were once exclusively worn by men, some of which were these 3!
I hope you all loved the look and learned something new, but most importantly, found inspiration! Let's all have a wonderful Monday and week ahead, my beautiful friends; thanks so much for stopping by!
Xo,