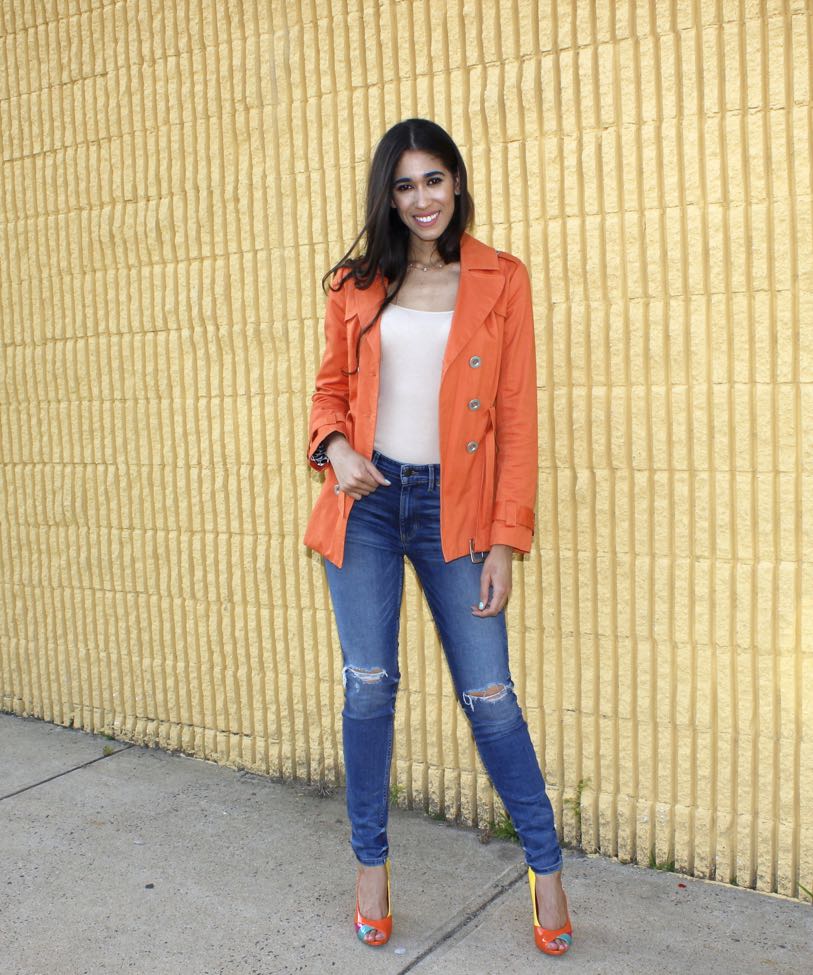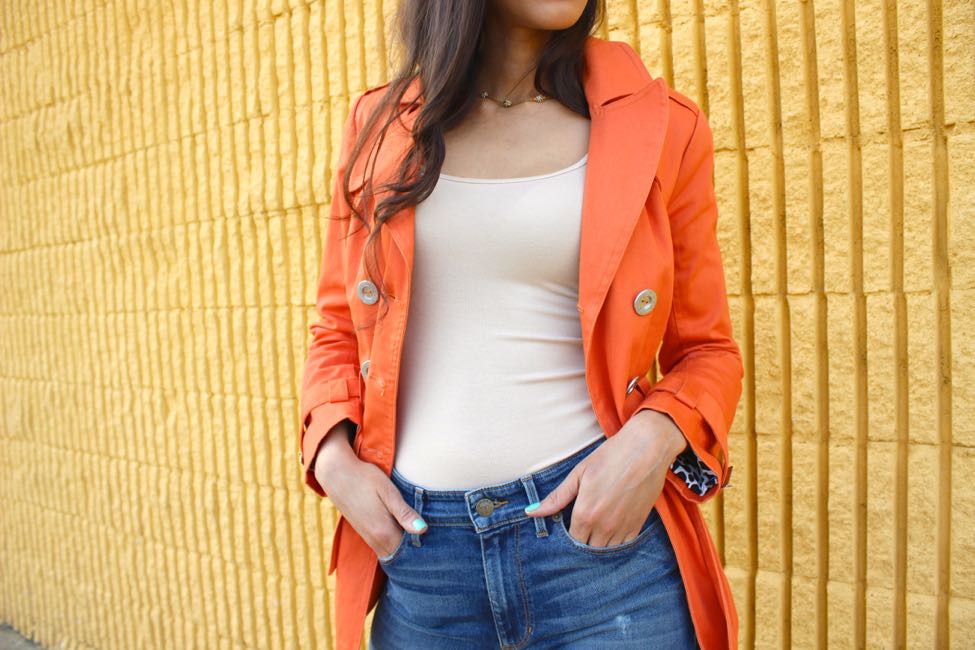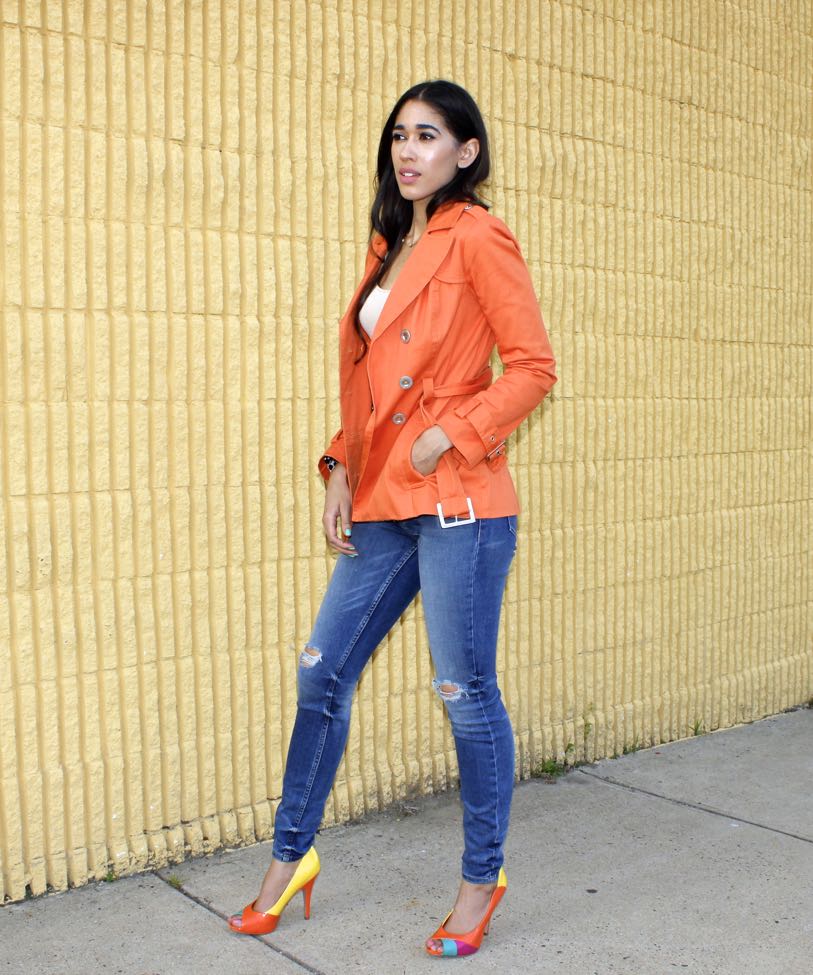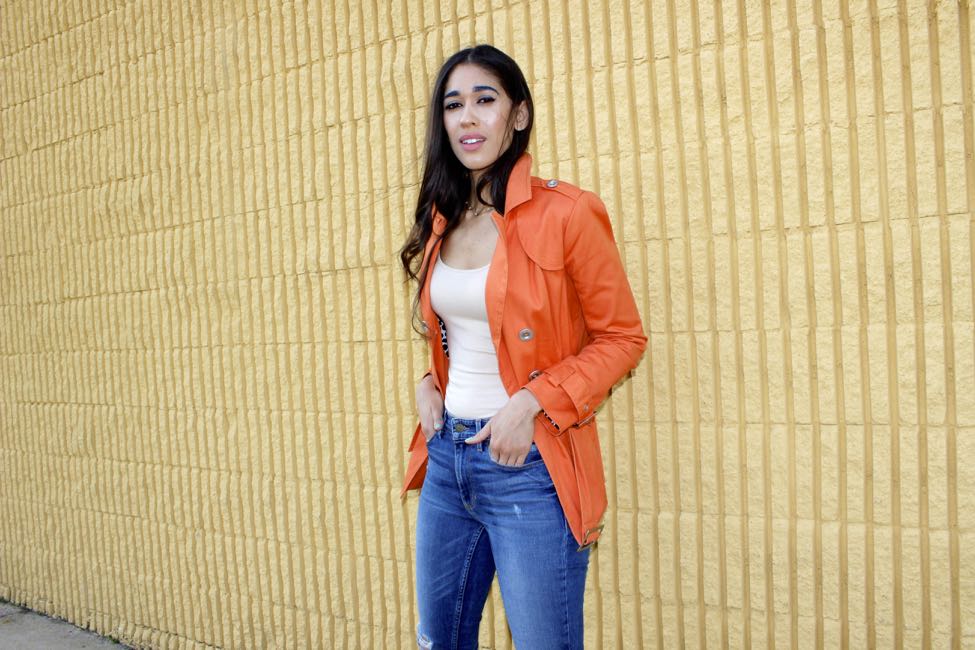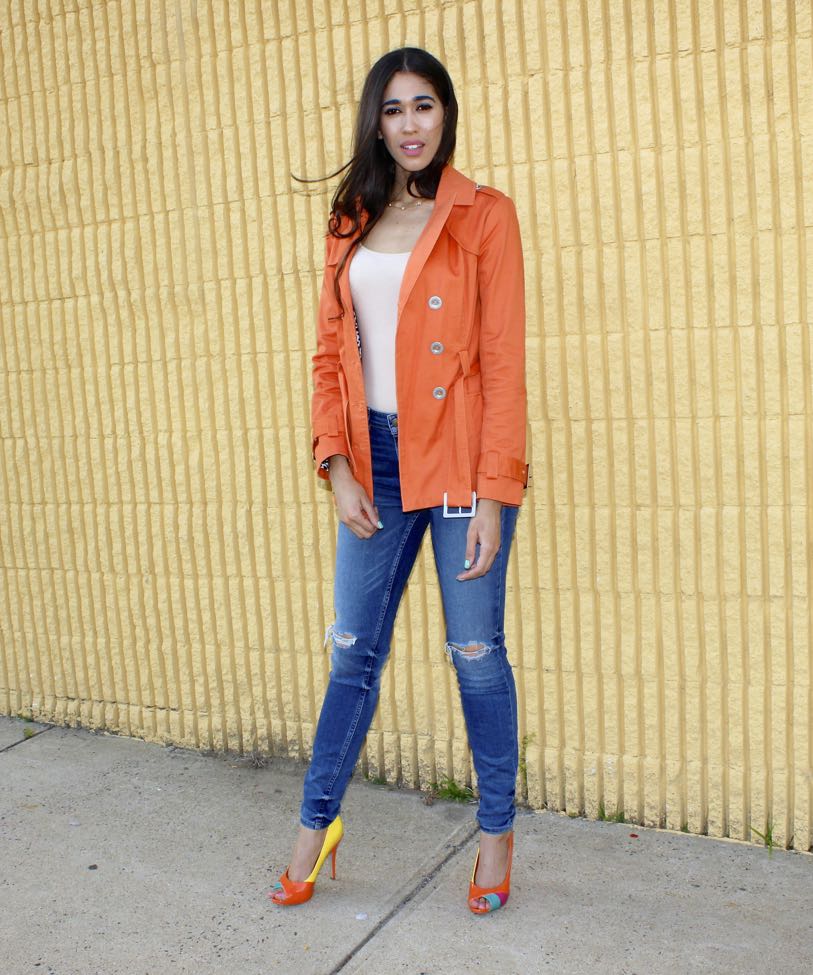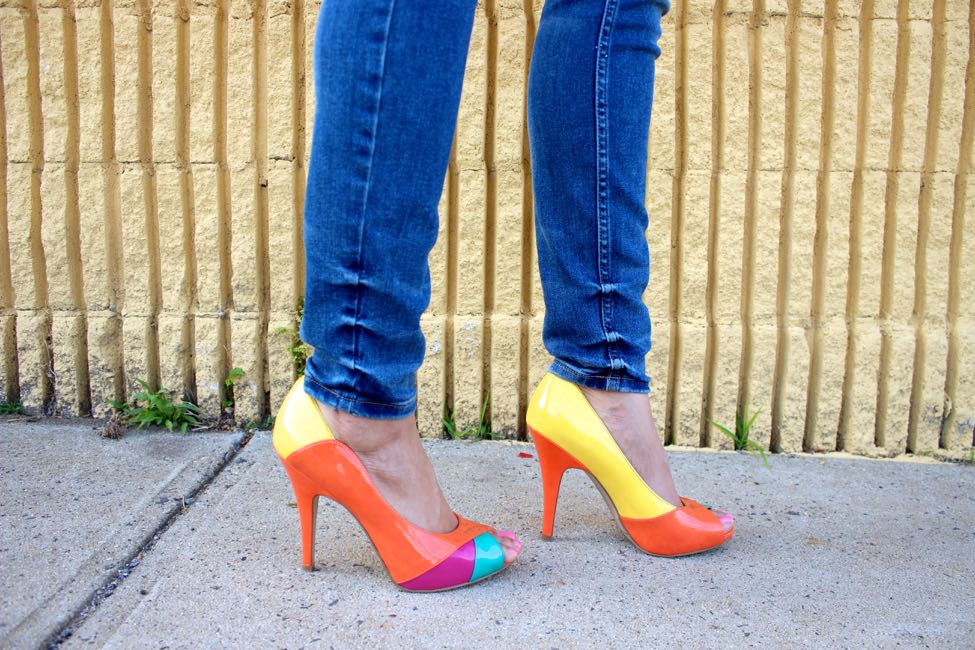 GET THE LOOK!
Trench: Guess (similar ON SALE HERE) // Tank: Cynthia Rowley // Jeans: GUESS (similar HERE) // Shoes: Nine West (loving THESE)

It's Friday, friends, whoop, whoop!
I have a thing for outerwear, but just not any outerwear, colorful or printed outerwear! I'm sure that comes at no surprise to many of you, haha! While a classic beige trench coat is certainly a wardrobe staple, one of which I have, but looking to replace (I'm no longer fond of the particular style I have), I love the idea of a colorful trench to add into the mix. The main reason is that it helps to brighten my mood and keep me optimistic about the present season, even if the temps may not necessarily want to cooperate and favor my desire for clear skies and warmer weather. I know all of my British ladies feel me, am I right? What I love about this orange trench coat is that it can be worn during both the spring and fall months. Remember how I styled this same jacket in my post, In the Trenches, this past fall? I love pieces that can be worn either all year long or at least for multiple seasons; it allows me to enjoy my beloved pieces longer and get more use out of my money!
For this outfit, I decided to keep both my top and bottom simple, having just the jacket and shoes serve as the two main statement pieces in the look. Outerwear and shoes can make all the difference to the overall vibe of an outfit, providing you with so many different options for styling your basic pieces. I actually wore this exact tank and jean combo in my Neutrals post, which was totally comprised of soft neutrals. So, if you're one who prefers a simple tee and jean combo, but are looking for some ways to add a little spice to your looks (remember yesterday's post?!), without changing your overall laid back effortless style, outerwear and shoes are the way to go!
While I actually found this trench at Guess, if you're ever thinking of a specific color for a jacket or even a blazer, I highly suggest you check New York & Company because chances are they have it! I've been a customer of theirs for years because they offer not only the basics, but have such a lovely selection of colorful and printed pieces, their denim is amazing and they always have the BEST sales (I love their B1G1 free event)! The same is true for Nine West. Most of the colorful shoes in my collection are from them and their shoes are extremely comfy! Let's just say that for my entire four years of college, I didn't wear flats or sneakers at all, just 5 inch heels all day, everyday, nearly all from Nine West!
What are your favorite accessories to wear and what is your go-to piece to help liven up your outfits? Thanks so much for stopping by, my dear friends, I hope you found some inspiration in this post, have a wonderful weekend and I'll see you back here on Monday with a new post!
XO,