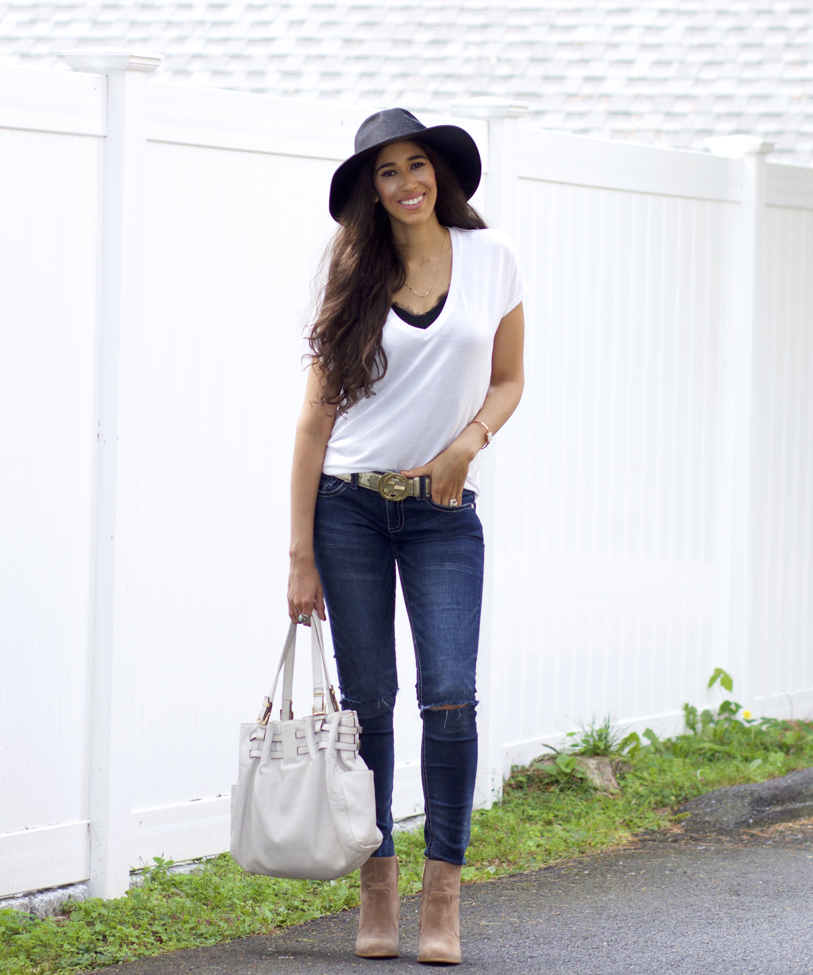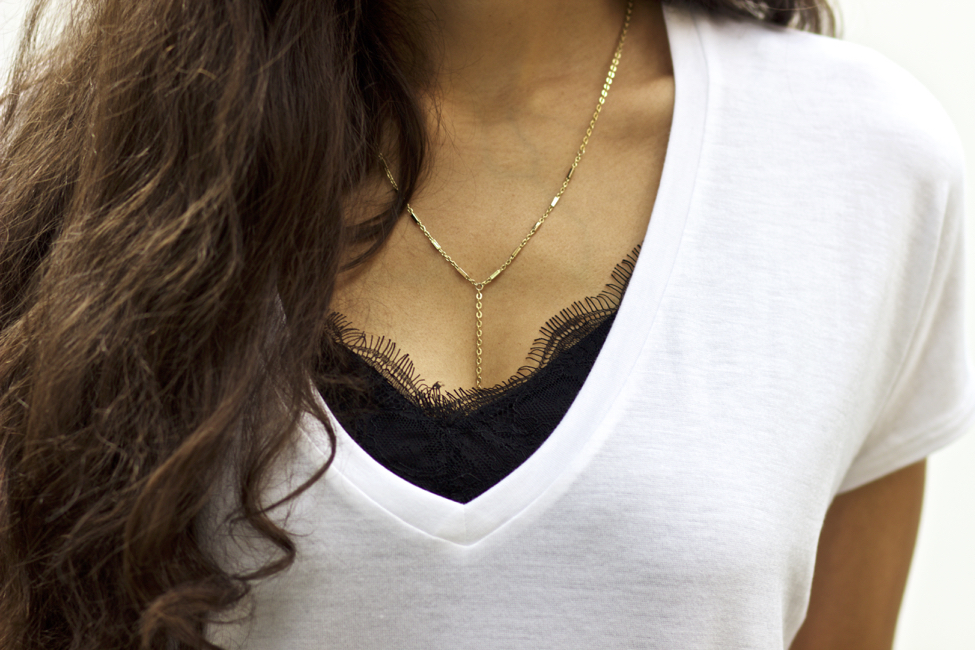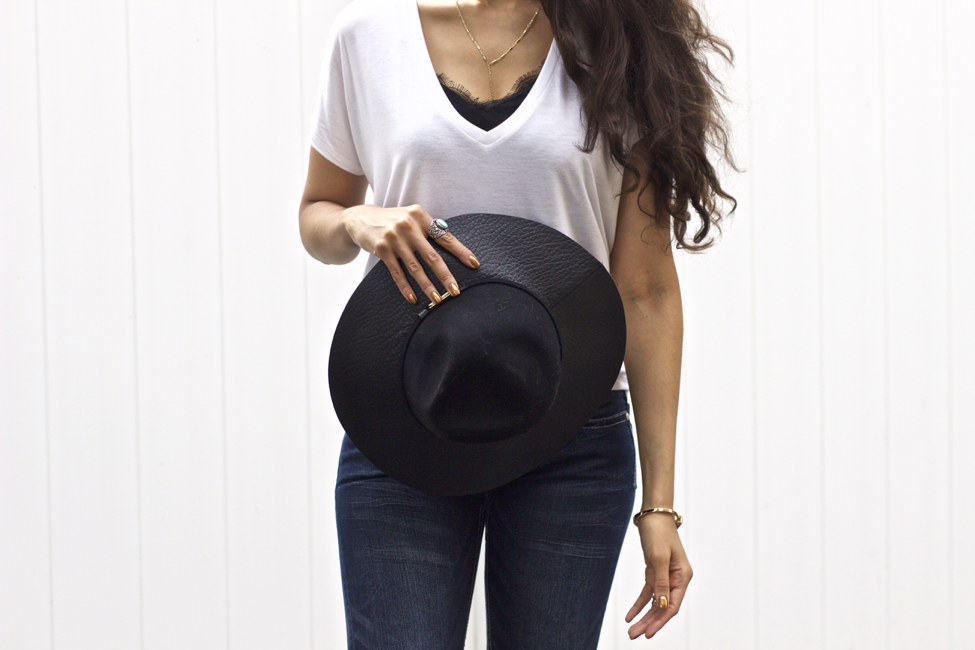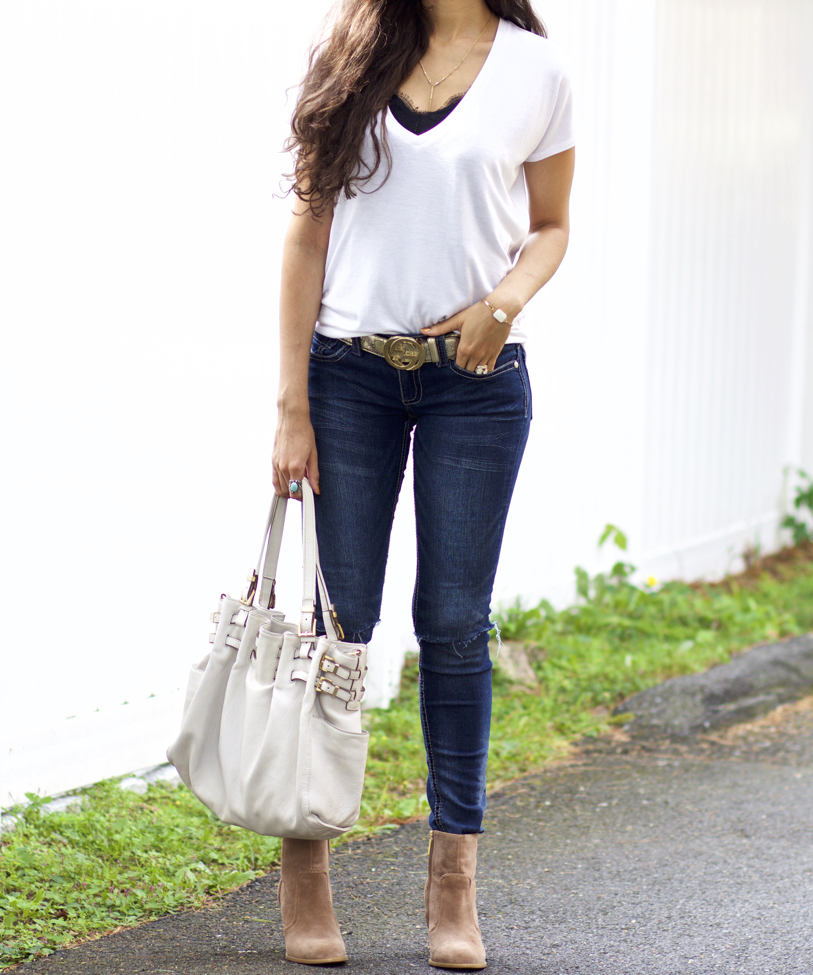 Tee | Cami | Jeans: Similar | Hat: Similar | Necklace c/o | Bracelet c/o | Belt | Bag: Similar | Boots: Similar
---

---
Happy Wednesday my lovely friends!
Do you remember a couple of weeks ago, I shared my love for lace camis in my Dressing Up Your Weekend Outfit post? I shared what I love most about them being that they are extremely versatile, especially during transitional times of years like now. In that outfit, I styled the cami on its own. Today, I've layered it underneath a plain white tee for a bit of a contrast. I've suggested v-necks as one of the most flattering necklines for those of you with apple or inverted triangle body shapes, where your upper body is wider and you have a larger bust line. I've been told by some of you that you don't like wearing them because you feel they expose too much of your bust, so this is a great way to add additional coverage, as well as a nice feminine detail to your outfit!
This is also a great way to experiment with color, injecting the slighted hint that will feel comfortable while trying something a little outside of the box for those of you who are a bit intimidated by color or avoid wearing it.
To fill in some void space, I added a y-necklace, which sits perfectly in between both tops, but the lace itself would serve as the perfect amount of detail, so feel free to forgo the jewelry in this case, the option is yours.
Layers don't always have to involve a ton of clothing, it's a method that can be applied to anything, so I encourage you to think creatively when putting together your outfits!
I hope you found some inspiration from today's post, my gorgeous friends! Thanks so much for stopping by and I'll see you all in tomorrow's post!
XO,