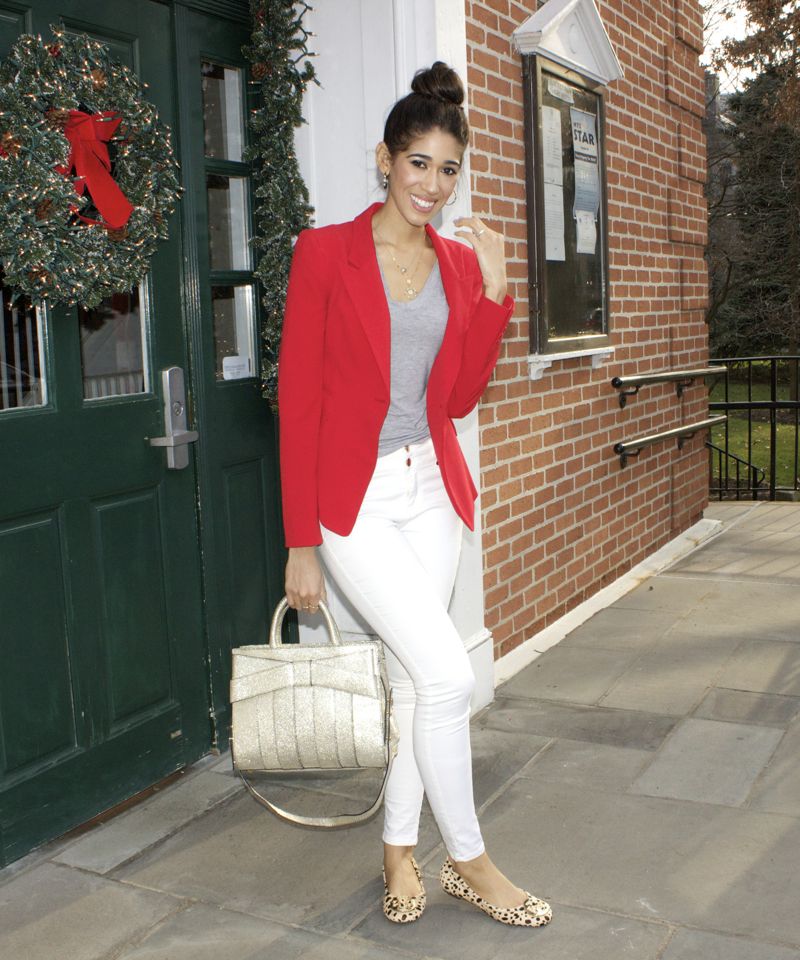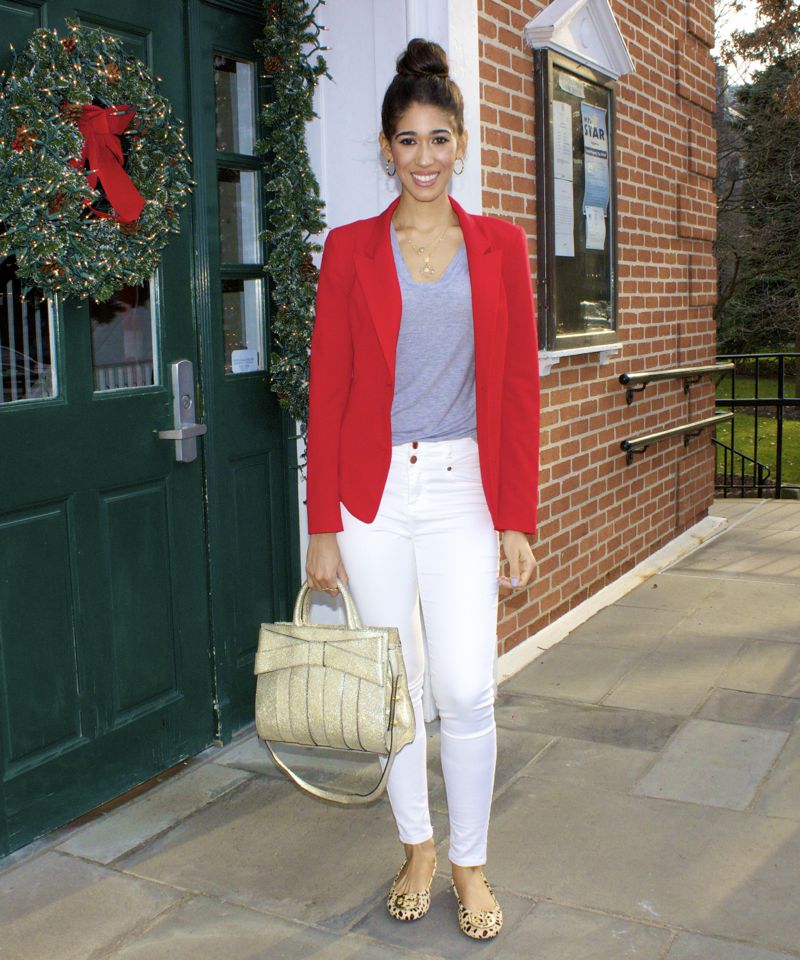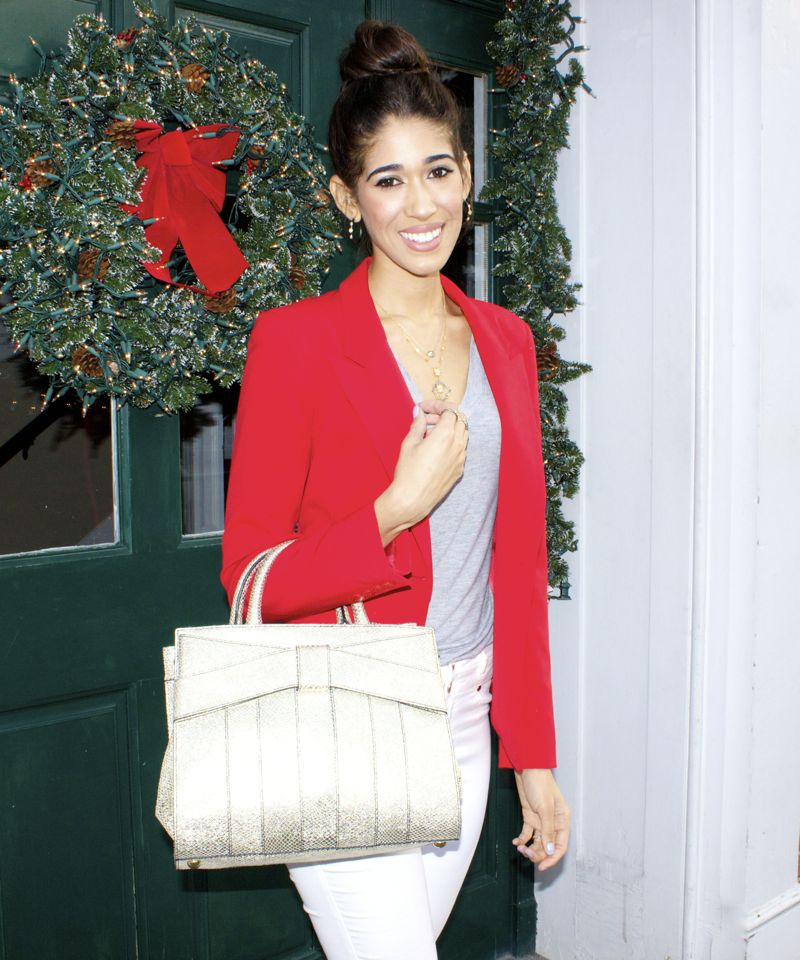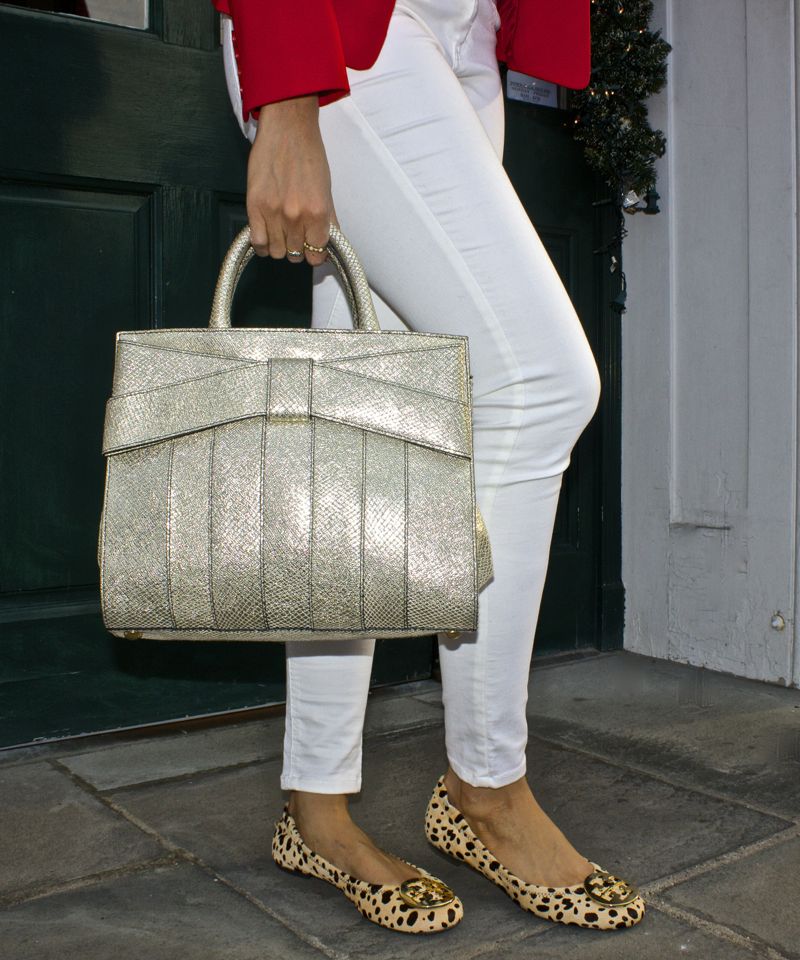 GET THE LOOK!
Blazer: New York & Company (similar styles here, here & here) // Shirt: Marshalls (similar style ON SALE 40% here) // Necklaces: Small (c/o Athra Luxe here USE CODE CONTOUR for 10% off until Jan.1) Large: (c/o Joey J. Jewelry (here USE CODE CONTOUR for 10% off until Jan.1) // Pants: Marshalls (similar style here) // Purse: Zac Posen from TjMaxx (similar style ON SALE 45% off here) // Flats: Tory Burch (similar style here)

Happy Monday, my gorgeous friends!
I hope you all had a fantastic weekend! As we're getting closer and closer to Christmas, which is next week (shriek! I can't believe it), I'm starting to get more and more into the holiday spirit, by wearing more red, if you haven't noticed ;) Today's look is perfect for a more casual work outfit or even for running some errands, which many of us are doing more than usual, in getting our last minute gifts; there's always a person or two that we forgot or that's just so darn complicated, haha! Sometimes, when I'm running errands and want to look put together, I opt for a blazer. It's amazing how just one piece can totally transform the entire feel of an outfit!
I'm sure many of you have heard about the no white after Labor Day debate lately, many of us have been revolting against this foolish "rule" because it just doesn't make much sense, although I know the origins of it are found within southern etiquette. However, even my fellow southern fashionistas are crossing out this part of the manual and wearing it. So, if you've been on the fence about wearing white, I'm hear to encourage you to do so! With that, you've heard me mention many times how white highlights and so, it should be worn in areas we want to bring attention to. For us ladies that are a bit curvy, white pants can make our thighs appear larger, but there is a way that we can off set that effect and that's by wearing color on top, which I've done with this red blazer. By doing so, we are creating two focal points instead of one, which would have otherwise just have been the white piece. On that note, I will be creating a look wearing all white that all of us, regardless of shape, will be able to pull off soon, so keep an eye out! Ps: When wearing white pants, I always wear nude Spanx capris under because they help conceal everything ;)
I hope you all love the look and feel inspired to recreate it on yourselves, and as always, I thank you so much for taking the time to stop by; have an amazing start to your week!
Xo,