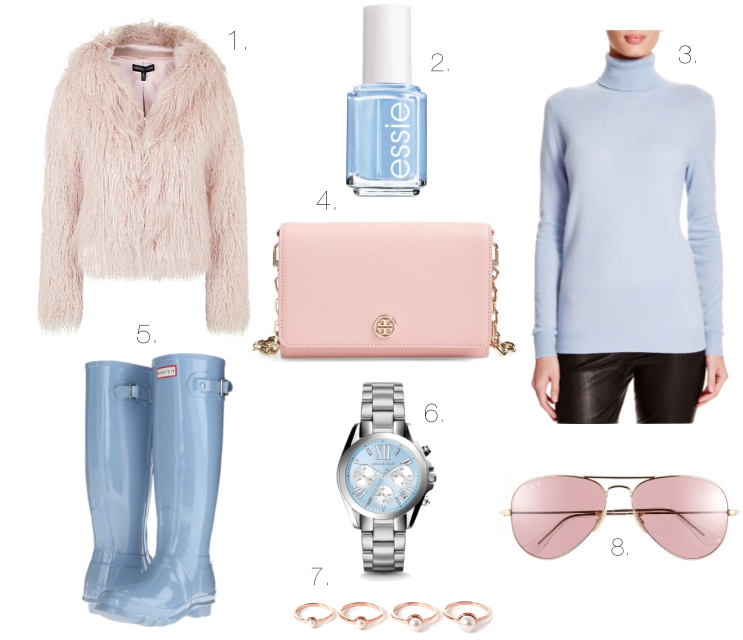 SHOP THE SET BELOW!
ONE | TWO | THREE | FOUR | FIVE | SIX | SEVEN | EIGHT
Happy Tuesday, friends!
As many of you know, each year an official color of the year is announced, in which many designers are inspired by, and as a result, we see entire collections and accessories featuring that color predominately. This year was marsala or burgundy and for 2016, there's two; rose quartz, a soft pink and serenity blue, a baby blue! I'm pretty excited about these two because I personally love pastels, even during the winter months. I feel that certain pastels, such as these two, work better in the winter than the spring, as they have powdery undertones to them, making them perfect for the colder months. What excites me more when the official color of the year is announced, is that I know that the chances of me being able to find a pair of shoes or purse, for instance, that isn't easily found in the color, becomes accessible in a larger price range. The thing is, it's often within the year's time that the color is labeled the official color of the year, so if you see something that's a great price and that you love, snag it because you may not see it for that great price again!
I wanted to share some of my current faves in these two colors with you, which I hope you love as well! How do you feel about these two colors being made the official colors of the year? Is there a color you've been wanting to see named? Lastly, how did you feel about marsala for this year? I wasn't crazy about it initially because it isn't really a rich burgundy, but a more dry version with a burnt undertone. However, it did grow on me :) I hope this post inspired you and I thank you so much for stopping by; have an amazing day, my beautiful friends!
Xo,