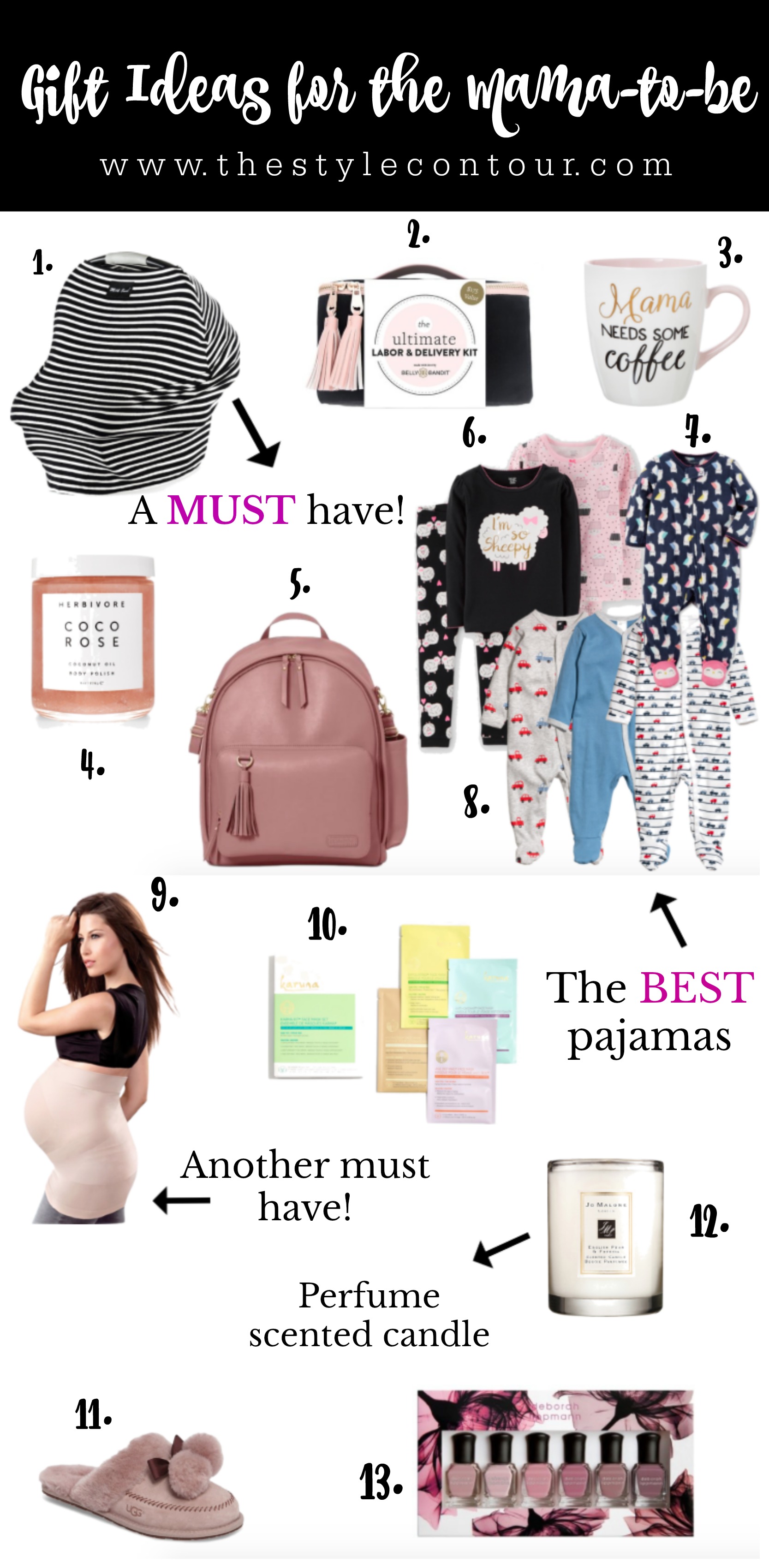 Happy Friday my gorgeous friends!
Today we're wrapping up my gift guide series, no pun intended. I was pregnant during the holidays last year and some of my family members gifted me with mom-to-be gifts that I thought were so cute. I don't know, something about receiving gifts from others before my baby shower that had to do with my pregnancy and baby made it that much more real and sentimental. Perhaps it was the hormones, but I loved it, haha!
Of course you can still give many of the gifts you would typically give to any of the ladies in your life that aren't pregnant, like the ones I've shared
on Monday
. I just think these products would make great additions to the list. Out of everything on this list, I'd say the
Milk Snob cover
, pajamas, and the belly bands are the must haves. I've used
the cover
nearly every time I've left the house with Aviah and I always get asked about it. Many car seats don't provide full coverage and protection from the sun's harsh sunlight and for curious onlookers. Since Aviah was born with
so much
hair, she's been somewhat of a tourist attraction whenever we've been out strolling. While I love that my baby gets some attention (what new mom doesn't, right?!) I've actually had strangers try to touch her, which to me is not cool. So, to prevent that awkward situation, I'll put the cover on, mostly when she's sleeping anyway. I also use it as a nursing cover when I'm feeding her in public. I think this would be a great gift because most moms-to-be don't know about it, a few of my mom friends didn't until I told them about it.
When you don't know what to give for a baby, get pajamas. Us moms never have enough pajamas, seriously. I LOVE
Carter's
and
H&M
has some really cute ones, too.
You already know how much I swear by
belly bands
. I actually had no idea about them until some of you ladies suggested them to me earlier on in my pregnancy before I really started to show. They allowed me to continue wearing my non-maternity jeans all the way through to my third trimester! I have an entire post dedicated to them, which you can read
here
.
In general, I say think relaxation when gifting to a mom-to-be because that's all you really want to do when pregnant (and after, haha) so anything that enhances that would be a great gift. Keep in mind products that are paraben and toxin free so mama has peace of mind using the products you give.
I hope you found this post helpful, my friends. If you've missed the other two guides,
Gift Ideas for Her
&
Gift Ideas for Him
, do check them out! Thanks so much for stopping by and I hope you have a wonderful weekend ahead!
XO,