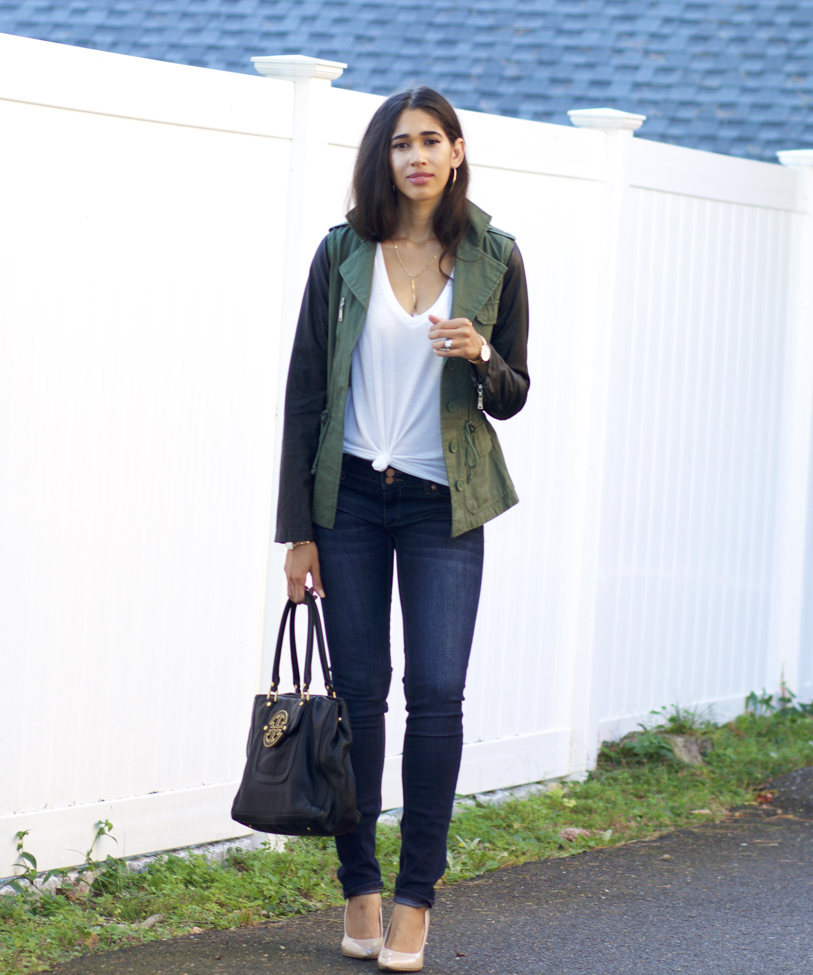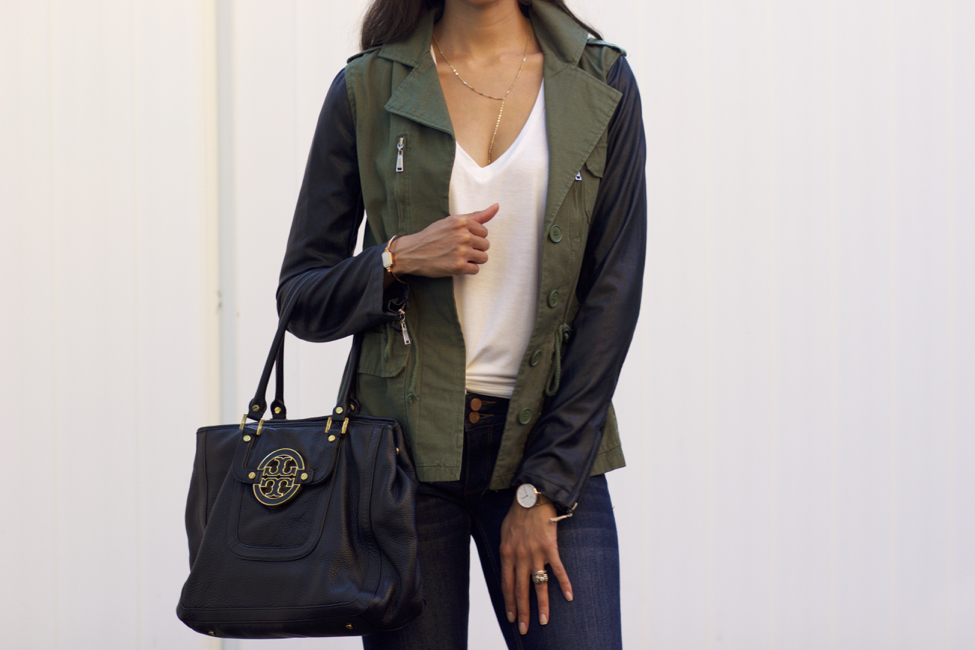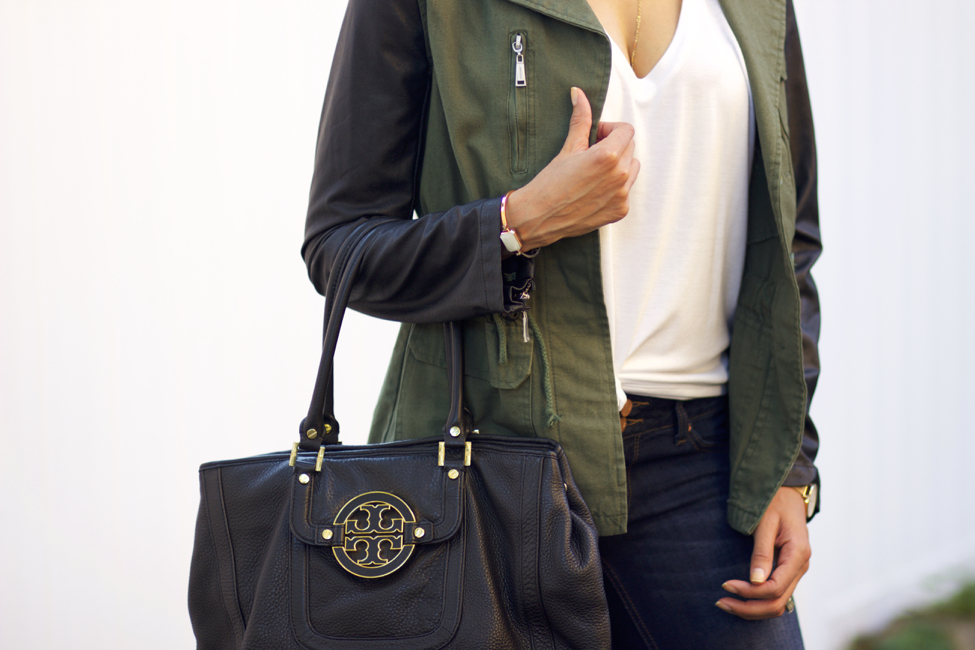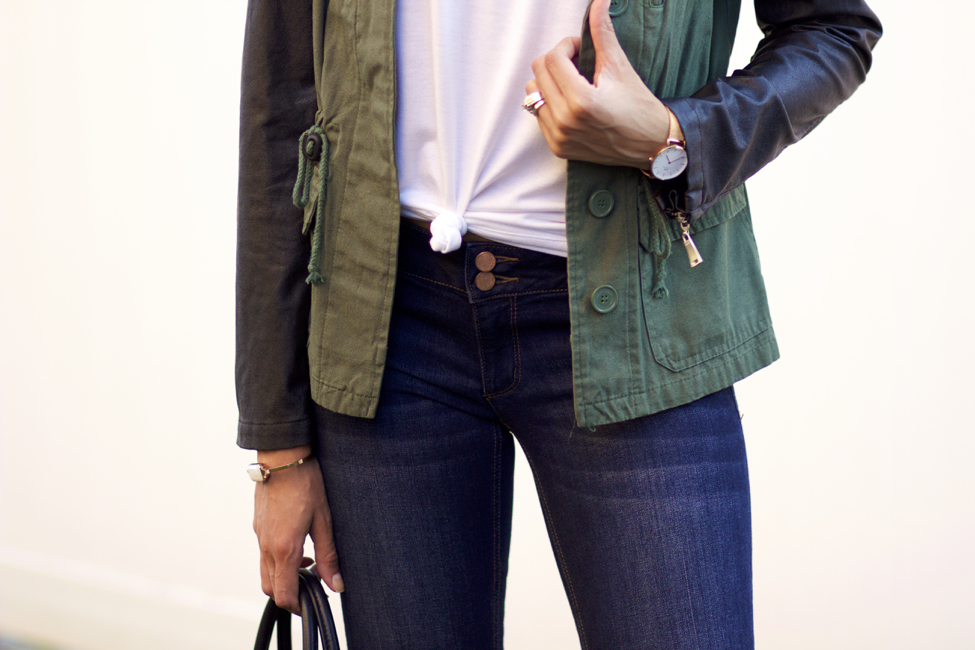 Jacket: Similar here & here | Tee (ON SALE!) | Jeans (ON SALE!) | Bag:Similar | Shoes: Similar | Necklace c/o | Watch c/o | Bracelet c/o
---

---
Happy Monday my gorgeous friends!
How was your weekend? Ours was a very relaxing, so much so that I wasn't looking forward to waking up early today and getting started with my day. I just wished that Sunday would've lingered on a little longer, it was THAT kind of weekend, lol. We mainly took Aviah to some local parks and walked around a lot. Do you guys remember when I was pregnant and I said how I had this intuitive feeling that she was going to love nature, like my mom? Well, I guess it was my motherly intuition kicking in because it's been proven true, she loves to be out and about, mostly in quiet parks. Oh, and would you believe she tries to talk? Yes, it started when she was roughly 9 weeks (she's now 12 weeks). She has to be in the mood, but when she is, she just "talks" away.
As you know, I nurse, so when she was around 9 weeks old, whenever she was hungry she would always have a very distinct cry (and still does). She would say this one word when she'd cry, ghee. Lol. After a while, we figured out that it was a cue that she was hungry. On Saturday night, I was wearing my pjs, which was a dress and while Eddie was holding her, she wrapped the strap of my dress looked down and said, oh ghee, lol!!! It was one of those moments I wish I had my phone to record her, it was hilarious. We said if there ever was a doubt as to what ghee was, it was confirmed right then and there.
PS: My mom out of curiosity Googled ghee and it actually means milk in an Indian dialect, lol, who knew?!
Anyway, onto today's outfit.
You know my love for fall runs deep, it's one of my favorite seasons. You also know that I have an obsession with outerwear and one of the perfect jackets for the season is a utility jacket. They usually go with any casual outfit, since they're often in an earthy natural color, like olive or military green, similar to mine. The one I'm wearing has leather contrasts on the sleeve, for an edgier take, but you can of course opt for styles that don't have it. I actually love this camo one, especially since camo is trending huge this fall season, which we talked about in this post.
Also, the jeans I'm wearing are one of my favorites, which I've worn countless times on the blog. They're from New York & Company's curve creator line and they do just that. The seems in the in back creator contours to make your booty look ah-mazing, whether you have one and want to make it look more firm or you don't, but want to create the illusion. I own two pairs from the collection and love the way they fit and highly suggest them, they're actually on sale right now! Aside from the fit, I love the two buttons, I feel like they add a nice little detail to the denim and to an overall outfit when going simple with a basic tee.
Do YOU have a favorite outerwear come fall? Let me know!
Thanks so much for stopping by, my dear friends, and I hope you have the best week ahead!
XO,