Happy Tuesday, beautiful friends!
I hope you're all having a great day so far! Today, I'll be suggesting the pieces that I think would be most flattering for your body shape that incorporate one of the season's popular, yet timeless trends, embroidery! Though it's currently trending hard, it's an intricate detail that our grandmothers have been rockin' and making for years! Dolce & Gabbana have also had a leg up on this trend, I feel in a sense, they were the ones who first ignited it to become more popular recently, as well as the rise of all things pom pom! They are one of my favorite designer brands because they have such a way of fusing old school, traditional style, in a way that's refreshing and relevant to today's modern style.
As always I hope you find my ideas helpful in selecting the most flattering styles for your fabulous shape, ensuring you'll look and feel fab embracing this classic-trend all season long! Let's get started with our first body shape, the apple!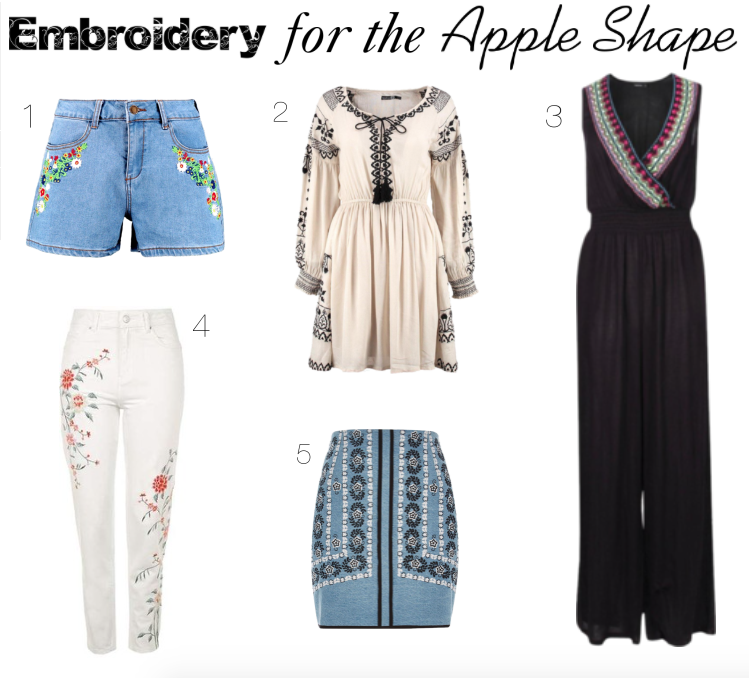 SHOP THE SET!
For the apple shape, dresses and tops that have an embroidery on a v-neckline are extremely flattering, as they help to visually slim and work with either the width of your upper (this shape tends to have wider shoulders, chest and back) body and/or a larger bust. The dress I selected is a perfect example, as it creates an embroidered line down the center, stopping at the waist, where there is an elastic waistband, which is perfect for creating a more flattering effect to the waistline. I also chose a jumpsuit with a wrap neckline; the cross effect flatters a larger bust by not adding any additional volume or dimension, but rather highlighting what's already there. Once again, this piece also has an elastic waistband that allows you to adjust the area to your liking, flattering the midsection. Jeans, skirts or shorts that are embroidered are a great option to bring attention to those fabulous lean legs of yours and when there's details around the hip area, as seen on all three bottoms in the set, it creates a focal point to the hips, which for this shape is typically narrow, but when the embroidery is large and contoured, it will create the illusion of wider hips.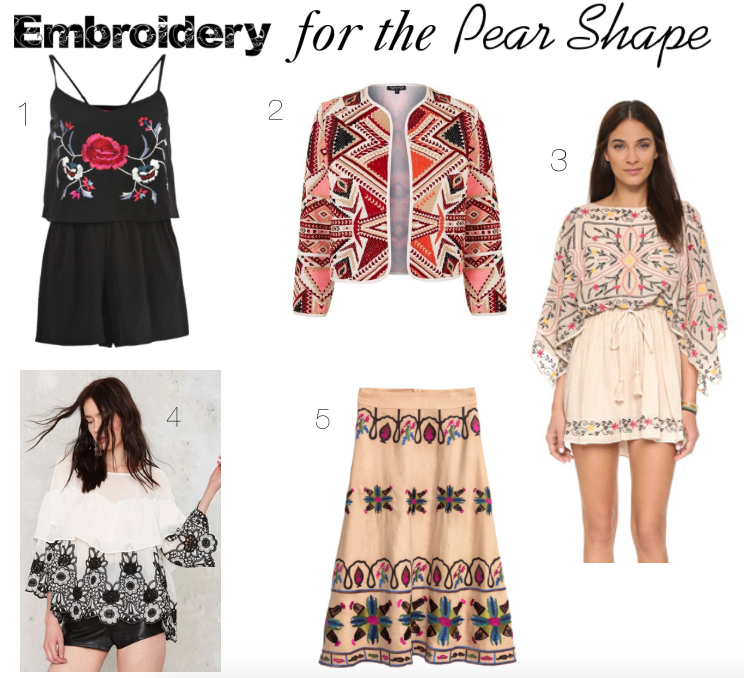 SHOP THE SET!
Next up is the pear shape! Embroidered tops that are flowy, loose and voluminous are ideal for you, as they help to draw the eye upward and highlight the chest area, balancing out the hips. However, this does not mean that you cannot or should not attempt to wear embroidered skirts because you most certainly can, in a way that's flattering to your curvaceous hips. I've selected a longer skirt style, which really plays up the boho vibes embroidered pieces can exude, which skims the surface of the hips with an embroidery line that doesn't extend across the widest part; much of the detail is placed on the lower portion. I also chose both a romper and dress that have much of the embroidery, if not all, on the top portion of the piece. The romper features a pop up top, which adds dimension and the dress I selected features the details all across the top, with a tassel belt that re-establishes the waistline. I would suggest you avoid jeans or shorts with embroidery on the sides of the hips, as they can make them appear larger, especially if it's a large embroidered pattern, unless you wear a top that's flowy or offers more volume to help balance out the visual width the details will create for a more figure flattering ensemble.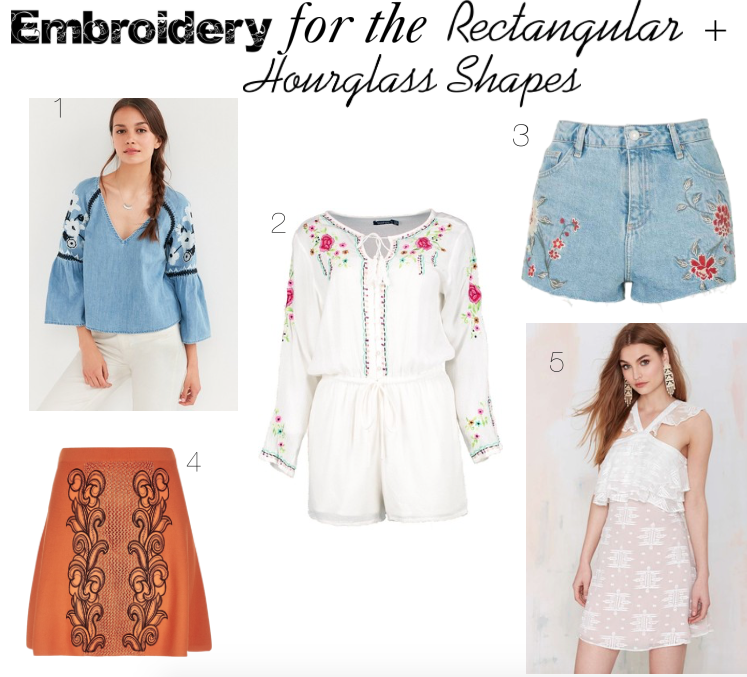 SHOP THE SET!
Lastly, we have both the rectangular and hourglass shapes! I don't typically group these two together, but since this trend is more about details and placement as opposed to overall shapes and styles, I'd suggest pretty much the same styles for both shapes, since they're both proportional. You'll notice that the majority of the pieces I've shared above have a bit of shape to them, with the exception of the shorts. Either of these shapes can freely experiment with various textures and shapes, since as mentioned, the upper and lower portions of the body are the same. The only distinguishing factor between the two is that the waist of the hourglass is more defined.
I hope you found my suggestions helpful in selecting the most figure flattering styles for your body shape! Of course you can wear whichever style you so choose, these are only tips to give you a better idea as to which pieces you could easily work with, without having to put much effort into styling your entire outfit to balance out proportions. Thank you so much for stopping by and let me know your thoughts on the embroidery trend, as well as which pieces from the post are your favorite! I hope your day is as fabulous as YOU!
XO,