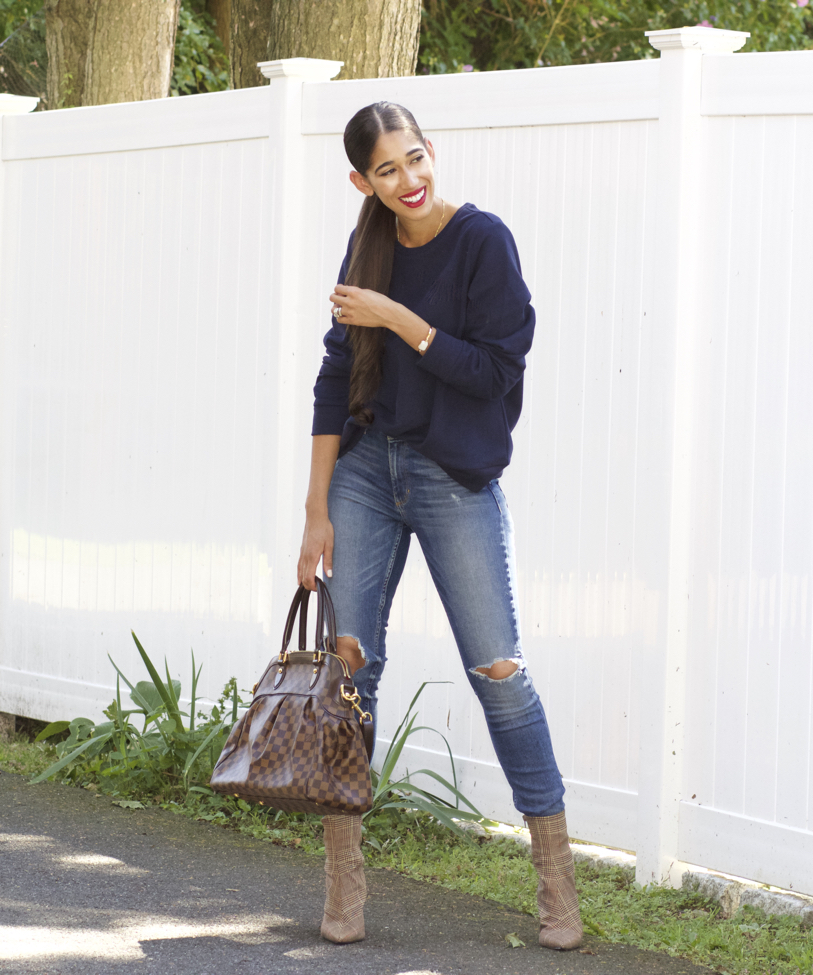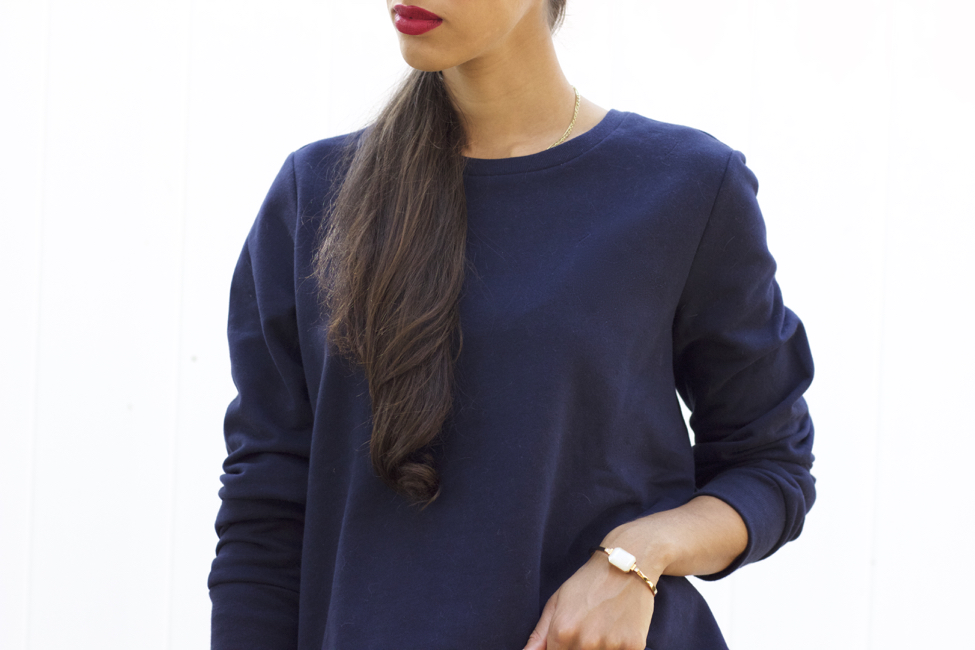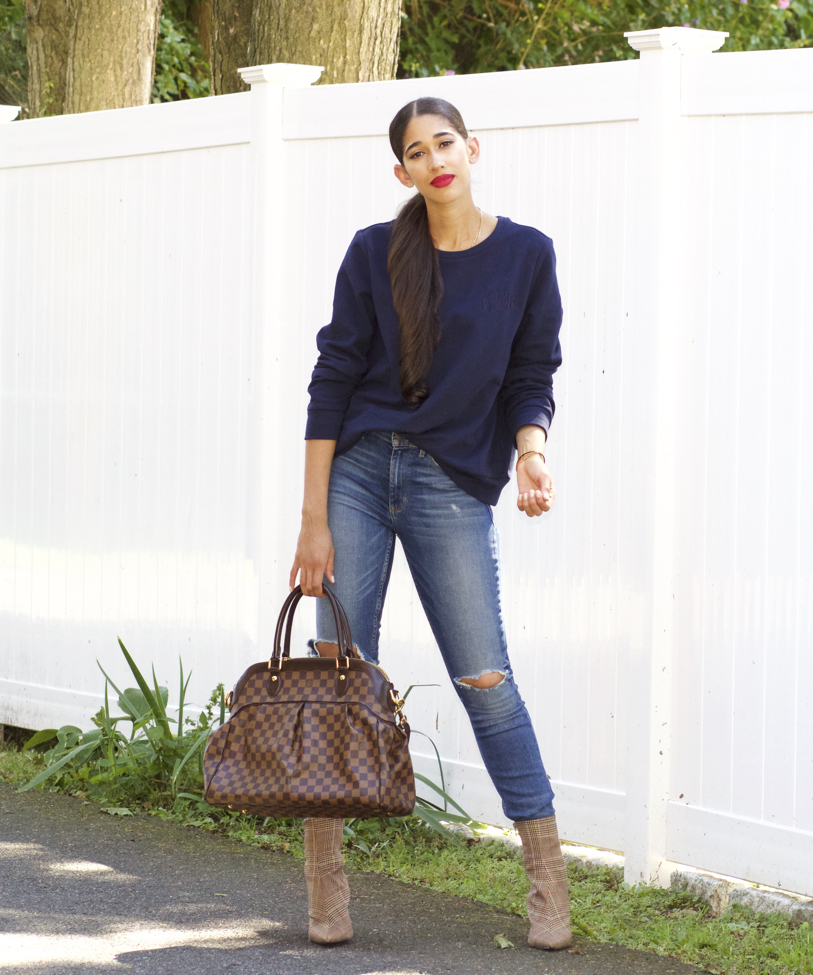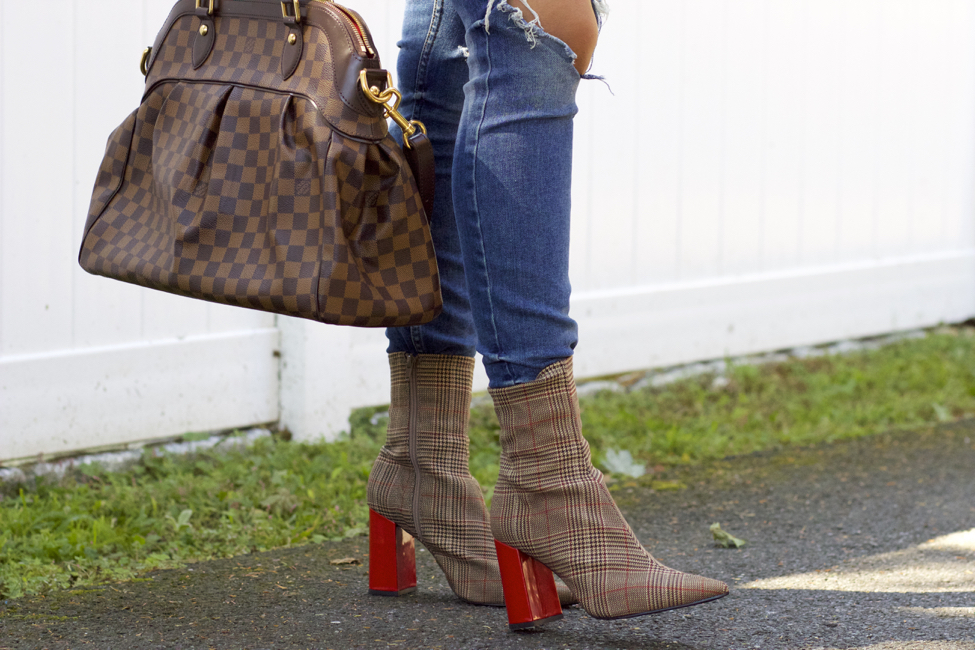 SWEATSHIRT: Similar | JEANS: Similar | BOOTS | BAG: Louis Vuitton | LIPSTICK
---

---
Happy Wednesday my beautiful friends!
With the athleisure and sporty-chic trend still going strong, I thought it would be a great idea to showcase how you can easily dress up a plain, simple sweatshirt. I believe the reason why athleisure is so well loved is because it's essentially a lifestyle. It's comfort, while looking put together, working with pieces that can be easily mixed and matched and worn in different scenarios.
In recent years, I've embraced the oversized, slouchy sweater. I think it not only makes for a cozier fit, but adds volume to an outfit, which will help to liven things up a bit, especially when working with such a basic piece, like a solid colored knit. I've carried this preference over for a sweatshirt, which I believe should always be oversized. It fits the workout aesthetic and just looks and feels more relaxed, which is what we're usually going for when reaching for a sweatshirt. Am I right?
The two easiest ways to dress up your favorite loungewear is by adding a bold lip and pair of heeled boots. I'd suggest a red lip because it's a color that's usually first thought of when wanting to dress up. You don't necessarily have to opt for the traditional vibrant shade. Since it's soon to be fall, rich burgundy shades and even leaning towards plums would also work.
I prefer heeled boots when it comes to creating this look, but I think a pair of pointed toe flats could also work in creating a similar feel, dressing things up more. To throw in another tip, I'd say slick your hair back in either a low bun or ponytail. It'll polish up the overall look. If you want to lean towards a more relaxed feel, then by all means, let your hair down or go for a messy bun!
Have you ever dressed up a hoodie or sweatshirt before? Are you a fan of atleisure and the logo look this season?
Thanks for stopping by, my sweet friends, and I hope you have a great day!