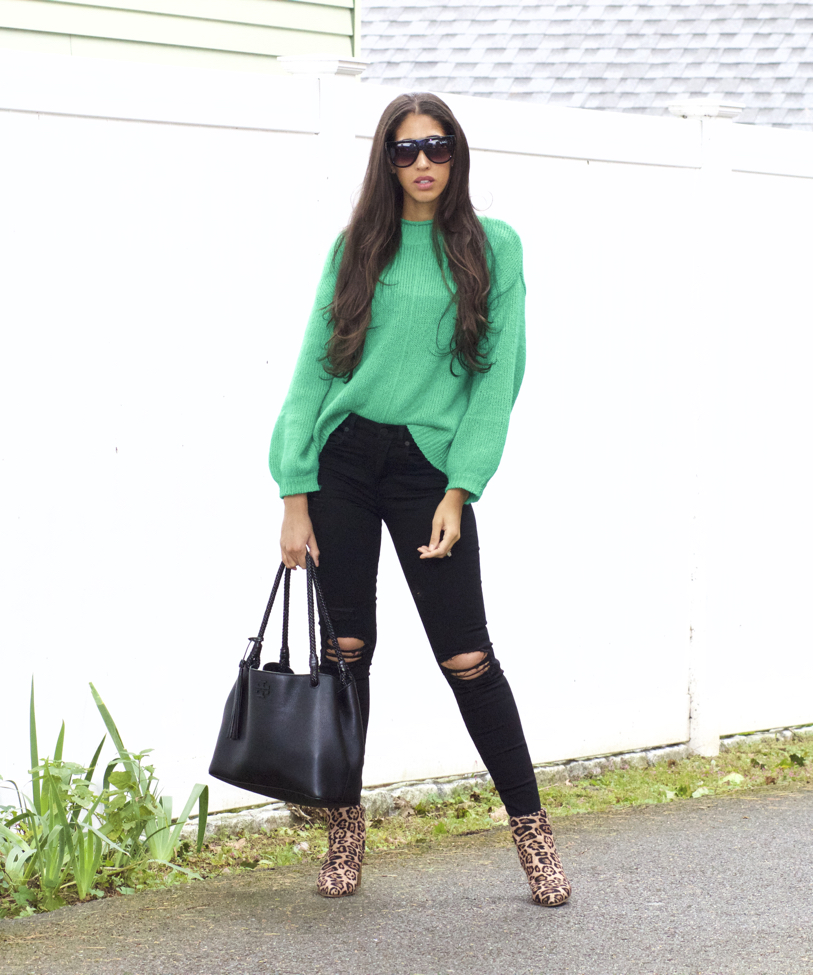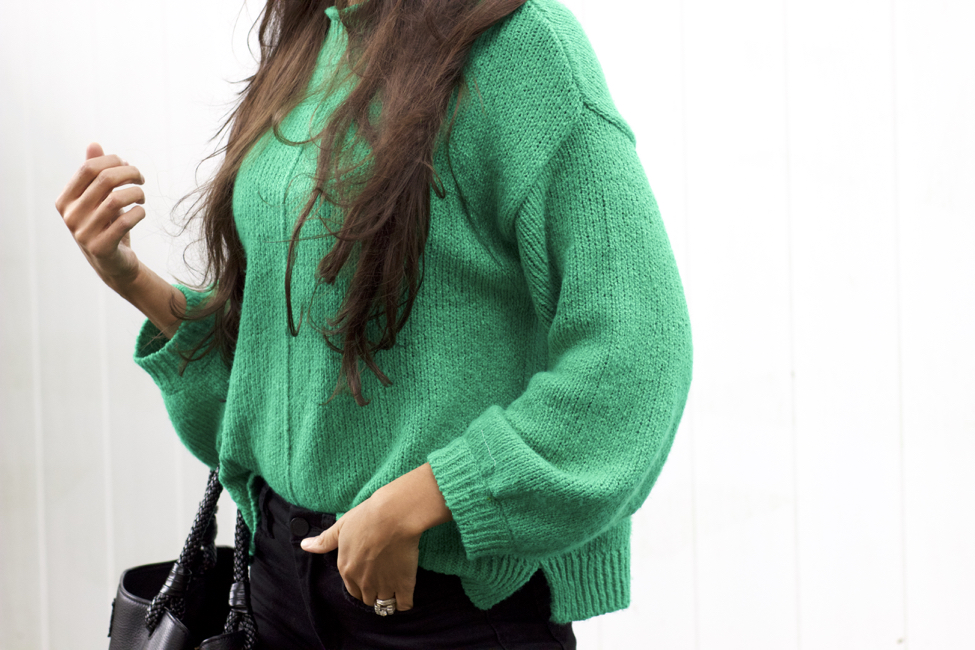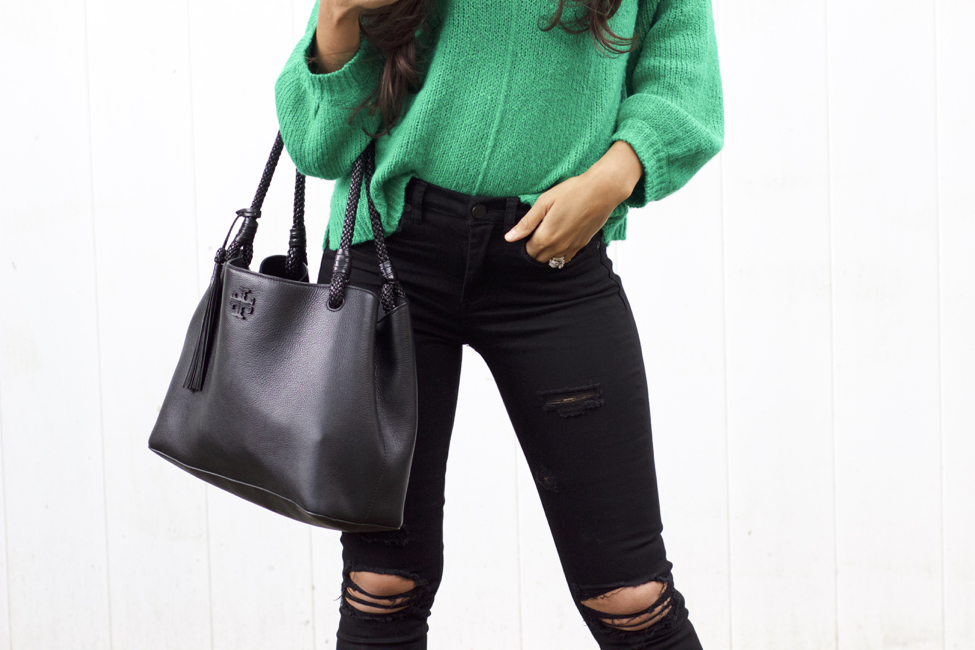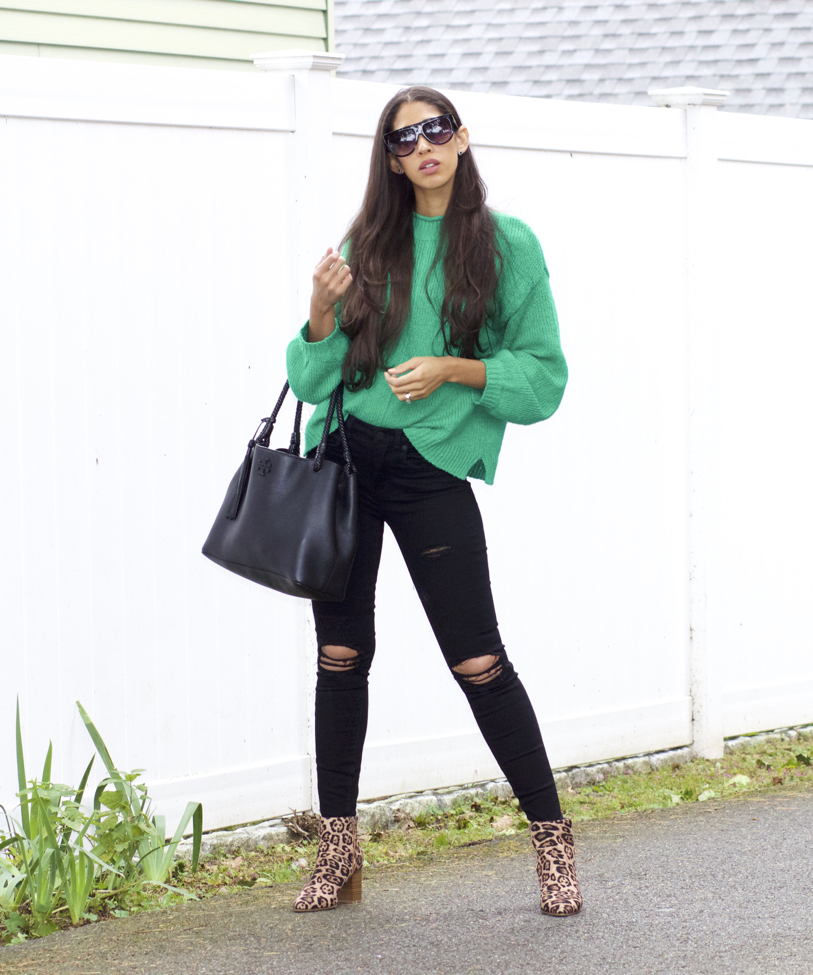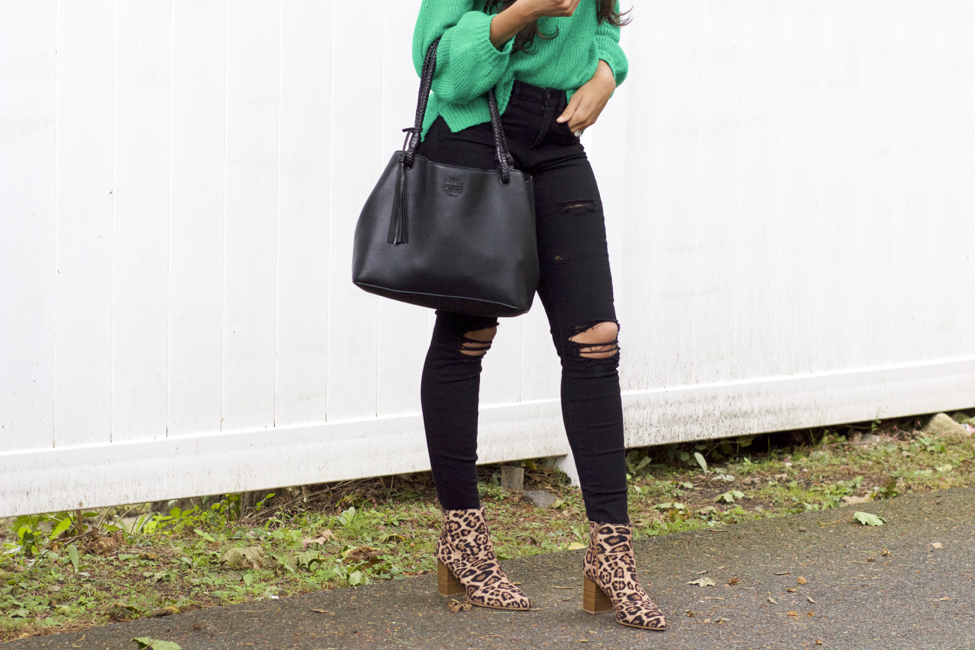 SWEATER (green is sold out, similar here) | JEANS: Similar | SUNGLASSES | BOOTS: Similar | BAG: Similar
---

---
Happy Monday my beautiful friends!
I feel like it's been a really long time. It was quiet here all last week because Aviah was teething pretty heavily, which lead to her being very congested and uncomfortable. She wasn't napping well during the day nor sleeping entirely through the night, which she always does. She seems to have my (huge—lol!) teeth, which makes the teething process drag out a little longer, since it takes a while for the whole tooth to come through and two weeks ago she had a cold, so it's been rather hectic. She's doing better, thankfully!
Anyway, back at the start of fall, I mentioned in this post how I noticed green trending and we all know that leopard is a synonymous with fall, much like florals are with spring. At least in my book. Today, I'm pairing them together in a way I've personally never tried, with black. In fact, I don't believe I've ever worn green and leopard together at all and I don't know why. I think it's such a pretty combination for the season and black helps to intensify the overall look, allowing for the green to pop. Though the sweater I'm wearing is sold out in the green shade, I'd still suggest it, if you're open to other colors because it's such a cozy piece. I've worn it quite a few times while spending the day doing a lot of running around and I felt comfortable the entire time. I'm eyeing this color— so pretty! However, I've linked some similar green sweaters above in the image scroll, in case you're wanting to embrace the color this season as well.
Aside from me noticing that green is trending this season (I went to a baby shower yesterday and about 3 or 4 of us were wearing green sweaters) I've also noticed that bold colored sweaters in general seem to be popular. More brands are extending their color selections in hard to resist designs, particularly balloon, oversized sleeves or dropped shoulders and I'm loving it. Perhaps it's due to the 80s inspired fashion we saw on the f/w 2018 runways?
Slouchy sweaters can be rather flattering, contrary to popular belief of it making one appear larger. I think if you do a simple half tuck, it helps to not only add a cute detail, but it can re-emphasize the waist.
Now onto my previous post. I wanted to mention something that I should've been more specific about in my review of the CT Miracle Cream and in my statement of favoring it over the the OleHenricksen Truth creme. The Ole is provides great results for reducing blemishes and dark spots, whereas The CT cream is great at hydrating the skin and evening out skin tone. It has dramatically reduced the redness under my nostrils that the Ole wasn't able to do. So, if you want to fade blemishes, I think the Ole one is great for that. I just wanted to clarify this, since both are great products, but tackle different skincare needs.
Well, thanks so much for stopping by and reading my sweet friends, and I hope you have the best week ahead!