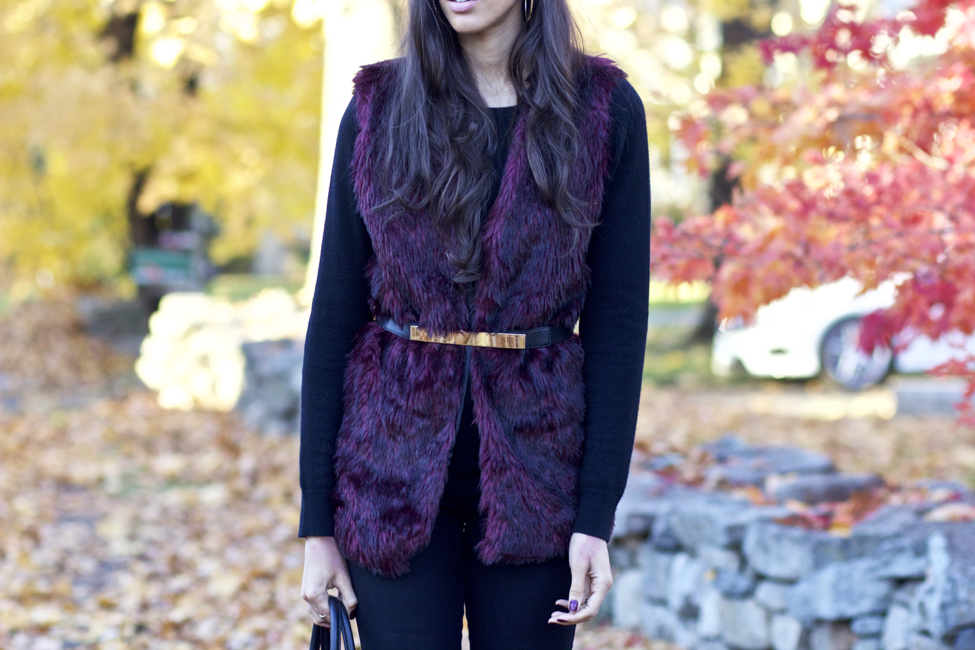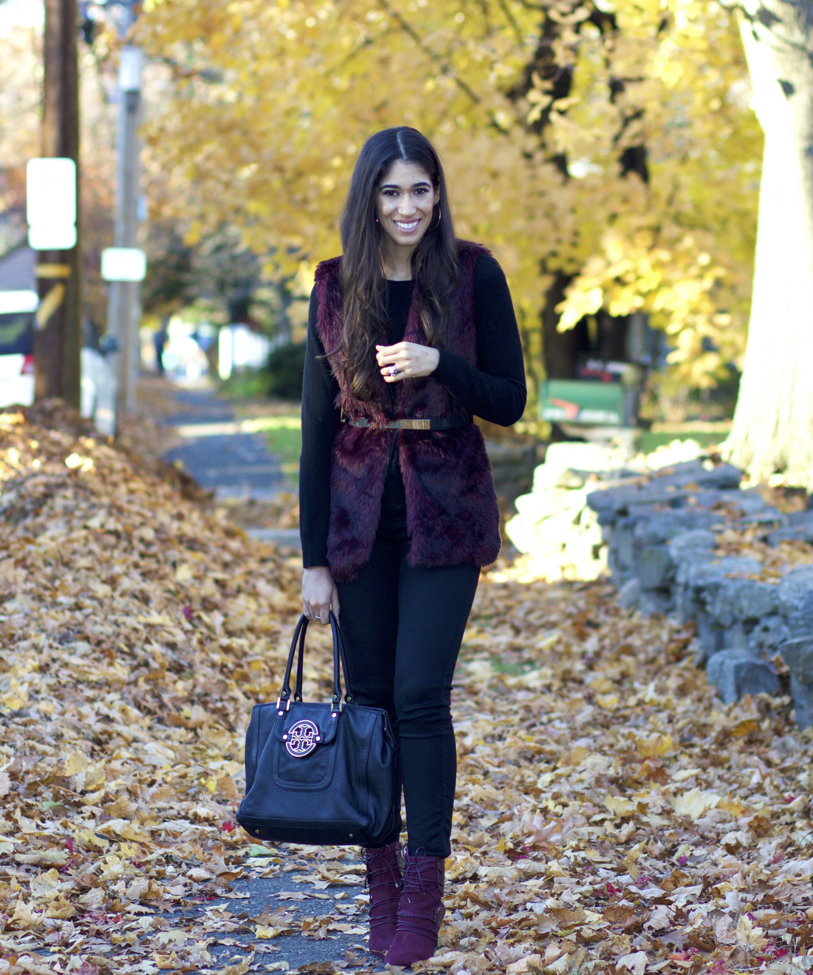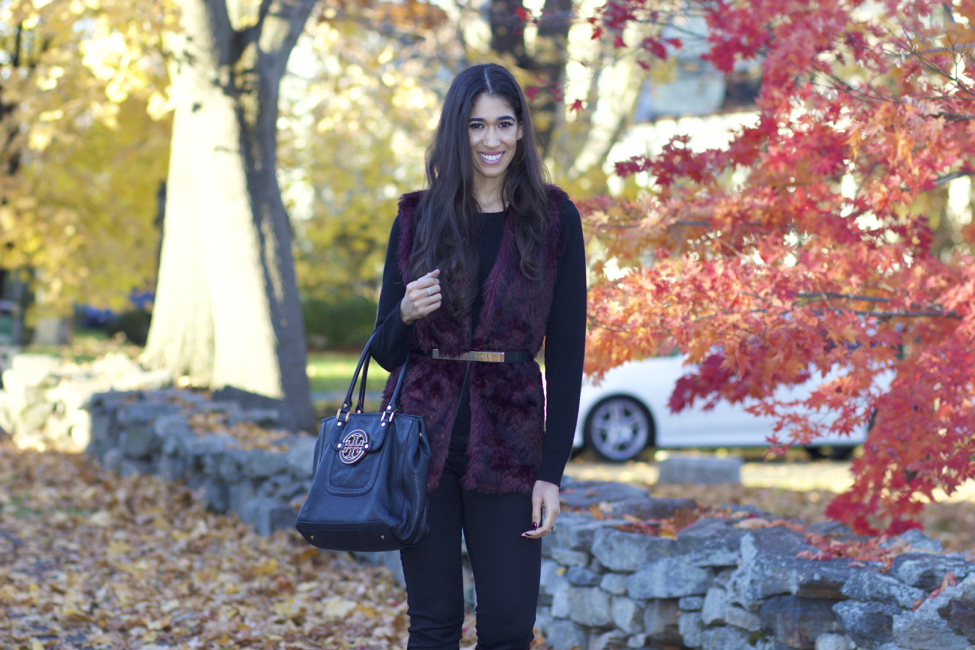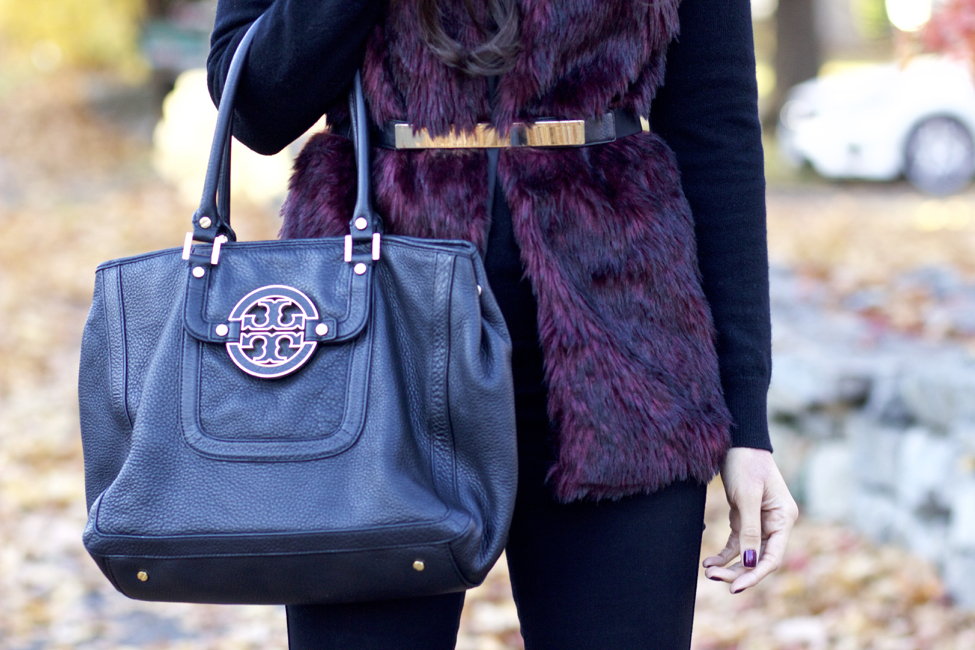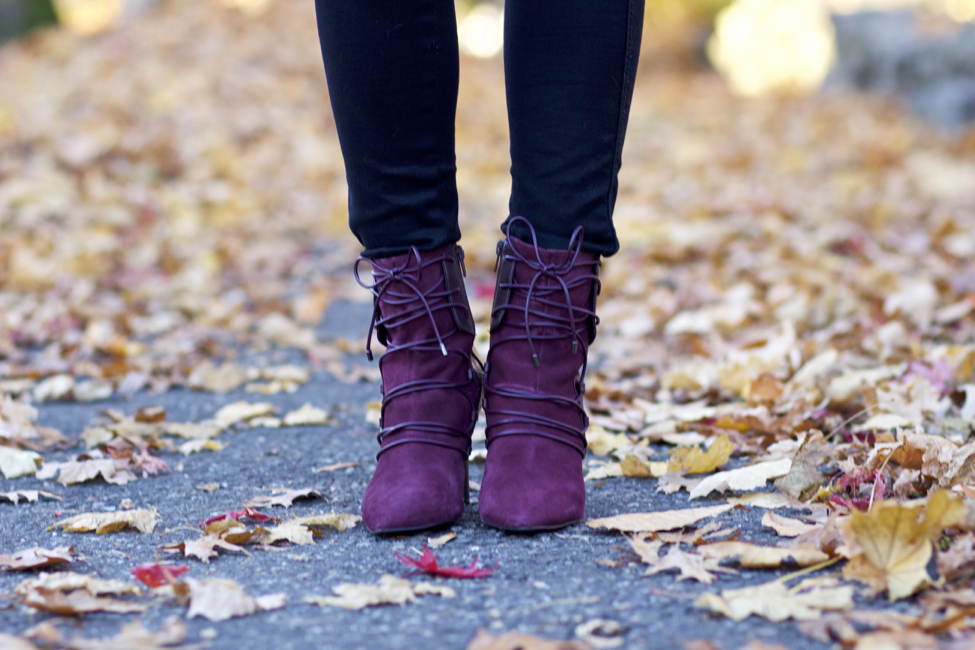 :OUTFIT DETAILS:
---
Faux Fur Vest: TjMaxx (similar HERE) // Belt: Off a dress (similar HERE) // Jeggings: New York & Company (HERE) // Boots: Nine West (HERE) // Bag: Tory Burch (similar HERE)

---
Happy Monday, my sweet friends!
How was your weekend?! We attended a quineañera for my god-mother's daughter, which was really nice. I've never been to one before, so it was really fun to watch the ceremony and omg, the dress changes! She had 3 different dresses and my god-mother told me she initially was going to do 5, but cut it down to 3; they were gorgeous! Have you ever been to one or had one yourself?
So, I finally got my act together and decided what I'm going to make for Thanksgiving and have everything I need. If you're planning on making the turkey, too, I personally suggest you brine your turkey at least 2 days before Turkey Day (chef Alton Brown has an amazing recipe), you can really taste the difference! One year, I did it the night before and it was nothing compared to last year when I brined it 2 days before, so we're going to try 3 days before this year.
As for today's outfit, I'm sporting my favorite color this season, burgundy. I'm sure you haven't seen it enough here, huh!? Lol. I love the way black and burgundy look paired together, I feel it gives off a chic and somewhat glamorous feel, especially when there's a bit of gold thrown into the mix, like I did with this gold waist belt. Most of the time, I like adding a waist belt to my faux fur vests, unless I'm going for an extremely casual outfit, like the one I wore last month (check it out here).
The reason I love adding a waist belt is that often times, faux fur vests can be quite bulky and if they're a little longer and fall at the hips, like the one I'm wearing, it can make me look quite wide and bulky. By adding the waist belt, the waist line is emphasized and it creates a more tapered effect, which is more (universally) figure flattering. Plus, it can dress up the whole look and adds a nice contrast to the vest, do give it a try!
Thanks so much for stopping by, my dear friends, and I hope you have a wonderful start to your week!
XO,