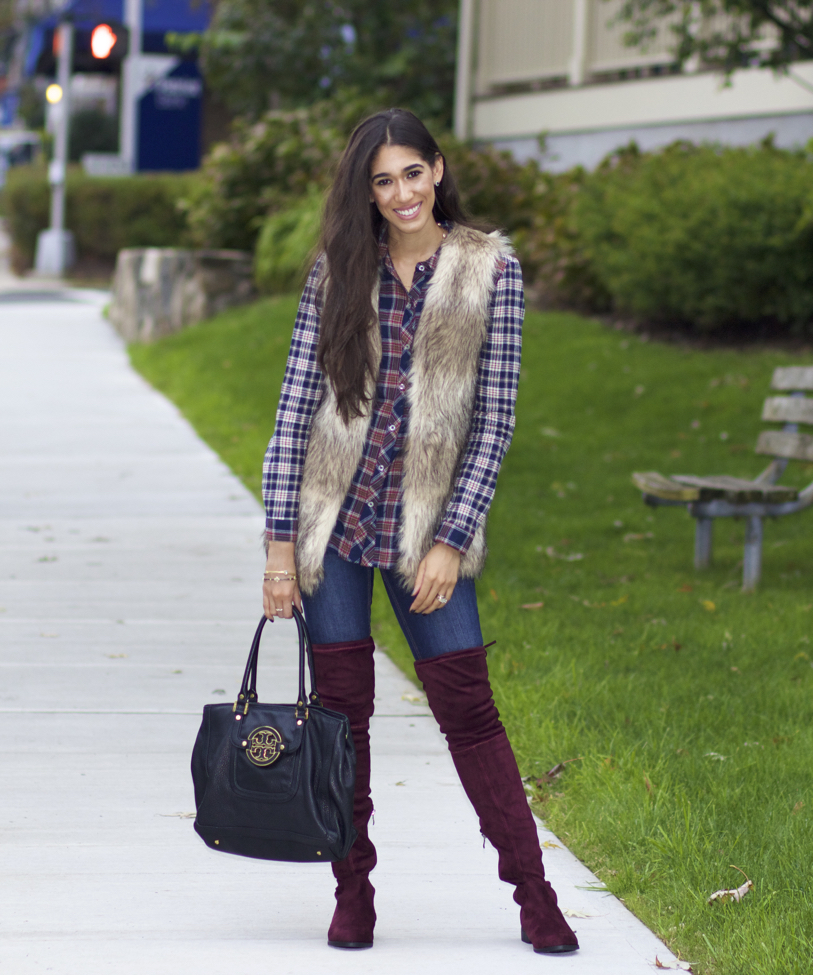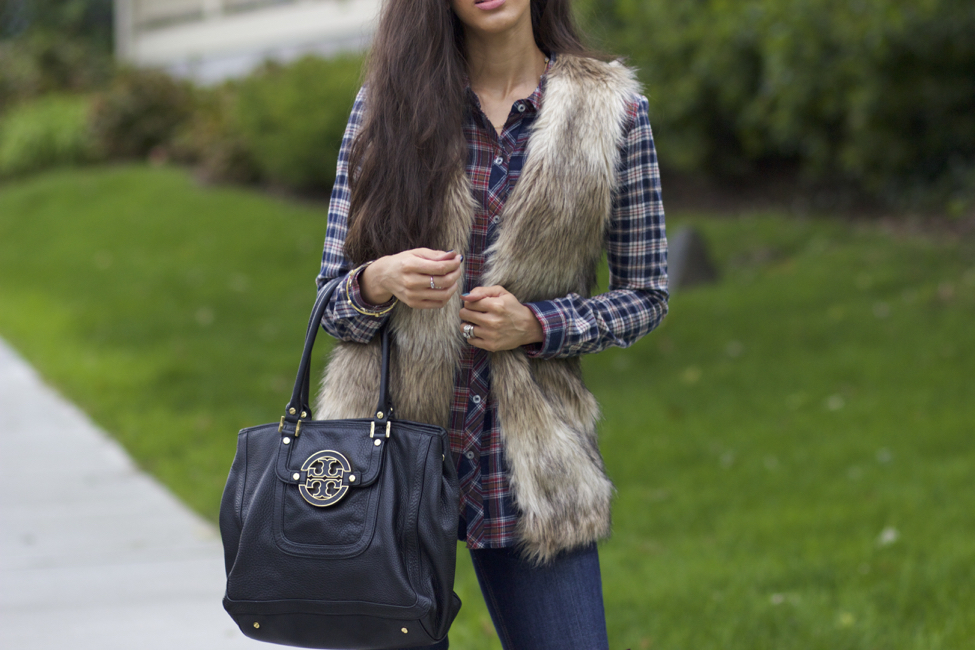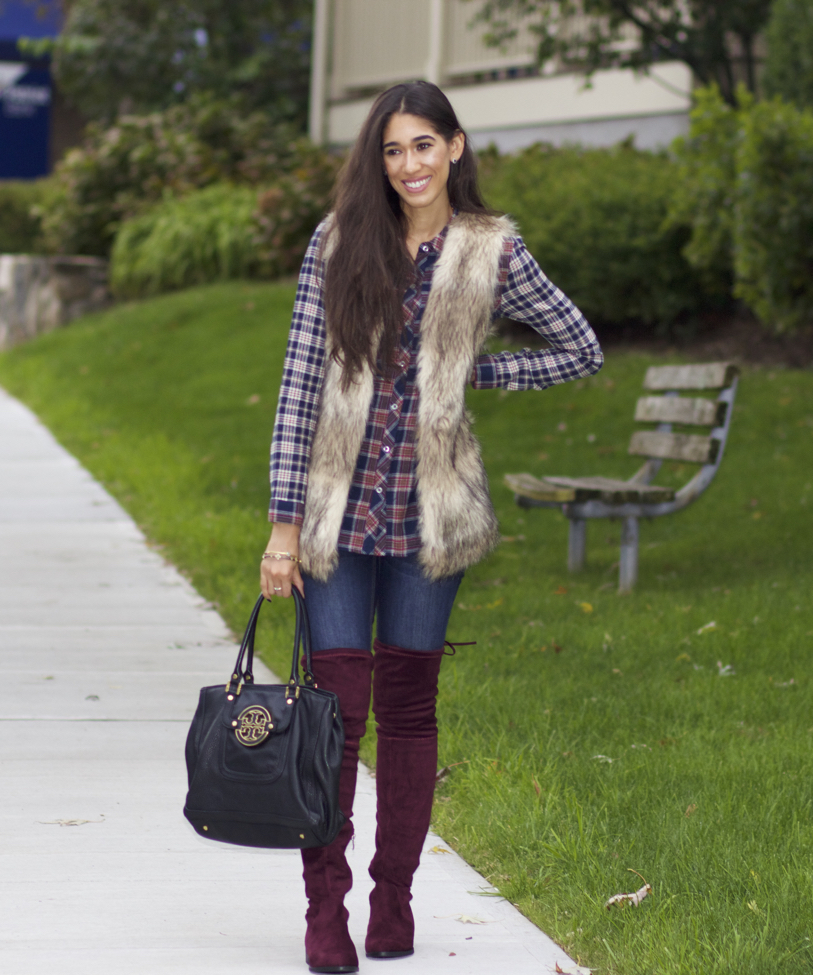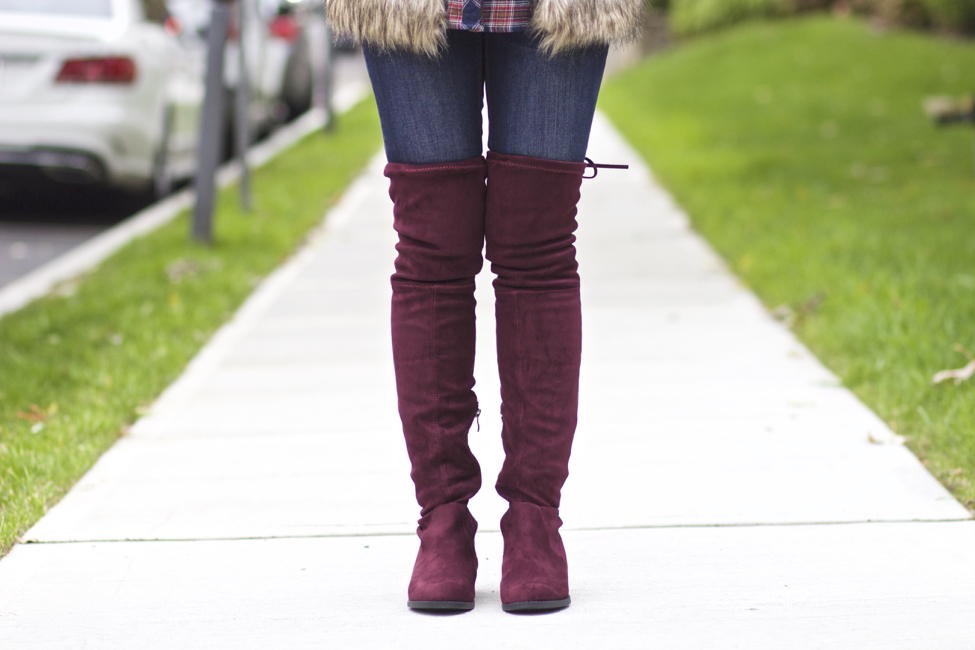 :GET THE LOOK:
---
Faux Fur Vest: Marshalls (similar HERE) // Flannel Shirt: Marshalls (similar HERE) // Purse: similar style HERE // Boots: HERE

---
Happy Monday my dear friends!
How was your weekend? I didn't really do much, since I haven't been feeling too well. I've had a cold for about a week now, which is so weird for me, as I hardly ever get sick and when I do, it's only for about a day; no exaggeration, ask Eddie. So, I was really taken by surprise that this time, regardless of the usual amount of vitamin D3 I've been taking, I still managed to get sick.
While on the topic, I've been taking this supplement for about two years now and for the most part, it has really strengthened my immune system, as I mentioned, I hardly get sick. Aside from that, it's great for breast and bone health, so I suggest you look into it. I felt now is a great time to mention this, since this is breast cancer awareness month. I mentioned in a post last year why breast cancer awareness is meaningful to me, which you can read about here, if you're interested.
You all know how much I love outerwear, if you've visited for at least a week, you know I'm obsessed with leather jackets and the same goes for fur (faux) coats and vests. I don't know if it's because I've lived in New York my whole life, so half the year is pretty much cold and I look for ways to keep my outfits interesting. I think that may be it. Nonetheless, I love what a fur vest can do for an otherwise simple outfit, like the one I'm wearing today. Minus the vest and burgundy OTK boots, it's pretty simple.
Flannel is pretty much synonymous with fall and I'm always looking for various takes on it, with unique colors and designs. This one has been a favorite because it has a mixed pattern feel with the contrasting sleeves. I layered the faux fur vest to add warmth and dimension to the look and the boots for a more saturated effect. I absolutely love the way burgundy looks with navy or dark washed denim, I feel it's a very rich and luxe duo and one that looks great on everyone; we'll be discussing that more in tomorrow's post!
If you're not a fan of fur vests because you feel they make you appear larger, I'd suggest wearing them in a neutral shade and layered over a sold colored top; I'd also suggest a longer version, like the one I'm wearing, as opposed to cropped styles that can add visual weight to your bust and midsection, something to keep in mind if you'd like to avoid that effect. You can also try wearing a medium wash jean to create fullness to the legs, which will visually balance out the attention in your outfit.
Thanks so much for stopping by, my beautiful friends, and let me know, do you like wearing fur vests? What's your favorite kind of outerwear when it starts get cool? I hope you have the most amazing start to your week!
XO,