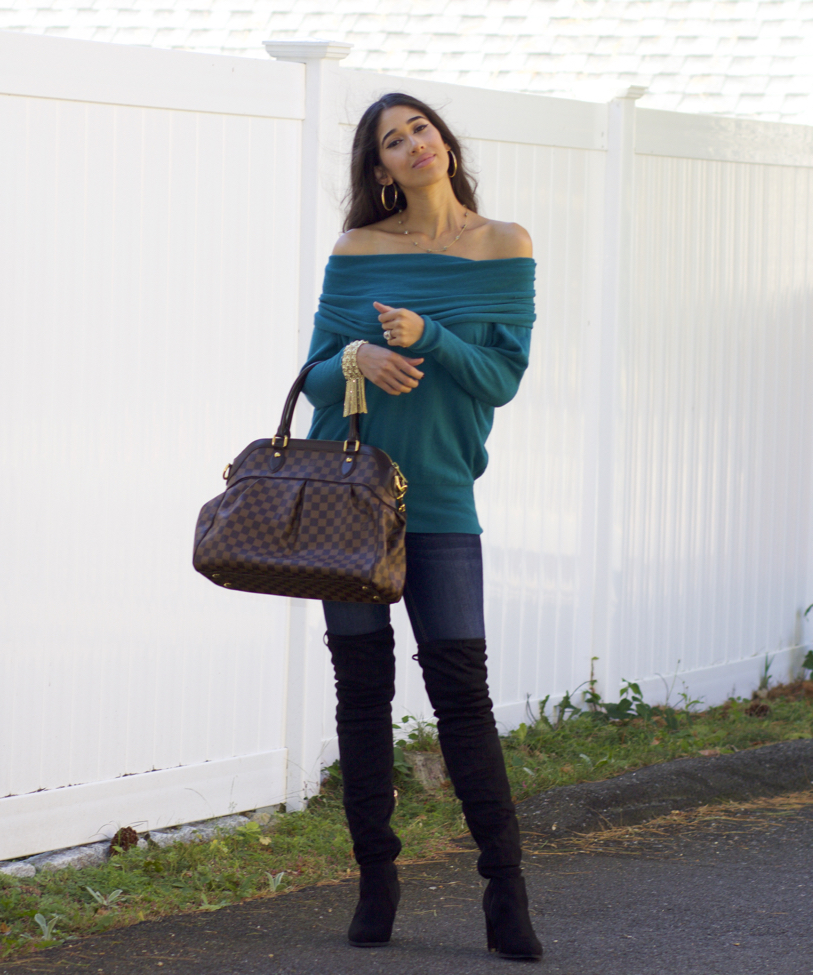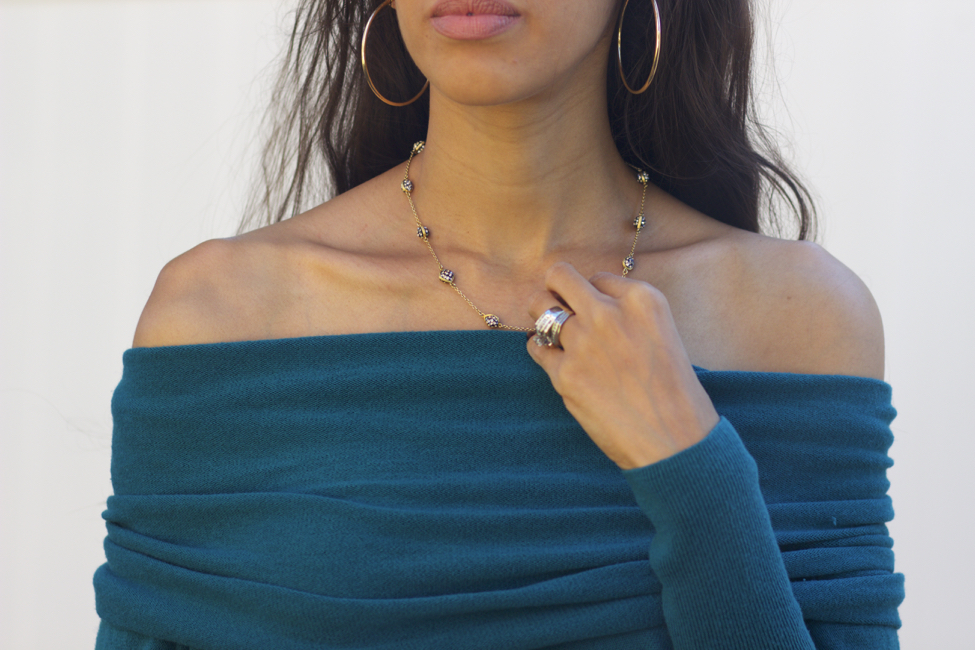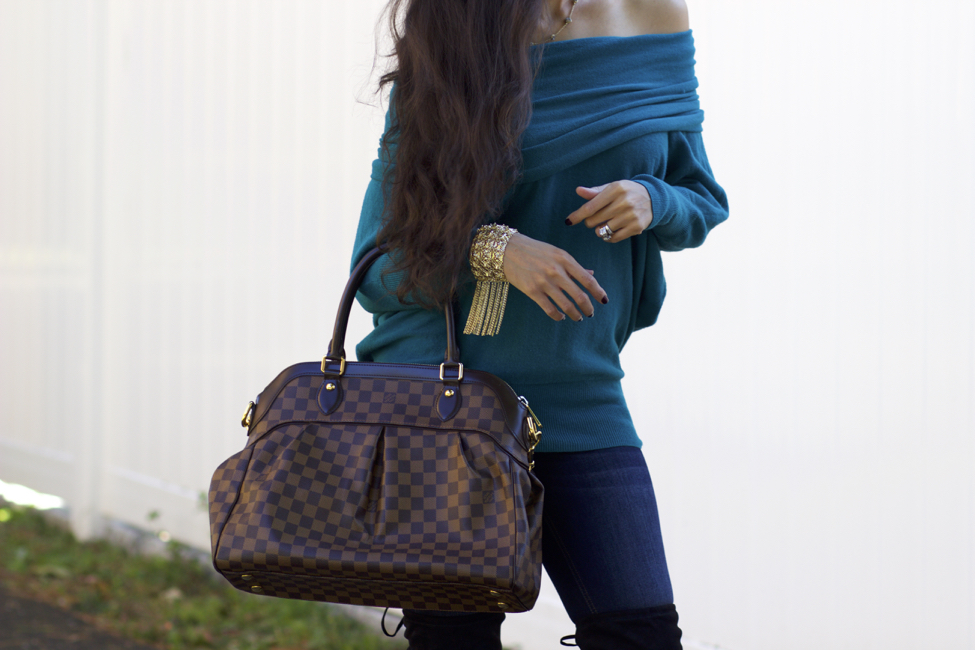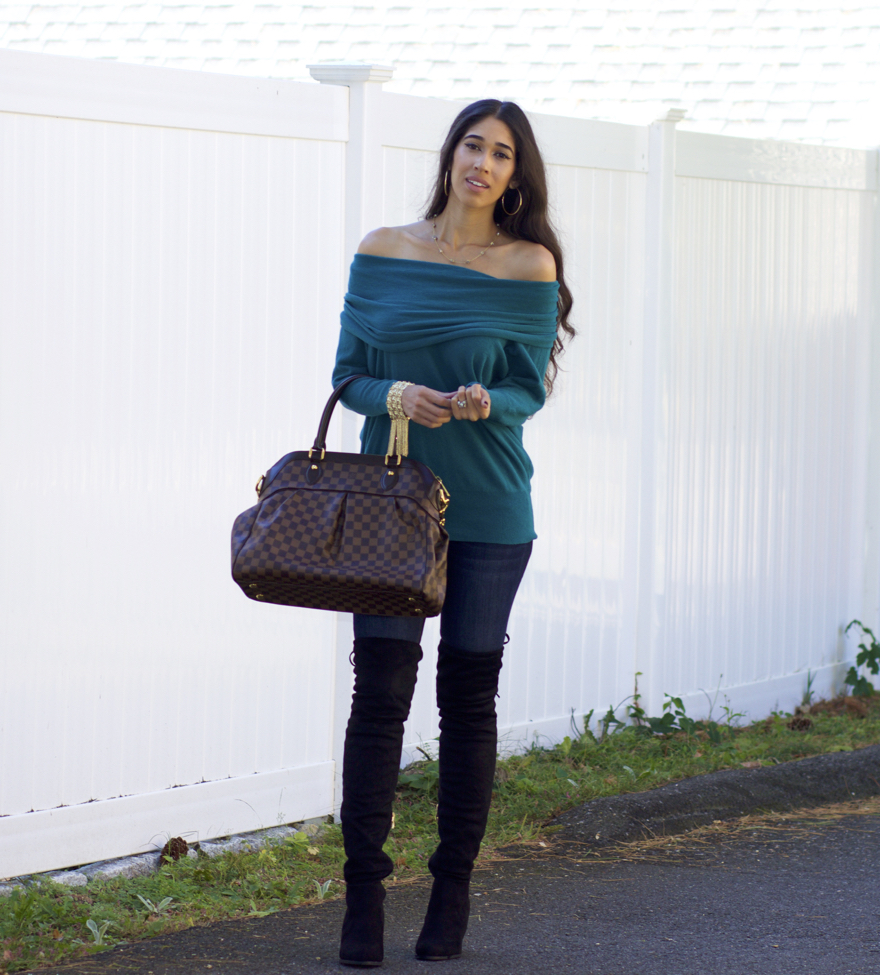 Tunic: Similar here, here | Jeans | Boots | Bag: Louis Vuitton | Necklace c/o | Bracelet: Similar
---

---
Happy Wednesday my sweet friends!
On Monday, I shared my new found love for balloon sleeved sweaters, today, I'm sharing my love for OTS shoulder sweaters. I'm loving the fact that many of the s/s 17 trends are still going strong, but are modified for fall pieces. I've actually had this tunic sweater for years, yet this is the first time I'm wearing it as an OTS. It's a cowl neck, so it allows for me to wear it in different ways, so if you have cowl necks that are longer, give it a try! It's a great way to get more use out of your clothing and feel as though you've purchased an entirely new and trendy piece. Though OTS are more classy and timeless in my opinion.
What I love about this particular sweater is that it's in one of my favorite fall colors, teal. I adore jewel toned colors because they're so rich, beautifully saturated, and look great on anyone and everyone. They do so much for the skin, especially in the winter when our skin looks dull and dry; they add a nice vibrancy and flush to the skin. You can even see from the look of these photos that my skin looks as though it has a glow to it and it's entirely due to the fact that I'm wearing the rich color. Try it and see for yourselves.
Also, my legs look much longer than they are and that's because I'm wearing dark jeans and OTK boots. This is such a great way to add visual length to the legs. I'm sure many of your petite ladies have heard that you should avoid OTK boots because they "make you appear shorter." Though this is true to a certain extent, it's all in the way you style them. If you do as I've done here and wear them with darker bottoms, you'll actually achieve the opposite effect and look as though you have legs for days ;)
What are some of the fall trends you're excited about this season?
Thanks so much for stopping by and I hope you have the most amazing day, my dear friends!
XO,