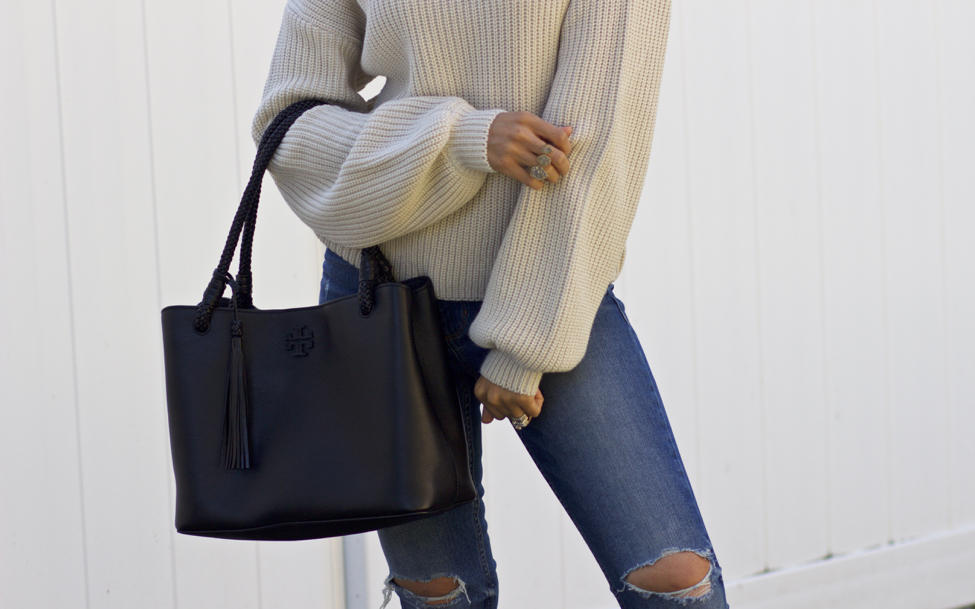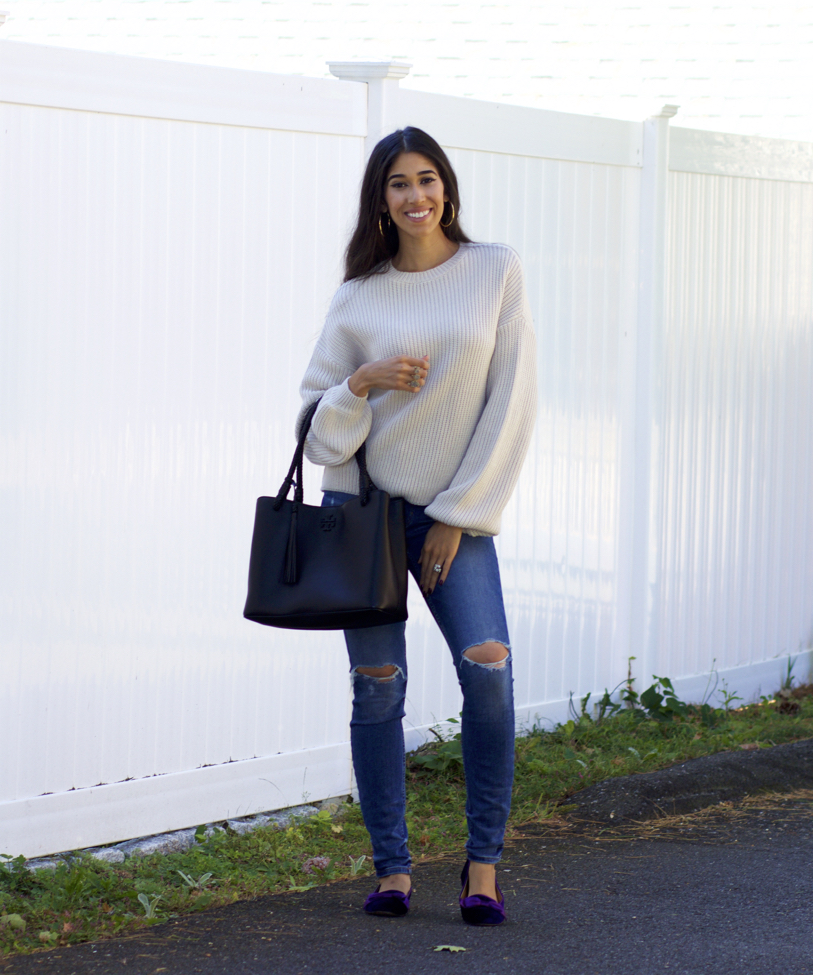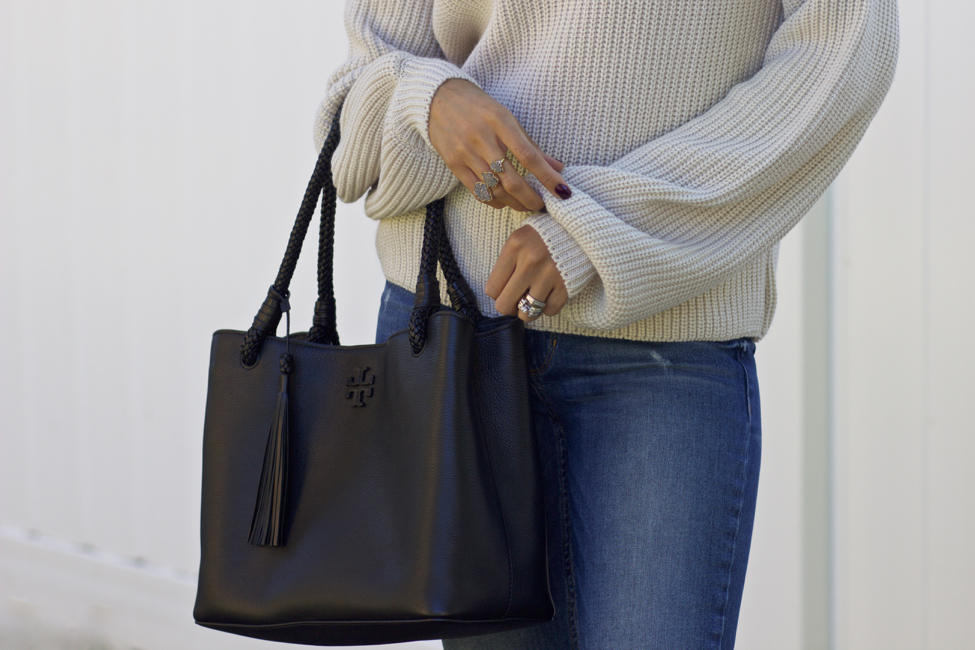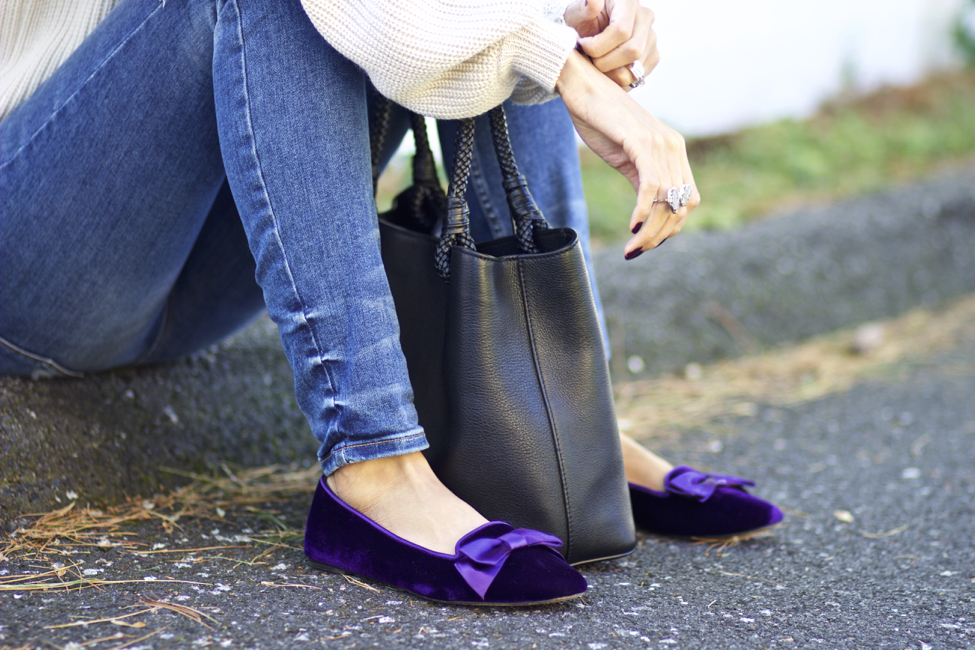 Sweater: Similar | Ring | Jeans: Similar | Bag | Shoes: Similar
---

---
Happy Monday my sweet friends!
First, I'd like to thank all of you who wished me a Happy Birthday on Friday! We had a wonderful time celebrating this past weekend. My mom came up from Brooklyn and spent the weekend with us. We ordered from one of our favorite Italian restaurants and my mom brought a Parisian dessert from one of the bakeries in NYC.
As for gifts, Eddie got me this Tory Burch tote I had been wanting ever since my blogger babe, Kelly of Rosy Outlook shared it on one of her her essentials lists and has also been rocking it in the grey color. I had been in need of an all black tote minus the hardware. I'm one of those people that has a pet peeve with metals on clothing and bags clashing. Sometimes, I have no choice because I'm not one of the Rockefellers; I don't have a closet just for bags, though one day I hope too, ha! It's a bit on the smaller side, so I can't double it as a diaper bag, so I intend on using it when I'm not with Aviah or if I want to carry both it and a diaper bag, though the latter is less practical.
Now let's talk about this sweater! I wish it were still in stock because it's seriously so comfy and is super trendy with the balloon sleeves. I purchased it from Asos back in August and it was the only one left in stock, but this one is very similar. I'm loving balloon sleeved knits this season (I also got this one and can't wait to wear it) because I feel they're cozy and has that cute oversized look, perfect for fall.
I paired the sweater with velvet bow flats to add yet another trendy element to the look that's more luxe, which was a nice contrast to the casual look of the sweater and distressed knee jeans.
I hope you like today's casual outfit and that you have the best start to your week, my dear friends; thanks so much for stopping by!
XO,