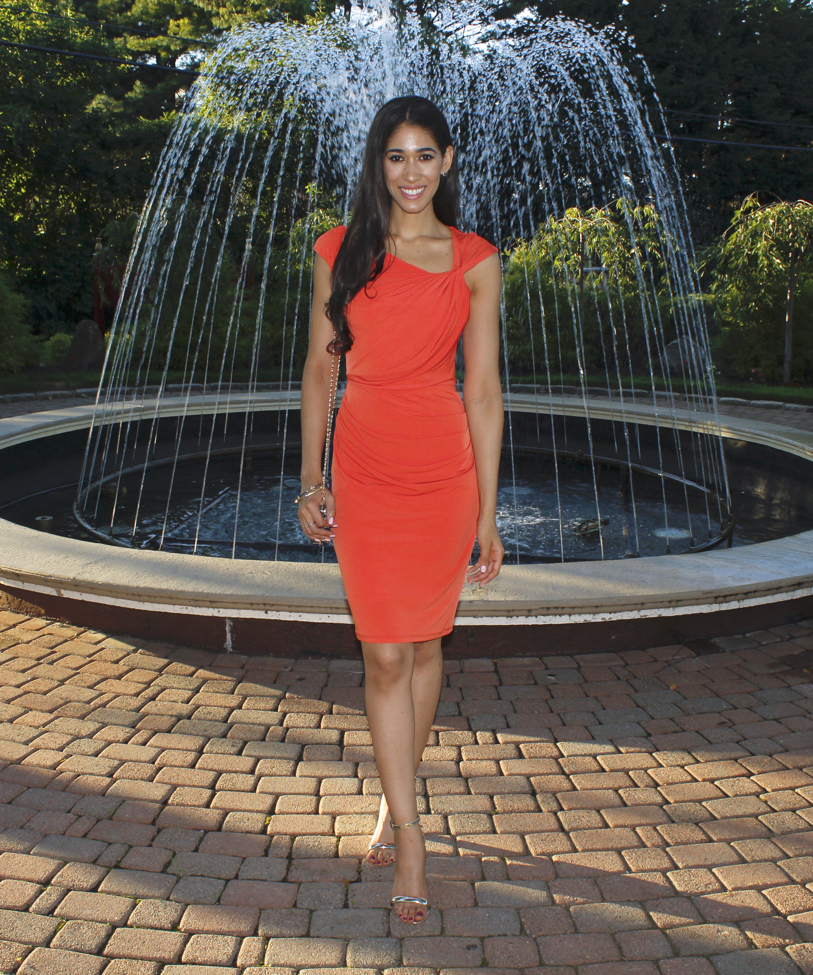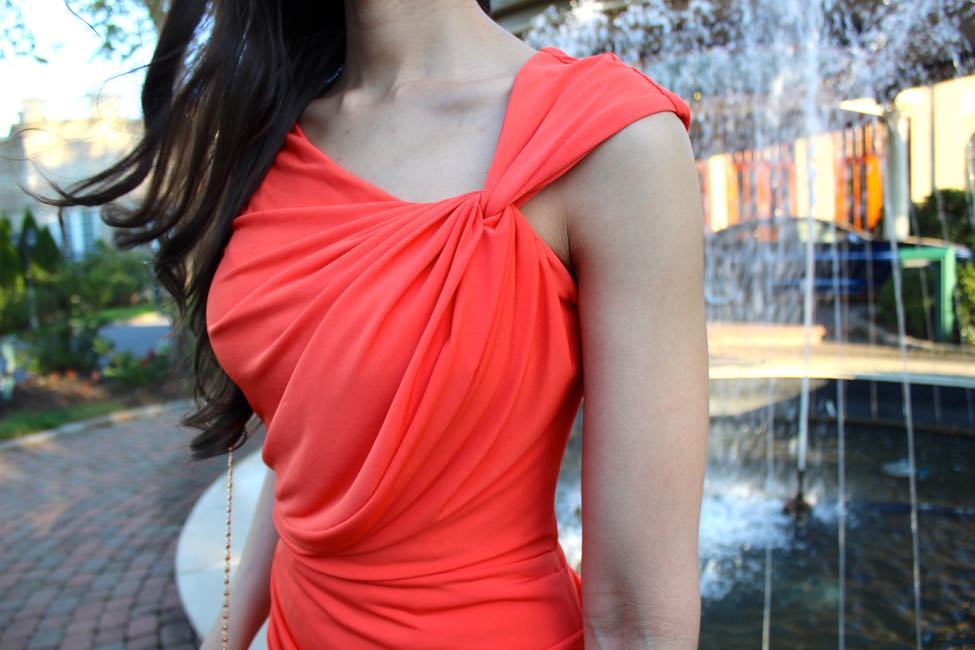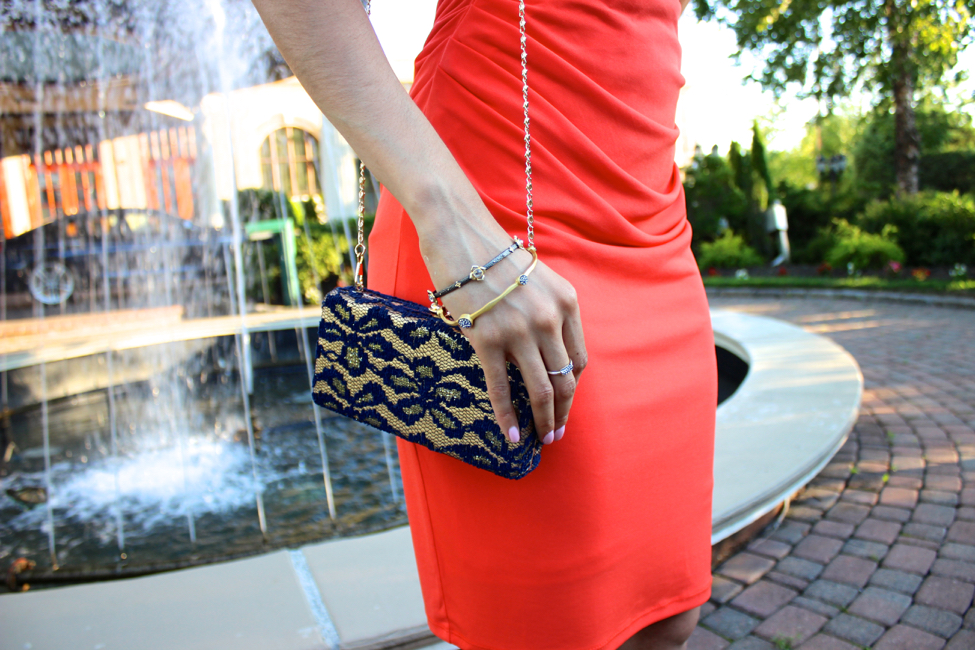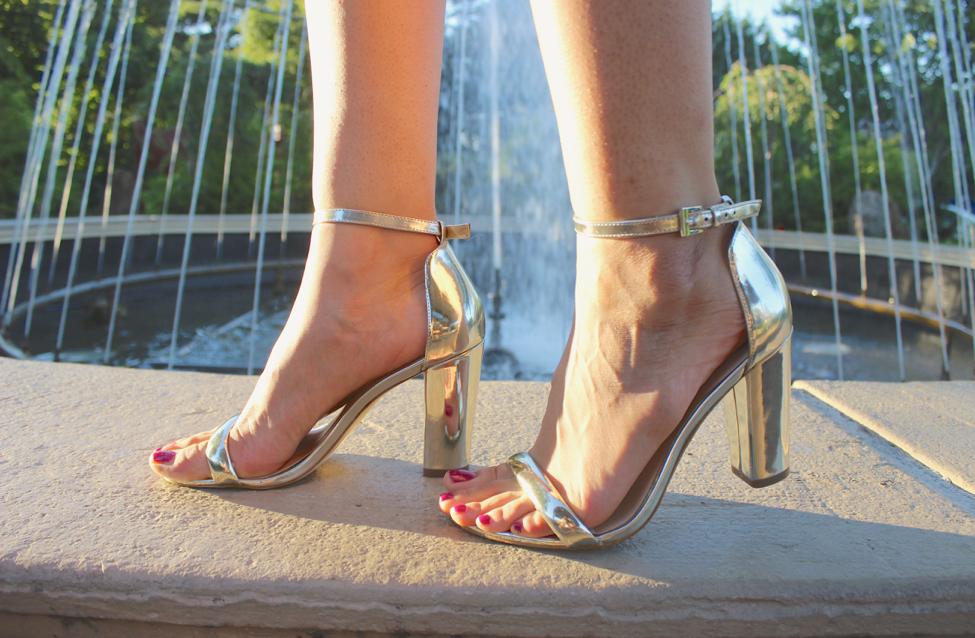 GET THE LOOK!
Dress: New York & Company (similar HERE) // Earrings: Macy's (similar HERE) // Bracelets: HERE & HERE // Shoes: ALDO (similar HERE) // Bag: Marshalls (similar HERE)

Happy Friday, my dear friends!
This dress has got to be one of the oldest, yet most worn and loved in my wardrobe. I've had it for about 6 or 7 years now and always turn to it for dressier occasions, such as weddings or a special date night. One of the reasons I love it so much, aside from the gorgeous and vibrant orange color, is that it's so darn figure flattering! Well, let me say this, it has more of a jersey material, so you would need to wear spanx of some sort underneath, if you'd want more hold, but the ruch details are what make it ideal.
Ruching is a great detail to look for in a dress, regardless of body shape, because it can add dimension, while slimming and concealing, so the effects and benefits are two fold. When the ruching is more compressed, like in the second photo above, it can make an area appear fuller, since the fabric is overlapping. When the ruching is a bit more dispersed, it can slim the area.
Even though the closer overlapped fabric can create dimension, it won't necessarily add any visual weight to a larger area. For example, if you have a large bust and were to try on a ruched top or dress, it wouldn't make it appear larger nor smaller; what matters is the neckline. If you're busty and were to try on a ruched strapless, you may feel as though it makes you appear larger, when in fact it's the neckline that's reinforcing the fullness of your upper body. In that case, I'd suggest a square neckline style with thicker straps for a more flattering effect.
What are some details and/or effects YOU tend to favor in dresses? I hope you found this post helpful, especially when searching for a dress for a special occasion, such as a wedding or bridesmaid dress. I can assure you that ALL your bridesmaids would love you even more, if you were to select a dresses with this figure flattering effect (thank me later, haha).
Thanks so much for stopping by, my beautiful friends, and I hope you have a wonderful weekend!
XO,