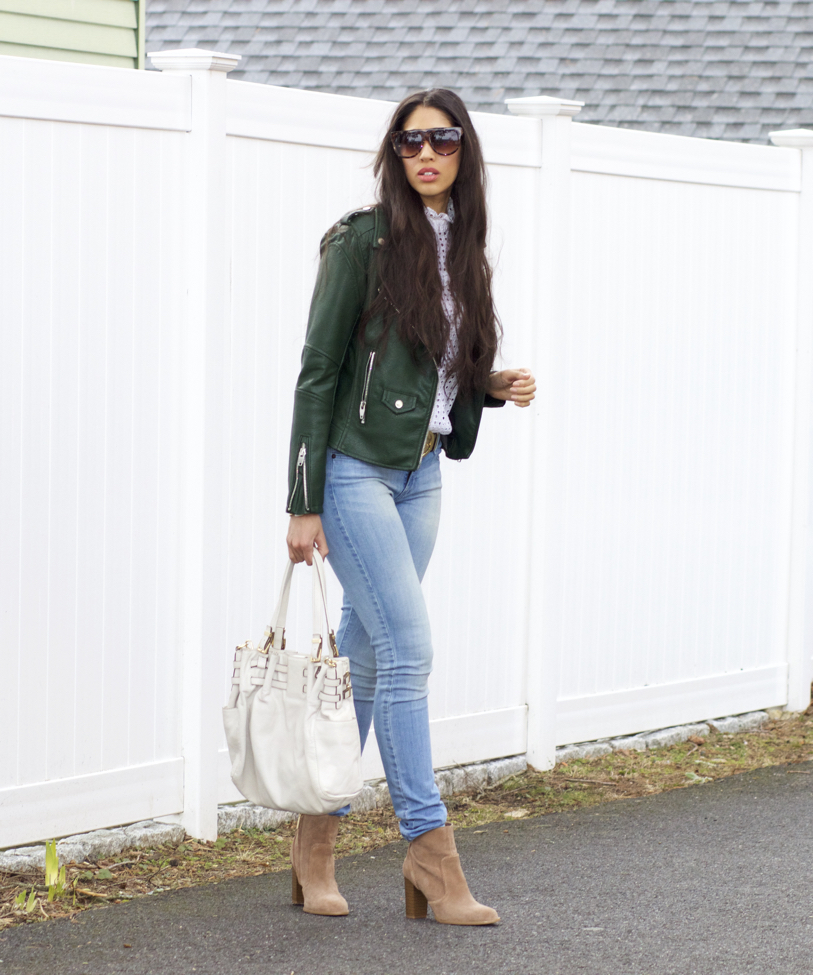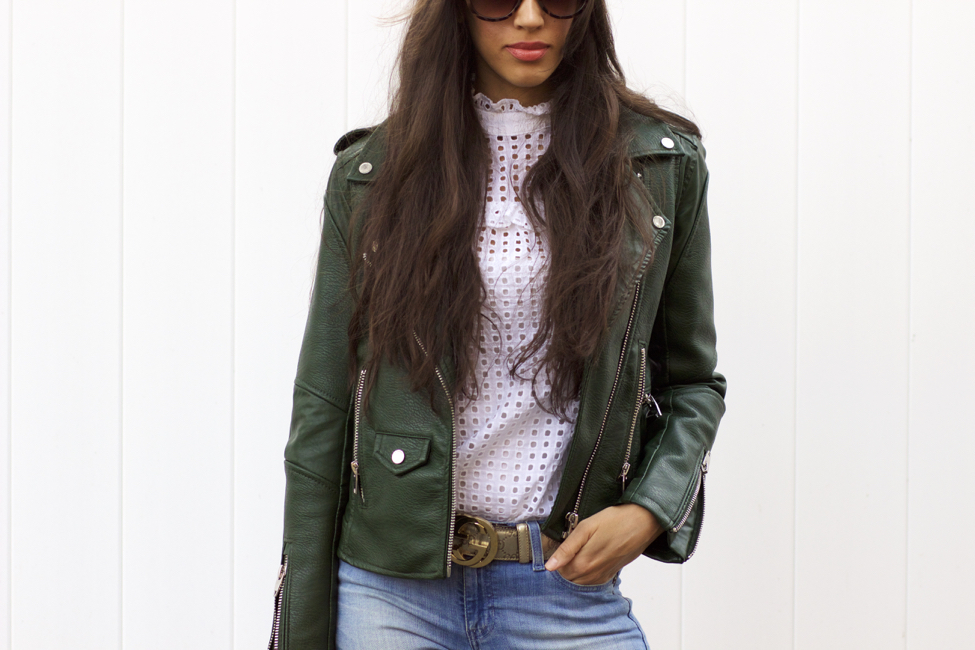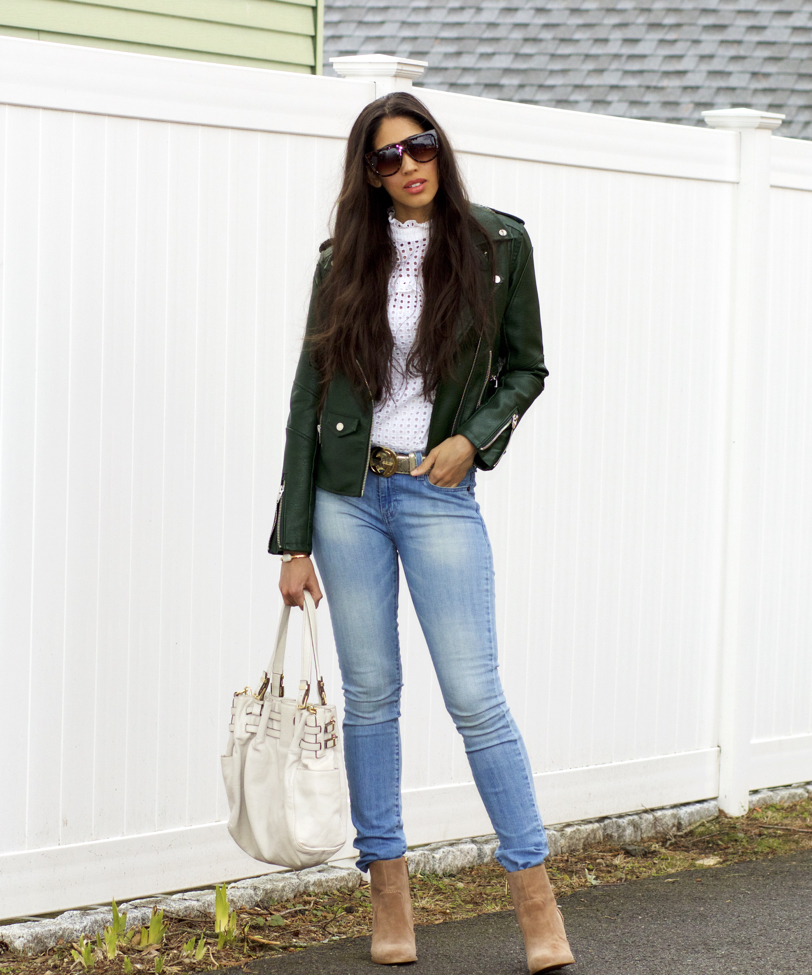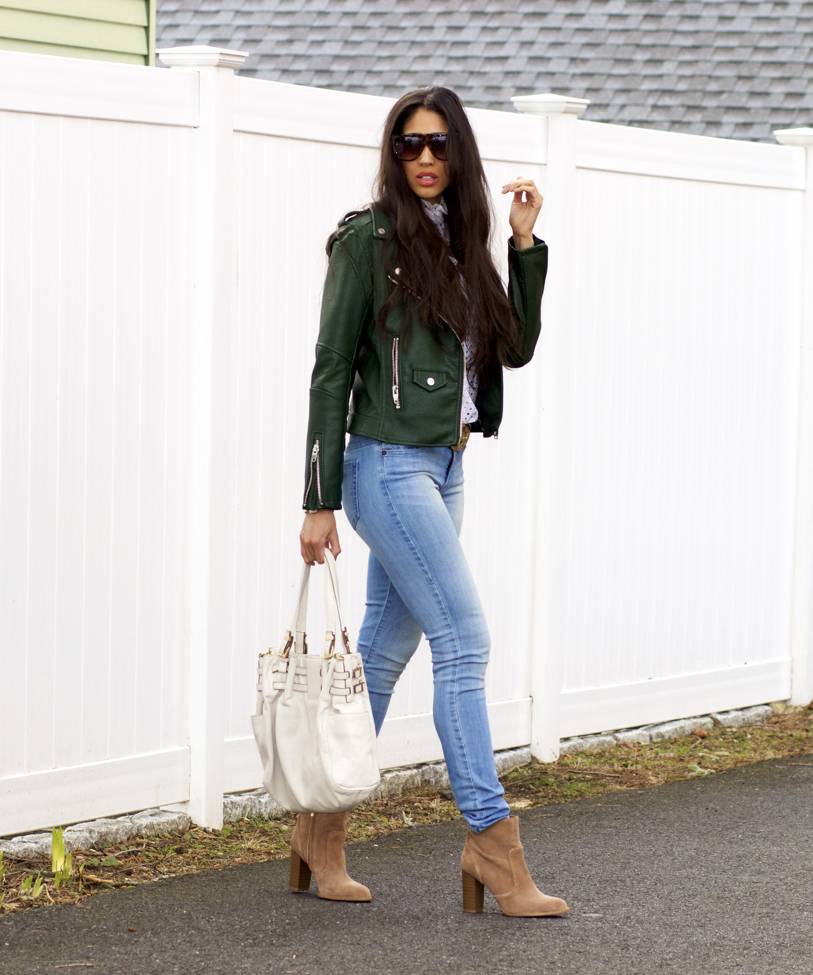 JACKET: Similar | TOP: Similar | BELT: Similar | JEANS: Similar | BOOTS: Similar | SUNGLASSES
---
---
Happy Monday my beautiful friends!
First, I'd like to thank you all so very much for your incredibly kind, loving, encouraging and supportive words on both Friday's blog and Instagram posts; you really touched my heart and words cannot describe how loved and supported you truly made me feel. Thank you from the bottom of my heart. I've been blogging for quite some time and it makes me feel so good to know that I'm apart of a community of people who are there for me when I could use the extra support and encouragement. I was contemplating on whether or not I should share, I'm glad I did :)
As for today's outfit, it features a color that I'm absolutely loving for spring this year, green. To be honest, I never was one to embrace the color. It never really spoke to me, until the past couple of years, but more so these past few weeks. I had a few pieces here and there in my wardrobe, but was never all that eager to style them as frequently as my other vibrant colors. I think it all started with this BLANKNYC jacket I scored a couple of years ago during the NSale. It, unfortunately, doesn't seem to be available, as I scoured the web in hopes of finding it to no avail. However, I was able to hunt down an incredibly similar style by Levi's.
Upon purchasing it, I didn't know how I'd style it to be honest. All I knew was that I loved the color and the fact that it was a leather jacket, which you all know is my favorite outerwear. I love the look of it with white and beige to transition into spring, as I've combined here (see how I've styled it for fall/winter here, here, here & here). The eyelet details on the top make for the perfect combination in creating a springtime tale, which I'm so excited starts this week. I'm hoping the weather will get the memo and begin to warm up soon.
I also recently purchased these Franco Sarto loafers in the gorgeous kelly green shade and they've barely left my feet ever since! They're my second pair of his loafers, my first being these white mules, and I'm hooked. Both are so incredibly comfortable; the soles are so soft and offer great support. I'll be styling an outfit with the green ones soon. I know that I'll be wearing them a lot this season, as I find that they pair well with quite a few colors, some of which I found quite surprising and new to me.
Is there a color you are loving most for spring this year?
Thanks so much for stopping by, my sweet friends, and I hope you have the best week ahead!
XO,