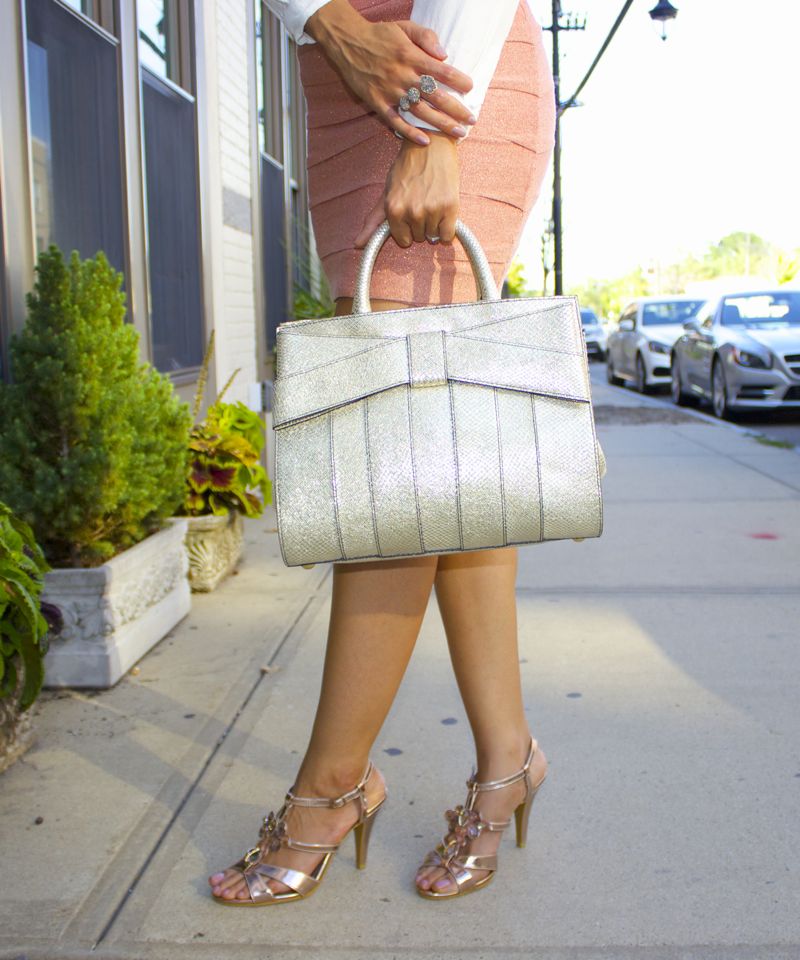 SHOP THE POST
SHIRT: Nordstrom Rack (similar style on sale here) // SKIRT: BCBGeneration from Marshalls (similar style on sale here) // PURSE: Zac Posen from TjMaxx (similar style on sale here) // SHOES: c/o Jelly Pop (similar style here)
Happy Friday beautiful friends!
As we're nearing a close to summer, I'm trying to wear as much of my summer favorite metal and that's rose gold. Don't get me wrong, you can certainly wear this metal all year long, but I tend to reach for the different metals more during specific times or seasons of the year. I reach more for gold and rose gold during the summer and silver or white gold during the fall and winter months. I guess it's because of the tone categories they're in; gold being in the warm and silver being in the cool.
Speaking of tones, do you know which you are? If not, no worries, it's very easy to tell! If your green veins are more prominent on your wrists, you'd be warm, so gold would look best on you (as well as colors that have more of an orange undertone), if your blue veins are more prominent, then you'd be cool and silver or white gold would look best on you (as would colors that have a blue or ashier undertone). If both of your veins are fairly noticeable, you'd be considered neutral and all of the metals would look just as good on you. I feel knowing which category you're in is important, as it can help in your selection of colors that will help to enhance your skin tone, providing that natural glow. Have you ever noticed that some colors don't look as good on you as others? It's most likely because the color was in a shade of the opposite tone you have. I actually have a video on this very topic (you can watch here).
I hope you all have a wonderful weekend and thanks so much for stopping by, I hope you found the post helpful!
Xo,