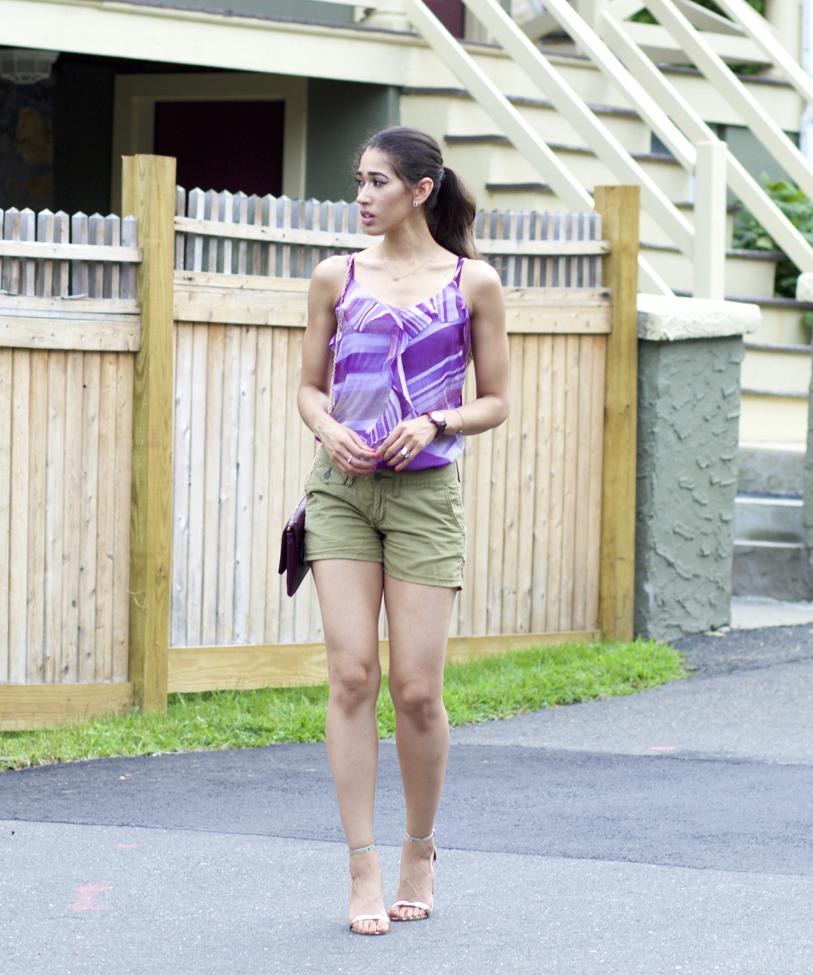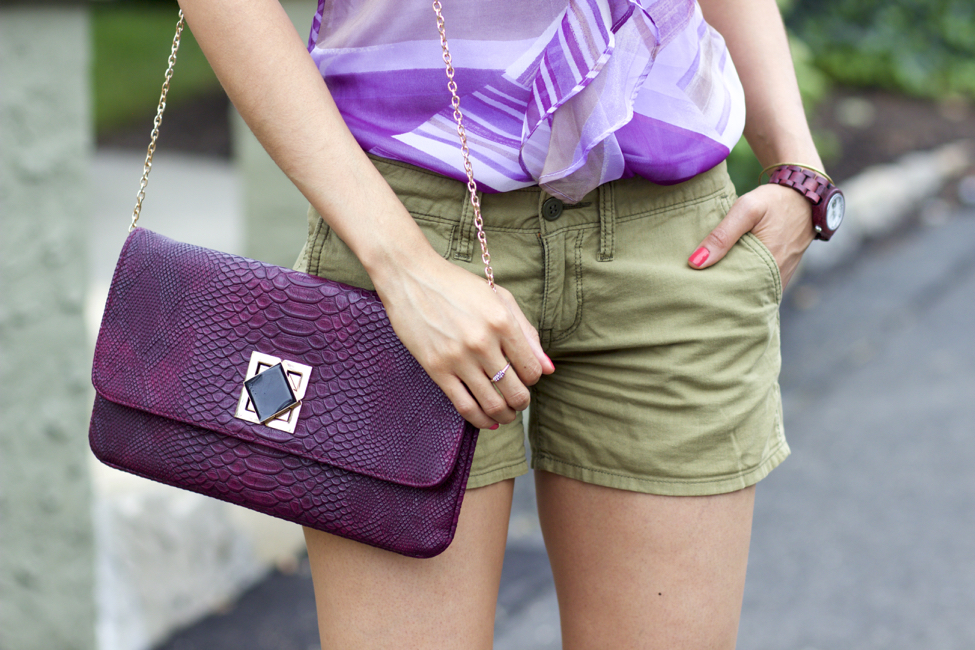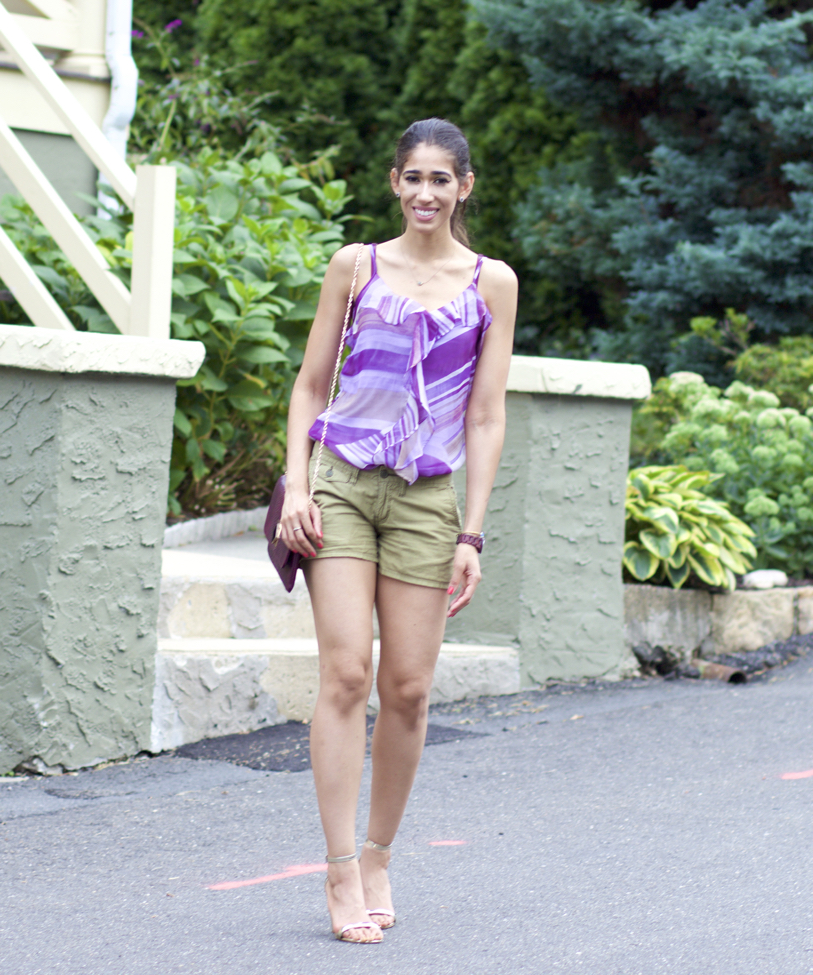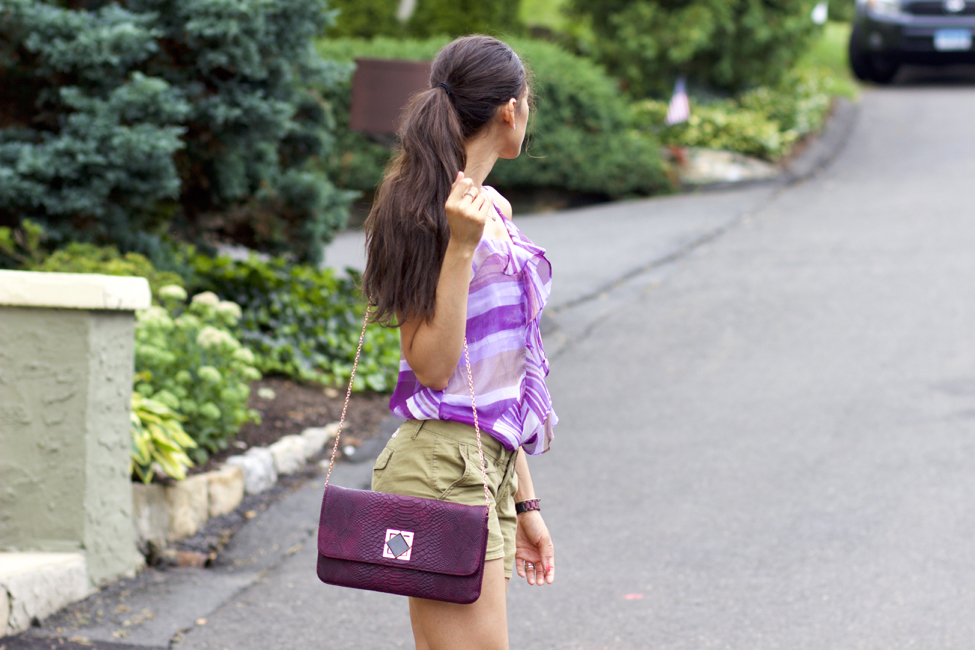 OUTFIT DETAILS!
Cami: New York & Company (similar HERE) // Shorts: Lucky Brand (similar HERE) // Clutch: Marshalls (similar HERE) // Sandals: Aldo (similar HERE) // Watch: c/o JORD (HERE)

Happy Hump Day, beautiful friends!
First and foremost, I want to wish my wonderful hubby, Eddie, a VERY Happy Birthday today! I love you so very much, honey, and I hope you enjoy every minute of YOUR special day and I'll do everything I can to ensure you feel as amazing as you are (though I strive for this everyday :)
I absolutely adore the look of purple and olive green, a combination I've worn a number of times on the blog (here, here). I think it's a perfect transitional combo, making it perfect for both spring and fall.
What I love about this cami, which is an oldie, but goodie (basically sums up my entire wardrobe, haha) is that it features an assortment of various shades of purple, which I feel is very captivating to the eye. I've mentioned how I look for inspiration in any and everything and this cami alone provides an array of outfit ideas, such as combining lavender and eggplant or plum purple, alongside the idea of throwing in a hint of burgundy to add some richness to the look, which I feel blends perfectly with the purple, which is why I've added it here.
If you feel that olive green doesn't look good on you, opt for emerald green instead and try combining it with eggplant or deep violet purple. Both are jewel tones, which are rich in color, and look great on every skin tone; they make both our hair and skin look more luminescent and who doesn't want that!
Speaking of hair, if you're a blonde and have had subjected your hair to a lot of chlorine and salt water this summer while beach bummin', you may have noticed that your locks appear a little brassy. This, of course, isn't permanent and can be treated with a good conditioning system. In the meantime, until it's completely restored, I suggest wearing emerald as opposed to olive, at least on the upper body because olive green brings out the green-brassy undertones, causing it to appear more dry and damaged. As previously mentioned, the emerald green has an enhancing effect on the eye and would be a more flattering option!
Thanks so much for stopping by, my gorgeous friends! I hope this post inspired you and I hope you have the most amazing day!
XO,