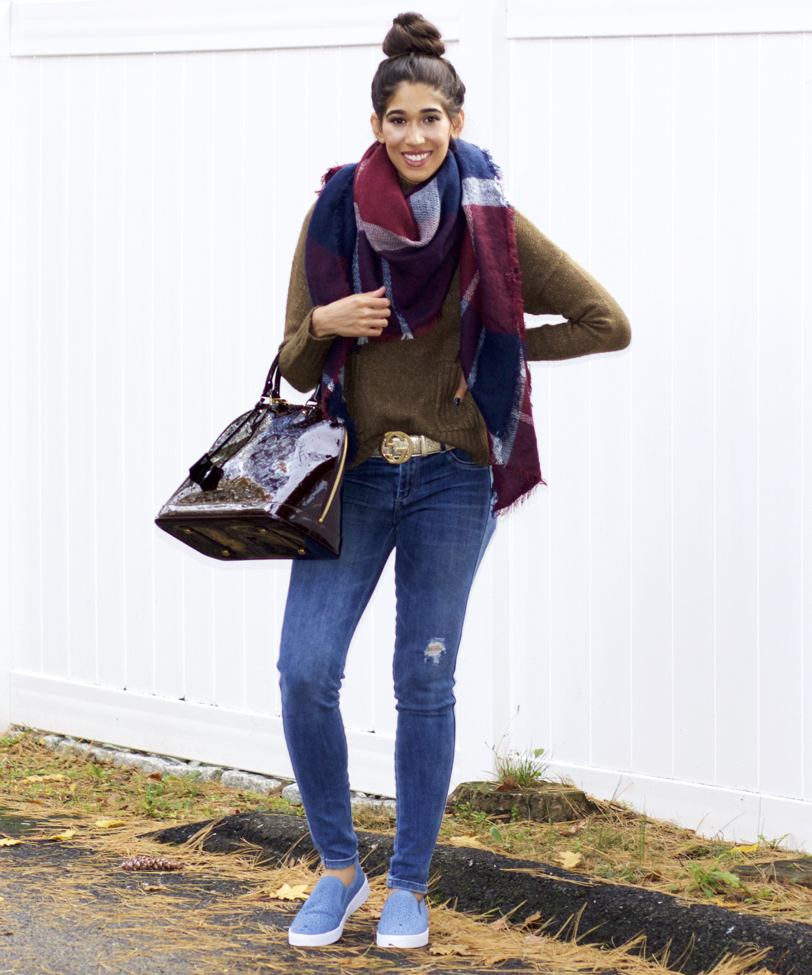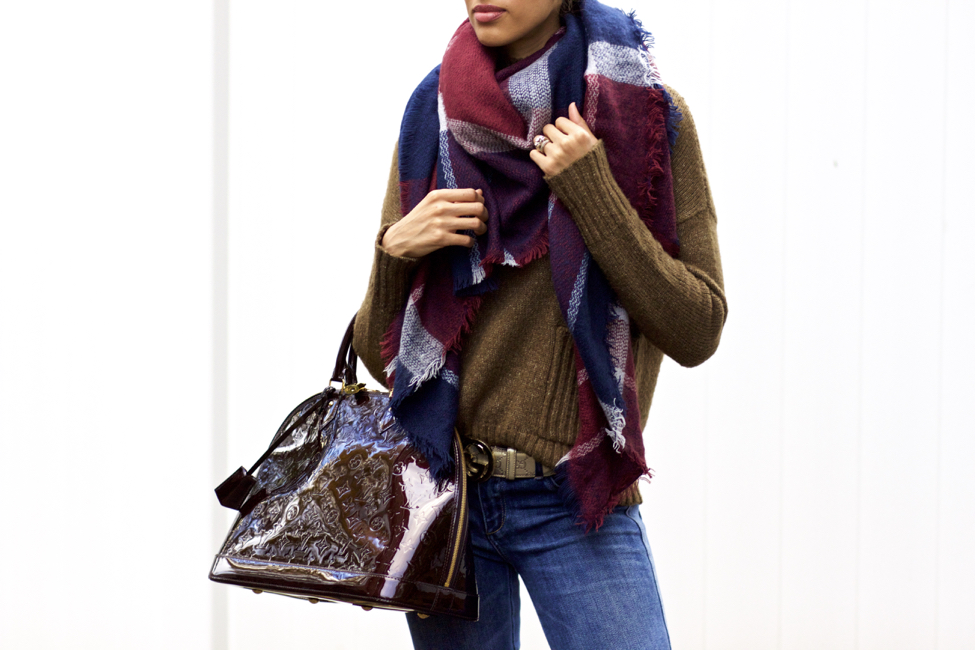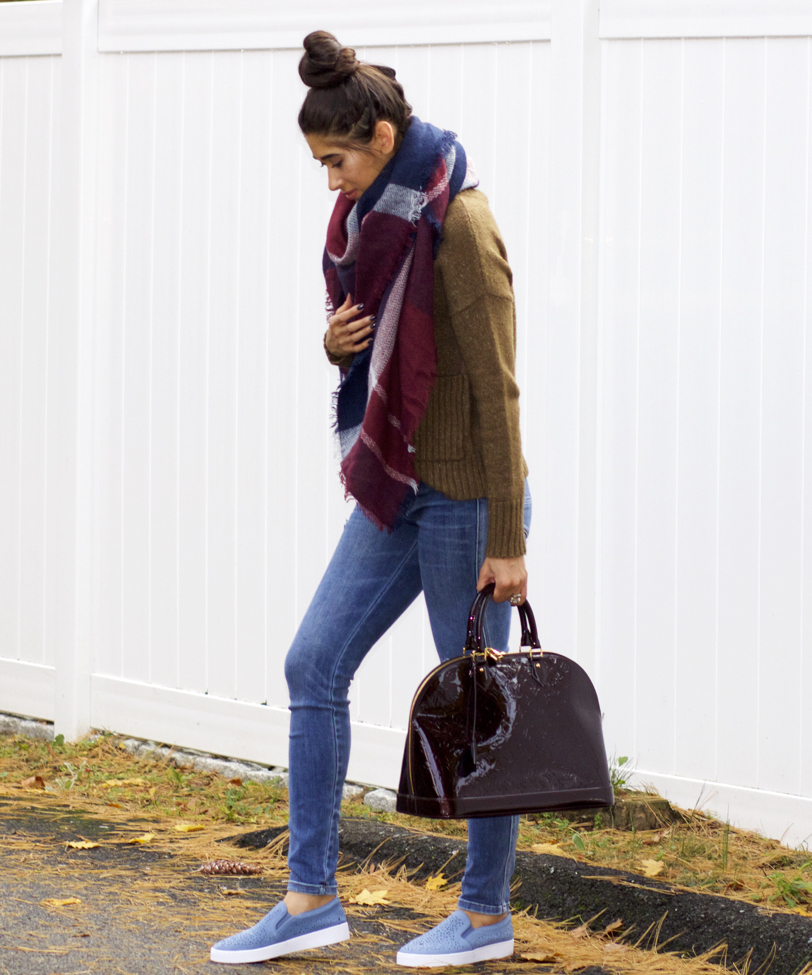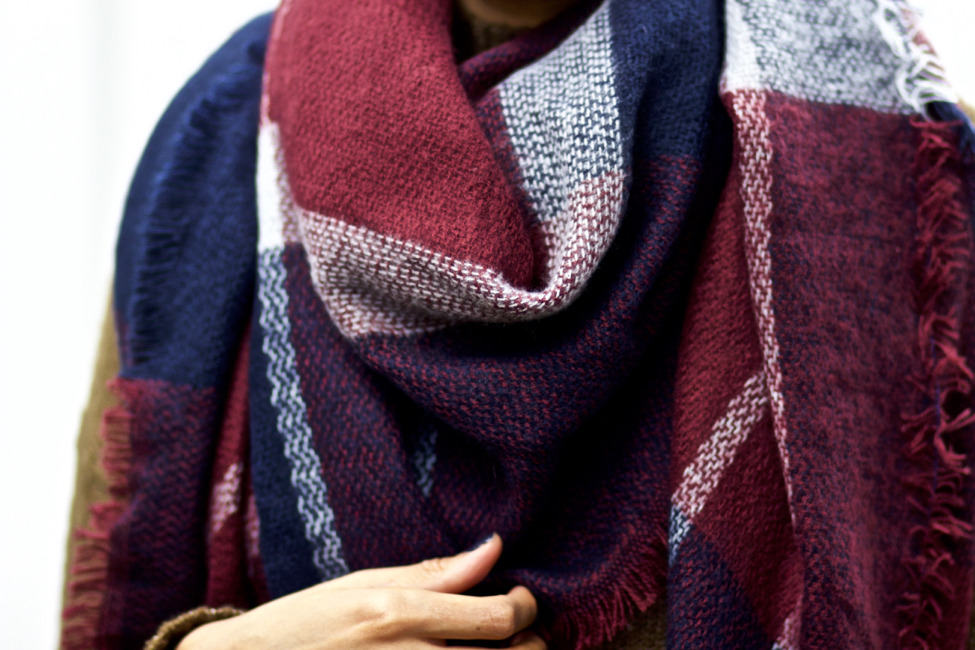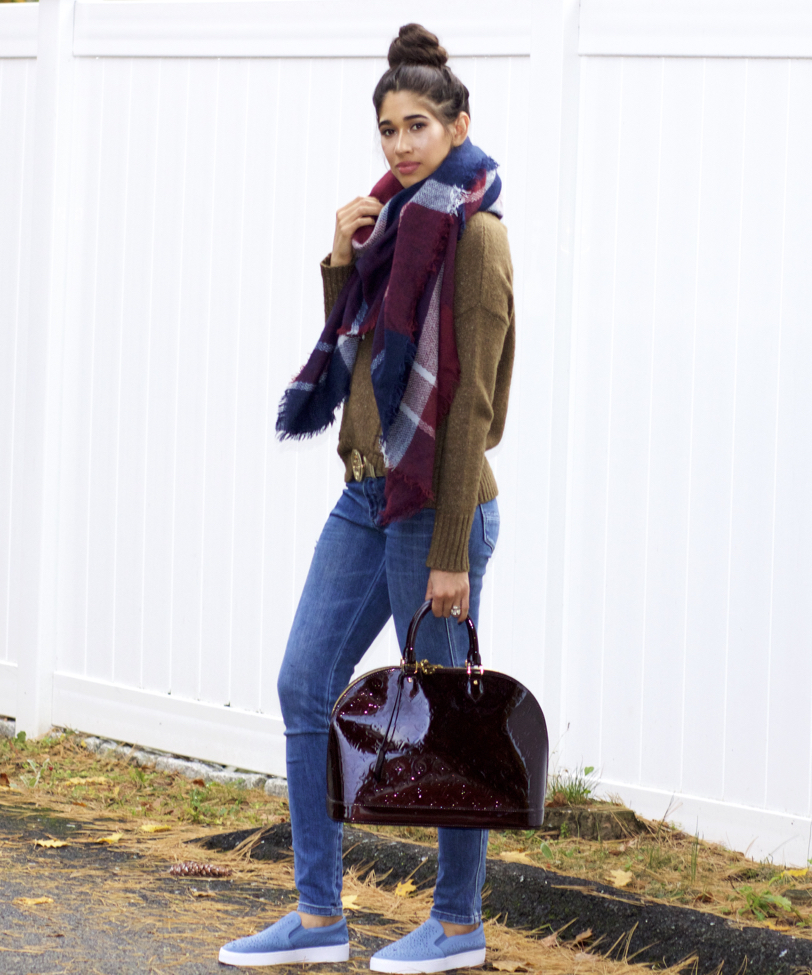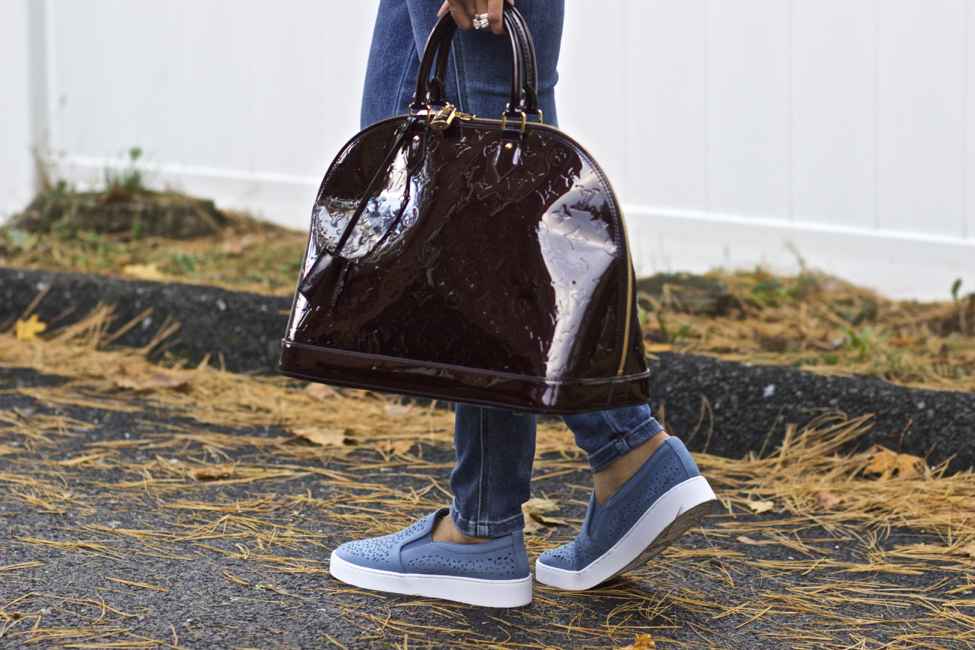 Sweater | Scarf: Similar | Jeans: Similar | Belt | Bag: Louis Vuitton | Shoes c/o
---

---
Happy Friday my gorgeous friends!
When fall rolls around, I have quite a few essentials I'm guaranteed to reach for, one of which is a blanket scarf. It was one of the pieces I shared in my Fall Essentials series a few months back. On the weekends when I'm going for a more relaxed, casual, and comfortable outfit, I almost always pair it with a cozy oversized sweater. I used to prefer fitted sweaters, but in recent years I've come to embrace the cozier feel that the oversized fit offers. The one I'm wearing is a purchase from the Nsale a couple of years ago. It's still available, but no longer in this green shade; I'm thinking about getting the grey one. It's incredibly soft and cozy and though it may look itchy, I assure you it's not.
Now that I have Aviah, I find myself reaching for comfier shoes as well. Prior to becoming a mom, I didn't really own many flats or sneakers, aside from the ones I wore to workout. During the summer, I stocked up on quite a few sandals, since I knew I'd be reaching for them a lot during my final stages of pregnancy at the start of summer. Now, I'm looking to add cute and comfy sneakers for the fall and winter months.
If you've been reading along for a few months now, you may remember me sharing my love for Vionic shoes. It's a brand I've truly come to love and admire. I've featured their shoes countless times here on the blog (last seen here and here). Their innovative shoe designs that merge comfort and style are very much appreciated, even gaining the likes of Oprah. Yes, Oprah is loving the brand, specifically these slip on sneakers I'm wearing today! They come in five easy to wear and style colors. What I love about them is their eyelet details, perfect for when it's not incredibly cold, but you can still wear liner socks, which is what I'm wearing and you can't even notice. They do run a bit large in width, so if you have narrow feet like me, I'd suggest sizing down half a size. They may feel snug, but they're leather, so it'll stretch out with continual wear. Keep an eye out for them in the December issue of O Magazine listed in Oprah's Favorite things!
Well my friends, we've finally made it to the end of the week. This week dragged on by for me. I've been trying to train Aviah to sleep in her crib, which hasn't been gong well at all. She'll fall asleep during her feeding, I'll wait about 15 minutes to try and put her in her crib and as soon as I lay her down, within 2 minutes, she's screaming. She's been sleeping in her bassinet beside me in her room up until this point, but she's pretty much outgrown it; she's so long! She's in the 70% percentile for her length, so she's going to be tall. If any of you mamas have any suggestions on how to train a baby to sleep in their crib, please leave them in the comment's section. Aside from letting her cry it out because that doesn't work for my little mama, nope. Tried that and this little one will cry for hours on end, so that won't work, lol.
Thanks so much for stopping by, my gorgeous friends, and I hope you have the most amazing weekend ahead!
Thanks Vionic for sponsoring this post and thank you readers of The Style Contour for supporting brands that make this blog possible.
XO,