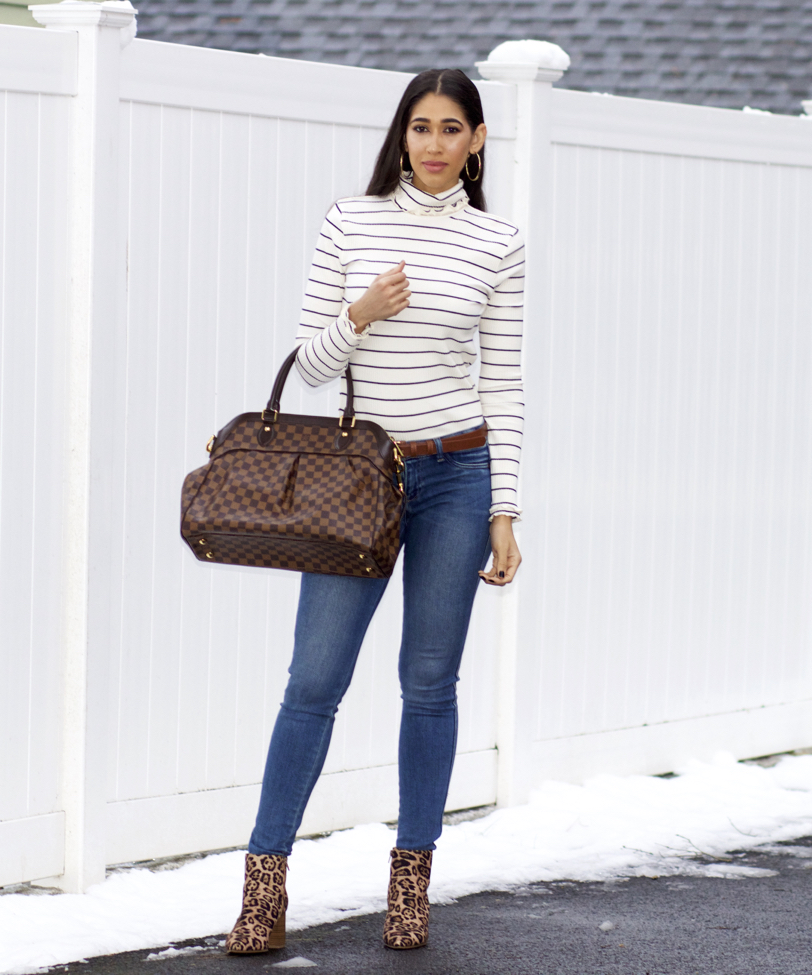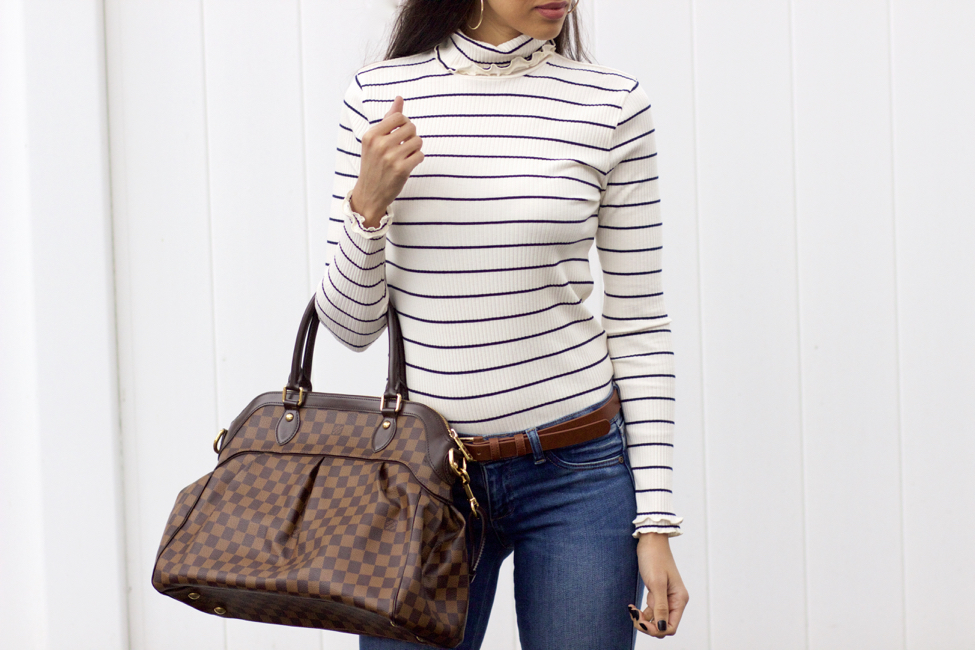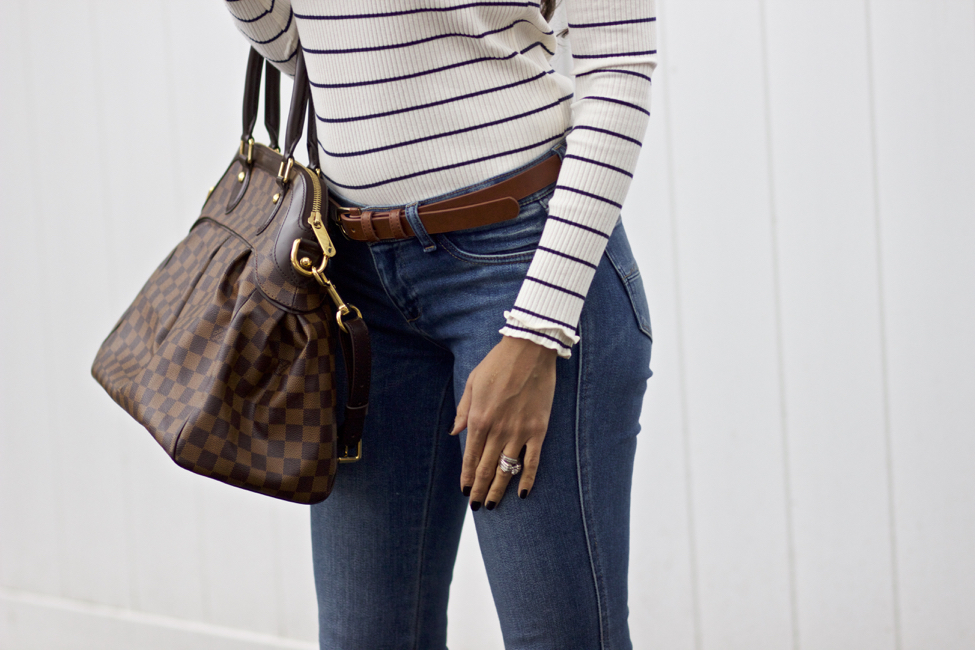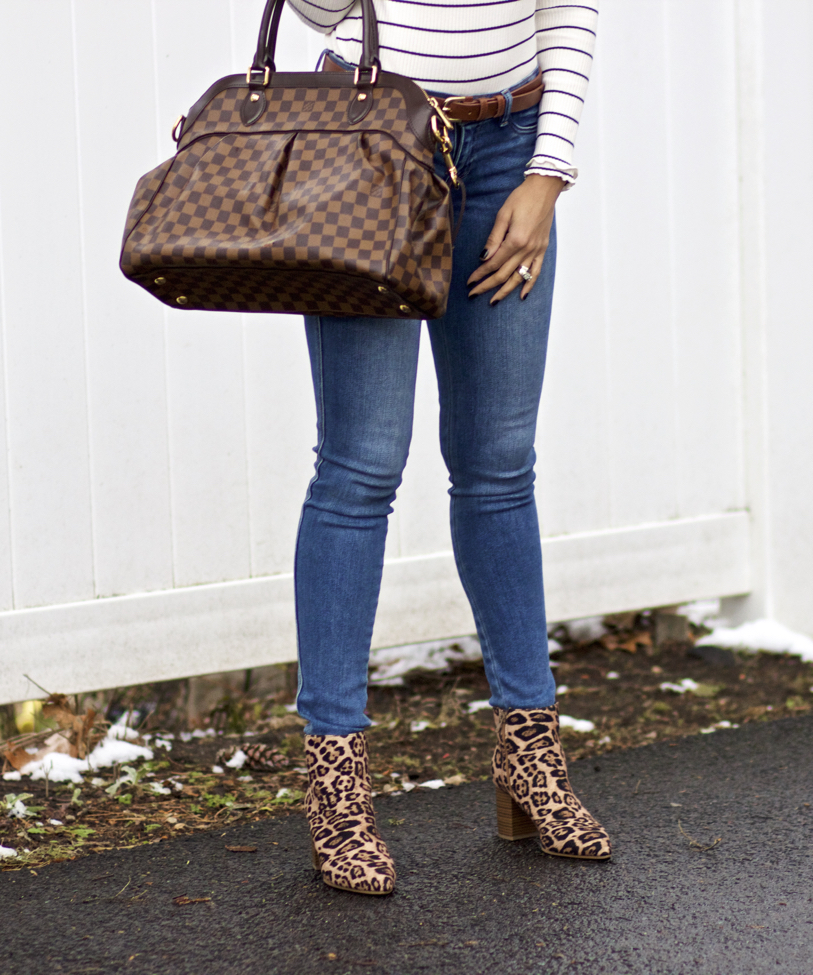 Top | Jeans: similar | Belt | Boots: similar | Bag (get it preowned here)
---

---
Happy Wednesday my sweet friends!
I hope you're all having a great week so far! So, to give you a little update on Aviah's sleep training, these past couple of nights, she's been sleeping in her crib at night! This is a huge victory for us because like I mentioned on Monday, it's been such an arduous task to sleep train her. With much persistence and consistency, we're making strides, what a sigh of relief! It was really getting to met that she wasn't sleeping as much as she should be before, so I feel so alleviated that she's catching up on much needed rest! A huge thank you to all of your words of encouragement, you're all awesome!
I've been wanting a striped turtleneck for the longest while, so when my mom and I ventured out to J.Crew the day after Black Friday and I saw this one, I really wanted it. I fell in love with the cream and navy stripes, but mostly the ruffle details. My mom was the sweetest and gifted it to me and got herself one, too! Most of the time when we go shopping together, we'll snag the same thing because we have very similar taste. Shortly after snagging that top, I got this LBD, which I plan to wear for Christmas, and it fits like a dream and is universally flattering, too! If you're in the market for a LBD, J.Crew has some pretty gorgeous options this season and they're having a 40% off sale ;)
You all know how much I love to pattern mix, I feel it really makes for a more lively and unique outfit, especially during the winter months when we can easily lend ourselves to darker neutrals. A timeless and easy to pull off pattern mix that you're sure to get right is stripes and leopard print. I like to do it with a striped top and leopard shoes. I know many have reservations about leopard print and feel as though they can't pull it off. I say, if that's you, try wearing it far from the face, which would either in shoes or a purse. I personally feel you'd get more use out of a pair of shoes, if you're just starting out, but either or would do.
By adding in rich brown shades, we're taking the look up a notch and making it less playful and more sophisticated and practical for an everyday look, even at the office in a more casual work environment. If you were to add black, it can add a bit of edginess, which is something you may want to keep in mind, depending on the vibe you wish to achieve. I have an entire post dedicated on tips for wearing leopard print, which you can check out here, if you're interested.
Thanks so much for stopping by, my dear friends, and I hope you have the most beautiful day!
XO,