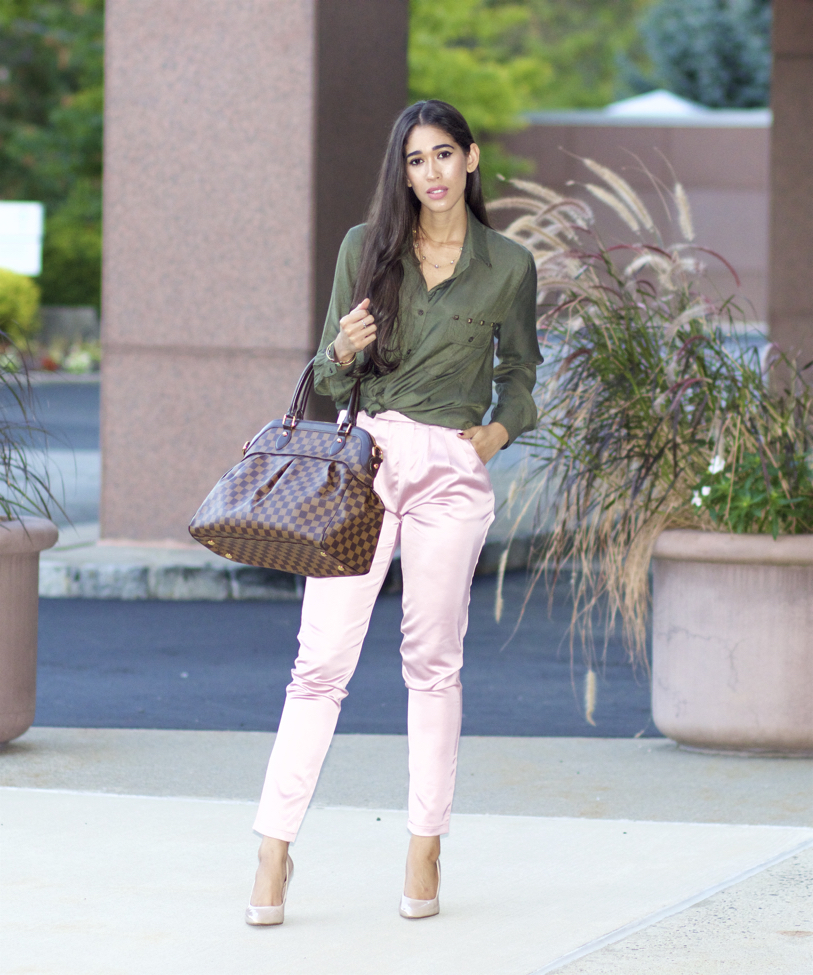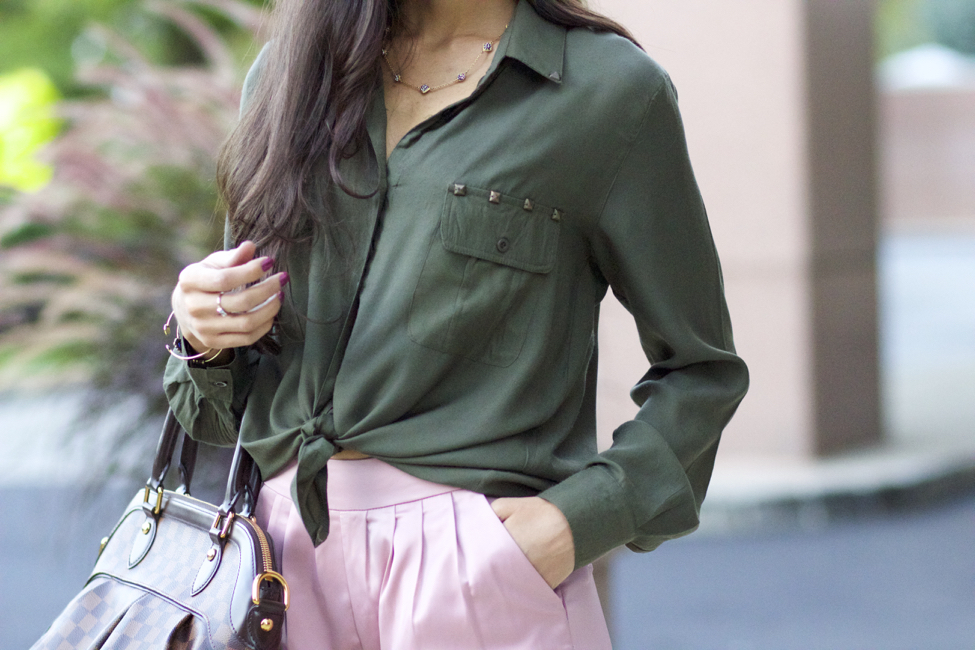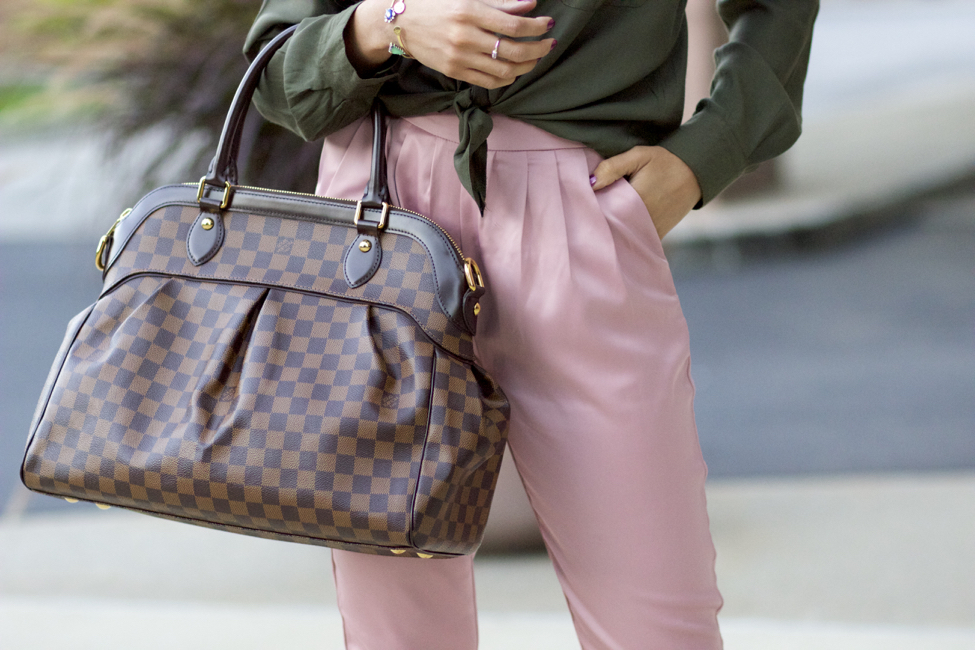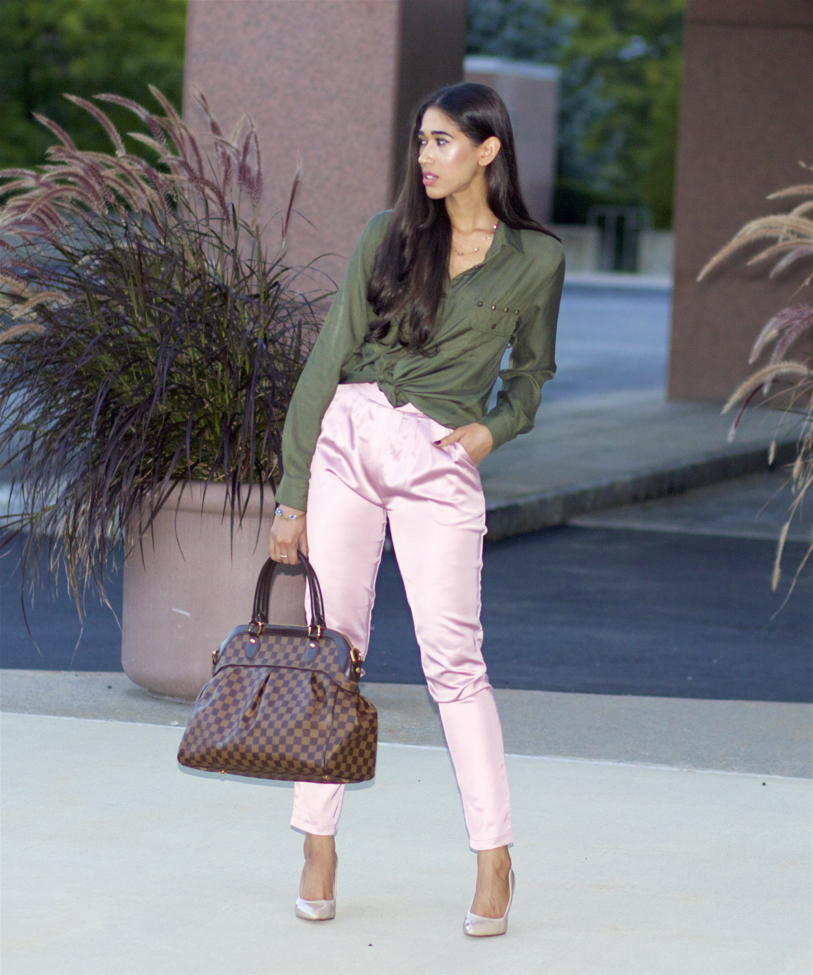 :GET THE LOOK:
---
Shirt: Marshalls (similar HERE) // Necklace: c/o Athra Luxe (HERE) // Pants: Missguided (similar HERE) // Shoes: Nine West (similar HERE) // Bag: Louis Vuitton

---
Happy First Monday of October friends!
Should I even bother mentioning how I can't believe it's already October? I feel like I say the same thing every month, but you guys, doesn't it really feel as though time is going by so fast!?
Anyway...
There are a couple of styling techniques that I'm particularly fond of, such as color blocking, but today we'll be talking about one that I feel is practical for everyone, regardless of personal style and that's creating an outfit with a juxtaposition. In case you're not familiar with this term, it's basically combining two or more pieces in a look that have complete opposite effects or styles, think tulle skirt and a leather moto jacket.
I understand that not everyone likes the idea of wearing bold colors and patterns, let alone creating an outfit that features more than one of each! Creating an outfit that has a touch of two opposite styles, however, I feel, is more doable and is a great way to experiment with other styles or perhaps trends, without fully committing. I feel it also makes for a more unique pairing, one with more character and charm.
An outfit that combines both masculine and feminine elements is one that's more classic in approach, but anything but ordinary for the everyday!
For today's look, I combined an oversized olive green shirt with bronzed studs that has more of an edgier, masculine vibe, with an ultra feminine high waisted pink satin trouser. Not only do the colors stand out and contrast, but so do the opposite vibes of each, yet they blend together so perfectly. It's true what they say, opposites do attract!
You may be wondering, well, this doesn't really seem to be a flattering styling technique, since we're dealing with oversized pieces. My answer to that is to wear the oversized, edgier piece in an area you wish to add dimension to.
For instance, if you're insecure about your hips, I wouldn't suggest wearing baggy, boyfriend jeans as they can make you appear larger. Rather something that will help to elongate and slim the leg area, such as a pencil skirt or high waisted pants, as I've done here, both of which will allow for you to embrace and show off your curves in a flattering way.
If, you're busty and say, girl, I've got enough dimension, you want me to add more?? Haha, I then suggest opting for a tailored blazer that nips in nicely at the waist, paired with a distressed boyfriend jean.
Well, what if am I rectangular or athletically built you ask? Well, girlie, you can choose where you'd like to add the more voluminous piece because you don't necessarily need to focus on avoiding dimension in either the top or bottom portions, since both are rather proportional, same goes for all my hourglass beauties!
As you can see, there are options for pulling off this effect, regardless of your body shape! Let me know what your idea of the perfect outfit with a juxtaposition would be!
Thanks so much for stopping by, my beautiful friends, and I hope you're having the best start to both your week and month! Shanah Tovah to all my fellow Jewish babes, let's make this an amazing New Year!
XO,