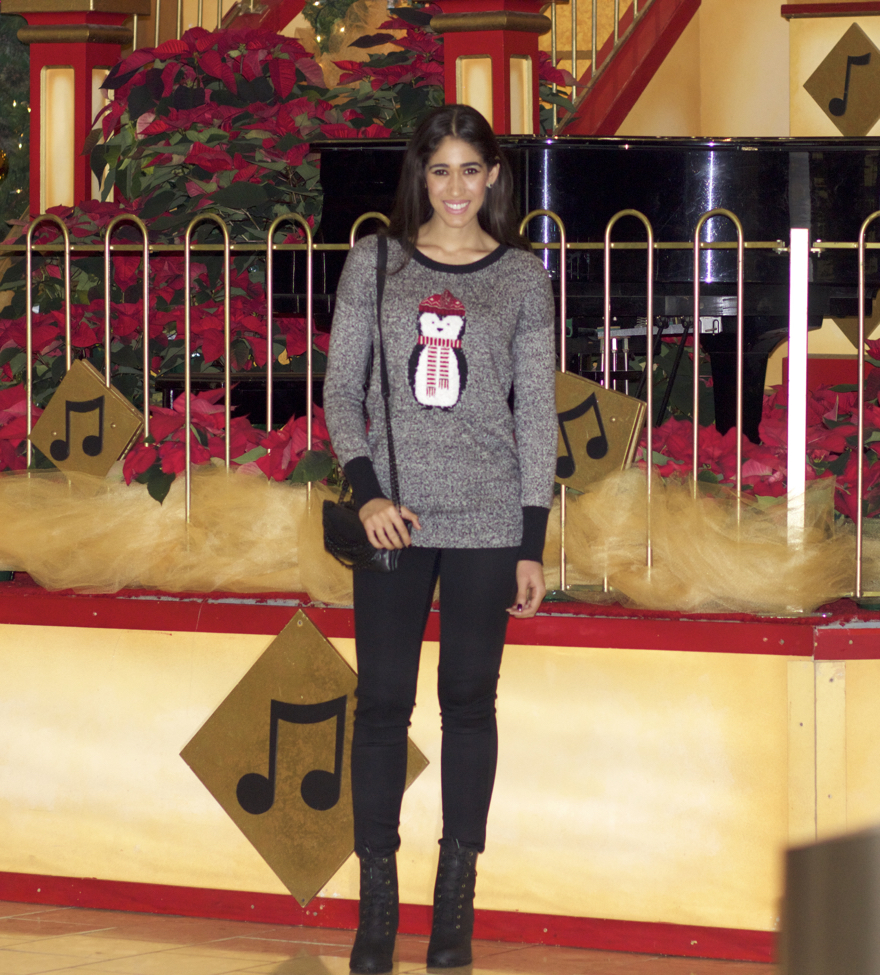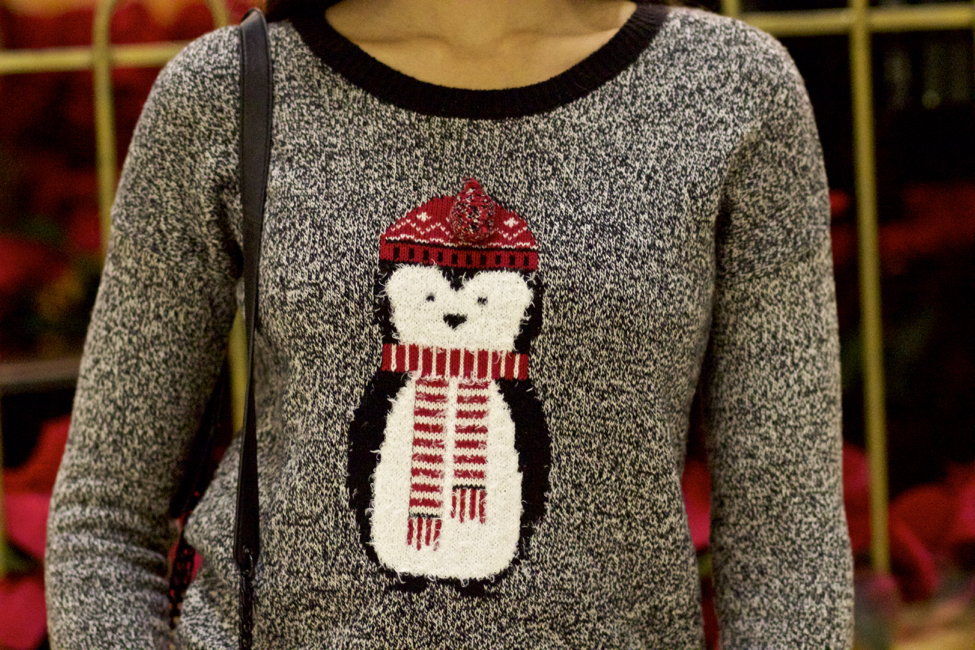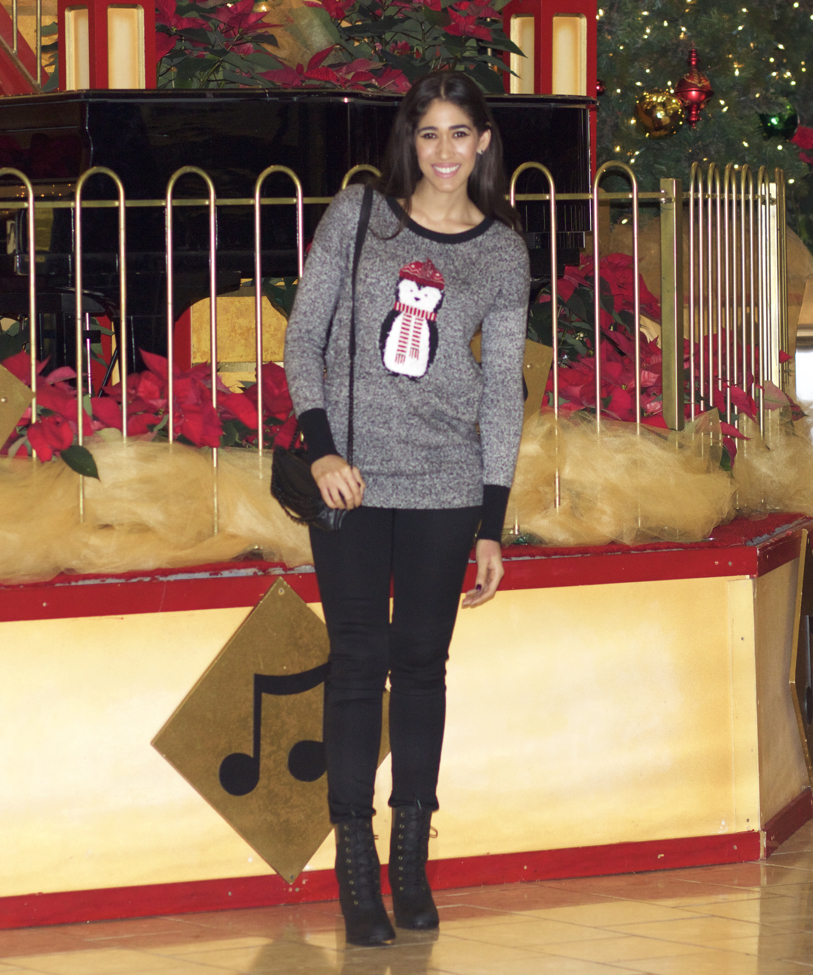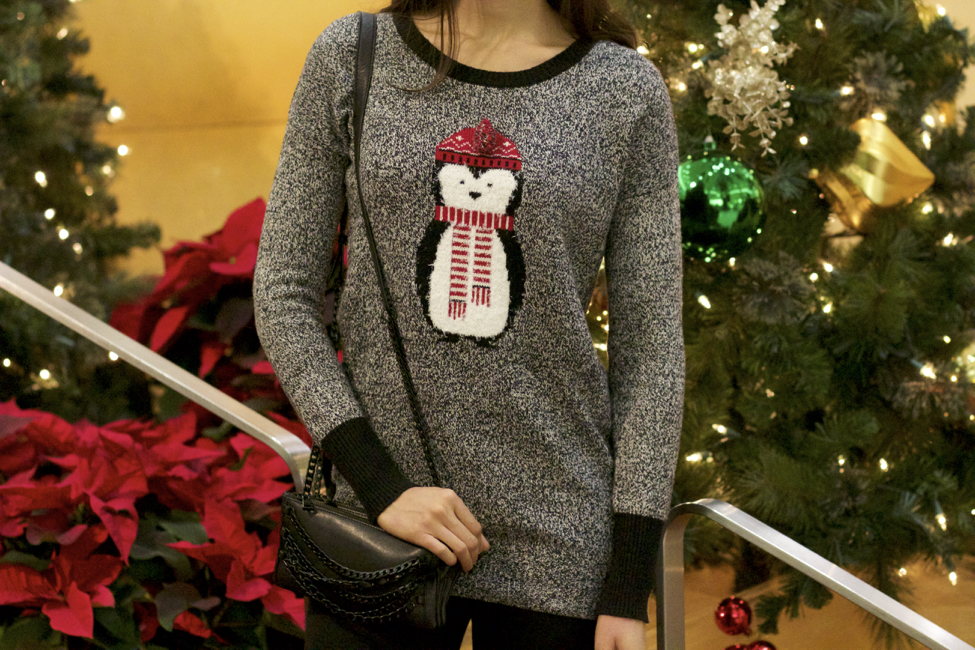 :OUTFIT DETAILS:
---
Sweater: Marshalls (similar HERE) // Jeans: New York & Company (ON SALE HERE) // Bag: Ash (love the red version HERE) // Boots: Timberland (HERE)

---
TGIF, my friends!
It's been a pretty long week if you ask me, so I'm really excited that it's finally Friday. Though I still can't believe it's been a week since Thanksgiving and that we're already in December!
Since we're officially in December, you know what that means, right!? Tis the season of the ugly Christmas sweater! How many of you attend or throw an annual ugly Christmas sweater party? They're quite fun, aren't they? It's always so much fun to see what everyone will wear and some get very creative by making their own, which is fairly easy to do, especially if you're crafty!
Though the point of the ugly Christmas sweater is for it to be gaudy and over the top, you may cringe at the thought of wearing them, but that doesn't mean that you can't participate at all, there are cute versions, such as the penguin one I'm wearing today! I mean, how can a penguin wearing a Santa hat be ugly, right!? Haha.
Aside from the sweater being gaudy, the idea is also to wear a sweater that's festive in some way with a holiday graphic or print. If you're concerned with all the details overwhelming your upper body, making you appear larger, just opt a style that has a smaller centered graphic or a sweater that's more fitted and has a flattering neckline, such as a v-neck and you're good to go; they don't have to be un-flattering!
So hopefully this post has inspired you to participate in your next group gathering either with friends, at work, or both! Have YOU ever attended an ugly Christmas sweater party? If not, perhaps YOU can host one this year!
Thanks so much for stopping by, my dear friends, and I hope you have a wonderful weekend ahead!
XO,