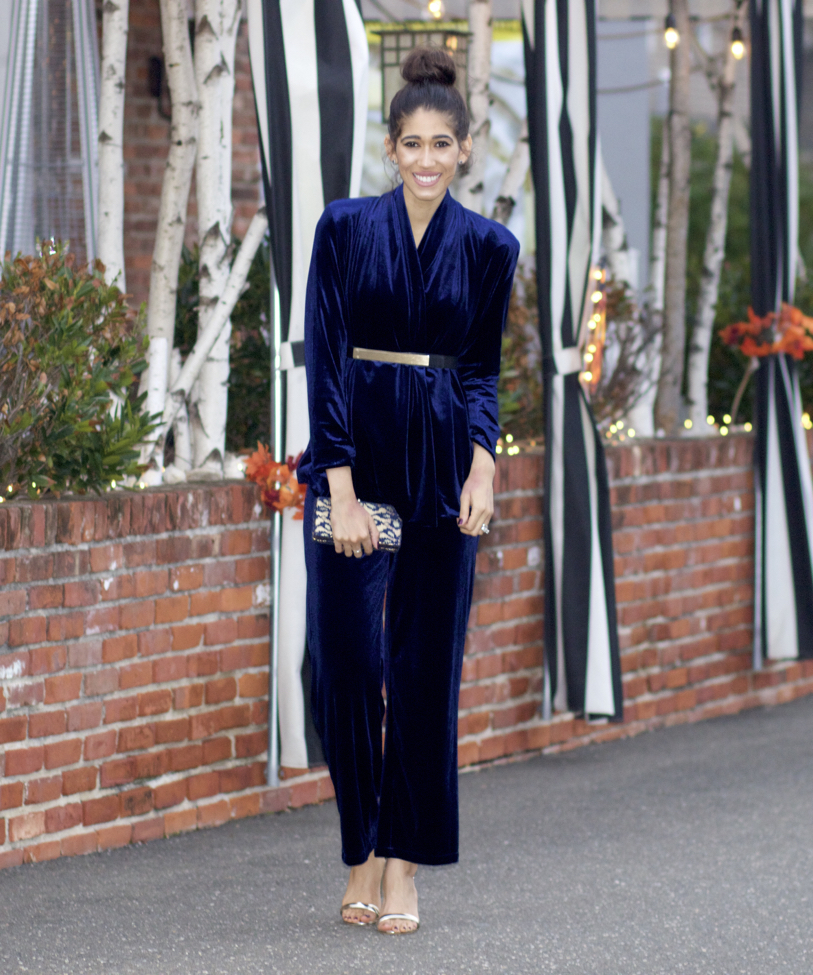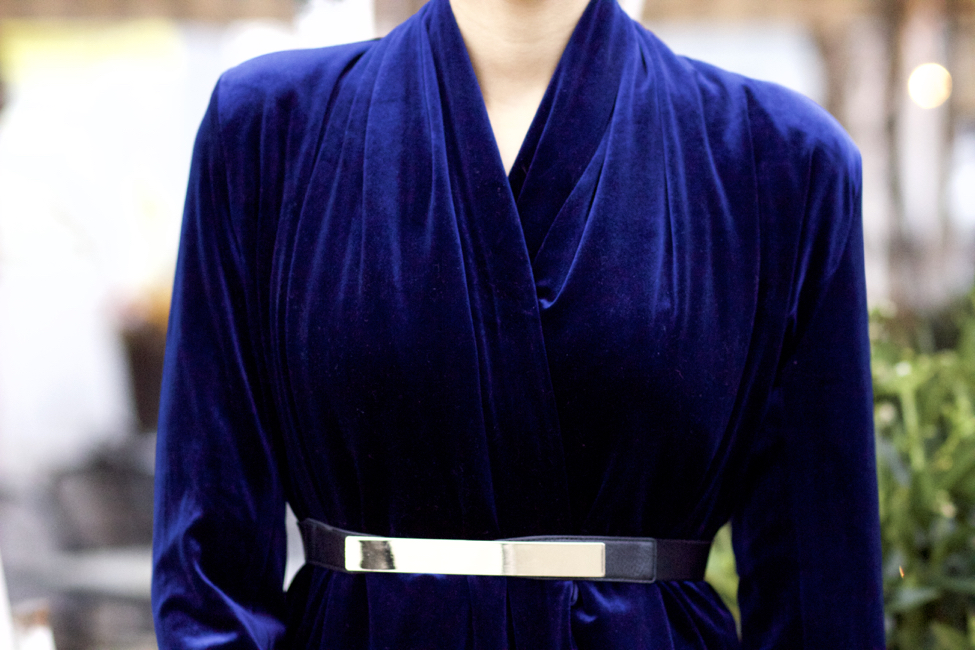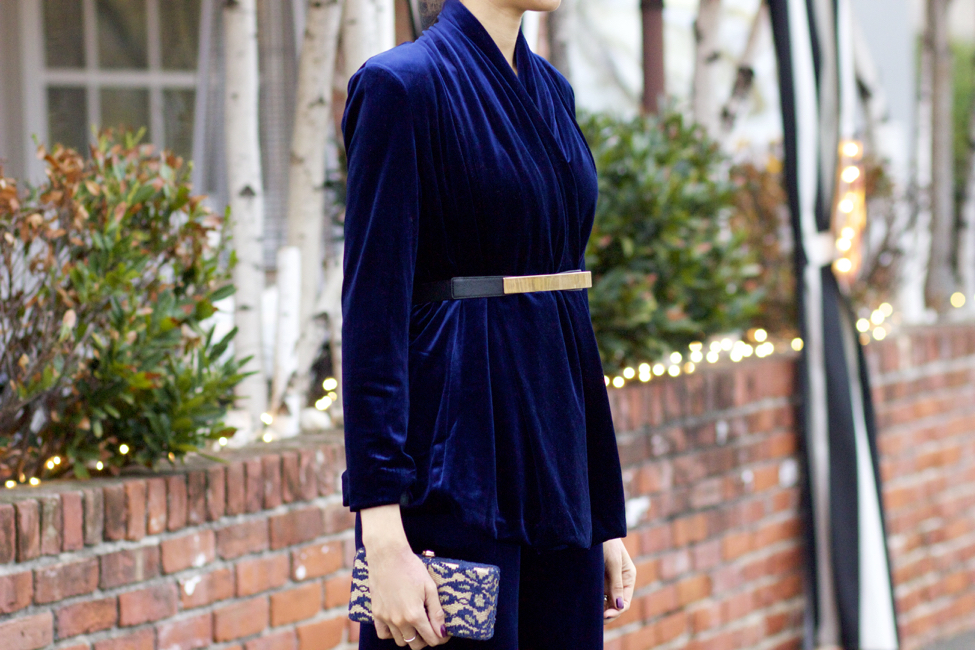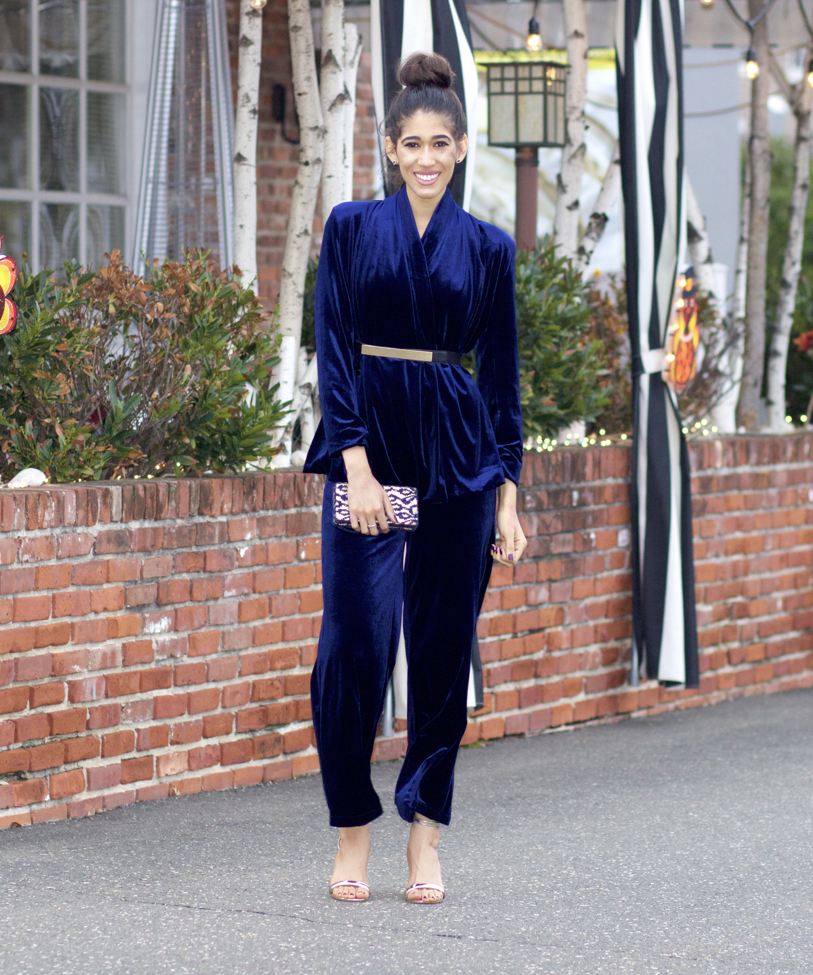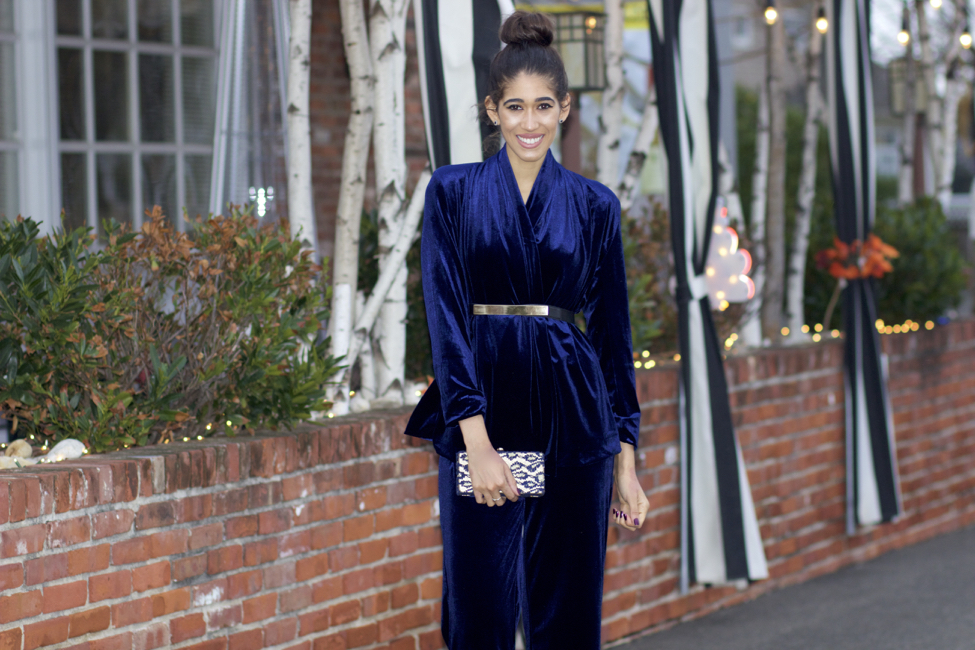 :GET THE LOOK:
---
Velvet Suit: c/o VIPme (HERE) *USE CODE SIJalisa372 for $5 off on orders over $50 or $20 off orders over $120. These codes cannot be combined with any other offer. // Belt: off a dress (similar HERE) // Clutch: Marshalls (similar HERE) // Shoes: Aldo (similar HERE)

---
Happy Friday, my beautiful friends!
How was everyone's Thanksgiving?! So, it actually turned out that I seasoned the turkey and guess what?! It was a hit with everyone. Yes, even my dad! He couldn't stop talking about how delicious it was. That, my friends, is a huge success in my book, haha!
Now that we have one holiday in the bag, we have a couple more to go, which tend to require more dressier outfits, opposite of the comfy and laid back ones we typically wear for Thanksgiving. I've shared my love for velvet numerous times since the start of the season; what I love most about the fabric is that it beautifully enhances any color, adding such a nice depth and intensity, especially in jewel toned colors, like this sapphire velvet suit I'm wearing. Remember I mentioned in this post how universally flattering jewel toned colors are!?
These past few months, I'd been hearing so many bloggers rave about VIPme and their unique, affordable, and great quality items, that when they reached out to me for a collaboration, I was quite curious to see how the brand and quality of the clothing held up for myself, so I agreed. Now, let me share my honest thoughts and experience with the site and clothing.
First, I do want to point out that they have a wonderful selection of both classic and original clothing. Very original and stylish clothing, which is what I really love! What I've noticed is that the classic styles tend to sell out most and understandably so, since the prices are fairly reasonable. However, the size range isn't as extensive. The sizes are said to range from 0-16, but it was rare to see many of the sizes offered, particularly the smaller and larger sizes. I also didn't notice a petite section, so keep that in mind.
Which leads me to mention that they do tend to run a bit small in their trousers, at least with the suit I'm wearing; it's a little tight around the waist, even though it's elastic. I'd suggest going up a size in trousers and all items that appear form fitting. A minor frustration with the site is that there isn't a search bar and you don't have an option to narrow down your results according to color, these are usually my saving grace when shopping online, especially with a specific item in mind. So, if you're looking for a coat, you'll have to search through the category section listed 'coats.'
Aside from those minor kinks, I'm extremely happy with the quality of this velvet suit, it's exactly as pictured on the site! Both pieces are nice and heavy and the velvet texture feels great. The suit came with a removable wrap belt, which I decided to remove and replace with the gold waist belt I also wore in Monday's post to further enhance my waistline and visually distinguish my upper and lower half.
Now for the question I know you're asking, would I suggest you shop at VIPme.com? Yes, just keep in mind what I mentioned regarding the site and reserve your shopping and browsing when you have the time, since you'll have to take your time to look through the items to find what you're looking for, much like thrifting. Also, be sure to check the size chart to confirm your size and take your measurements if necessary to avoid purchasing an item that doesn't fit.
What fabrics, colors, and/or textures do YOU think of most during the holiday season?!
Thanks so much for stopping by, my dear friends, and I hope you have the most amazing weekend ahead!
Disclaimer: This post is in collaboration with VIPme, all opinions and suggestions stated are my own.
XO,