Hi gorgeous girlies!
When we think about adding height with shoes, what's the first thing that comes to mind, think quick?
Heels, right? Of course, and for obvious reasons, they do actually make us taller. These days, however, flats are becoming more and more of a popular choice. They're comfy and practical for everyday life, but sometimes we may feel as though we have to wear heels to create some height and just look, well...more put together.
Thankfully that couldn't be further from the truth because flats can actually create the illusion of nearly all the effects we typically seek from heels. They obviously won't actually make us taller like heels would, but they certainly create lengthening effects, so we don't have to worry about sacrificing that at all. But, not all flats do this, there's only one particular style and that's the pointed toe!
Pointed toe flats help to visually extend the length of our feet, which in turn slims and lengthens the entire leg. When coupled with nude versions, as discussed in last week's post, you can confidently ditch the heels. Well, maybe not entirely because I mean some of us really do love wearing heels!
Random Fact: I wore 5-6 inch heels all four years of college. Yup, all day everyday! I just love them!
Below are some pointed toe flats I'm currently loving and craving...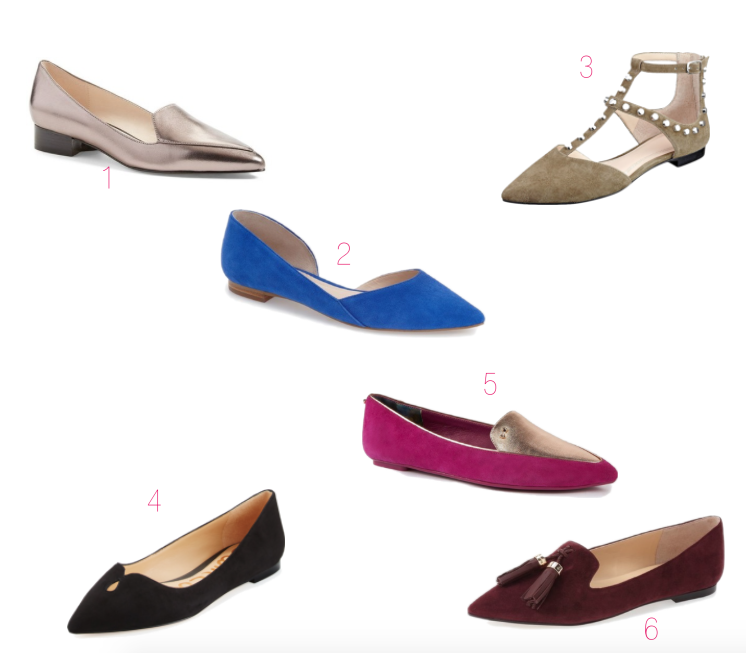 SHOP THE SET
Do YOU prefer wearing heels, flats, or both? Which is your favorite shoe in the set? Thanks so much for stopping by, my beautiful friends, and I hope your day is as amazing as YOU!
XO,