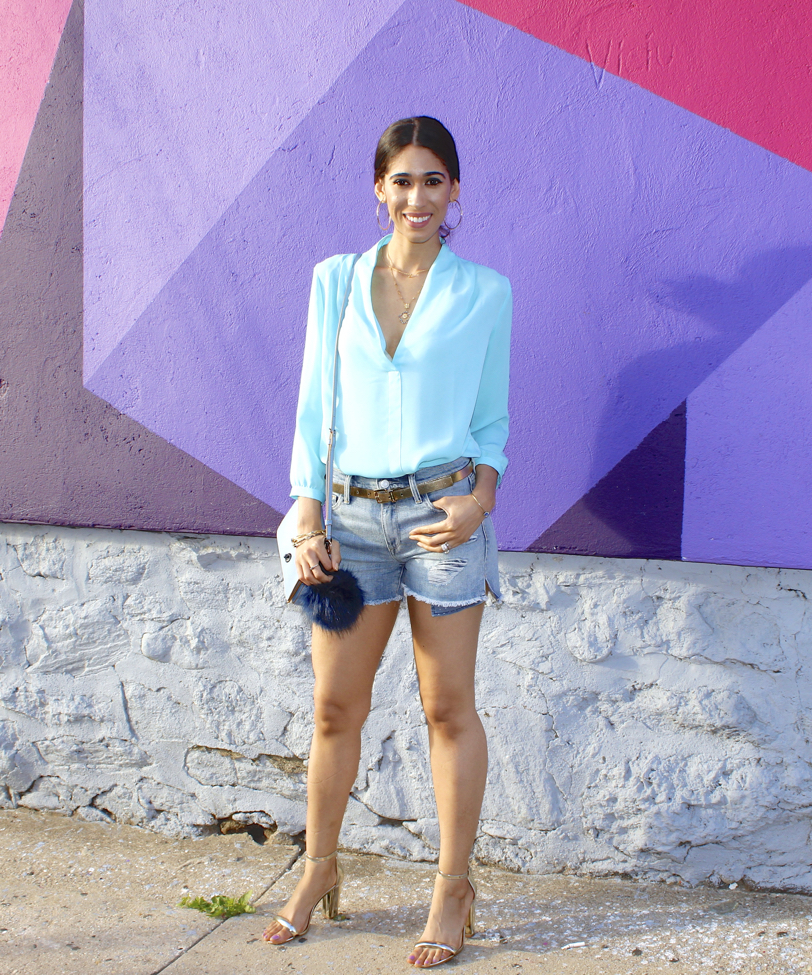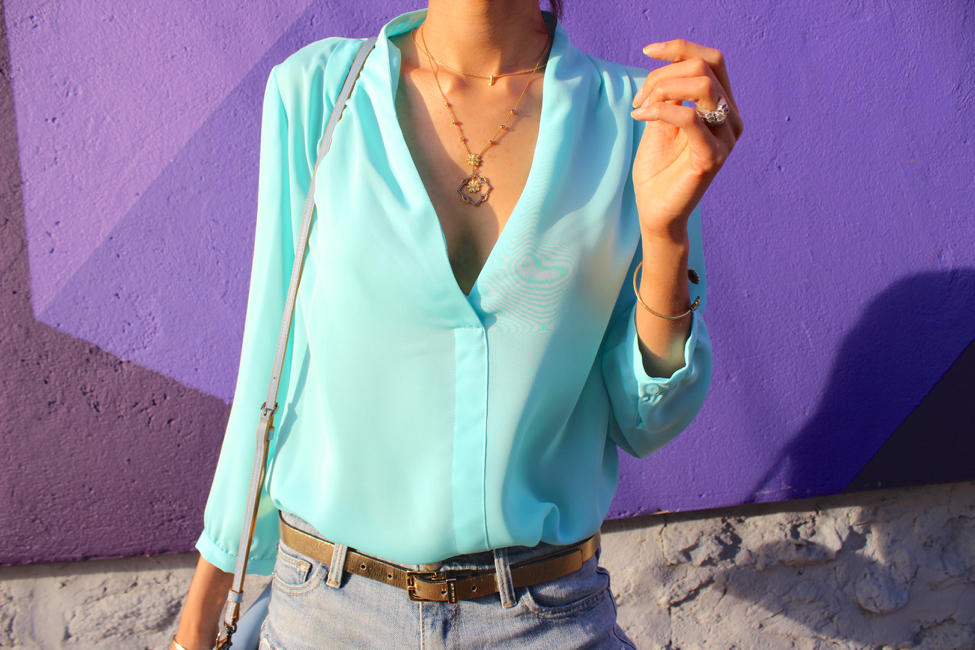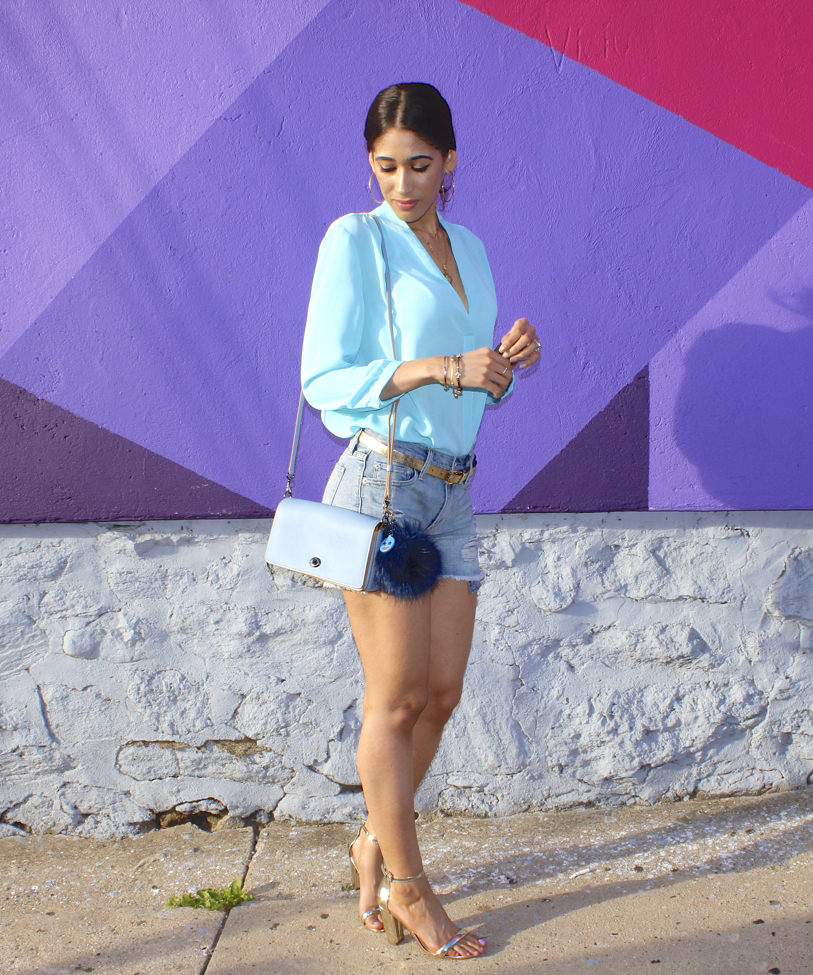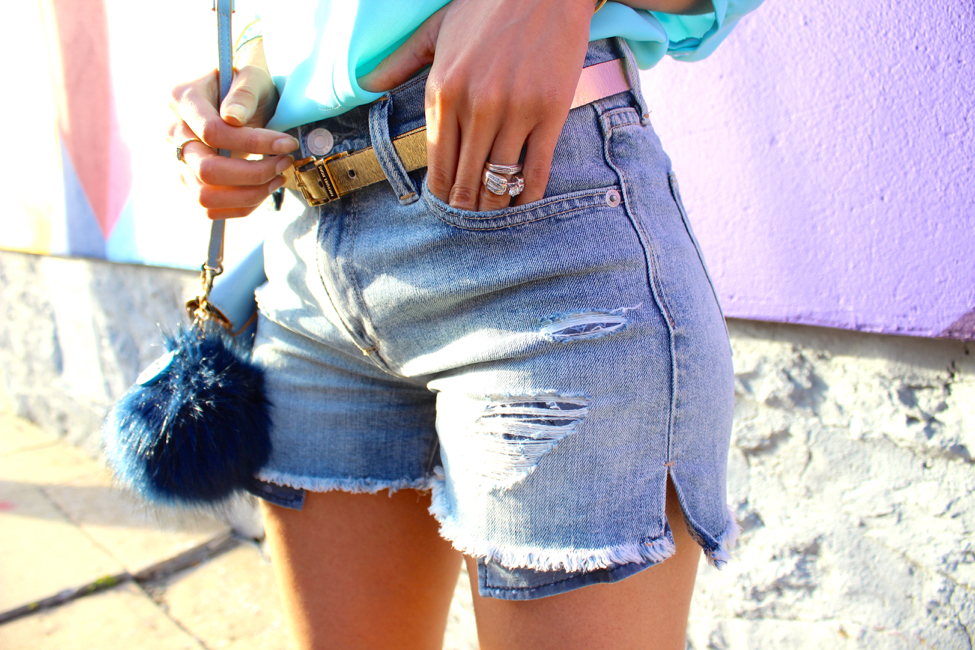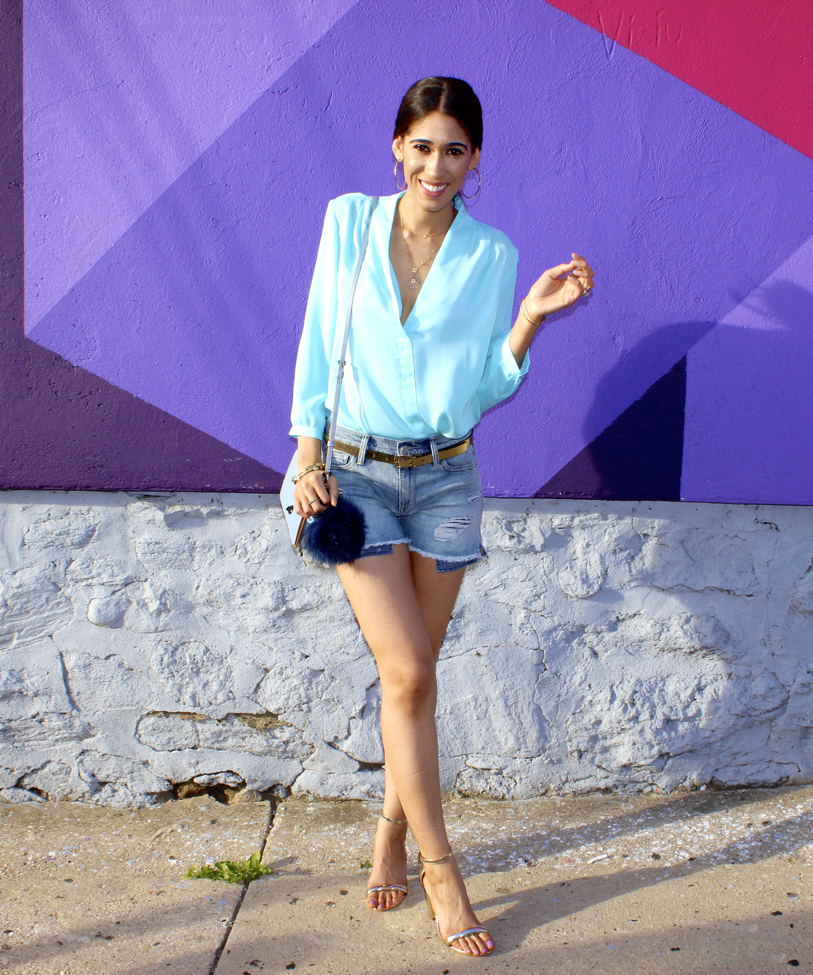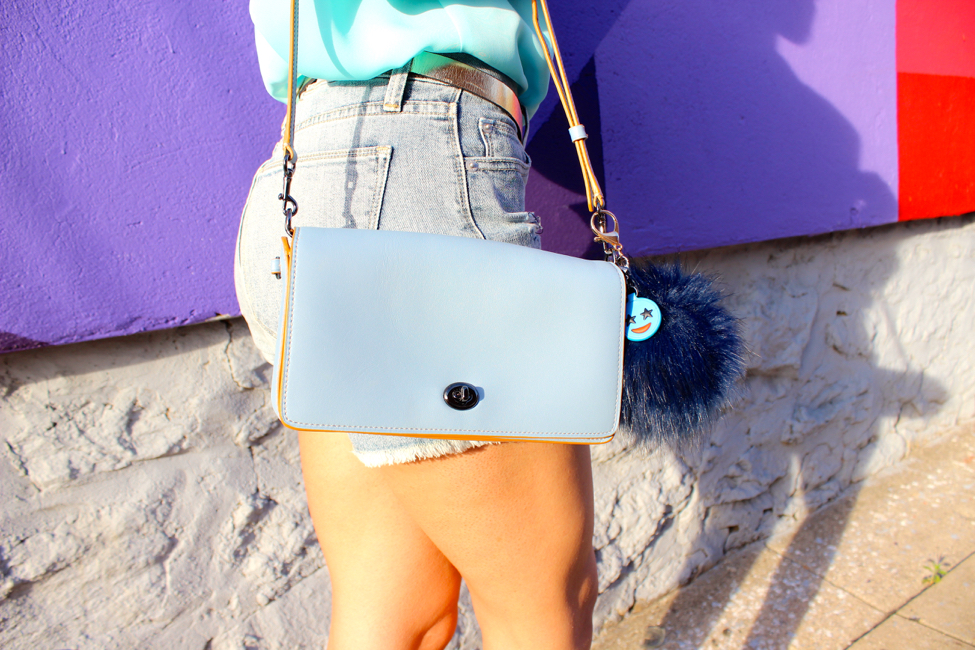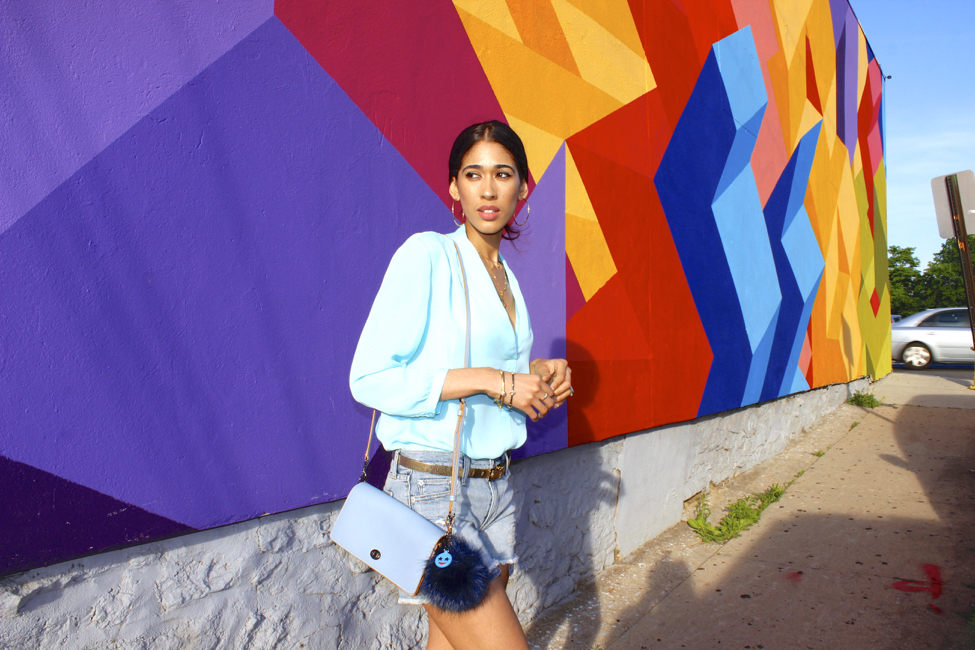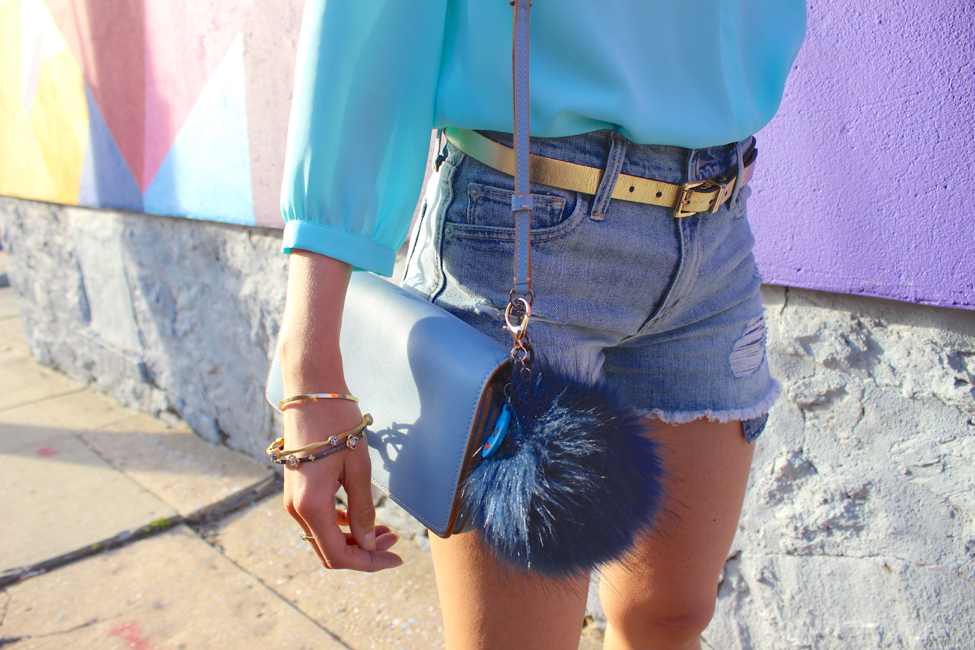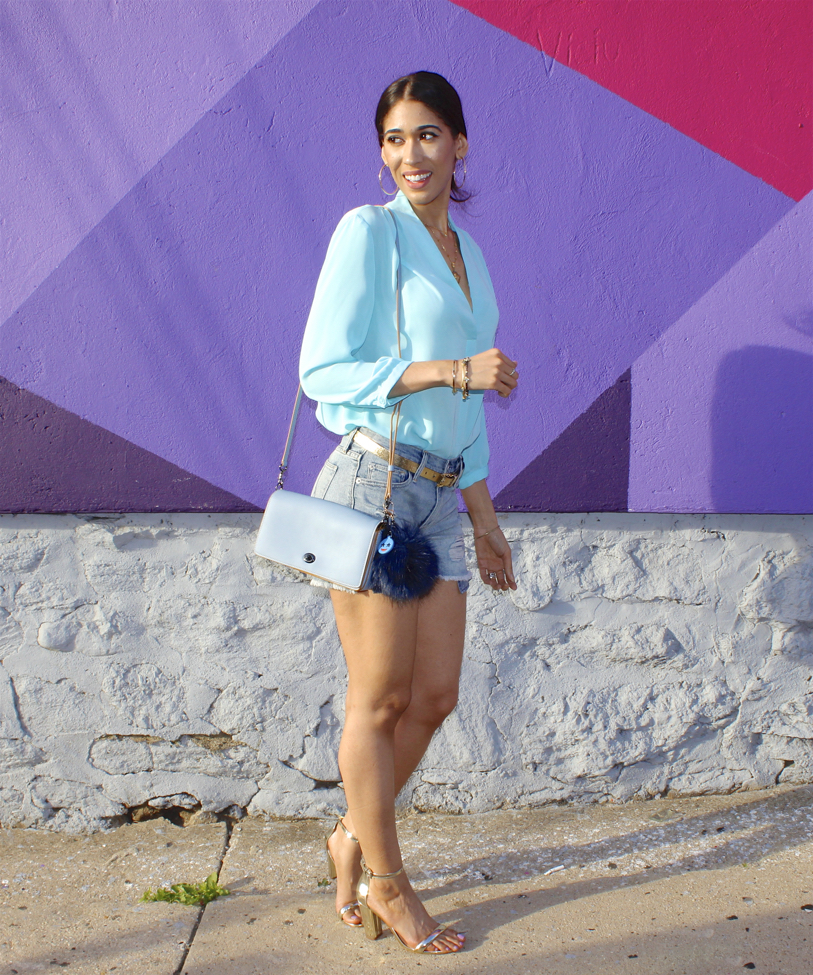 GET THE LOOK!
Blouse: Laundry by Shelli Segal (similar ON CLEARANCE HERE) // Necklace: c/o Joey J. Jewelry (HERE) //Shorts: Gap (ON SALE HERE) // Belt: Michael Kors (similar ON CLEARANCE HERE) // Purse: c/o Coach (similar HERE) // Emoji keychain: c/o Coach (similar HERE) // Pom Pom: Marshalls (similar HERE) // Sandals: Aldo (similar HERE)

TGIF, my friends!
Alas it's Friday, cheers to the start of the weekend! Today's outfit is a perfect look for a number of weekend activities, such as brunch! Who doesn't love brunch?! My mother and I recently brunched at Alice's Tea Cup and it was such a lovely experience! If you're ever in the city, I suggest you visit. Its theme is Alice in Wonderland, hence the name, and their Mad Morning Tea for two is lovely and enough to share; the scones are absolutely delicious! I do suggest you make reservations, though. Otherwise, you'll be waiting a while, lesson learnt!
Getting back to the outfit, I love the way a blouse or buttoned shirt looks tucked into a pair of shorts. I think the combination makes for a rather casual-chic outfit, one that's less sexy. Depending on where I'll be or what I'll be doing, I may not necessarily want to exude a heavily sexy vibe and when wearing shorts and heels it can be a bit tricky to avoid this effect. The quick fix in balancing it all out is to wear something a little looser up top.
Since we're on the topic of shorts, when you have a larger booty and hips (pear & hourglass shapes), it can be quite the struggle to find the perfect pair that don't instantly become underwear when you try them on, which is why I've had a very small denim short collection. Well, one day I decided to try on a pair at GAP and I'm forever committed because they fit amazing! So, if this is something you struggle with, too, I highly suggest you try out their shorts. They not only fit great in terms of length, they don't have that gaping in the back; I wore the gold belt for looks!
To further dress up the outfit, I added a pair of gold sandals and dainty jewelry pieces. When wearing a deeper v-neck, I often like to wear either a long necklace or layer a couple to fill in the negative space. I'm no expert at the art of layering, but my approach is to start with a very dainty, understated piece and then gradually work up to a more eye catching pendent that's longer. This is all a matter of personal preference, so when layering, just have fun with it!
Speaking of fun, how fun and cute is this emoji keychain?! I love it! I thought it would look cute and stand out more against the blue pom pom keychain and I love the way it turned out, especially against the clean style of the blue cross body. It adds more personality!
What are your favorite brand(s) of shorts and why? Thanks so much for stopping by and I hope you have a great weekend, my dear friends!
XO,