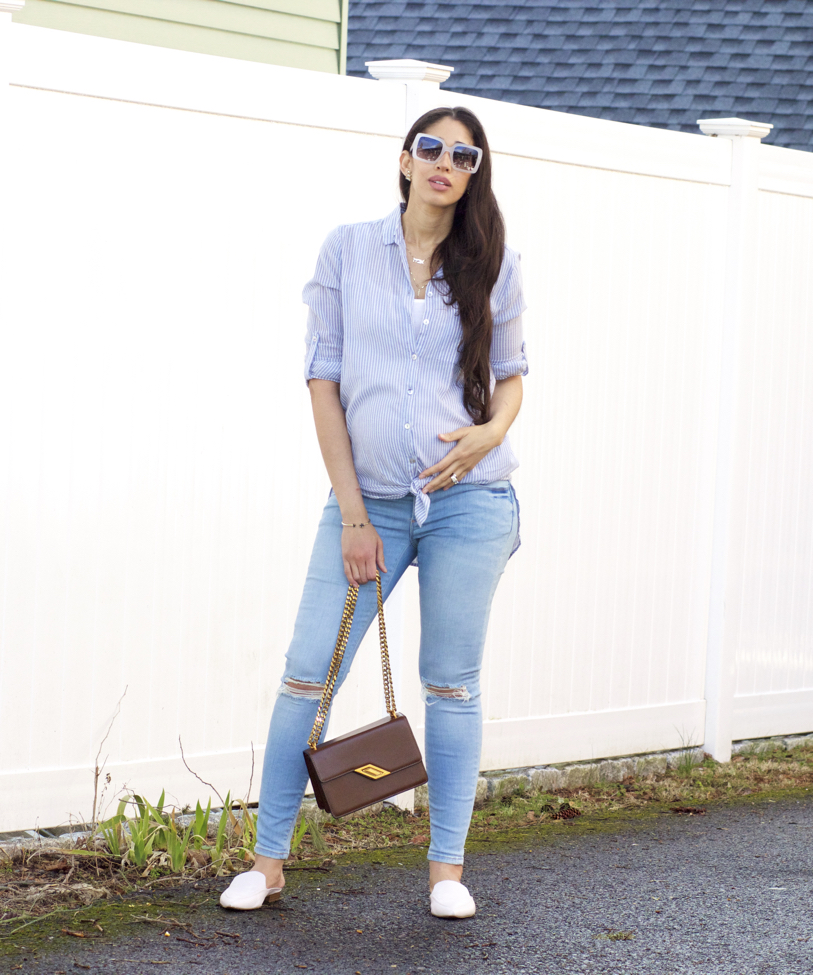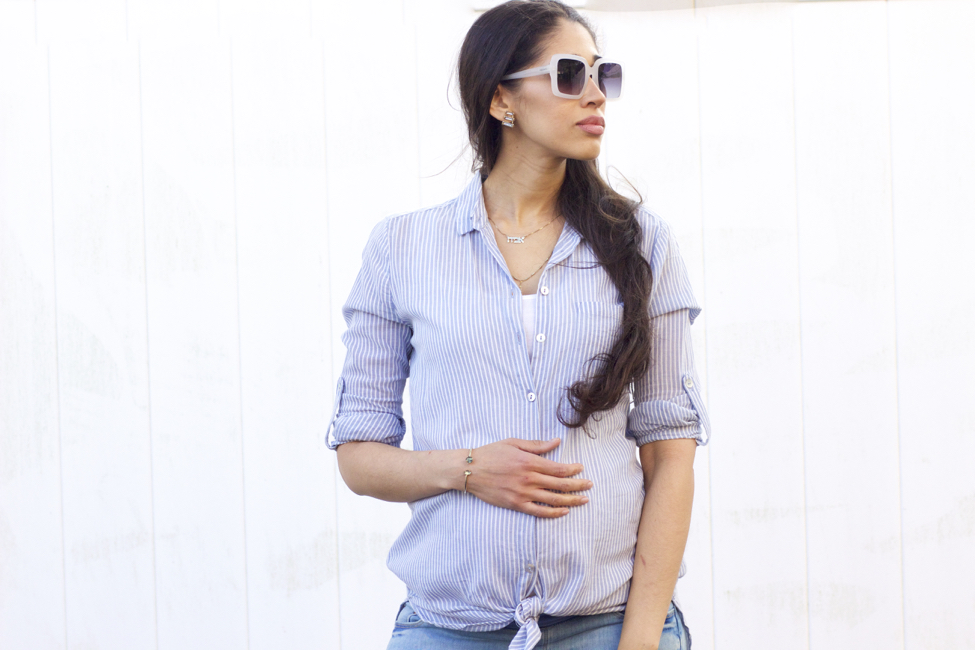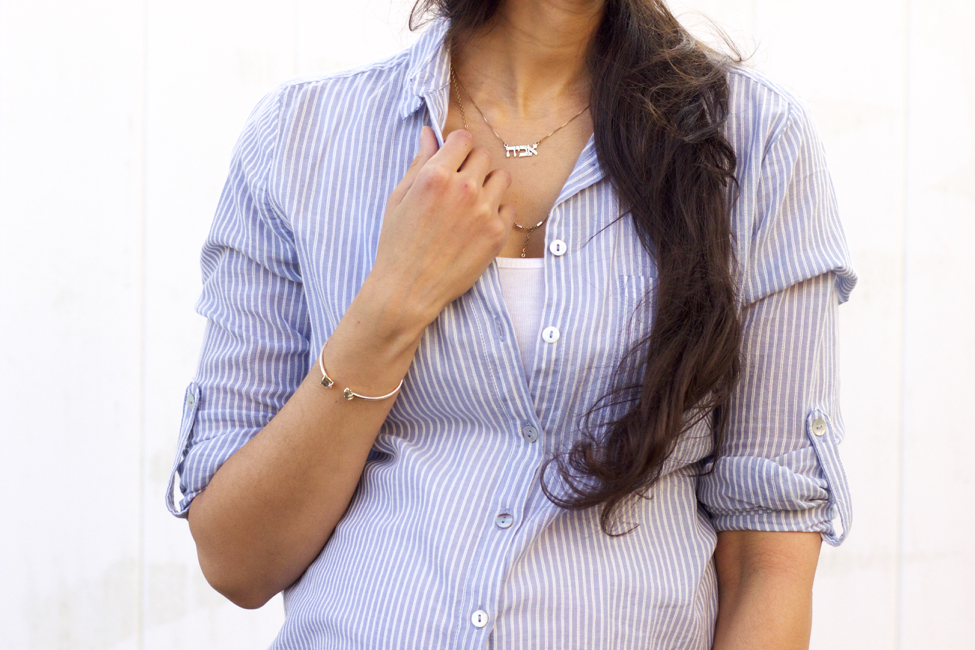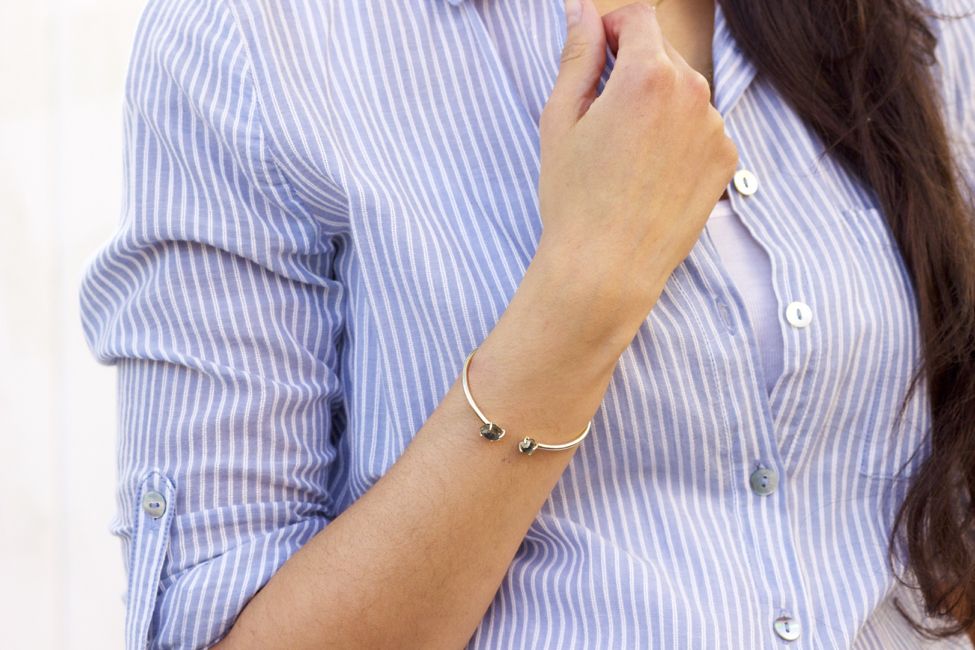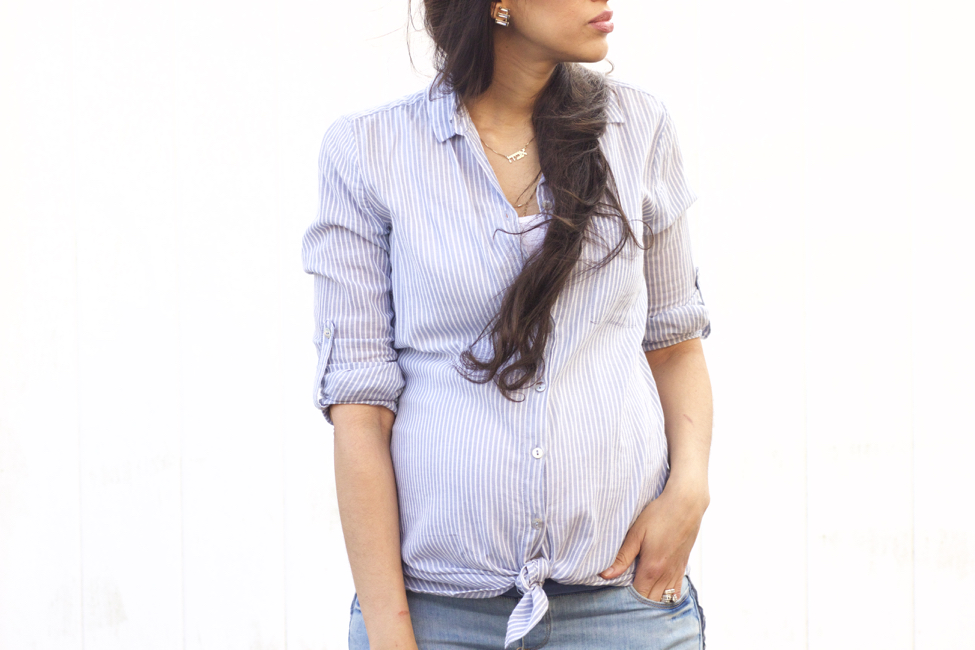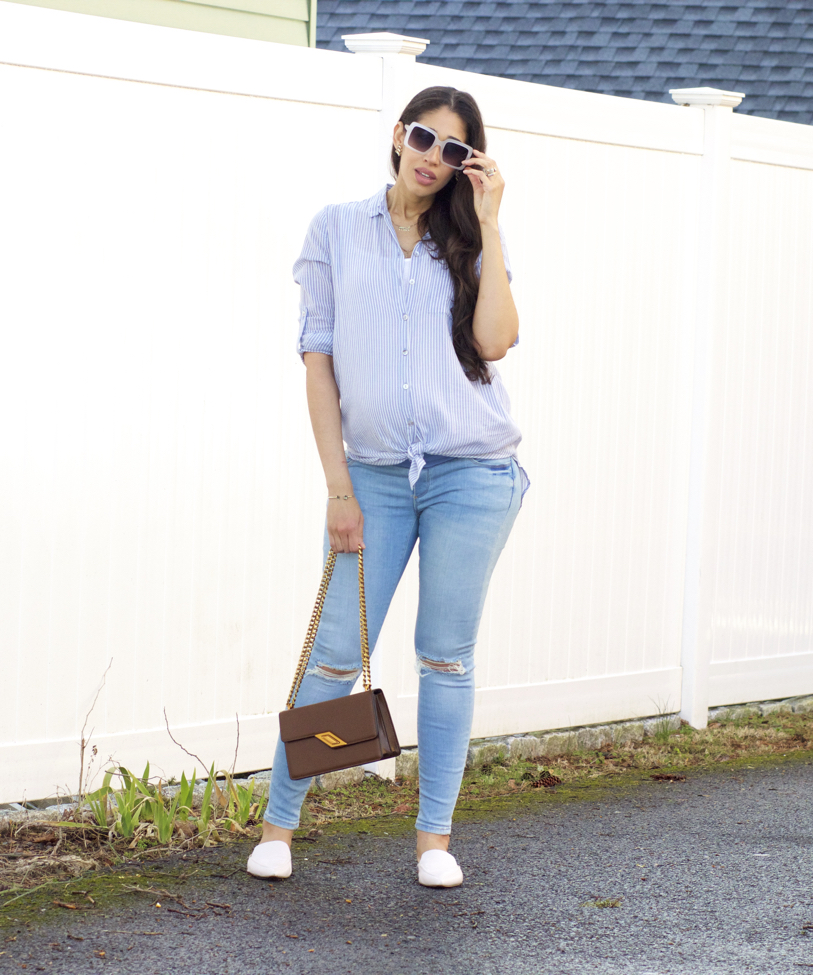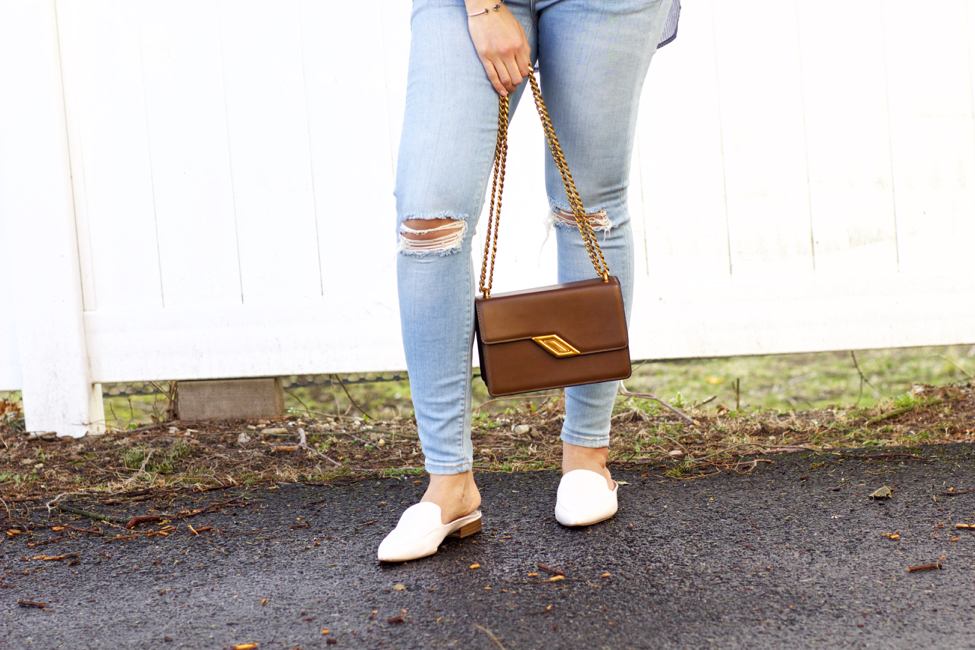 SHIRT: Similar | MATERNITY JEANS (darker rinse, same jeans) | BAG: Similar | SUNGLASSES: Similar | BRACELET C/O | EARRINGS C/O | MULES: Similar
---

---
Happy Wednesday!
There are quite a number of items I have on heavy rotation, both when I'm pregnant and not. I think it's incredibly important to have a capsule wardrobe, a building block of what essentially makes getting dressed and defining your overall personal style that much easier. In a day and age where we're constantly on the go, it helps to have pieces your know will always work and can mix and match easily and can evolve with your lifestyle, such as becoming a new mom or carrying you through multiple pregnancies. Today, I'm narrowing in on the oversized button down shirt.
I scored this blue pin striped shirt years ago at Marshalls and though I fell in love with everything about it, I still didn't expect to wear it as often as I have. Here's another outfit featuring this same shirt back when I was pregnant with Aviah, as well as it styled post pregnancy. I've worn it many times in between and find myself reaching for it yet again now that the weather is starting to warm up. One way I've yet to wear it and look forward to is as a cover up on the beach. The possibilities are truly endless, which makes investing in a shirt like this justifiable.
Now the one I've purchased is blue with white pin stripes, yours doesn't have to be. It can be pink or whichever color you feel is versatile for you. In fact, it doesn't even have to be a color, it can be a plain white. Whatever works best for you. The idea is to choose a style that is so easy to work with your other pieces and overall style and of course that varies from person to person, but the concept of the oversized fit is the same. Having an oversized fit adds a relaxed, casual feel that makes it wearable for the weekends and as I mentioned above, the beach too! It also makes wearing it during a pregnancy that much easier as well, as it will accommodate the bump. For days in the office, simple tuck it into your bottoms and throw on a blazer.
This time around, I've decided to wear it in a way that's more simplistic. I've noticed that in times past, I've challenged myself to wear it in a more daring way either in mixing patterns or with those joggers in my first pregnancy. When worn with a pair of light washed jeans, it makes for a nice, light, airy palette, perfect for spring and it's a subtle nudge to my beloved monochrome styling approach, too. To pull out the white pin stripes, I decided on my opaque white sunnies and my all time favorite mules. If you've been reading along from the summer, you'd know how much I loved these mules and how often I've worn them...yet another capsule piece. Though this exact pair are sold out, I did manage to find an incredibly similar pair here, in case you're interested. I have a new profound love and appreciation for mules as a mom of soon to be two. It makes me look chic and polished and my life a bit simplified because I just leave a pair at the door and slip them on my way out. So easy.
What's one item in your wardrobe you wear most often? Do you have a capsule wardrobe?
Thanks for stopping by, my sweet friends, and I hope you have a great day!