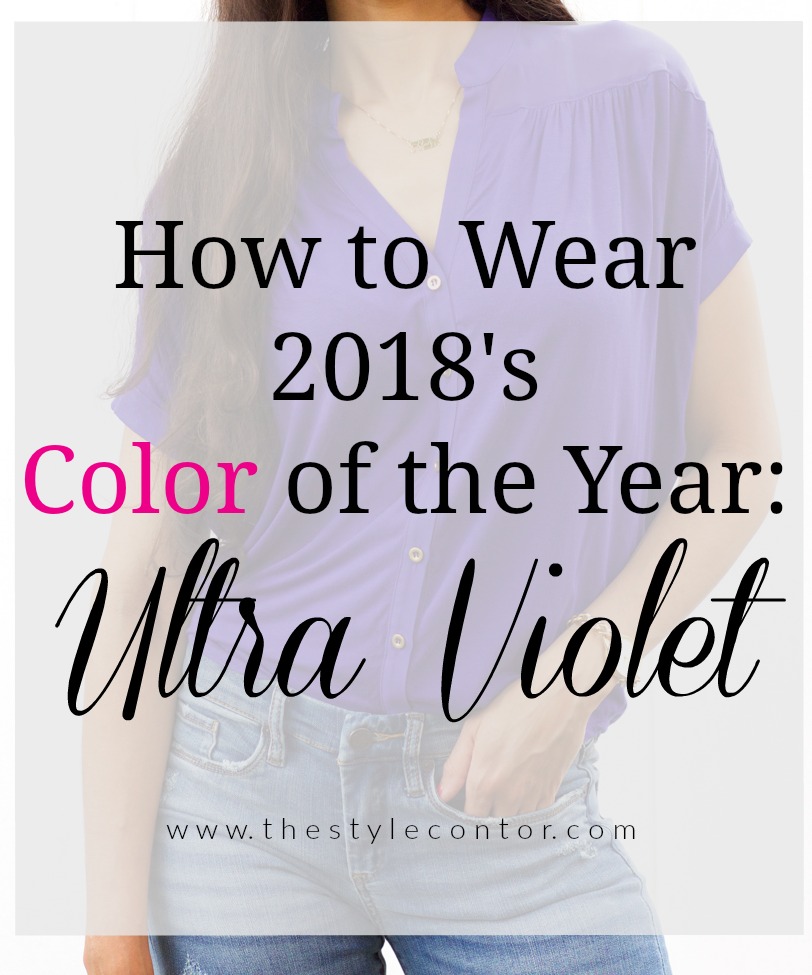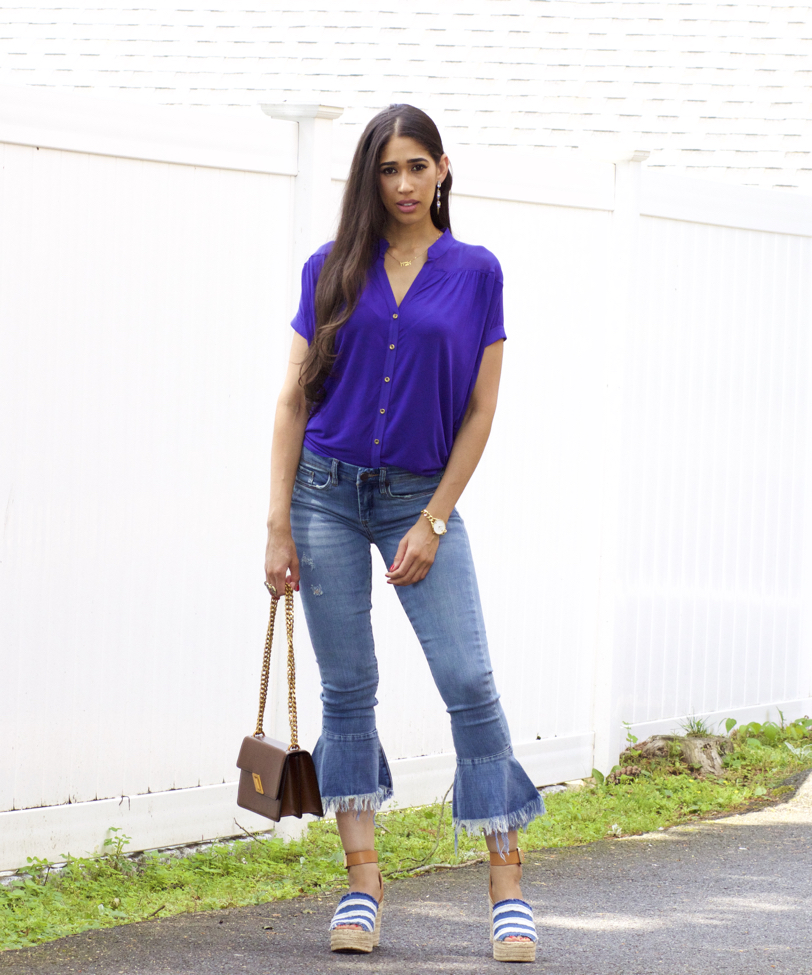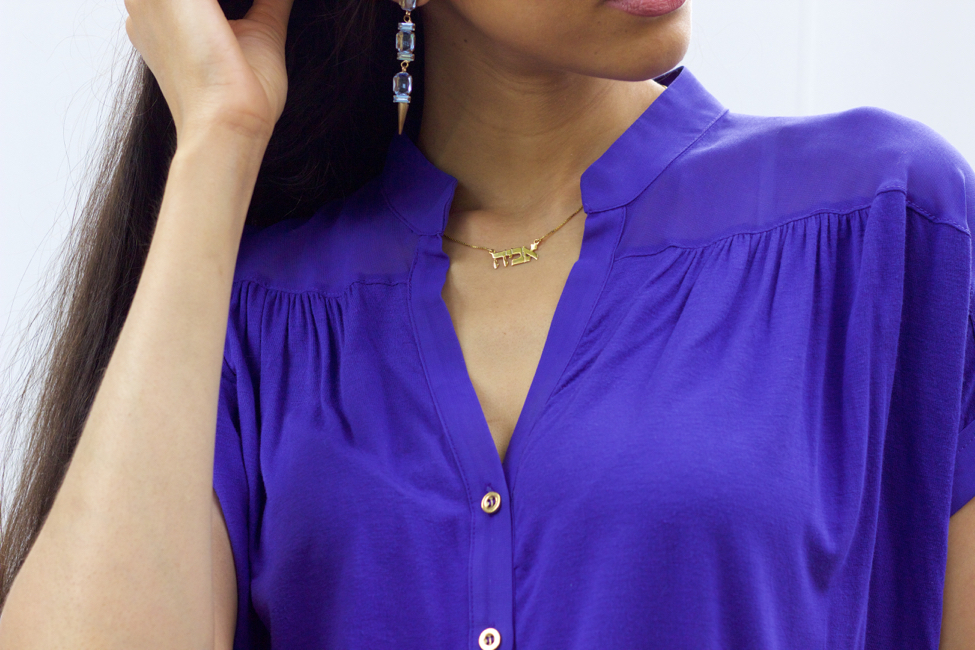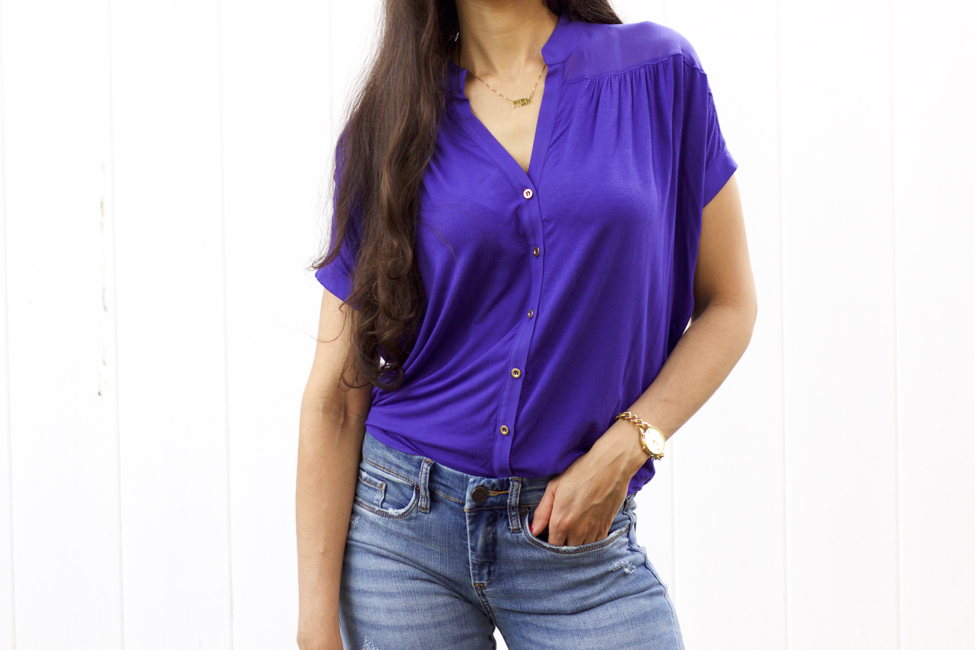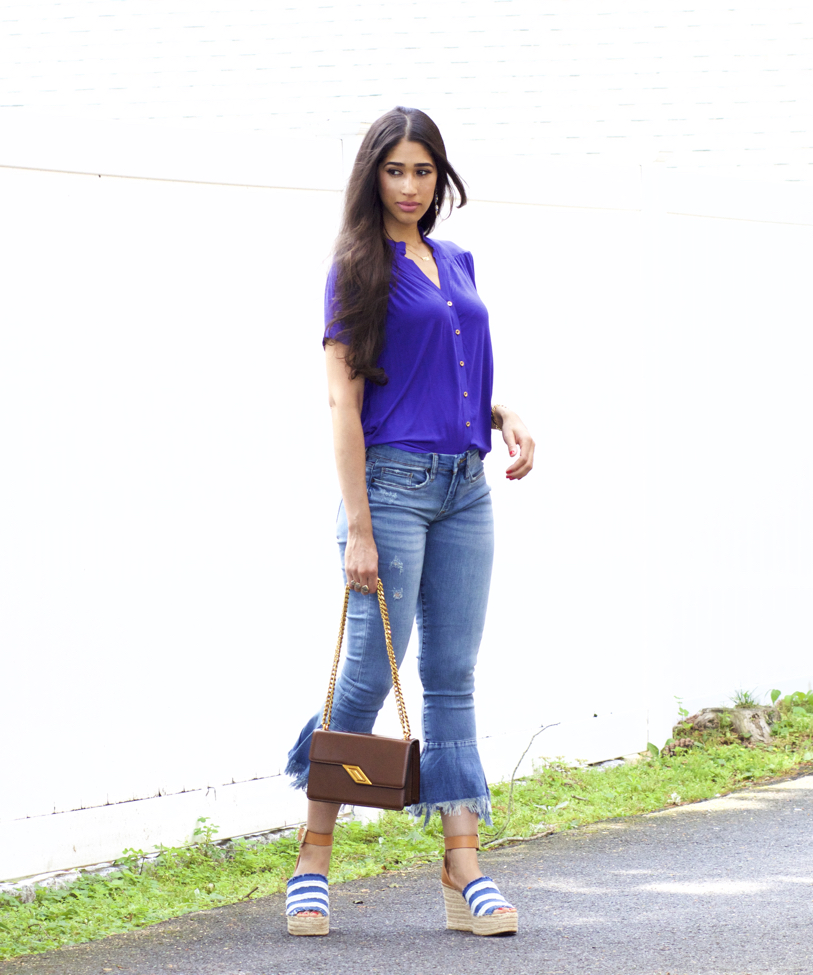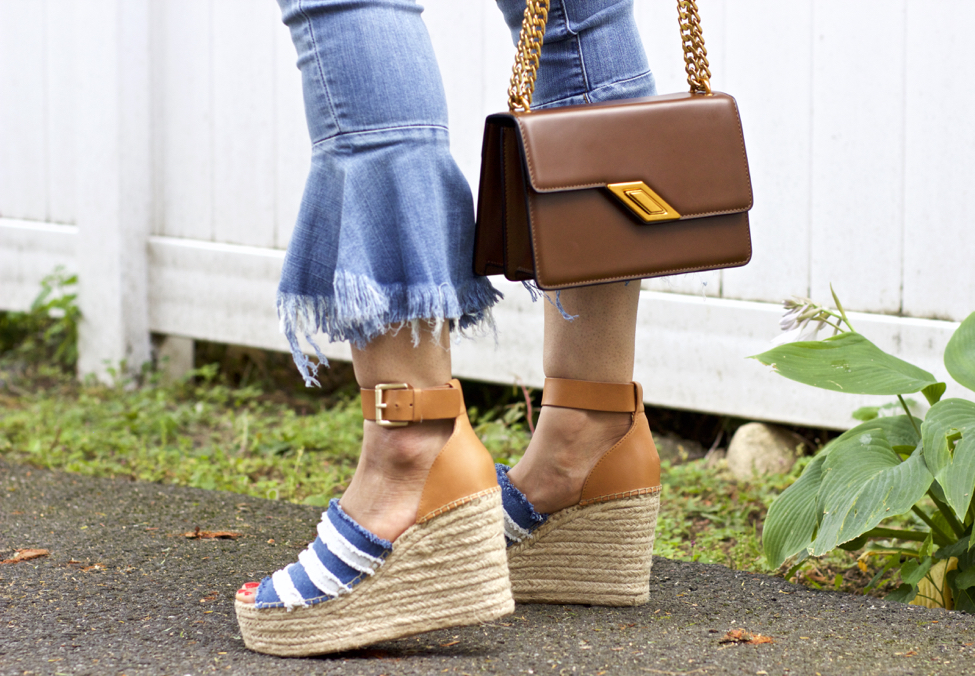 BLOUSE: Similar | JEANS | NECKLACE C/O | SHOES | BAG: Similar
---

---
Happy Monday my beautiful friends!
As I'm sure many of you know, ultra violet was declared 2018's color of the year. Now, I must say that I have a love-hate relationship with the color purple. It's not a color I'm particularly fond of, therefore, I'm quite particular with the shades and pieces I choose to add to my wardrobe, which is why I own about a handful, only one of which is in the shade ultra violet...the one I'm wearing today.
I purchased this blouse years and years ago at BeBe. I fell in love with the the shade and how beautiful the gold buttons popped against it. This brings me to one of the tips I'd like to share on styling this shade because it's not an easy one. It can easily look borderline cartoonish, Halloween-y, or costume-y. I personally favor it with pops of gold rather than silver because I think it could look a bit futuristic and that's not the vibe I wish to achieve when working this color. Though if that is the vibe you wish to achieve, then it would work.
In general, the easiest way to wear this shade in my book, would be to team up with medium wash denim. Be a dress, pair of shoes, or blouse, it just works so well. A darker denim wouldn't allow for the color to stand out as much and thought a lighter one would work well, I think a combination of both would be most favorable.
As for shoes, you can always opt for a classic nude or black, but a camel pair looks so good. Though the wedges I'm wearing aren't entirely camel, it has a hint of it that's perfect that just works. If you happen to have a pair of denim shoes, which have been trending in recent years by the way, all the better!
Since we're on the topic of shoes, I must say that overall, I'm loving these Marc Fisher pair I scored on sale a few weeks ago. For the most part, they're quite comfortable. My only complain is that it rubbed about on my left foot, but I seem to be the only one experiencing this. The reviews on this particular pair haven't mentioned it. Perhaps I just needed to break them in. Otherwise, they're really comfy on the soles; I wore them for several hours while out and about with Aviah.
Speaking of Aviah, can you all believe that she'll be turning one in exactly one week!? I seriously cannot believe it. It feels just like yesterday I was pregnant and I remember the labor and delivery all too well. She's growing and it's such a bittersweet moment to cherish. I'm so thankful that she's growing, but sad that the time has literally flown by. Her party will be on Sunday and I'll of course share photos from it shortly after. I'm so excited about the theme, which happens to be coincidently trending. I'll give you a hint, it's a print. Can you guess?
Thanks so much for stopping by, my sweet friends, and I hope you're having a great start to your week so far!