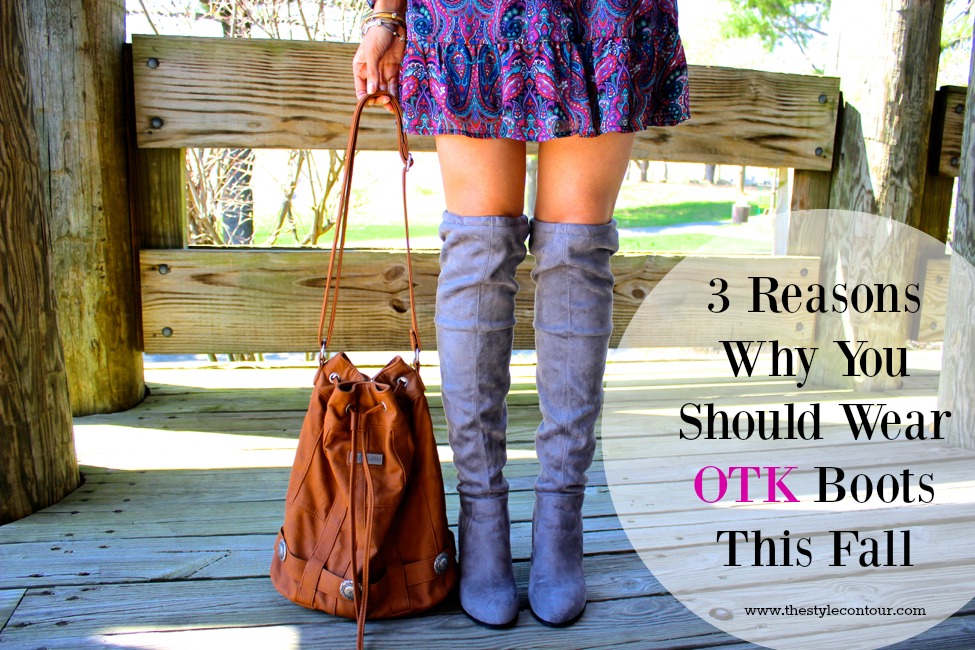 Happy Tuesday & Happy first day of November, my beautiful friends!
It seems like everyone is forgetting about the bootie these days. No, I'm not talking about a Kardashian, lol. No, seriously! There's a new boot in town and that's the over the knee (OTK) boot. Though it's not all that new, but I feel this year it's gained a lot of momentum and for understandable reasons. I personally own two and I don't plan on stopping there because I love them that much and though the coveted Stuart Weitzman selections are a far reach for me right now, I do plan on investing in a pair eventually because I feel this style is worth it and today I'll be sharing my 3 reasons why.
1. They slim the legs
Regardless of our body shapes and/or size, this is a boot that has the visual ability to slim the legs and quite honestly, who's opposed to that?! They fall right above the knee and below the mid thigh, which is the largest part of the leg, so it hits right at a happy medium, which is very flattering.
2. They elongate those legs
Just when you thought I didn't hear you whisper, but I'm petite, I can't wear OTK boots, they'll make me look shorter, I'm proving you wrong because I love you! As mentioned in my first point, these boots hit right above the knee, thus creating the illusion of a longer leg, but from the bottom up! When you look at someone's OTK boots, chances are you look at the boots from the bottom up, not top to bottom and because of that common practice, you won't appear visually shorter. If it's still a concern, snag a black pair and when you want to wear them, go all black! You can mix up the textures with leather leggings, jeans, or skirt, so you don't feel like you're wearing the same outfit over and over. So, go on girl and rock those OTK boots!
3. They dress you up
Lastly, I love the almost effortless way they can dress up a casual outfit. For example, picture a tunic and plain black leggings paired with UGGS. Now picture that same tunic, black leggings, but this time paired with OTK boots, which is more "dressed up"? Exactly!
:SHOP OTK BOOTS UNDER $100:
---

---
Have YOU been wearing OTK boots already? What's your favorite way to style them?
Thanks so much for sharing, my dear friends, and I hope your day is as amazing as YOU!
XO,