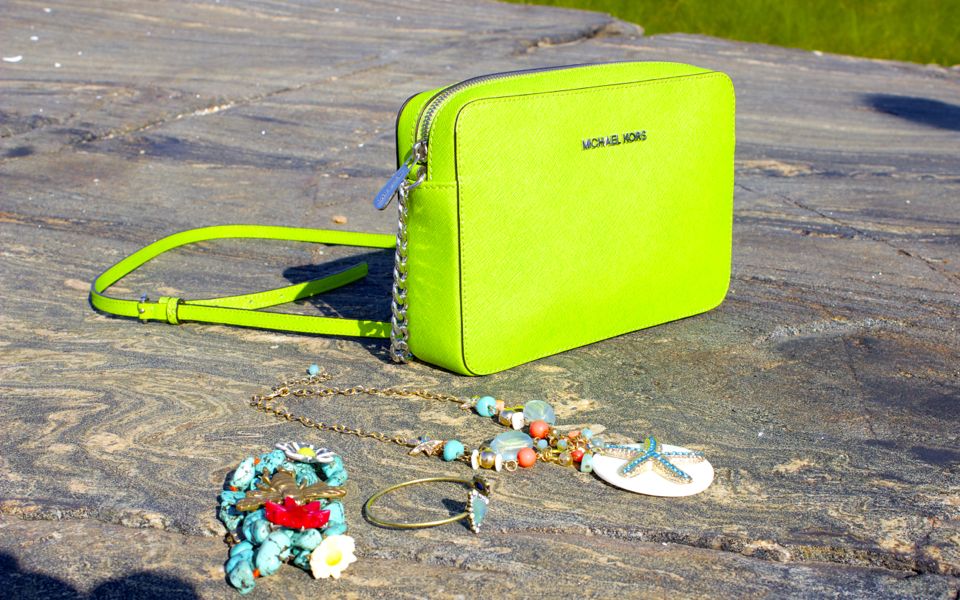 SHOP THE POST
TANK: Cynthia Rowley from Marshalls (similar style on sale here) | SKIRT: c/o FD Avenue (similar style on sale here) | BELT: Steve Madden from Marshalls (similar style here) | NECKLACE: Charming Charlie (similar style here) | TURQUIOSE BRACELET: Lucky Brand (similar style on sale here) | STONE BRACELET: c/o Chloe + Isabel (here) | SUNGLASSES: Salvatore Ferragamo (here & similar style on sale here) | PURSE: Michael Kors (similar style here)
Hey Ladies,
I hope you all had a wonderful weekend! I LOVE being around nature, the beach, the park, the forest, it just ignites a whole realm of creativity and inspiration for me. I think it's so important to find time to just connect with our surroundings and put the phone away sometimes. Oh boy, did I just say that?! Haha! I for one know how hard it is to put the phone down and resist the temptation of scrolling through my Instagram feed or post what I'm doing or thinking on Twitter, but I challenge myself to do so often. I feel in this fast paced life, it's so easy to get lost in the scheme of doing things that we can get out of touch with ourselves. So when you're feeling like you're in a rut or in a bad or negative mood, take a break from life's demands and go to a park or beach and just simply RELAX!
Now on to my outfit, I love the simplicity of this look. It's very neutral, but the statement pieces add beautiful pops of color, dimension, and interest to the whole look. What I love about this maxi skirt is that it works with my curves, since it has narrow pleats, which prevent my already curvaceous hips from appearing that much wider. If you're bottom heavy like me, you know how frustrating it can be to find skirts that won't do that! Plus, it helps to elongate the body. There's been many stylists who have suggested that petite women refrain from maxi's because they can make them appear shorter. In this case, I have to disagree. The pleats and placing the skirt higher on the waist will help to elongate the legs, essentially making one appear longer and leaner ;)
Thanks so much for stopping by and I look forward to chatting with you again in tomorrow's post!
XO,
Jalisa