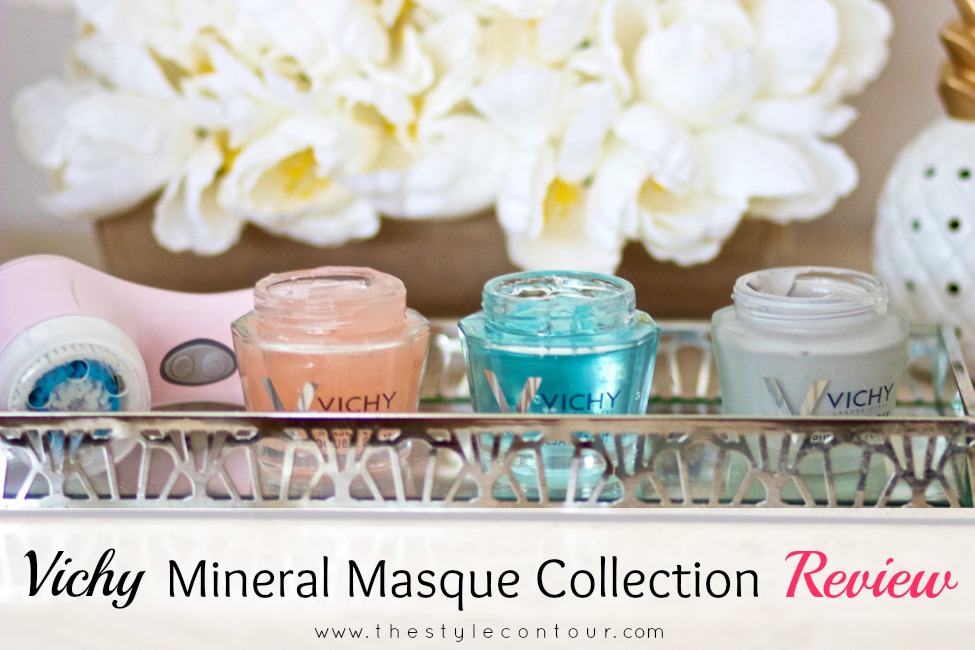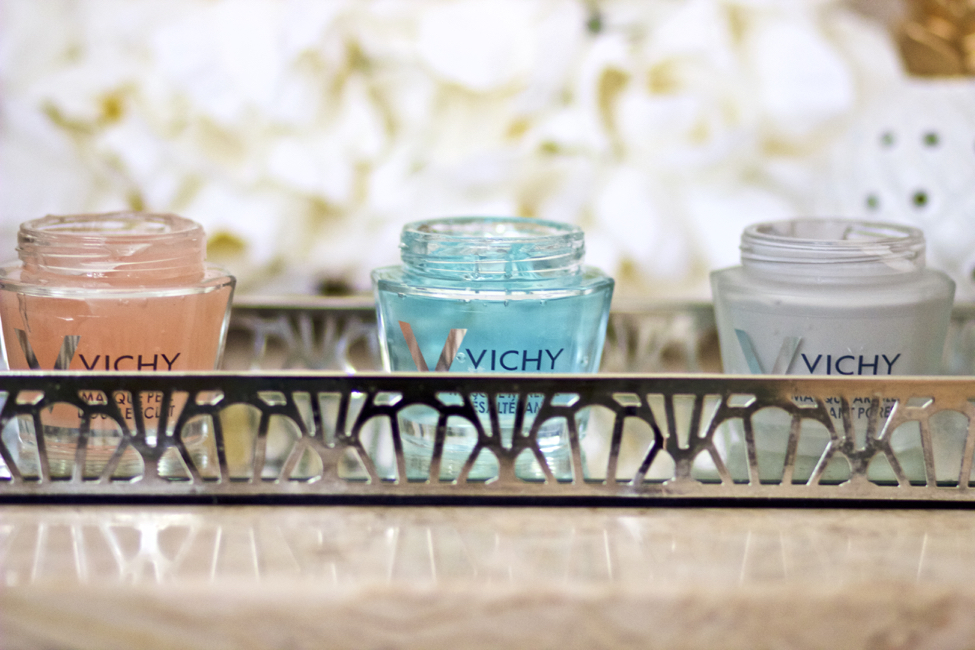 Happy Tuesday my gorgeous friends!
About a month ago, Vichy reached out to me with the opportunity to review their mineral face masque collection, which consists of three very different masques, each formulated to target and improve the condition of specific skin conditions and concerns, though all three can be used within just 5 minutes, which is pretty awesome and convenient when on the go or hurry! I had read many positive reviews on the brand in general, yet had never tried any of their products before, so I figured this would be the perfect opportunity to do so and today, I'm sharing my honest thoughts and experience with each of the three masques over a one month time period.
Prior to accepting this offer, I asked some very important questions regarding the ingredients and whether or not they're safe to use during pregnancy, which they are. I was also pleased to learn that they're paraben free, too, which is something I often seek out for my skin and beauty care products.
In addition, all three masques can be used simultaneously; you can use all three in one "spa" day or use all three throughout the week, each can be used 1-2 times a week. I, however, initially used the Quenching Mineral Mask for one week, twice a week, without the use of the other two or any other new skin care products. Then, I introduced the Double Glow Peel Mask a week later and used both on the same days, twice a week. A week later, I introduced the Pore Purifying Clay Mask and have since used it twice. Though I was able to start using all three simultaneously from the start, I really wanted to get a feel for how each performed, since they all have different claims and to also test whether or not their effects are strengthened when combined with the other masques in the collection as opposed to on their own.
::My Results::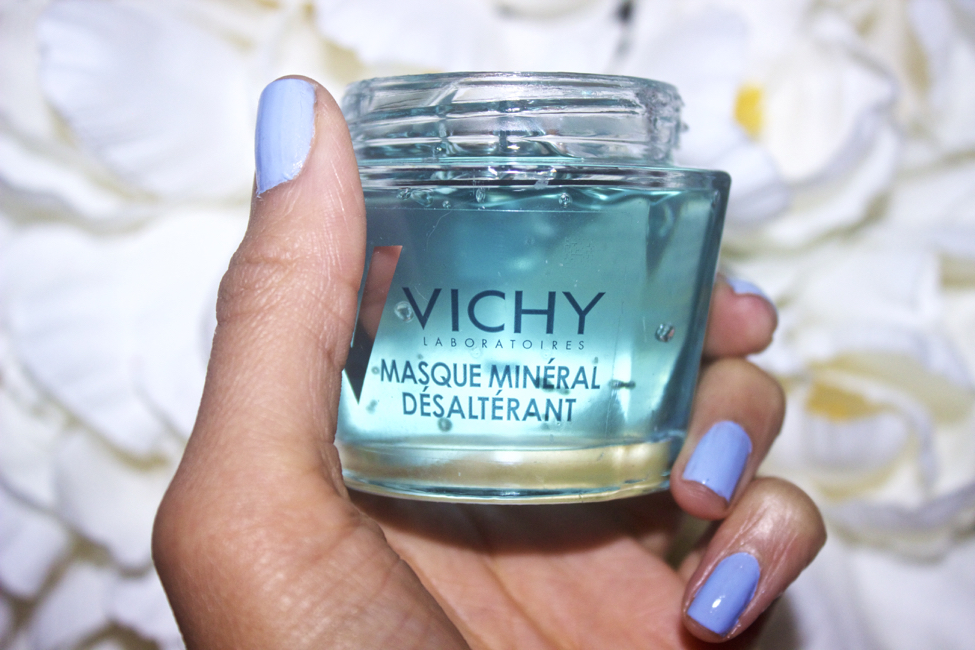 Quenching Mineral Mask- It has a gel like consistency and is reminiscent of the Neutrogena Hydro Boost, if you're familiar, in terms of looks and texture, but what's cool about this one is that it you apply on your skin for just 5 minutes and any remaining product can be rubbed into the skin, which I felt to be pretty cool. Judging by appearance, one would most likely assume that this masque would perhaps improve hydration and I would agree that this assumption would be true in the results I experienced. After just one use, my skin felt incredibly soft and hydrated. It claims to even out skin tone as well, but I honestly didn't notice any drastic results. The redness I typically have under my nose didn't change and the blemishes I had from previous breakouts didn't fade. The masque contains vitamin B3 and Vichy Mineralizing Thermal Water from the French volcanoes.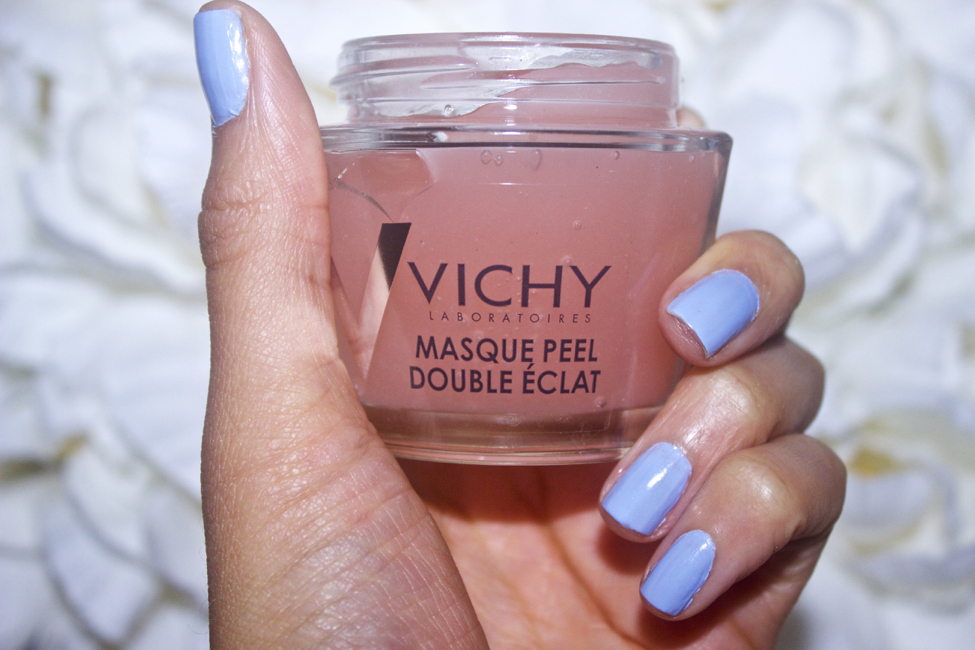 Double Glow Peel Mask- The consistency of this masque is a bit smoother and creamer than the Quenching Mask. It claims to instantly tone, freshen, and brighten skin. It contains AHA (fruit acids) to remove dead cells, Rock of Volcanic origin to gently exfoliate, vitamin CG to help illuminate skin tone and is formulated with Vichy Mineralizing Thermal Water from the French volcanoes, like the previous masque mentioned. I noticed a gradual difference when I began using this one in conjunction with the Quenching. The blemishes I had for months (my skin is very pigmented, so blemishes are often purple and last for what seem like forever) began to slowly fade. So, I didn't notice anything instant, but I do believe that it does what it claims in that brightens and improves skin pigmentation.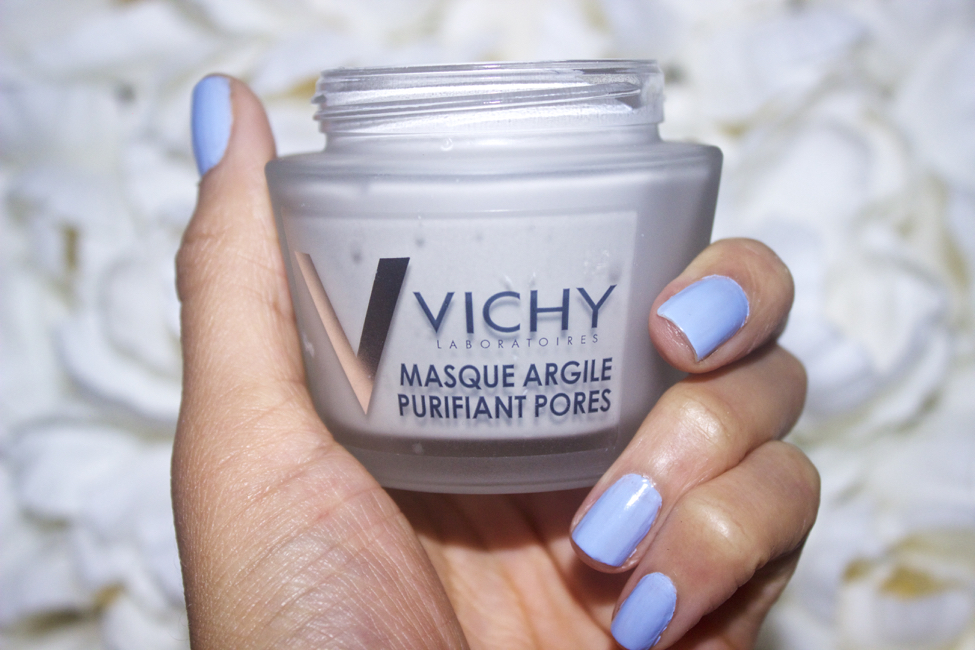 Pore Purifying Clay Mask- This masque claims to minimize pores, as it contains kaolin and bentonite clay, both are said to help eliminate excess sebum and impurities. Like I've mentioned, I've only used this one twice and haven't noticed anything drastic, but that could just very well be because my pores are no longer enlarged ever since using organic coconut oil as my moisturizer, which completely cleared up my acne and I haven't had any breakouts since (about 2 or 3 months).
::What I suggest::
I personally don't believe you need all three, since all are formatted for very different and specific skin conditions. However, if you have combination skin or notice that your skin changes with the seasons, then you may want to consider swapping them out to treat your specific needs. If you have:
Dry Skin- The Quenching & Double Glow masks may be your best options. You can either choose one to experiment with first or choose to use them both simultaneously. Like i mentioned, I noticed better results when I used them both. Since dry skin needs added hydration and can appear dull, these two would treat those conditions best, based on my experience.
Oily/acne prone- Those who suffer from acne tend to have larger, more visible pores because they become clogged. That said, the Pore Purifying Mask may be ideal in helping to reduce the size of them and help purge out all the gunk.
I hope you all found this review helpful and that it gave you a better idea of which masque may be best for your skin conditions/concerns. Also, Vichy was kind enough to offer 20% off with free shipping for my readers, exclusively on Vichy's site, use code SAVE20FS at checkout.
Thanks so much for stopping by and I hope you're having the most amazing day so far, my dear friends!
*A very special thank you to Vichy for sponsoring this post*
XO,