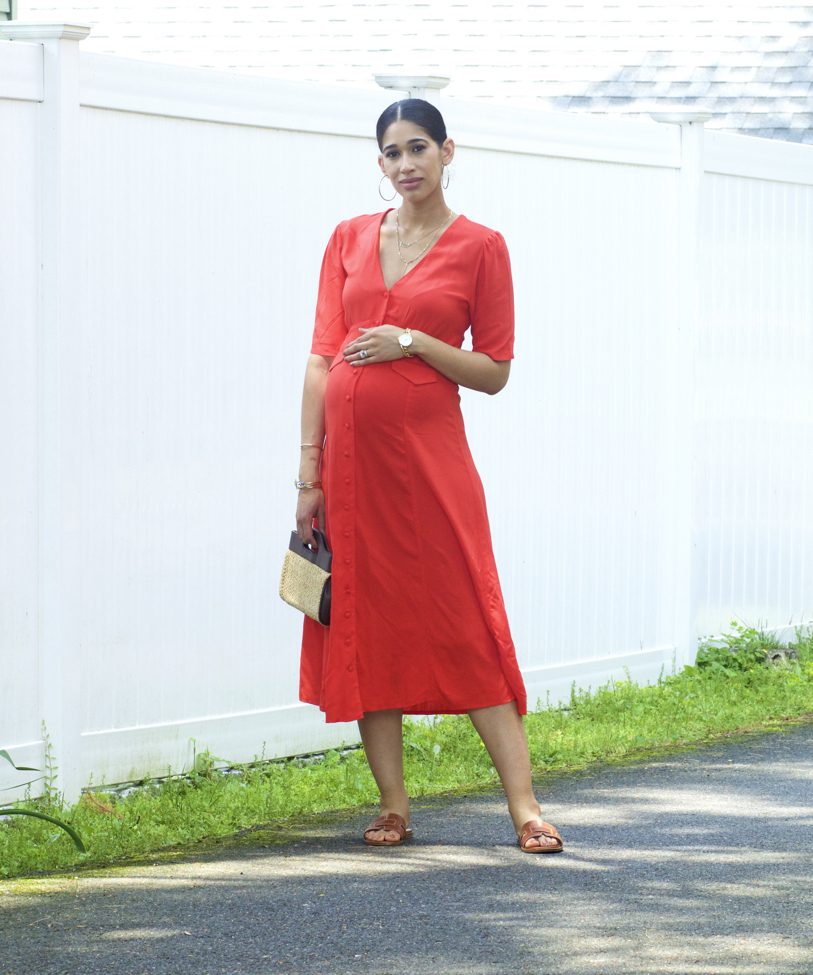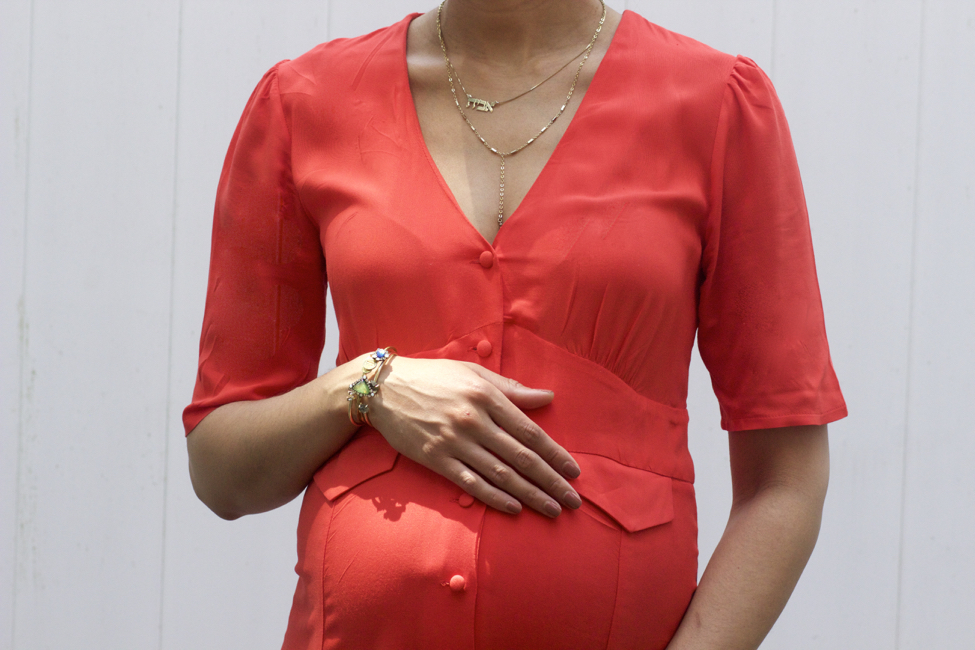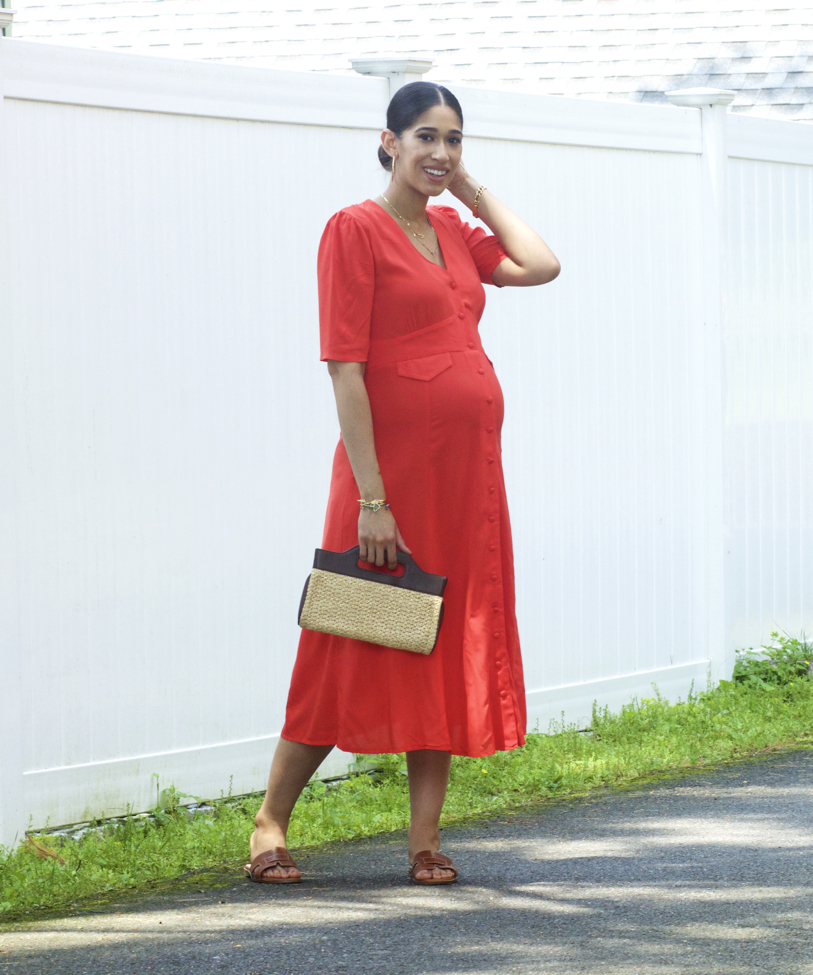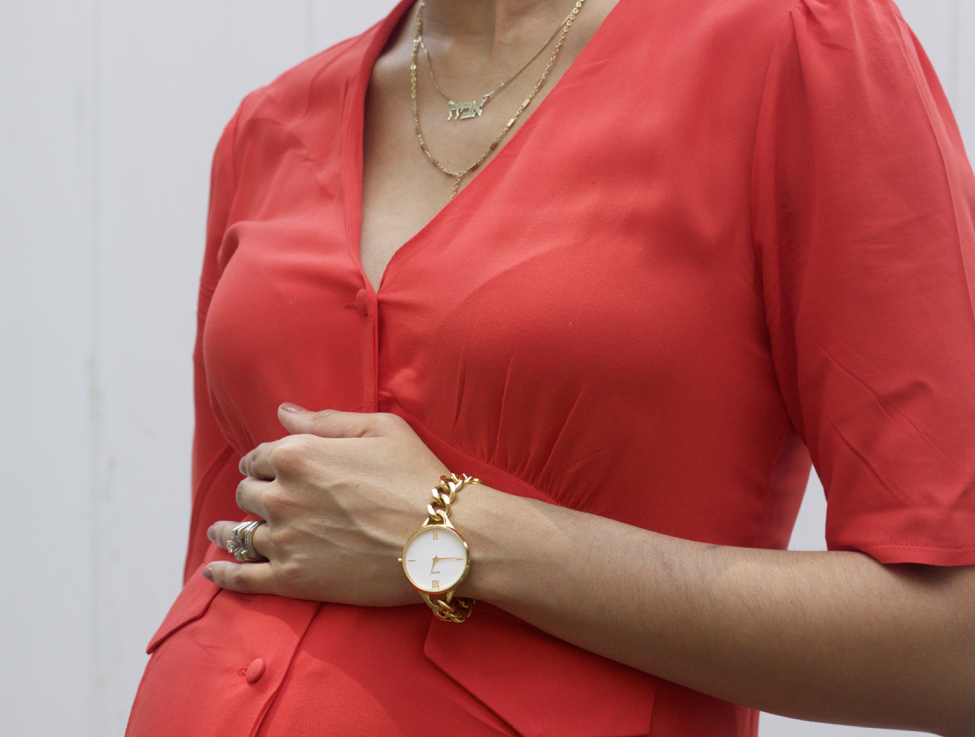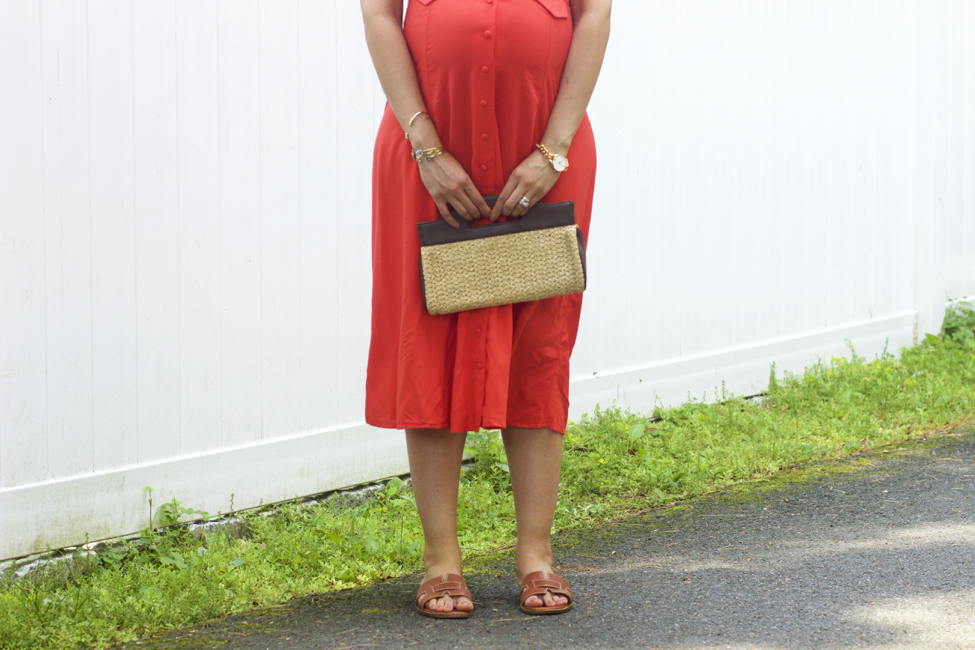 DRESS: Non Maternity Version | SANDALS | BAG: Similar
---
---
Happy Wednesday beauties!
I can't believe it's taken my second pregnancy to come to the realization that I've always needed a dress like this. Why you ask? Well, it can double as a dress and draper/duster cardigan. Though this particular dress is maternity, I intend on styling it post baby as a duster and we'll see how it goes as a dress minus the bump. Pieces like these are great options for traveling, as they allow you to get two very different looks with a single piece, saving room in your luggage. If you wanted to take it a step further, you could even add a denim jacket or light sweater on top to have it serve as a skirt.
The buttons all the way to the hem is what really allows for its versatility and that's what makes this particular style that much more appealing. I've seen and wanted similar styles, but the buttons would often stop around the midsection.
This fire-y red would look great with a basic white or taupe colored tank under. I also love the idea of it worn with a beige sweater and funky sneakers come fall, but I can certainly wait a while before wearing it that way...this girl wants to enjoy every bit of warm weather! Who's with me?
And speaking of warmer weather, I know for sure that these new sandals are going to be one of my most worn. I shared them on IG Stories when I first got them. They're currently sold out in the brown color, but they come in two different colors that you may want to check out.
If you've been following my blog for a while now, then you most likely have noticed that I'm a huge fan of Nine West shoes. The majority of my shoes are from them, as they tend to be comfortable and they offer an array of fun colors and patterns that you can't typically find at a decent/practical price point. What I loved about these in particular is that they resemble the Hermes Oran. I was strongly considering purchasing the Hermes version, but I wanted to test out how often I'd wear them and upon receiving these in the mail, there's no doubt that I'll be wearing them all summer long, so I may just eventually splurge. I mean, they're so classic in the color and overall design, making the over $600 cost justifiable. Cost per wear people, cost per wear!
Do any of you own the Hermes pair? Is it on your radar, too? What about the dress, do you own one similar? Have you styled it in the ways that I've mentioned? I'm asking a lot of questions here, I need answers, haha.
Thanks for stopping by, my beautiful friends, and I hope you have a great day. I look forward to seeing you all here again on Friday for a new post!