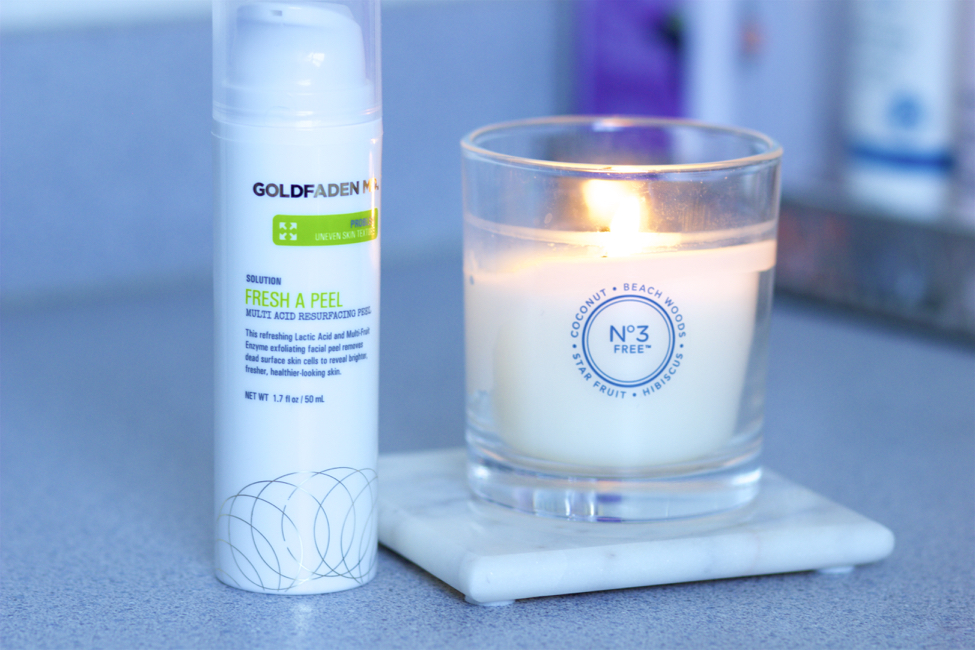 Happy Thursday my beautiful friends!
As promised last week, I'm sharing with you my two favorites from January's PopSugar Must Have Box, which I unboxed with you on IG Stories. The theme of the box was centered around relaxation, which is fitting after coming out of a hectic holiday season and into a brand new year! There were really only a few things to try, as some things included were more stationary, such as the post-its and desk calendar, which by the way I think is pretty, but not really practical, since the dates are so small and you can't write anything on the cards, it's more for quick glimpses and pretty decor.
Remember I mentioned how much I love mint tea and how I was excited to try the Dean & Deluca loose peppermint tea?! Well, I have to be honest and say it was a bit of a let down for me, which is why I'm not going to get much into it. Let's just say if you're a real mint tea lover and love that minty taste, it under delivers and isn't really all that flavorful, at least for my palette.
So, what actually are my favorites from the box!? The Goldfaden MD Fresh A Peel and the Glade candle. I mentioned in the unboxing that I wasn't sure if I'd be able to use the peel since I'm pregnant. I've had to move aside some of my skincare products because they contained caffeine and/or retinol, which aren't the best nor safest for your unborn baby, at least from what I've read (when you're a first time mama to be, you Google everything). Well, the ingredients are for the most part all natural and doesn't contain neither of those ingredients. It claims to help prevent oily skin breakouts, which is what I need right now, since my skin is all wacky. Though I've been using it for about a week and half now (every other day) I've noticed very little results. Some of the blemishes I've had prior to using the peel have dried up, but not substantially; it hasn't lightened my marks at all. I will continue to use it, though, to see if the results improve with extended use. There aren't that many reviews on this particular product, but the ones I did come across claimed to have seen improvements in skin's appearance overall, so I have high hopes. It's very pricey, so I'd say hold off for now and I'll give you an update on my thoughts, particularly on whether or not it cleared up my acne to let you know if it's worth it, since that seems to be its main claim.
As for the candle, I LOVE it! It smells so good and really fills the whole room with the scent, but not in an overpowering offensive way, both when it's lit and not lit. It definitely brings the scent and feel of a tropical vacation, which I wish I was on right about now with this wintery confusion we've been experiencing here in CT. I've lit it quite a few times, including for the gender reveal party on Sunday (for hours) and as you can see from the photo above, there's still quite a lot left in the glass! I hate when I purchase candles and feel as though they don't last very long. This has been my experience with Bath & Body Works, which is why I don't buy them often, unless they're on major sale. You can purchase this Glade one at Target, Home Depot and other major supermarkets, if you're interested. Perhaps even CVS and you can use some of your reward's bucks, it seems to hover around $4-$5 ;)
*To try your first Must Have Box, use code SHOP5 (which never expires) to save $5 off!
I hope you found my thoughts on these two products helpful. I felt it was best to just share what I loved in the box, but let me know if you'd rather me share everything in future monthly boxes! Thanks so much for stopping by, my dear friends, and I hope you're having a great week so far!
DISCLAIMER: I was kindly sent the January Must Have Box for review from PopSugar, all opinions and suggestions stated are my own.
XO,