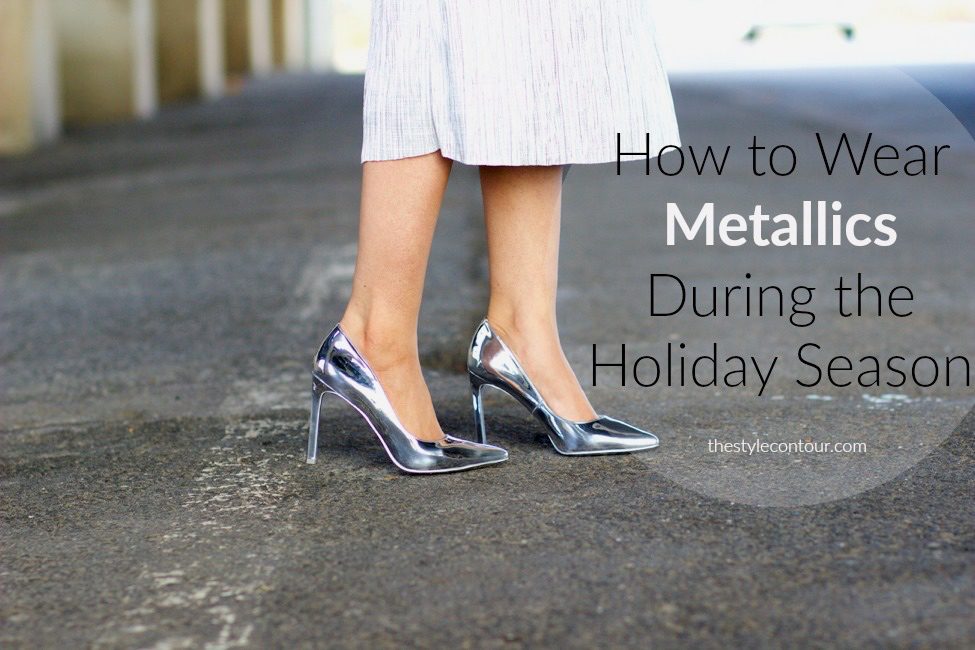 Happy Tuesday, my dear friends!
I haven't said that for what seems like forever, lol! As you know, these past few weeks, I cut back on my posting schedule from 5 days a week to 3, but I think we may be back on track, so it seems for now because things seem to be going back to somewhat of a normal in my neck of the woods. Though does anyone really have a "normal" life and schedule this time of year!? It's rather overwhelming and busy, while still being pretty fun, right?
There's a group of neutrals that always come to mind this time of year and that's metallics, mainly because they read festive and add a bit of energy to an outfit. I recently purchased two metallic pumps (can you guess which brand? If you know me well enough, you know the answer is Nine West, haha) and shared them on my IG story over the weekend. A number of you loved them and some were thinking of purchasing a pair of metallic shoes, but weren't too sure how to wear them. My answer? Wear them as you would a nude pump!
Yup, metallics are classified as neutrals, just as much as nude and black are. What better way to create an almost effortless festive outfit than to swap out your nude or black pumps for a pair of metallics!? But, I must note that they aren't that easy to style. Here are some things you may want to consider to create your perfect holiday outfit:
1. Keep your skin tone in mind. I won't go into great detail here, since I did a complete post this time last year on what metallics, specifically gold, silver, and rose gold look best on each skin tone, as well as how to determine your skin tone if you're unsure here. It really does make a difference on how the metal looks against your skin.
2. Just like certain metals look best on specific skin tones, they also look best on specific colors! Here's a little cheat sheet using some festive/seasonal colors:
Silver- Black, grey, white, any shade of blue, true red, deep red with bluish undertones and jewel toned colors
Gold- Black, white, beige, any shade of pink, dark blue, true red, bright red with an orange-y undertone and jewel toned colors
Rose- Goes great with any color, though it can appear a bit muted when paired with reds and pinks because of it's rosy tones
3. Metallics shouldn't only be reserved for formal parties, wear your favorite metallic pumps or top with a pair of jeans to dress up your casual outfit this time of year!
4. Speaking of pumps, they are the safest and most diverse way to experiment with metallics if you're unsure, since they're versatile in how and what you can wear them with!
Of course metallics finishes come in other shades, such as bronze, copper, gun metal and every other color there is, so there are more options to choose from. I, however, first suggest you add the metallic(s) that work best for your skin tone first because of the 3 listed above, all can be substituted for a nude or black shoe, which isn't the case for other metallic finishes. Once you have that metallic, then by all means add to your festive wardrobe with other fun options!
I hope you found this post helpful, my beautiful friends! What are YOUR thoughts on metallics? Do you love and wear them already? If so, what's your favorite metallic piece? Thanks so much for stopping by and I hope you have the most amazing day ahead!
XO,