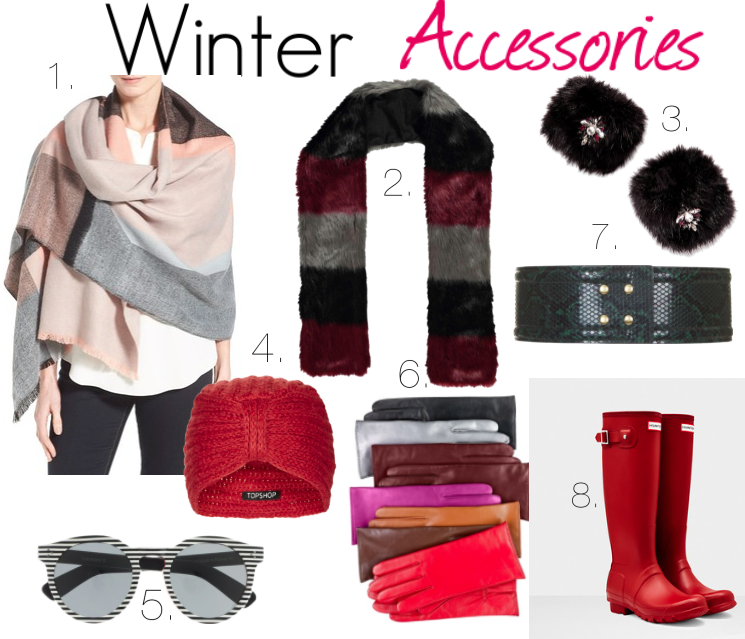 SHOP THE POST!
ONE | TWO | THREE | FOUR | FIVE | SIX | SEVEN | EIGHT

Happy Tuesday, my dear friends!
As the temps begin to dip, we find ourselves reaching for our oversized coats to keep us warm and cozy, while tackling the cold first thing in the morning (which I don't suppose anyone really looks forward to, I know I don't, boo)! While wearing a coat is certainly a necessity, at least where I live; New York, this doesn't mean that we have to sacrifice our style! I have found myself in the past struggling to look cute while walking the streets or standing in line at the local coffee shop, but accessorizing isn't as hard as I had previously thought; if we incorporate all the right pieces that will not only keep us looking fab, but add additional warmth!
Yesterday, I mentioned how much I love colored coats, as I find that they not only provide options, but add fun and interest to a look. However, the reality is, not all of us can go out and purchase a good quality coat in every color in the rainbow, but wouldn't that be awesome?! We can, on the other hand, turn to accessories to help optimize our coats. I love the idea of switching up a look with different colored scarves and/or stoles. They can be worn inside your coat peaking through or tucked under the collar, if wearing a chunky sweater or turtleneck underneath. Plus, they're super affordable and accessible, so it's realistic to be able to build a huge enough collection. Another accessory I think can really contribute to elevating a coat would be cute and colorful headwear, either it be ear muffs, a turban or beanie, you can switch it up depending on your mood and style you're going for.
One thing I always wear even during the winter months are my oversized sunglasses and I turn to my colorful or more daring frames especially this time of year. UVA and UVB rays are still out in the winter, and just like we should still be wearing sunscreen, we shouldn't be neglecting our sunnies after we wave farewell to the beach either! In addition, you can also keep things interesting, while creating a feminine silhouette, by adding an oversized waist belt over your coat, especially if it doesn't have a belt or is a bit more boxy in shape. There are so many fun prints and colors to choose from and they add a nice contrast. Lastly, snow/rain boots in a bolder color make the dark, gloomy and downright depressing days that much more better and cheerful, as they add a nice pop of color to your look, as do colorful gloves!
You see, there are so many different ways to accessorize a winter coat, so if you're interested in taking your black coat up a notch, you now have plenty of options. Or, you could add a bit more fun to a colorful coat, the choices and possibilities are endless. I hope you found this post helpful and inspirational in optimizing what you have in your wardrobe and that it makes tackling your colder mornings something to look forward to. Perhaps a little :) Thanks so much for stopping by and I hope you have an amazing day ahead, beauties!
Xo,